It takes a lot of work to manage communication among remote team members because of time zone concerns or differences in preferred working hours.
Fortunately, asynchronous communication tools allow people to "interact" even if they are not simultaneously using the platform. In this post, we'll review the best asynchronous communication tools that can boost your team's productivity.
Messaging Platforms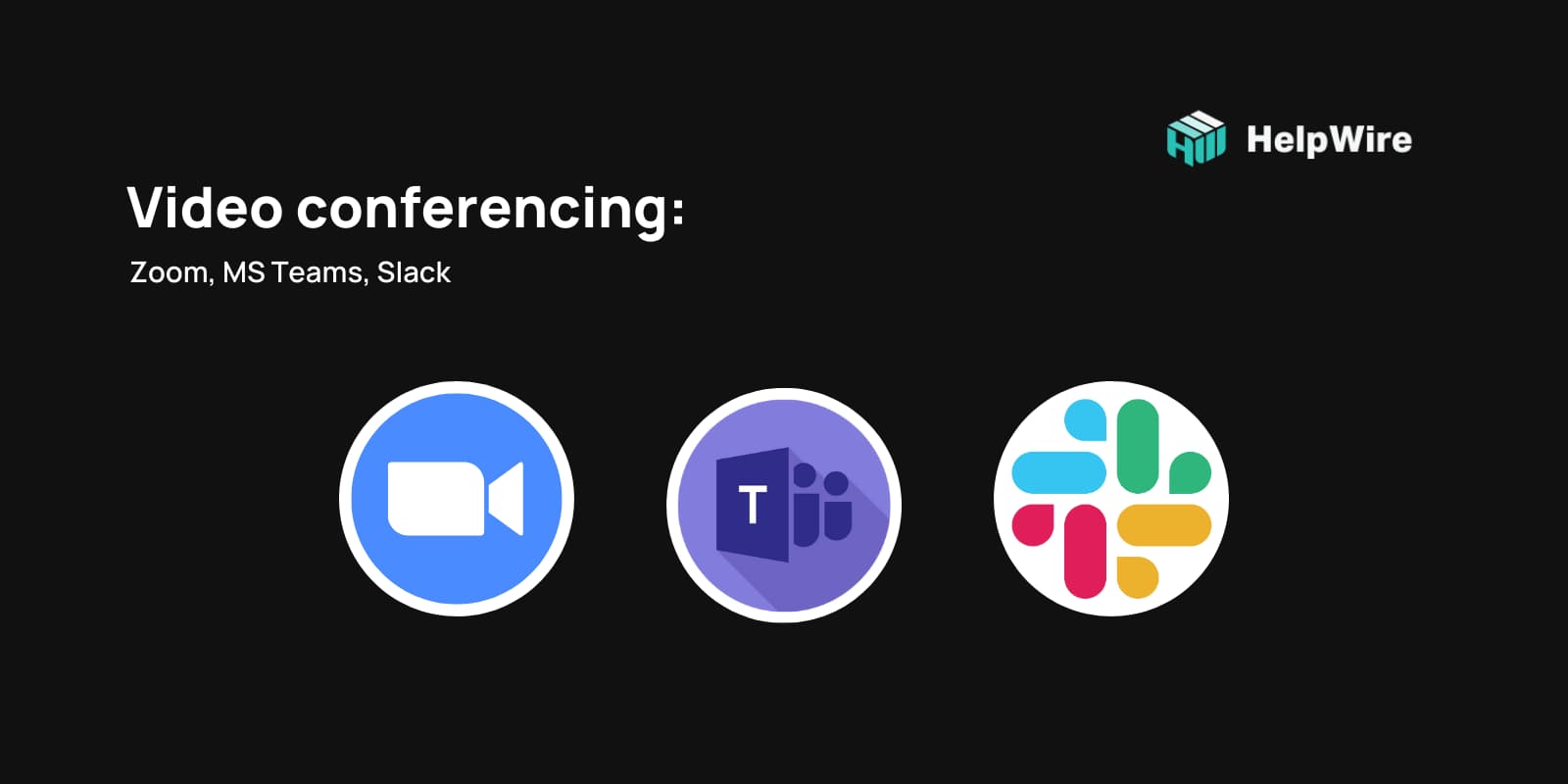 Asynchronous messaging platforms provide channels to message one another in an organized fashion. Each channel contains all discussions of a particular subject, allowing members to review them anytime.
Slack
Highly-recommended for: Organizations dealing with high volumes of complex information processed by multiple employees in an asynchronous fashion.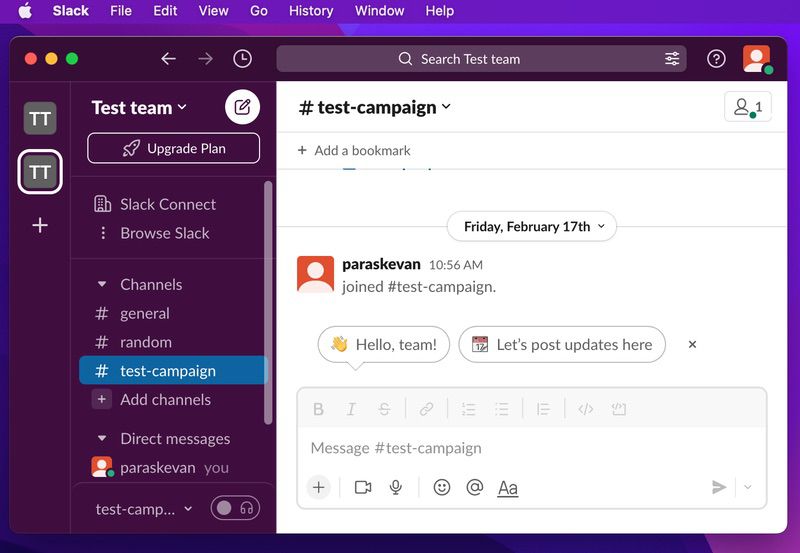 Slack is one of the most efficient asynchronous collaboration tools as it brings all work communication in one place. Each Slack channel acts like a "group chat" that is dedicated to a specific project. All members can easily get the context of the discussion since previous messages are accessible.
Features:
•

Advanced Search Modifiers

– Use advanced filters and search options to find messages or files in a snap.
•

Sidebar streamlining

– customize your sidebar to prioritize which channels you need to interact with frequently.
•

Message pinning

– pin up to 100 messages to help members swiftly find relevant information about the channel.
•

RSS Feeds subscription

– get your team informed of the latest industry news and information
Limitations:
• Limited file storage, old files might get deleted without notice
• You can only add up to 10 third-party apps
Pricing plans:
• Access messages up until 90 days of message history




• 10 integrations to Google Drive, Office 365, and other software

• All benefits of Free plus:



• Full access to message history



• Max of 50 people for audio and video conversations with screen sharing

• All benefits of Pro plus:



• Real-time active directory sync with One Login, Okta, and Ping Identity

• All benefits of Business+ plus:



• Supports up to 500,000 users collaboration



• Unlimited channels and workspaces
Microsoft Teams
Highly-recommended for: large teams whose operations involve use of Microsoft applications such as Word, Excel, Publisher, Outlook and Powerpoint.
Microsoft Teams provides working spaces for professionals to communicate, brainstorm, or send updates through dedicated channels. But unlike other asynchronous communication tools, MS Teams gives teams a default "General Channel," which appears on top of their channel list. You can create more specific channels for specific topics or projects from there.
MS Teams is a good asynchronous collaboration tool because it allows you to navigate previously sent files. Conversation files are automatically stored and secured in a default folder for easy access. MS teams offer foolproof collaboration tools that keep workers in sync in terms of file management, even if they are working in an asynchronous manner.
Features:
•

Microsoft 365 apps integration

– collaborate with your team using MS apps such as Word, Excel, Outlook, and Powerpoint.
•

Secured External Communication

– connect hassle-free with people outside your organization through their secured external channels.
•

Handy Slash Commands

– automate tasks using specific slash keywords (e.g., /away automatically changes your team's status to "away").
•

@Mention feature

– get the attention of your teammates using this mention feature.
Limitations:
• File storage is relatively small and unsuitable for large files such as video files and CAD files.
• MS Teams sends insufficient notifications for some updates or issues.
Pricing Plans:
• Unlimited 30-hour group meetings



• Max of 300 participants per meeting



• 10 GB of Cloud Storage



• Files sharing



• Data encryption for communications and files



• English live captions

• All benefits of MS Teams Essentials plus the following:



• Live Meeting captions in 30 different languages



• 1 TB Cloud Storage

• All benefits of MS 365 Business Basic plus:



• Customer appointments management features



• Premium version of Office apps (Desktop version)
Asynchronous Audio and Video Communication
These communication tools allow you to pre-record audio or video for asynchronous access. With this software, there's no need for a real-time virtual meeting (which is usually a hassle or time-consuming compared to an asynchronous one) since team members can just watch or listen to these recordings whenever it's convenient.
Loom
Highly Recommended for: professionals that regularly share tutorials, slide presentations, and reports. Executives and managers who are planning to provide detailed instructions to employees without setting an in-person meeting can also take advantage of Loom's features.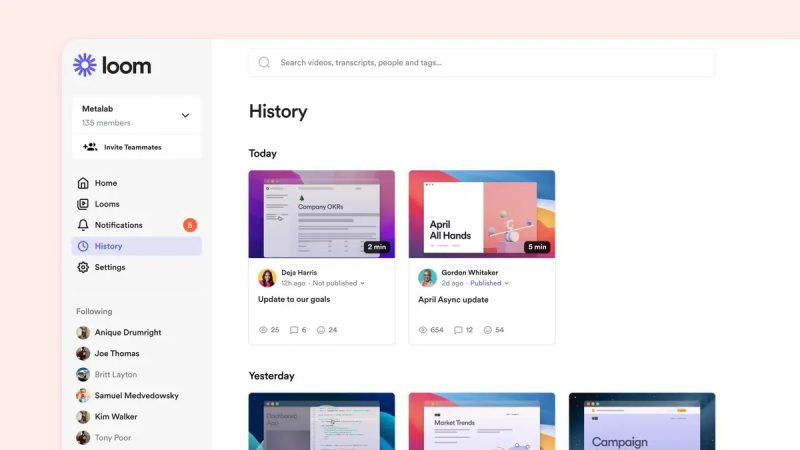 Source: Computerworld
Loom is a video-sharing application where you can record yourself using your camera while simultaneously recording your desktop or mobile screen. You can send your recorded videos to your teammates so that they can view them at their preferred time.
What's great with Loom is that you can access it whether you're using a desktop or mobile device but make sure that its operating system is either MacOS or Windows (for PCs) or either Android or iOS (for mobile devices).
Features:
•

Sneaky Speaker Notes

– Organize your ideas in a movable window that is hidden in your final recording.
•

Video stitching

– combine clips recorded at different times and devices.
•

Touch up my appearance

– boost your presentability by improving your appearance in the final recording.
•

History navigator

– easily access previously watched loom videos using this feature
Limitations:
• It does not support offline mode
• Limited privacy options for recorded videos
Pricing Plans:
• Max of 50 creators lite



• Max of 25 videos per user



• Screen recording and cam bubble feature

• All benefits of Starter plus the following:



• Unlimited creators, videos, and recording length



• Transcription and closed captions



• Filler word removal feature

• All benefits of Business plus the following:



• SSO/SAML



• Advanced Content Privacy



• SCIM and Salesforce Integration
Yac
Highly Recommended for: Teams that regularly exchange information but having trouble scheduling synchronous meetings. It is also recommended for professionals who prefer to convey detailed information through voice rather than text.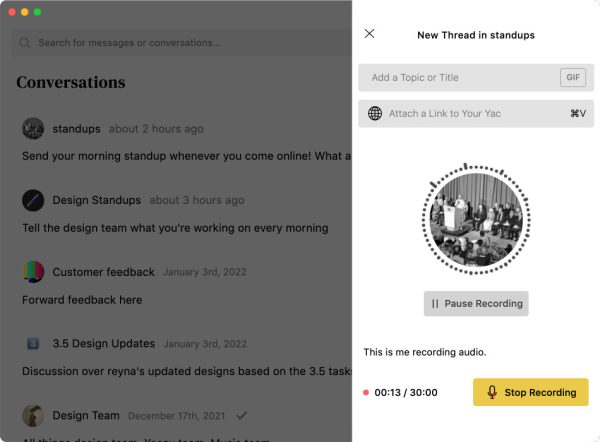 Source: Yac
Yac is an asynchronous meeting software where users can send voice messages.
If you plan to share announcements or instructions but have no time to write long messages, you can just audio record with Yac so your teammates can listen to it at their preferred time.
Yac also has a screen-sharing feature that can be presented simultaneously with your audio recording. If you want to expound your ideas better, you can annotate your screen or use the whiteboard.
Features:
•

Voice Memo

– There's no need to jot down your thoughts; you can record them instead and review them later.
•

Voice feedback feature

– give feedback on your colleague's work using verbal communication.
•

Separated client channels

– create private teams for more exclusive communication
Limitations:
• Previous messages get deleted without notice
• It does not perform well on iOS devices
• No centralized inbox
Pricing Plans:
• Unlimited Voice Messages



• Screen and Cam Recording



• Public Sharing Links



• Last 100 Messages available for viewing

• Unlimited Voice Messages and Message history



• Team Management and Private groups



• Slack & Zapier Integration



• Transcription Search



• Private groups
ScreenRec
Highly Recommended for: Teams that highly rely on visuals in presentations. ScreenRec is an effective asynchronous communication tool for remote workers in industries where visuals play a significant role in understanding conversation (e.g., programming, data analytics, graphic design, animation).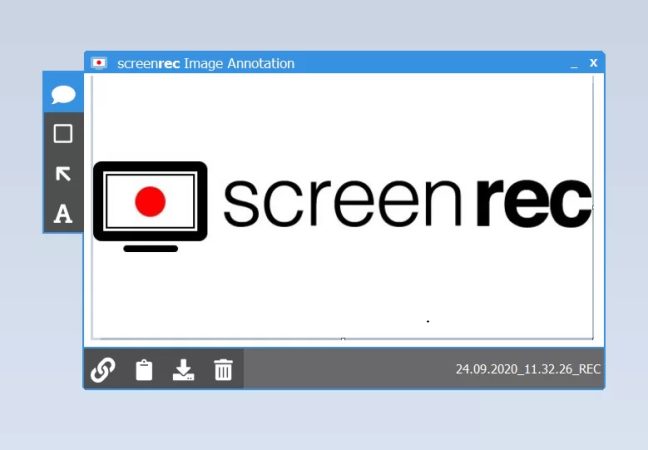 Source: Snipping Tools
ScreenRec is a screen recording software available for desktops. All your ScreenRec recordings are saved in a cloud and shareable with others. To share recordings, just send the sharing link provided by ScreenRec, which directs viewers to the recording.
ScreenRec also gives you the option to save your recording to your personal device or embed it in a website. Whatever option you prefer, ScreenRec assures you that your recording is of high quality.
Features:
•

Advanced postwatch analytics

– determine who, when, and how long people watched your videos.
•

Webcam Recorded

– record your screen while showing yourself using a webcam without time limitations.
•

Powerful Screenshot tool

– screengrab your desktop screen and annotate it. All screenshots are automatically saved to your cloud storage.
Limitations:
• Few annotation capabilities
• Registration is required to record a video beyond five minutes
Pricing Plans:
As of this writing, ScreenRec is free to download. However, ScreenRec's free full version offers a maximum of 2 GB cloud storage only per user.
Project Management Platforms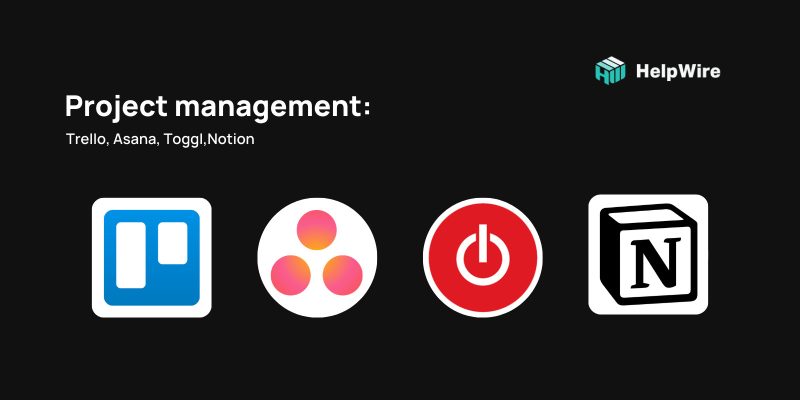 A Project Management Platform is a unified place containing all information to keep a project moving. These include task details, schedules and deadlines, unfinished tasks, persons assigned, etc.
Asana
Highly Recommended for: Teams dealing with fast-paced projects with multiple deadlines to beat. This asynchronous collaboration tool allows remote workers to keep updated on task progress without doing a real-time meeting.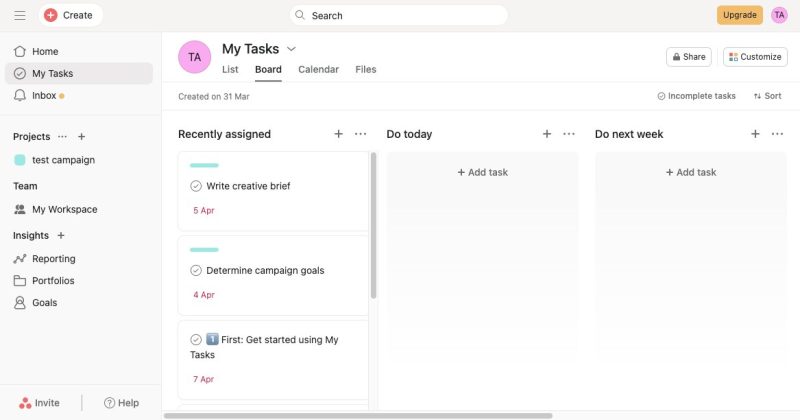 With Asana`s centralized project tracker, managing complex projects becomes an easy job. There's no need to use multiple spreadsheets to track subprojects because all information can be organized in one Kanban board.
Features:
•

Massive App Sync Feature

– Integrates over 200 productivity tools to your team's workspace, such as MS Teams, Zoom, Google Drive, Hubspot, Jira, and more.
•

Custom Rules Creator

– This feature automates manual processes such as work assignments, schedule adjustments, stakeholder notifications, etc.
•

Portfolio Manager

– lets you track your team's multiple projects in a single view for easy reference and navigation and allows quick sharing to stakeholders.
•

Quick Gantt Chart Creator

– produce visually appealing Gantt charts in minutes.
Limitations:
• Transferring tasks between mobile devices is not supported.
• Limited storage for smaller tasks
• Cannot assign tasks to multiple users at once
• Insights and Trends review is not available in free mode.
Pricing Plans:
• Unlimited Tasks, Projects, Messages, and Activity Log



• Unlimited File Storage for files of at most 100 MB size

• Everything in Basic plus the following:



• Timeline



• Workflow builder

• Forms, Rules, Start dates and times, Milestones

• Admin Console


• Everything in Premium plus the following:



• Portfolios

• Workload

• Custom rules binder

• Approvals

• Proofing

• Time Tracking
Trello
Highly Recommended for: any team who wants an organized project tracking system to avoid missed deadlines, lack of accountability, and failed task execution due to unclear instructions.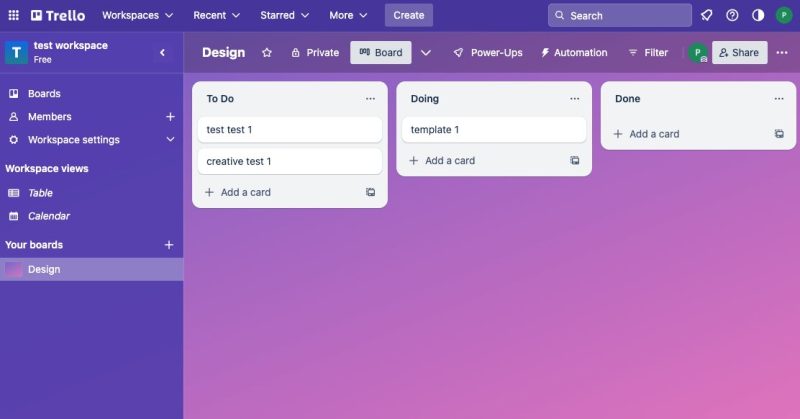 Trello provides user-friendly task-tracking boards where teams can collaborate.
Trello boards also come with "lists" containing all information for each project stage. Meanwhile, detailed descriptions for each task can be written in Trello cards to sort them from other deliverables.
Features:
•

Workflow Automation

– absolutely no-code automation feature that lets you create buttons, rules, and other commands to automate manual processes.
•

Template Selector

– pick from tons of templates you can use for any project ranging from marketing pitches to annual sales reports.
•

Trello VIews

– create a one-stop spot for all aspects of your project's progress using timelines, boards, calendars, dashboards, and maps.
•

Power-ups

– add plug-ins to improve productivity, such as time-tracking bots, "Read Me" boards, and voting cards.
Limitations:
• Limited customization features for large projects
• Cannot show task dependencies
• Trello doesn't support some common project management software
Pricing Plans:
• Unlimited Cards and activity log

• 10 boards per workspace



• Unlimited file storage (max of 100 MB per file)

• Everything in Basic plus the following:



• Unlimited boards



• Advanced checklists

• Unlimited file storage


• Everything in Standard plus the following:



• Views: Calendar, Timelines, Tables, Dashboard, and Map

• Admin and Security features

• Everything in Premium plus the following:



• Unlimited Workspaces



• Public board management



• Multi-board guests
Basecamp
Highly Recommended for: any team who wants an asynchronous collaboration tool with sufficiently large file storage to support large-scale projects.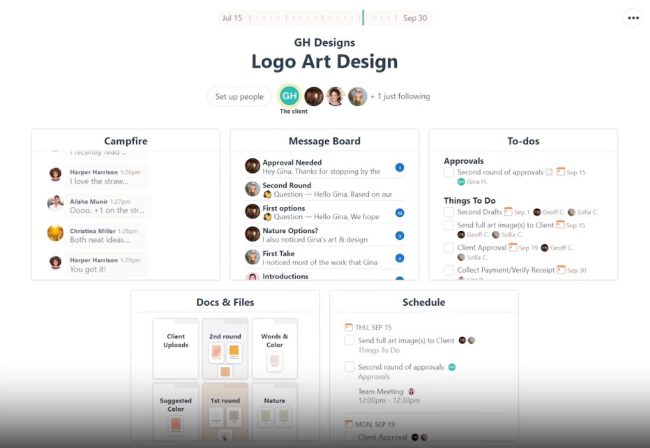 Source: Basecamp
Basecamp provides a one-stop platform for teams to chat, organize tasks, store files, manage deadlines, and track progress. There's no need to jump from one app to another because all you need is centralized on this platform.
Features:
•

Real-time project tracker

– assess everything moving across your projects in real-time on a single page.
•

Hey! Menu

– a centralized place for all notifications; no need to bounce around to check new updates.
•

Comprehensive calendar scheduling

– keep your team in sync even if working remotely by creating a centralized project calendar with to-dos, deadlines, milestones, and related events.
Limitations:
• Mobile download of files not supported
• Gantt-type project view is unavailable
• Too much focus on rigid planning than flexibility
Pricing Plans
• Unlimited projects, unlimited users



• Storage: 500 GB

• Personal onboarding



• Priority support



• Storage: 5 TB

ClickUp
Highly Recommended for: any team seeking one-stop tools for project collaboration and management, even if they are working in an asynchronous fashion.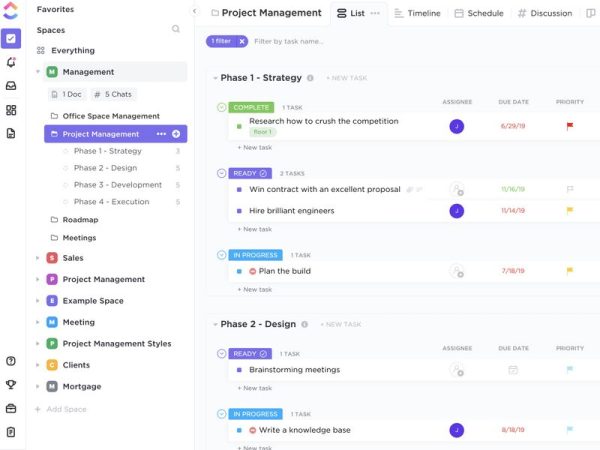 Source: ClickUp
ClickUp`s motto, "One app to replace them all," is a fitting description of what it is. ClickUp centralizes all team's operations in one place – chat, manage documents, set tasks, schedule deliverables, etc. With ClickUp, your team can easily navigate all aspects of the project without going back and forth to other apps.
Features:
•

Workload and Box View

– assess whose among your team is over/under capacity to delegate tasks and allocate resources effectively.
•

ClickUp Pulse

– Auto-activity reports generated by Machine learning to track your working time and productivity.
•

Recurring Task Checklist

– schedule recurring tasks in your calendar and see their exact dates of recurrence.
•

Nested subtasks

– simplify complex projects to more manageable subtasks detailed with customized multi-step workflows.
Limitations:
• Analytics reporting is not in-depth, lacks nuance
• Setting automation features is difficult
• Dashboards take time to load
Pricing Plans:
| | | |
| --- | --- | --- |
| | | |
| | Basic management and security features | |
| | "Free Forever" features + Gantt Charts, Custom fields, Form view, portfolios | |
| | "Unlimited" features + Google SSO, Unlimited teams, advanced public sharing, advanced automation | |
| | "Business" features + team sharing, subtasks in multiple lists, custom role creation, custom permissions, increased automation and API | |
| | "Business Plus" features + white labeling, advanced permissions, enterprise API, unlimited custom roles | Price available upon inquiry |
Document Management and Collaboration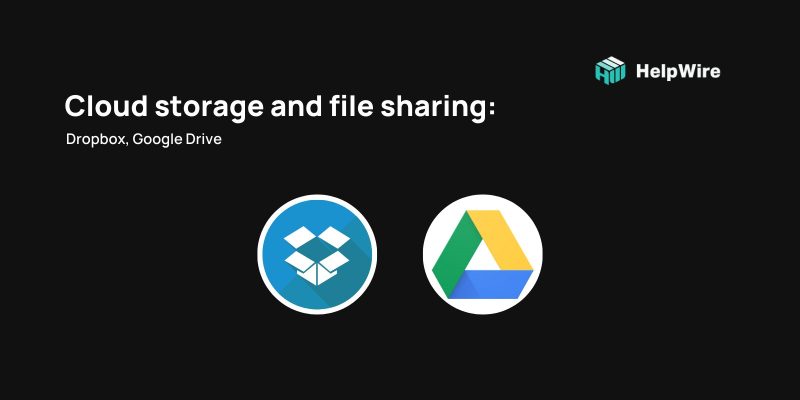 These tools serve as digital central repositories of the team's documents for asynchronous collaboration. All members of the organization can view, edit, or download files stored on the platform.
Dropbox
Highly Recommended for: Businesses seeking accessible and secured file hosting services. Dropbox provides secured online file storage for a team.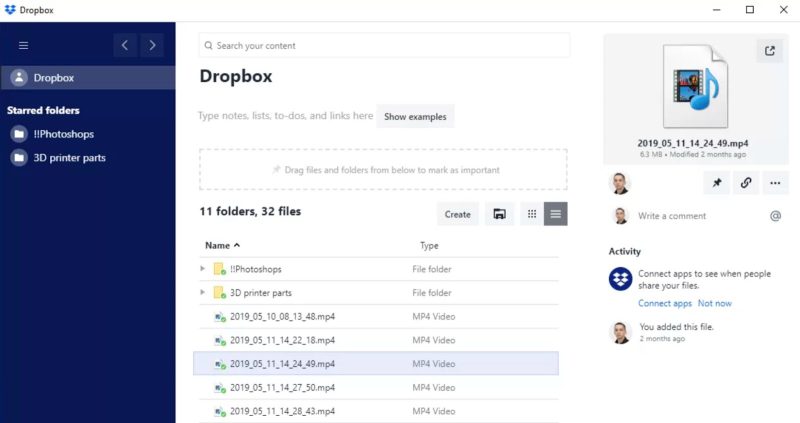 Source: Dropbox
By sharing a Dropbox link, someone can "send" all files in their Dropbox to other people and sync them to their devices. This software also comes with file history versioning that allows members to recover compromised documents due to malware and other viruses.
Features:
•

Cloud Storage

– a massive repository of all file types and access to them on any device anytime.
•

File Sharing Link

– just send a Dropbox link to give access to other people, including non-Dropbox users.
•

File Request Feature

– provide a single storage for collaborators to submit files without granting access to other contents in the storage.
•

App Integration

– connect software to boost productivity, such as Trello, Salesforce, and Zapier.
Limitations:
• Free users only get 2 GB of storage
• Auto-deletion of inactive Basic accounts after 12 months
• File syncing requires large local hard drive space
Pricing Plans (for Dropbox team versions only):
| | | |
| --- | --- | --- |
| | | |
| | 5 TB file storage, automatic cloud file backup | |
| | "Standard" features + Unlimited space, data classification for confidential information, large file delivery (up to 100 GB) | |
| | "Advanced" features + High-security tools integration, dedicated customer service manager | Price available upon inquiry |
Notion
Highly Recommended for: Small teams looking for an easy-to-use document organizer and repository.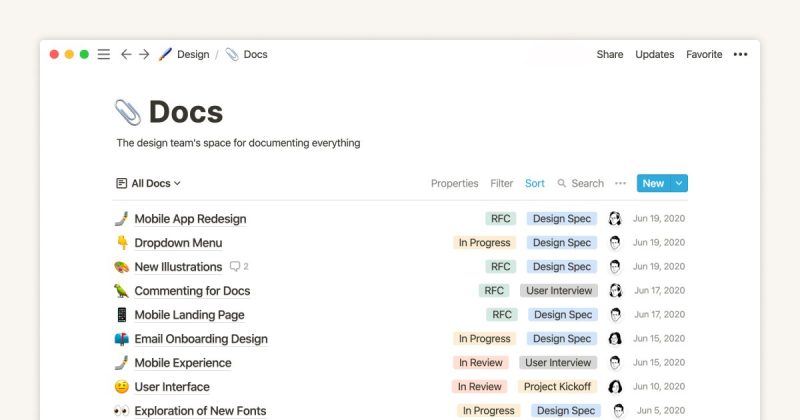 Source: Notion
Started as a humble note-taking app, Notion evolved into one of the most prominent asynchronous collaboration tools for small teams and businesses. Document and media files can be uploaded and organized as blocks for easy reference.
Features:
•

Table Database

– a powerful spreadsheet that lets you include checklists, menus, dates, files, and other objects in each cell.
•

Notion Text Editor

– a neat working document to dump and organize the team's thoughts and plans using headers, lists, dividers, and more.
•

Web Clipper

– bookmark webpages and organize them for later use. You can also link them to the text editor for quick reference.
Limitations:
• Few external app integrations available
• Grid shapes always change, which is confusing
• Milestone management unavailable
Pricing Plans:
• Up to 10 guest invites



• Basic page analytics



• Slack and Github Integration

• Everything in "Plus" plus:



• SAML SSO



• Bulk PDF export



• Advanced page analytics

• Everything in "Plus" plus:



• SAML SSO



• Bulk PDF export



• Advanced page analytics

• Everything in Business plus:


• Audit log



• Unlimited page history



• Custom guest limit



• Advanced security and controls

Price available upon inquiry
Confluence
Highly Recommended for: Remote teams looking for a streamlined process of generating formal and business documents.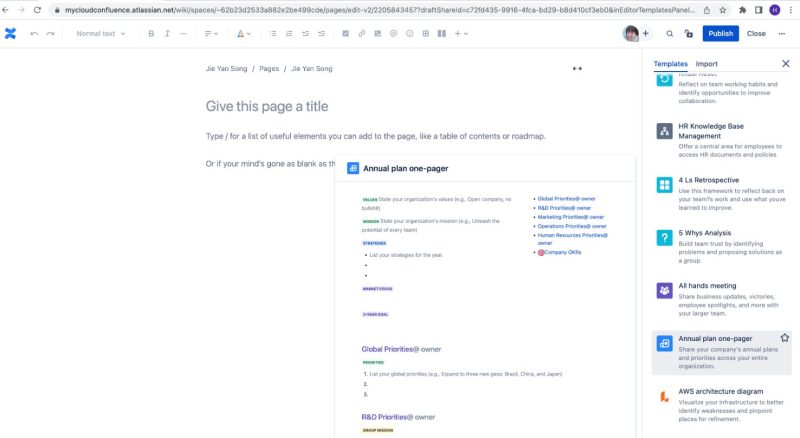 Source: Atlassian
Confluence prides itself as a collaboration software that offers an extensive set of editable project management document templates (e.g., project plans, business status updates, SWOT analysis, and project debrief templates).
Features:
•

Structured Page Tree

– Organize projects and subtasks on multiple pages and interconnect them into one tree for easy navigation.
•

Page Versioning

– access and track file history changes and discover recent changes made in these files.
•

Template Selector

– pick from over 70 customizable templates to help you get started with any project.
Limitations:
• File linking is almost impossible
• Page formatting is too complex to do
• No search filters available
Pricing Plans:
• Up to 10 users



• Up to 2 GB file storage

• Max 50,000 users



• 250 GB file storage



• User permissions



• Local business support

• Everything in "Standard" plus:



• Unlimited storage



• Team calendars feature

• All "Premium" features plus:



• Atlassian access



• 24/7 enterprise support

Price available upon inquiry
Standups/Check-in
Standup/Check-in software serve as an asynchronous meeting platform for members to share their work status reports. Basically, members can update the team about what tasks they've completed and what tasks they will complete in the upcoming days.
Friday
Highly Recommended for: Teams working on large-scale projects handled by multiple members performing specialized tasks.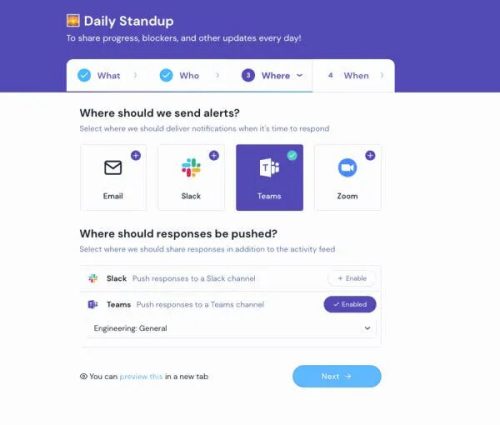 Source: Friday
Friday aims to organize a coherent workflow among members so everyone is moving at a common end. It serves as a centralized platform for workers to set goals, communicate, and consolidate individual tasks.
Features:
•

App Integration Feature

– collate all essential works of your team in a single place by connecting to Slack, Github, and other software.
•

Goal-Setting Featurе

– track day-to-day tasks to the overarching objective to keep the team on track to the important stuff.
•

Time-Tracking Apps

– track time spent working to assess resource efficiency and productivity.
Limitations:
• No keyboard shortcuts for automation
• Not available on Android mobile devices
Pricing Plans:
• Calendar integrations



• Tasks, posts, check-ins



• Chrome extension

• Task integration



• Calendar sync



• Goals and Reports

• Chat integrations



• Collaborative goals



• Widgets and reporting

• Unlimited teams



• Company add-ons



• Advanced reports



• User permissions
Range
Highly Recommended for: Teams doing complex projects involving multiple software and consolidating all accomplished individual tasks afterward.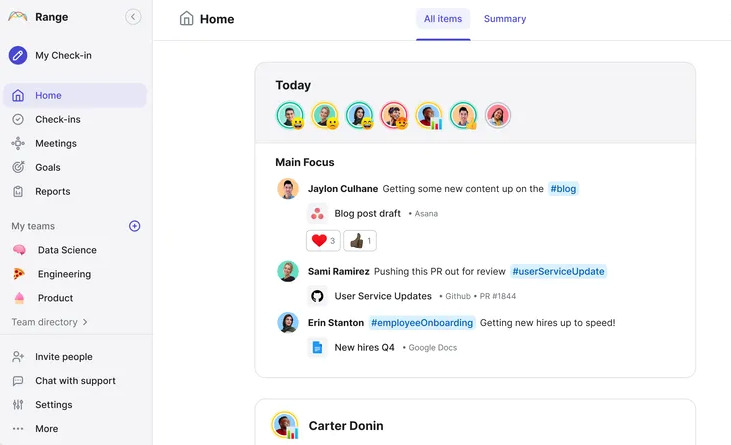 Source: Range.co
If your team is using multiple apps to accomplish a project, Range can help you track everyone's progress. Progress reports are now less intimidating and a little bit casual as members can use emojis and ice breakers
Features:
•

Auto Daily Huddle Software

– apply async check-ins for team members to share their daily progress.
•

Icebreakers

– select from tons of icebreaker products to keep team dynamics and harmony.
•

Succinct Meeting Notes

– Get rid of lengthy meeting minute documents and audio recordings and use brief meeting notes with structured takeaways.
Limitations:
• Supports text-based communication only
• Too G-Suite centered; other external support apps are unavailable
Pricing Plans:
• Up to 12 users



• Agenda, notes, and action items features



• External tool integration

• All "Free" features plus:



• Private Meetings



• Unlimited Goals

• Unlimited Check-in and Search History


• All "Pro" features plus:



• Advanced user management



• SSO, Okta, and One Login integration

• Access to SOC II Report

Geekbot
Highly Recommended for: Teams seeking to reduce the burden of performing repeating mundane standups for maximum productivity.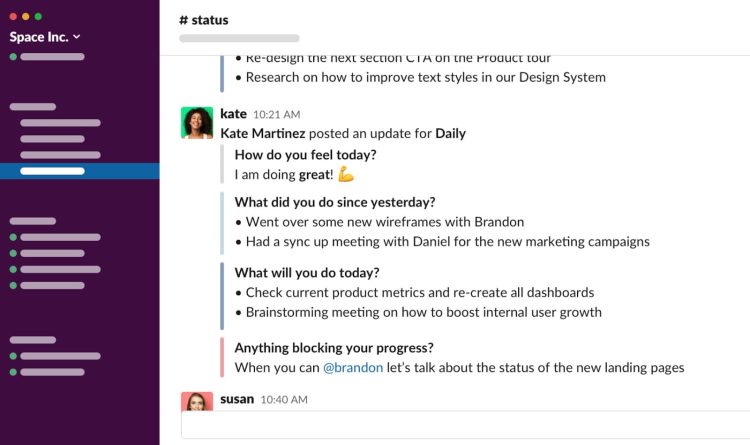 Source: Crozdesk
Geekbot is an automated Standup online tool that keeps track of members' deliverables and work progress. Teams can simply set standup time and frequency, and the system will automatically recur them daily, saving the team lots of time to focus on more important tasks.
Features:
•

Language Selector

– can use the software in other natural languages like Spanish, French, Italian, etc.
•

Automatic Standups

– set automatic recurring tasks such as daily standups, surveys, check-ins, and updates for members to participate in.
•

Friendly Reminder Feature

– forgot to report? No problem. Just send a friendly reminder to the team that you'll do it later. You can also snooze the standup in case you forget it again.
Limitations:
• Few customized standup templates available
• Does not allow enough response time before meeting
• Automatic setting of the same standup to different groups is unavailable
Pricing plans:
• For a small team of up to 10 members



• Automate standups



• Daily reports, and surveys.

• Reduce managerial overhead tasks with the help of artificial intelligence



• Private Meetings



• Unlimited Goals

• Unlimited Check-in and Search History


• Customized automated daily workflows dedicated to large teams
DailyBot
Highly-Recommended for: Teams aiming to keep a motivated spirit in accomplishing a daunting task using automated standup and check-ins features.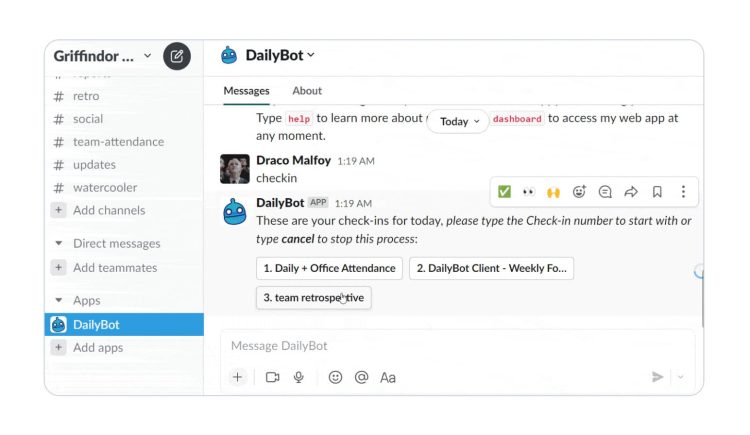 Source: DailyBot
DailyBot streamlines basic workflows by automating daily work reports, standups, and check-ins.
It also offers a variety of motivation tools to ensure the team's positive outlook in performing tasks. It has a "mood tracker" that reports workers' motivation levels and a "Kudos" feature where people can send short appreciation cards for impressive outputs.
Features:
•

Automatic Check-ins:

automated standups, retros, surveys, done in a few minutes.
•

Kudos Feature

– send appreciation cards to team members in minutes.
•

ChatOps

– create custom commands for chat automation.
•

Weekly Mood Journal

– track your team's optimism (or lack thereof) about the project to assess the team's overall well-being.
Limitations:
• Few external app integration features
• Tons of bugs stall conduct of standups
Pricing plans:
• Unlimited check-ins



• Limited automated standup features for up to 20 members

• All "Free" features plus:



• Analytics



• Metrics

• Unlimited basic standup features


• All "Basic" features plus:

• Anonymous check-ins

• External tool integration

• Advanced data export in PDF


• All "Standard" features plus: enterprise security features

• Custom billing

• Advanced API

• Ad-hoc DPA signing

Email
When you send an Email to someone, you're not expecting your recipient to respond instantly. This makes Email one of asynchronous communication tools.
All conversations on a particular subject are contained in one email thread that can be reviewed anytime. For this reason, a lot of remote teams still rely on Email as the main channel of work communication. After all, Email is a free online software available for anyone.
Comparison of Asynchronous Communication Tools
Here's an in-depth comparison table of asynchronous communication tools, including their pros and cons and the costs of each tool against one another.
Exclusive discussion and file sharing among channel members

Members can quickly get discussion context with the help of previous messages and archived files

It might take a long time to ask for feedback from the team if an urgent concern arises due to delayed responses

Audio and video communication

Use more engaging media for instructions, announcements and updates for team members instead of using plain text.

Professionals can easily articulate information to members with the use of verbal communication.

Viewers/listeners cannot have an immediate response if they ever have a follow-up inquiry.

Project management platforms

Centralized place for all project resources accessible to all remote team workers

No need to jump between apps to use project resources

High-cost initial investment


Limitations in reconciling differences in project managers' plans.

Document management and collaboration

Secured document repository for easy team collaboration

Convenient and efficient tool to organize large volume of project documents

High-cost initial investment


Maintaining and organizing documents can be time-consuming

Convenient platform for members to share work status reports and consolidate individual task progress.

Encourages connection and accountability among team members even if they're working remotely

Members might be dishonest or not openly share status with others due to lack of pressure present in face-to-face communications

Basic asynchronous communication tool to exchange information among members

File size limit is too low


Difficult to review previous discussions as communications are separated through individual threads
Asynchronous vs. Synchronous Communication
With the advent of the "new normal" working environment, asynchronous and synchronous communication both became the norm of the corporate world.
However, not everyone is familiar with the difference between these types of communication. So, we aim to address the question that bugs newcomers to this new buzz: what is the difference between asynchronous and synchronous communication?
In a synchronous communication, people should be present on the platform at the same time while exchanging messages. Meanwhile, in an asynchronous communication, people can respond to each other's messages at a later time.
Synchronous communication
Asynchronous communication
| | |
| --- | --- |
| | |
| Absence of immediate response pressure | Deprives closer connection to colleagues |
| Better planning in generating concise and straightforward discussion | Delayed response on urgent concerns |
| | Discussion might be less "nuanced" compared to synchronous meetings |
| Stress-free and more confident presentation of ideas | |
Rules for asynchronous communication etiquette
With the power of Asynchronous communication tools comes great responsibility in using them. Here are some rules to keep in mind for proper asynchronous communication etiquette:
•

Be extra careful in constructing your message

– since asynchronous communication lacks the nuances and emotional aspect of real-time conversation, there's the possibility that your team members may misinterpret your message. Hence, make sure to check your message's tone and word usage to not come up as rude or disrespectful.
•

Send the correct attachments

– incorrect files sent will hamper your team's productivity. Your colleagues may also view you as irresponsible and unreliable.
•

Do not over-delay your reply

– asynchronous communication tools give us the privilege to postpone our replies, but it does not mean that we should abuse it. If the sender deems that your response is urgent, avoid over-delaying your reply.
•

Limit off-topic conversations

– these can be distracting to other members of your team
•

Respect sensitive information

– it's inevitable that some members upload sensitive private information. Since you are one of those who have privileges to this confidential information, it's your moral obligation not to share it without their permission.
Frequently Asked Questions (FAQs)
Asynchronous communication tools enable people to send messages to each other without the need for an instant response. On the other hand, synchronous communication tools allow real-time exchange of messages between parties where response is immediate.

Here are the benefits of asynchronous communication tools for Remote teams:
• Time zone differential concerns are solved since members can respond at their own convenience
• Promotes healthier work-life balance due to the absence of pressure to immediately respond to work-related messages.
• Allow members to collaborate through shareable files for easy editing, proofreading, and provisioning feedback
• Allow generation of more thoughtful and sensible responses to messages and inquiries