Google Stadia vs NVIDIA GeForce NOW, battle of two unicorns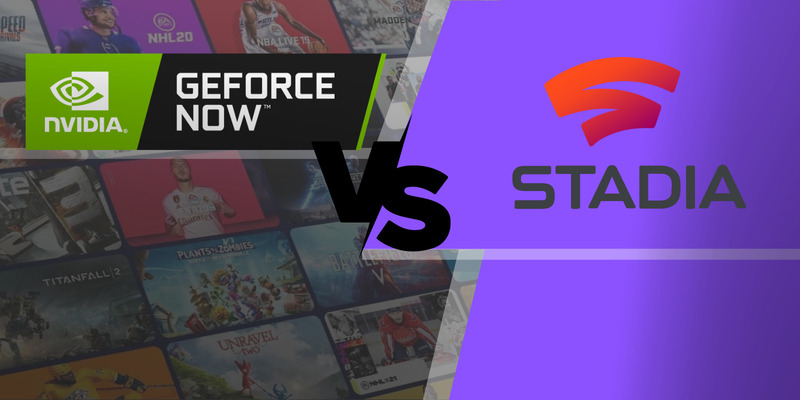 Cloud gaming is the ability to play computer and console games from anywhere and on any device. This is made possible through streaming services and an internet connection. Cloud gaming removes the requirement to have your own high-spec hardware in order to play processor intensive games.
By subscribing to a cloud gaming provider, you essentially buy temporary access to their computers located in their various data centers. While playing a game, each time you interact or perform an action within the game, that input is sent to the remote servers which process the instruction and returns the result in a continuous stream of video frames – giving the gamer a high end, responsive experience. Two of the industry leading cloud service providers are Google's Stadia, and Nvidia's GeForce NOW.
Overview
GeForce NOW

The company behind GeForce NOW is leading tech company Nvidia. Founded in 1993, Nvidia designs and manufactures graphics processing units (GPUs). The GeForce NOW game streaming service was launched in early 2020.
Google Stadia

Internet giant Google launched Stadia in November 2019. It was initially met with a lot of confusion. Stadia requires users to purchase individual games in order to play them, but you can't download or own these games.
Features
What games can I play and do I need to sign up?
In order to use GeForce NOW, you need to sign up to the service, but you don't necessarily need to be a paying member. Paid members do get to enjoy a number of benefits including faster frame rates and higher resolutions. Unlike free sessions, paid members don't have to wait in a queue. Sessions are also not burdened with short time limits.
Google's Stadia works on a "pay as you play" plan. You pay for the games you want to play for a specific time limit. If you opt for the subscription model, you still need to pay for individual games but you will have access to a library of free games as well.
What frame rates and resolution can I expect?
Stadia supports 4k HDR and 60FPS streams. Free users are capped to a 1080P and 60 FPS.
GeForce NOW can support up to 1440p resolution at 120 frames per second but this does depend on the hardware being used. In order to unlock the maximum power available you need to configure your display hardware accordingly.
What are the internet requirements for using GeForce or Stadia?
In order to access cloud gaming, you must have a reliable, fast and continuous internet connection with low latency – less than 40ms is recommended. GeForce requires at a minimum, a 15Mbps line and up to 25Mbps for 1080p / 60fps streaming.
Can I modify or download games or access games from other game libraries like Steam?
While Nvidia does not have any official mods support, there are workarounds available that allow you to play with mods. There are also various community posts in the Stadia community page to allow you to access game mods.
Operating System
---
Pros And Cons
Stadia
| | |
| --- | --- |
| | |
| Optimized for internet gaming, less input lag is experienced. | Limited and outdated free games. |
| Stadia uses Google data centers making the service more widely available around the world. | Require large amounts of data. |
| Accessibility via desktop and mobile operating systems and various web browsers. | |
| | |
---
GeForce
---
Pricing
Google Stadia offers two plans but you can play without an account. There are a number of trial options available, where you can play various games for between 30 and 120 minutes for free. This lets you get a feel of a game before you decide if you want to subscribe.
Paid up members have access to a free library of games as long as you remain a member. Stadia Pro will cost you $9.99/month with the option to cancel at any time. You still have to buy games to play though.
There is also an option of a Premiere Edition bundle that costs $69.99. This includes a Clearly White Stadia controller and a Chromecast Ultra – serving as the perfect starter pack for you to stream your gameplay to your TV.
On both levels you do have the benefit of having all previously purchased games linked to your Stadia account so you can play them at any time without having to pay again.
GeForce gives you three price plan options.
Free:
On the free option you can play any games you have previously purchased as long as they are compatible with the GeForce platform. You will however be limited to hour-long sessions and during peak times, you may have to wait as paid members get priority access.
Priority:
Priority membership costs $8.99/month and gives you priority access to the servers and longer gaming sessions (up to 6 hours). You can also pay for 6 months in advance to take advantage of the discounted price of $49.99 for 6 months. Paid members get to enjoy the benefits of RTX cards and ray-tracing.
RTX 3080:
This top tier option gives you access to sessions of up to 8 hours, and you get exclusive access to superior gaming technology like the RTX 3080 graphics card; up to 1440p 120fps gaming and ray tracing. You can even play in 4k HDR if you have a Nvidia Shield TV.
Conclusion
Trying to determine which streaming option is best for you depends on what's most important to you. In terms of membership costs, both services cost approximately the same each month, but Google Stadia will allow you to play free games with no time limit imposed. GeForce NOW is more suited towards playing on smaller computer screens, whereas Stadia will give you superior performance on large TVs.