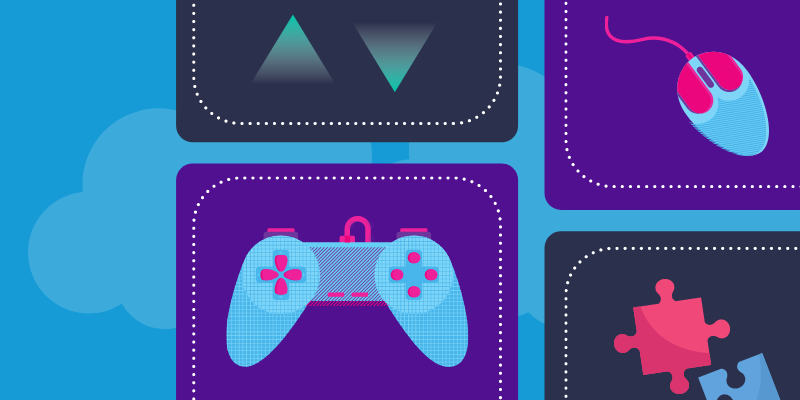 What is cloud gaming and how does it work from the server and user side?
Cloud gaming offers individuals a method of playing resource-intensive games on any mobile device or web browser. Gamers can enjoy their favorite pastime without being concerned about having a high-powered dedicated gaming console like a PlayStation. Cloud gaming promises to expand the audience for gaming by making it easier and more affordable to play. All that is necessary to play games is reliable and fast streaming to transfer data between the gaming platform and the end user's app or device.
This article will discuss implementing gaming on the cloud and provide some examples of how cloud gaming works.
A short history of cloud gaming technology
Before we delve into the details about how cloud gaming works, let's take a brief look at the history of the technology that makes it possible. Without these innovators, cloud gaming might still just be a dream, forcing players to purchase expensive console systems to enjoy their games.
Game Cluster, also known as G-cluster, introduced a cloud-based gaming approach in 2003. The company's first model was released in 2005 and offered users access to PC games running on its remote servers. The games were provided to users using portals facilitated by on-demand service providers and dedicated middleware. This delivery model was modified in 2010 to rely on the resources of a large server manufacturer and provide gaming content directly to users.
The increased availability of free games for PC users forced G-cluster to reevaluate its offerings. The company decided to concentrate on Internet Protocol television (IPTV) users accessible through partners such as the French telco SFR. G-cluster has been commercially available since 2012 for TV and mobile customers.
The lack of reliable infrastructure able to handle the bandwidth required to stream games over a network to a remote PC slowed the adoption of cloud gaming. Companies like Crytek displayed interest in cloud gaming in 2005 but stopped development in 2007 to wait for the availability of more affordable and high-performance bandwidth.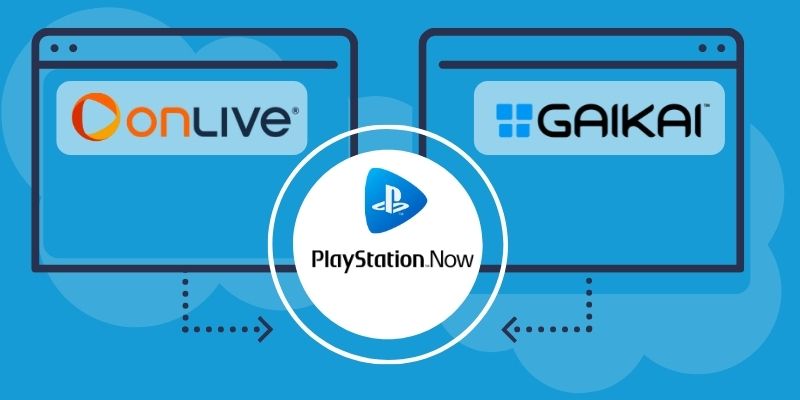 OnLive and Gaikai were two startups that got going around 2010 when they felt the enhanced video compression and smartphone technology opened the door to a wider market for cloud gaming. Both companies were eventually acquired by Sony with Gaikai forming the foundation of the popular PlayStation Now platform which was introduced to the public in 2014. Sony's acquisition of these two companies gave it access to a wide range of patents related to cloud gaming.
How does cloud-based gaming technology work on the server side?
Cloud gaming is essentially a dedicated streaming service similar to more general solutions like Netflix. Gaming activity is performed on the provider's servers with video streams distributed to users on a remote desktop or mobile device. This methodology greatly reduces the technical demands placed on the user's computer, smartphone, or tablet. They are only required to process video efficiently and do not need the computing power necessary to run the games.
As video games become more complex and continue to evolve, powerful platforms are required to run the software and make the content available to gamers. Using the vast resources of the cloud gaming providers to perform game engine processing enables games to be enjoyed by a much wider audience. Action is streamed to a user who responds with controls that are registered and acted upon in real time. With a fast enough Internet connection, there should theoretically be no latency or other impediments to gameplay.
Cloud gaming companies have shifted their pricing models away from promoting one-time purchases of new titles destined to be installed and played on a compatible computer. While many games can still be bought and used in this manner, cloud gaming providers primarily operate on a subscription basis. Different types of subscription options are available and supported by cloud game vendors.
In some cases, users may be charged based on the amount of time they spend on the game. This time equates to the use of the provider's hardware and can be billed on an hourly or by-the-minute agreement. Some providers build virtual machines for customers to use or offer direct access to personalized remote computers. Users are limited to the games available in a provider's catalog and may need to use a dedicated app to access the cloud gaming platform. Google's Stadia takes a different route and allows games to be played on any device that can run the company's Chrome web browser.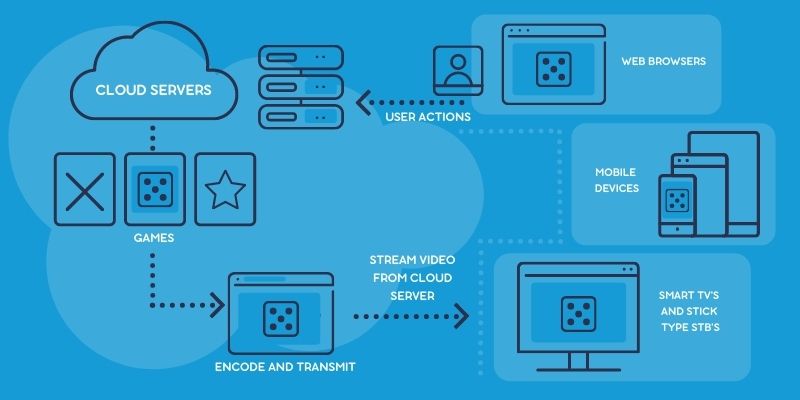 Another benefit of cloud gaming is the opportunity for gamers to compete with players from around the world. For instance, fans of Formula 1 from anywhere on the globe can engage in virtual races where the bulk of computing power is provided by the cloud. There is no way to replicate this type of virtual competition if all game processing is done on an individual gamer's machine.
Game developers and manufacturers can use this capability to promote their products and grow their user base in ways that cannot be rivaled by traditional video games.
How does cloud gaming work from the client side?
The way players interact with cloud gaming can vary based on the provider with which they have a subscription.
Offerings such as Google Stadia, xCloud, and PlayStation Now give users access to a library of games installed on their cloud servers. Users are not required to install anything on their devices and simply need to log in to an account and choose the game they wish to play. A potential drawback to this simple and convenient method of gaming is the limited number of titles that may be available from a given provider.
Other options, like Parsec or Vortex, offer complete access to a cloud computer. Users need to connect to the remote machine and install the game they want to play before using it. Gamers are essentially renting time on high-powered hardware with this type of subscription.
Some companies require an app to be installed on the user's device to enable access to the cloud gaming library. These apps may not be available for specific operating systems, limiting their utility for some users.
Many different types of hardware can be used to play cloud games. The only requirement is the ability to handle the video stream that is providing gameplay. If your device can stream videos without a problem, it should be sufficiently powerful to use for cloud gaming. A stable Internet connection speed of 10-15Mb/s is recommended for an enjoyable cloud gaming experience.
Known issues of cloud gaming
Cloud gaming offers multiple benefits to gamers but some known issues need to be addressed.
•

Latency

– Low latency is required to provide a seamless gaming experience. Interruptions or unexpected slowdowns can negatively impact gameplay and make it impossible for players to compete fairly. This type of problem can be hard to isolate as the slowdown can be caused by the cloud hardware, your location, the Internet provider, and other inconsistent factors. Latency can kill a gaming session and is a major reason for players abandoning cloud gaming platforms.


•

Compatibility

– When dedicated apps are required to access cloud gaming platforms, there is a risk that not all interested and potential users will be able to participate. Individuals may be forced to obtain a new type of device to play certain games with their friends.


•

Game ownership and preservation

– Cloud providers may not offer players the ability to play games offline, save game files, or make modifications. If the service goes down or is abandoned, a lot of players' time and effort can wind up being wasted. Game progress and leaderboards may be deleted by unexpected outages suffered by the cloud provider.
Conclusion
Cloud gaming is already very popular and promises to become an even more lucrative market in the near future. Game developers have identified an audience that is poised to grow as the available software libraries and delivery methods evolve and improve. People love to play games and cloud gaming provides a streamlined method of enjoying themselves without the need to procure new and expensive hardware.
Improvements in the speed and quality of computer networks will be a driving factor in the adoption of cloud gaming by a wider population of gamers. Uninterrupted high-speed connectivity through 5G, Starlink, or other technologies looming on the horizon will make it possible to play resource-intensive games on your mobile device from anywhere in the world.