The 15 Best Knowledge Base Software Platforms Compared for 2023
Customer expectations and excellent self-service experiences are all made possible in business with the help of knowledge base software. In a report made in 2020, 69% of consumers find a solution to their customer service problems before they seek help from agents. And yet, only a small portion of businesses readily offer knowledge bases and forums as a self-service option.
In this article, we will explore some of the best knowledge base tools you can access and help you find out which will assist you in bringing more knowledge management efforts as a whole.
What is knowledge base software?
Commonly known as a help center, knowledge base software is a part of a help desk platform that allows users to organize, manage and create self-service content for the readers. This software typically shows the Frequently Asked Questions (FAQs), video tutorials, and how-to articles published here.
With this idea in mind, the knowledge base software lets the users access the troubleshooting content for the people involved in your business. As a result, your customers and team members can fix their problems at their pace and remove the hassles of reaching out to other employees or support agents. There are internal and external knowledge bases that mostly vary from one another.
To gain access to the information stored in a company's internal knowledge base, users must first log in. The reason being is that they are generally based on company-made resources. It contains the data, files, and tools the team might need to know to do their jobs properly. This type of knowledge base could be an integral part of HR help desk software.
Meanwhile, external knowledge bases – otherwise known as public knowledge bases – are written instructions for the public. This means the users don't have to log in with their credentials to access the information they need. Instead, it focuses on giving customers answers to Frequently Asked Questions, troubleshooting guides, and more.
Other than the distinction between internal and external knowledge bases, data storage of knowledge bases is also different from one another. You may choose to store your documents via company servers or host them on external servers.
Storing the documents based on company servers goes back to the internal knowledge bases.
The Best Knowledge Base Software Platforms for Customer Support
Listed below are the tools that will help you create a customer-facing knowledge base to help your customers easily access information needed to do self-service and to reduce the burden on your support team.
1. Zendesk
The best knowledge base software for any company and business.
Considered one of the best knowledge base software, Zendesk works to provide users with an easy-to-use and customizable knowledge base platform. Mostly, they offer an internal knowledge base, an IT knowledge base, a support agent-only knowledge base, or an external FAQ tool. Large corporations to small businesses can benefit from these tools because of the ease of facilitating internal information management.
This software is available 24/7, giving self-service portal agents easy access to information.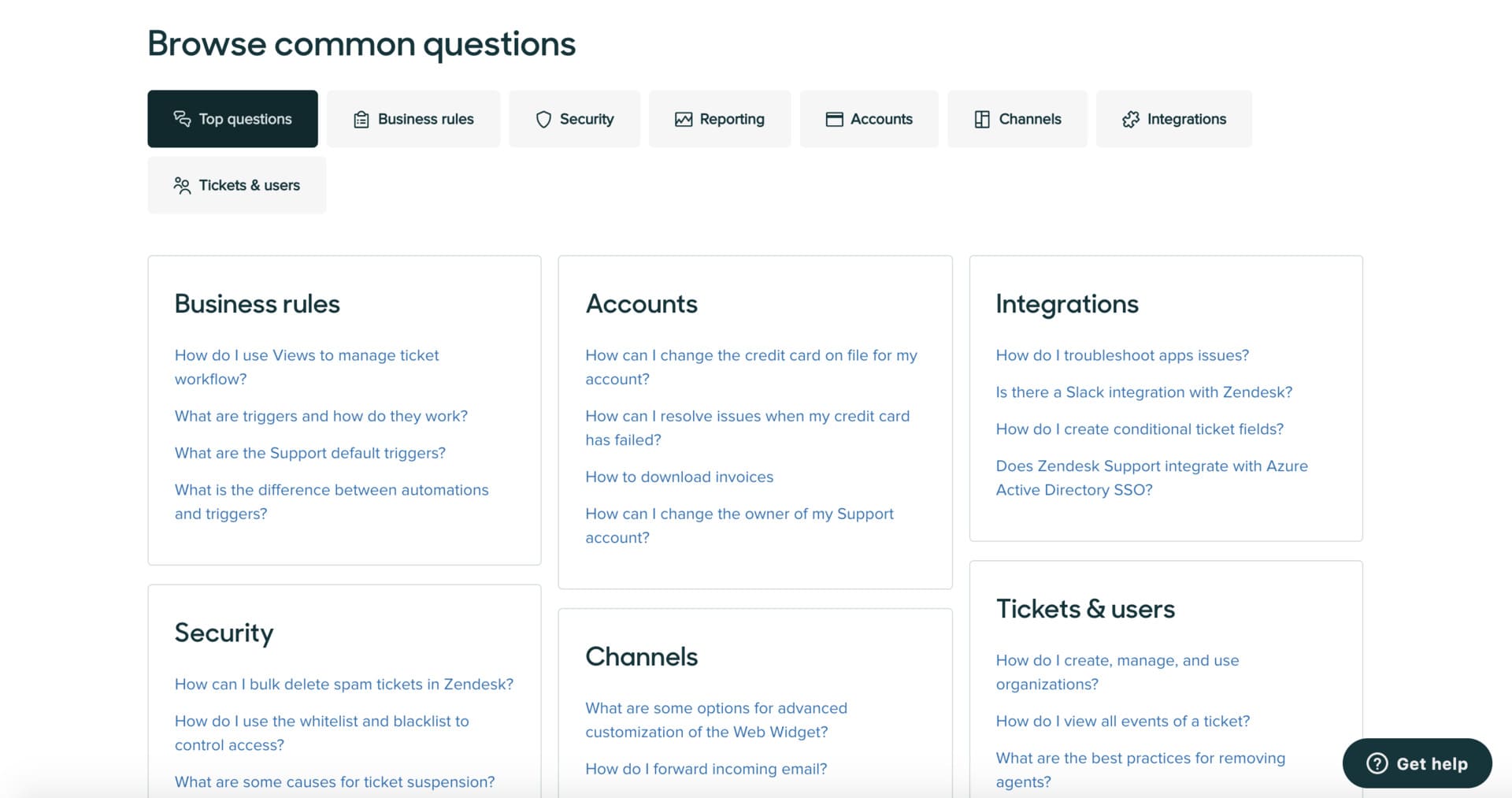 Features:
✦ Branding customization
✦ Messaging platform for users
✦ Artificial intelligence and bots
✦ Reports and analytics
✦ Self-service portals
✦ Community Forums
✦ Customer Feedback
Pricing:
The pricing varies according to what you want to use. For the selling plan, you can get Team ($19), Growth ($49), and Professional ($99). If you wish to get the support, you can get them at the same price per agent.
You can also choose the Suite Enterprise for $150 per agent which is billed annually. No matter what plan you choose, these plans come with 14-day free trials to guarantee that it works perfectly according to your business needs.
2. Help Scout
Help desk software and knowledge base combined in one, perfect for startups and other kinds of businesses.
Help Scout mainly focuses on customer service, but they also utilize Docs as their best knowledge base software. This software can stylize your knowledge base articles within a few minutes by exploring the formatting options in WYSIWYG and HTML.
It is smart in its way as it can efficiently save the time of both the agent and the customers with its seamless information integration. Moreover, they are suitable for both businesses and school platforms.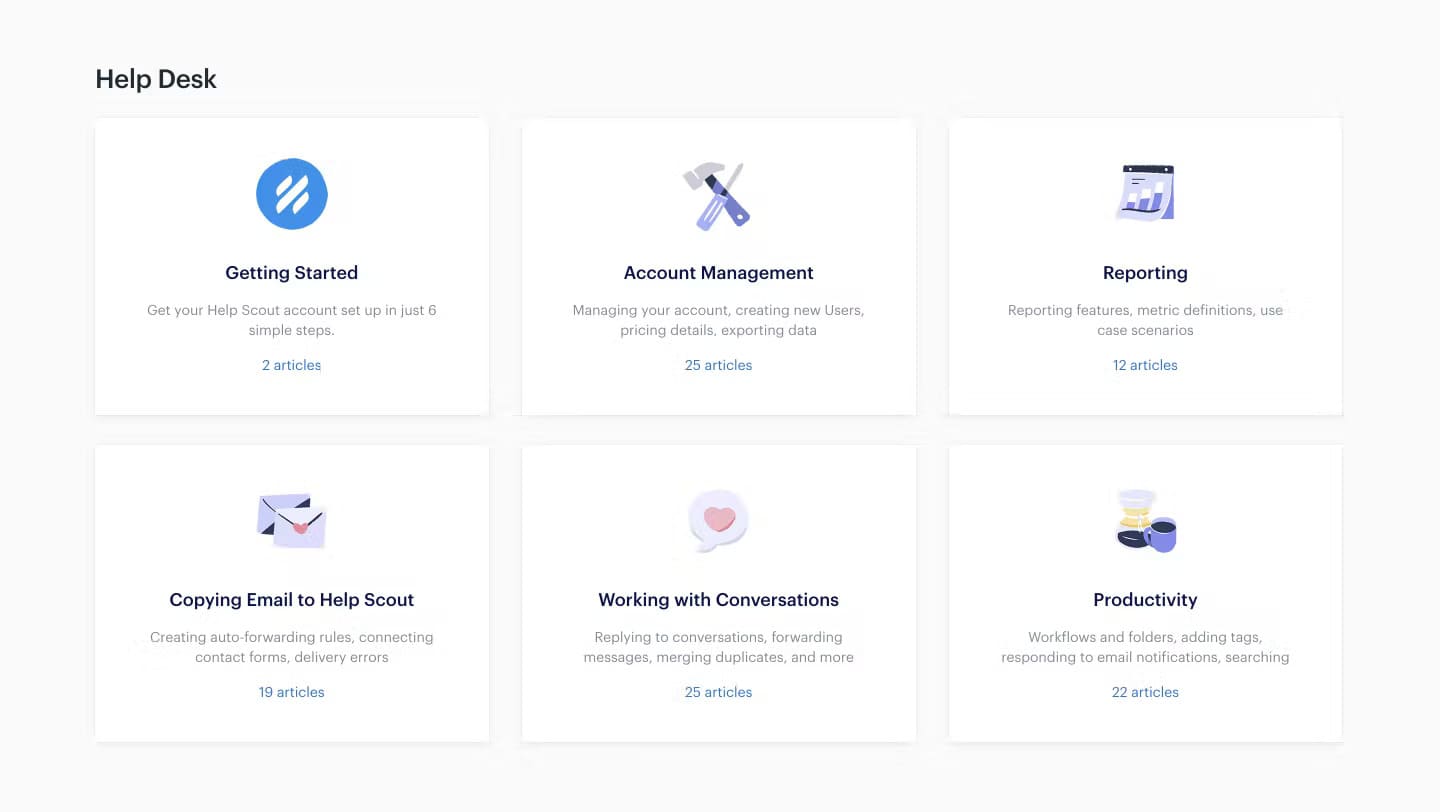 Features:
✦ Live Chat
✦ Integrations
✦ SEO
✦ Analytics
✦ Shared inbox with intuitive email support
✦ In-app Messages
Pricing:
The price begins at $20 per user with a 15-day free trial.
3. Document 360
Best knowledge base software for the self-service knowledge base.
If you are looking for a great self-service portal for your team and customers, l Document 360 is a reliable option. With their seamless integration, they make both external and internal knowledge bases easy to use.
This software also offers a knowledge base assistant anywhere they go, 24/7 hours a day.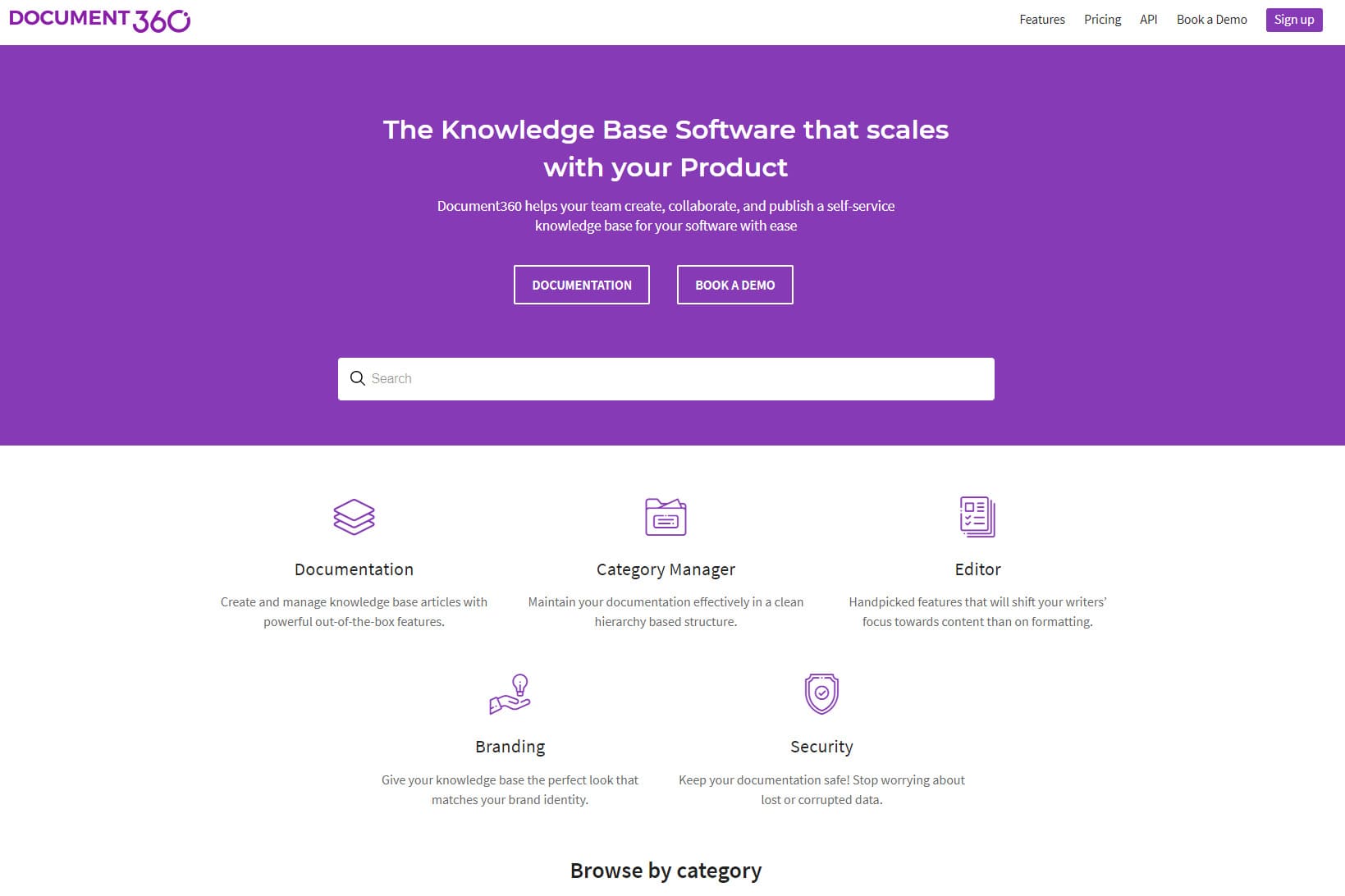 Features:
✦ Markdown Editor
✦ Analytics
✦ SEO
✦ Content management
✦ Self-service portals
✦ Useful in-app Integration and Extensions
✦ Open API access
✦ User Feedback
Pricing:
For each project, the price begins at $99 up to $299 per month with a 14-day free trial for each plan.
4. Heroic Knowledge Base
Best knowledge base for WordPress plugins.
Unlike other knowledge bases, the Heroic Knowledge base is a plug-in. This means you don't have to download the software; instead, you can integrate it and extend the functionality of your WordPress.
This plugin can professionally enhance your article design with customizable features which represent your brand. It also offers a powerful search engine, presenting suggestions for the customers as they continue typing what they are looking for.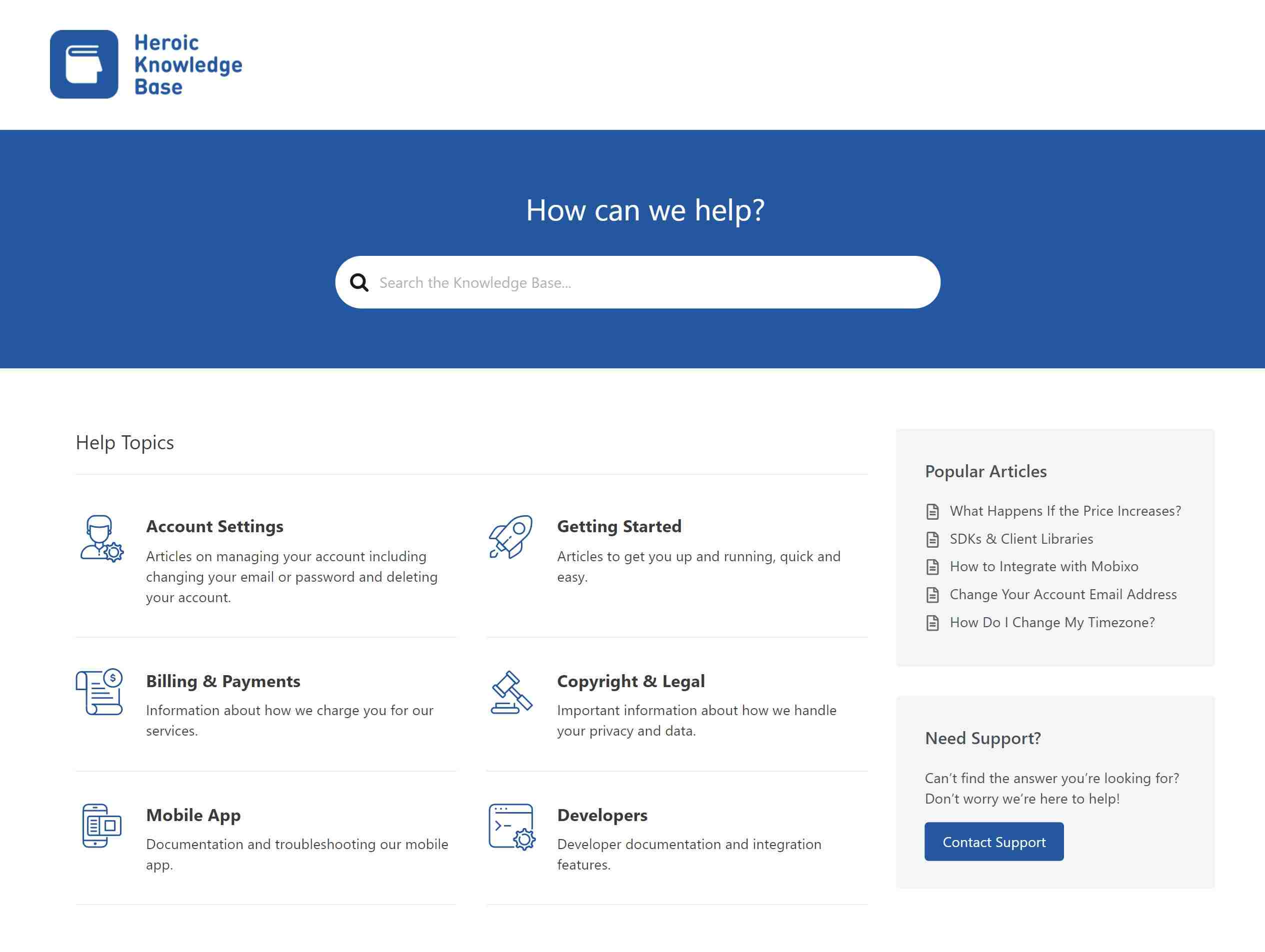 Features:
✦ Branding customization
✦ Search Engine
✦ Instant Answer Widgets
✦ Insights and analytics
✦ User Feedback
✦ SEO
Pricing:
Knowledge base pricing comes in 3 different options. First is the Heroic KB Essential for $129, with 1 year of updates and support and can only be used on one site.
Meanwhile, Heroic KB Plus is priced at $159, which includes everything essential with additional features such as search analytics and article feedback. With this option, you can use this plugin on three sites.
Heroic KB Pro costs $379, which includes everything, plus options with different platform integration such as Slack, HelpScout, and Gravity Forms. Aside from that, they also offer priority support, which could be used on five different websites.
5. Helpjuice
Best knowledge base software with excellent analytics and customization.
When you're looking for a knowledge base that you can customize from scratch, Helpjuice is the perfect knowledge base tool for you. This simple yet excellent analytics platform performs well in a self-serve knowledge base with powerful search engine functionality.
This knowledge base tool allows collaboration on articles and tracks the changes each person makes in the document. In addition, each user is posted on the recent revisions with several integrations in other applications to make the content more powerful.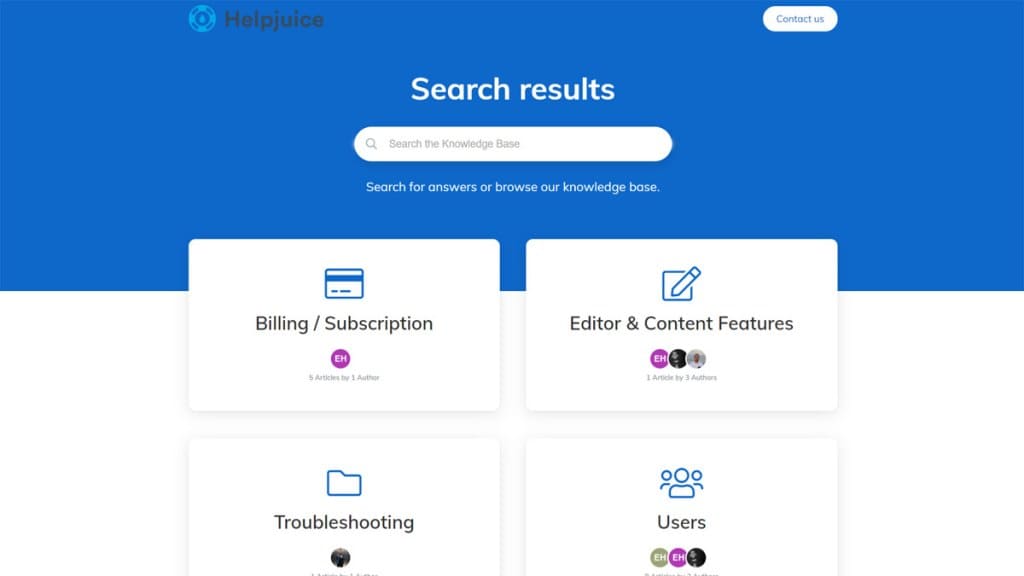 Features:
✦ Easy and simple customization
✦ Powerful search engine
✦ Insights and analytics
✦ Fast response customer support system
✦ Multi-language support
Pricing:
The price begins at $120 per month with a 14-day free trial.
6. Freshdesk
Best internal knowledge platform focused on call-center features.
Freshdesk is unique in its way as it is mainly focused on using a cloud-based customer service platform. No matter how big or small your business is, you can guarantee highly satisfactory customer support for your clients and users.
Knowledge base contents are easily curated in this software because it separates the public knowledge base from the private ones. Of course, you can expect high self-service support from here as they can easily filter out the tickets.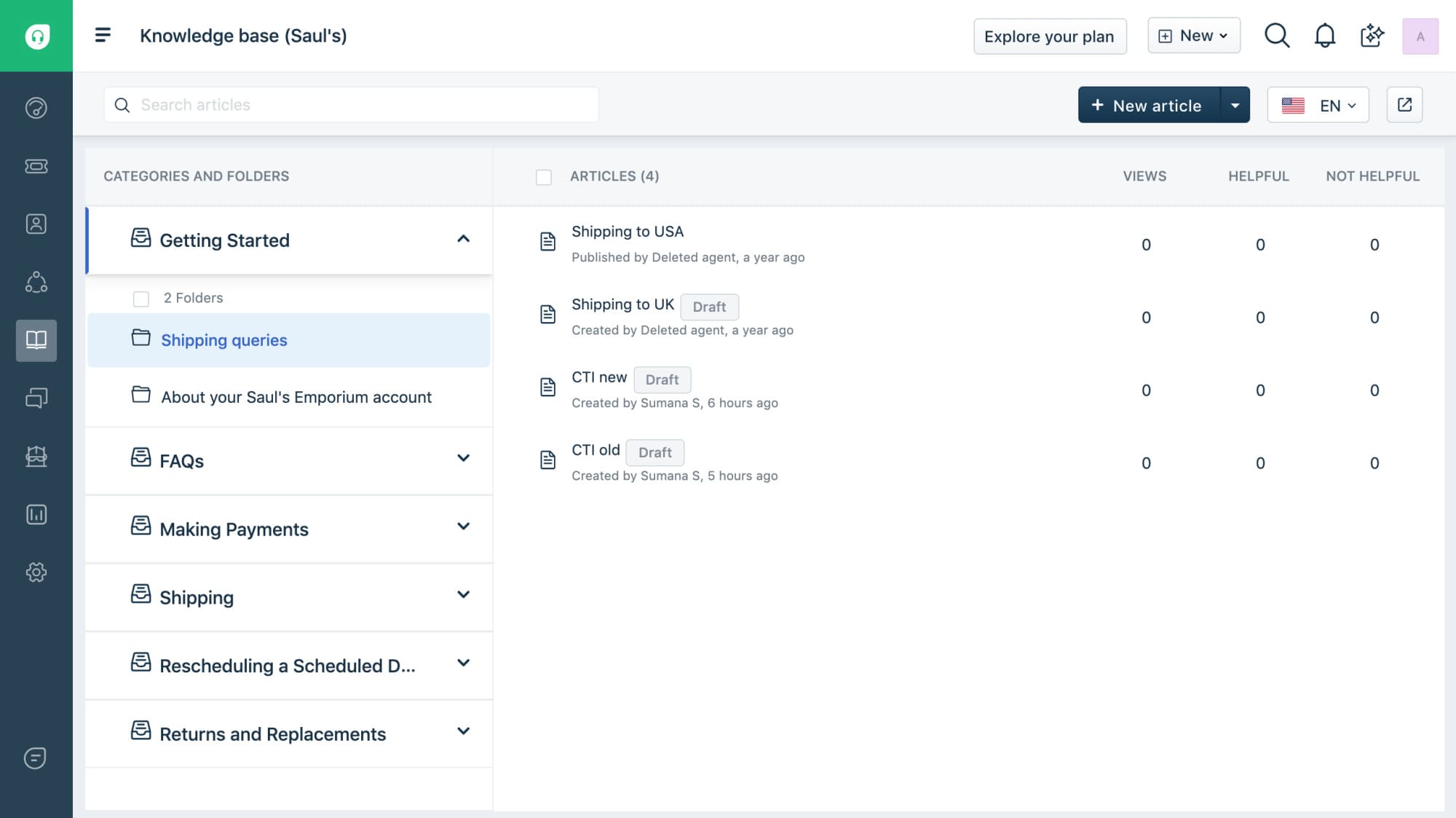 Features:
✦ Customizable dashboard
✦ Live chat
✦ Intuitive inbox for messages
✦ Intuitive user interface
✦ Customer portals
✦ Ticket filters
✦ Cloud-based support
Pricing:
Starting with a free plan, you can use email ticketing, collaborate with your team, report the ticket trends, dispatch, etc., with a 21-day free trial in each plan.
7. Slite
Best knowledge base app for remote collaboration from small and medium businesses.
Slite is a simple and sleek knowledge base software that lets users enhance their content by using smart tables to organize the data. Other than that, it also has FAQ tools, video explainers, and multiple app integrations that synchronize all of the workflows effectively.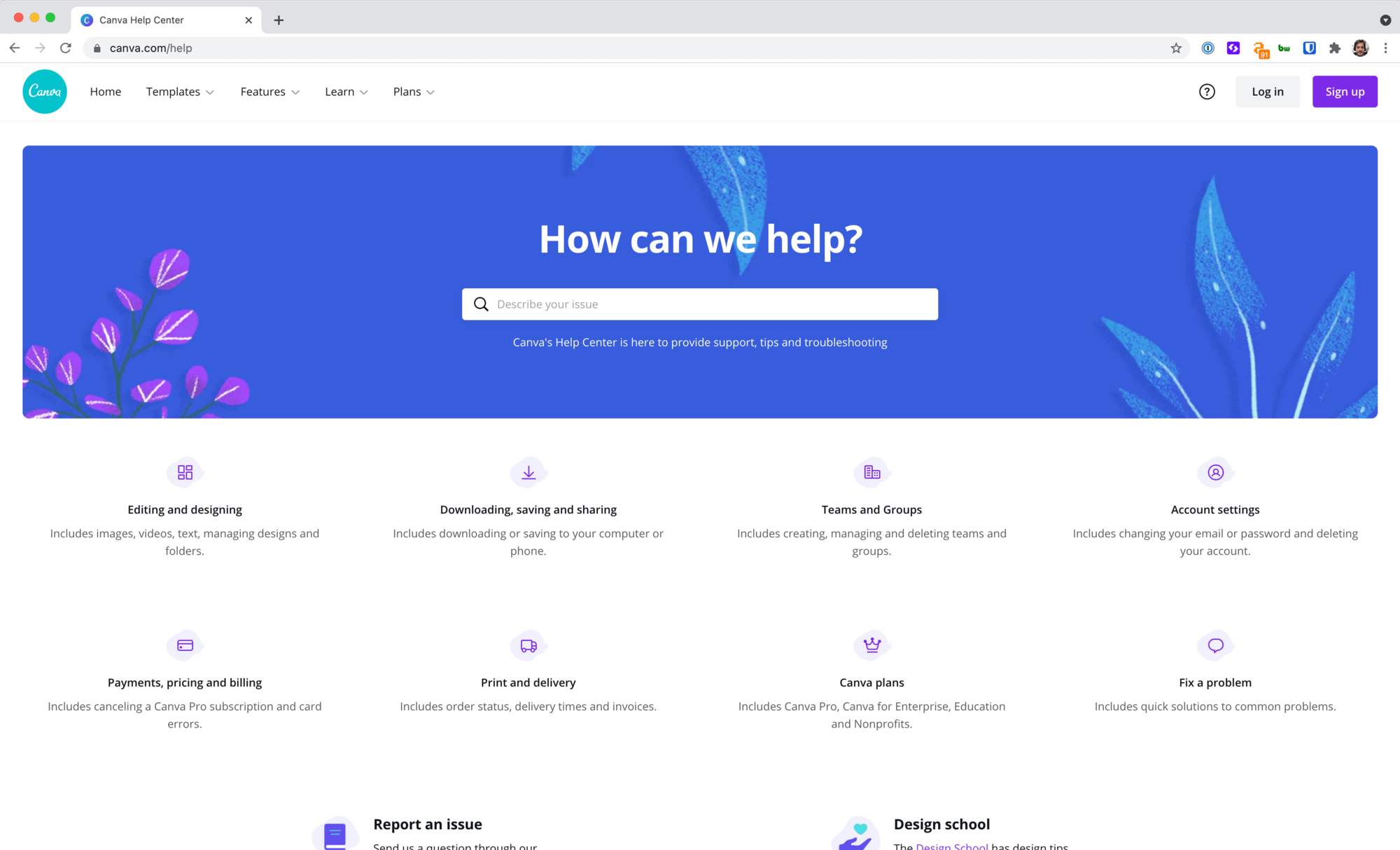 Features:
✦ Customizable knowledge base
✦ Markdown editor
✦ Inline comments
✦ In-content feedback
✦ Accessible versions and version history
✦ Collaborative documents
Pricing:
You can use Slite for free, which includes 50 Docs and Discussion with unlimited members to access them. This free plan also consists of all editor blocks and unlimited integrations. But if you choose to upgrade, each member can add more features aside from the free plan, which ranges from $6.67 to $12.50 per month.
8. Helpcrunch
Best for structured knowledge base information with a simple user interface
Helpcrunch is a help desk software that makes self-service efficient, especially when it needs to tackle knowledge base tasks like FAQs, customer support systems, and chatbots to facilitate them in their queries. In addition, this software makes the knowledge base system easy to manage and keeps the contents updated.
Unlike any other chatbot, the helpbot offers different kinds of articles relevant to the issues that your customer might encounter.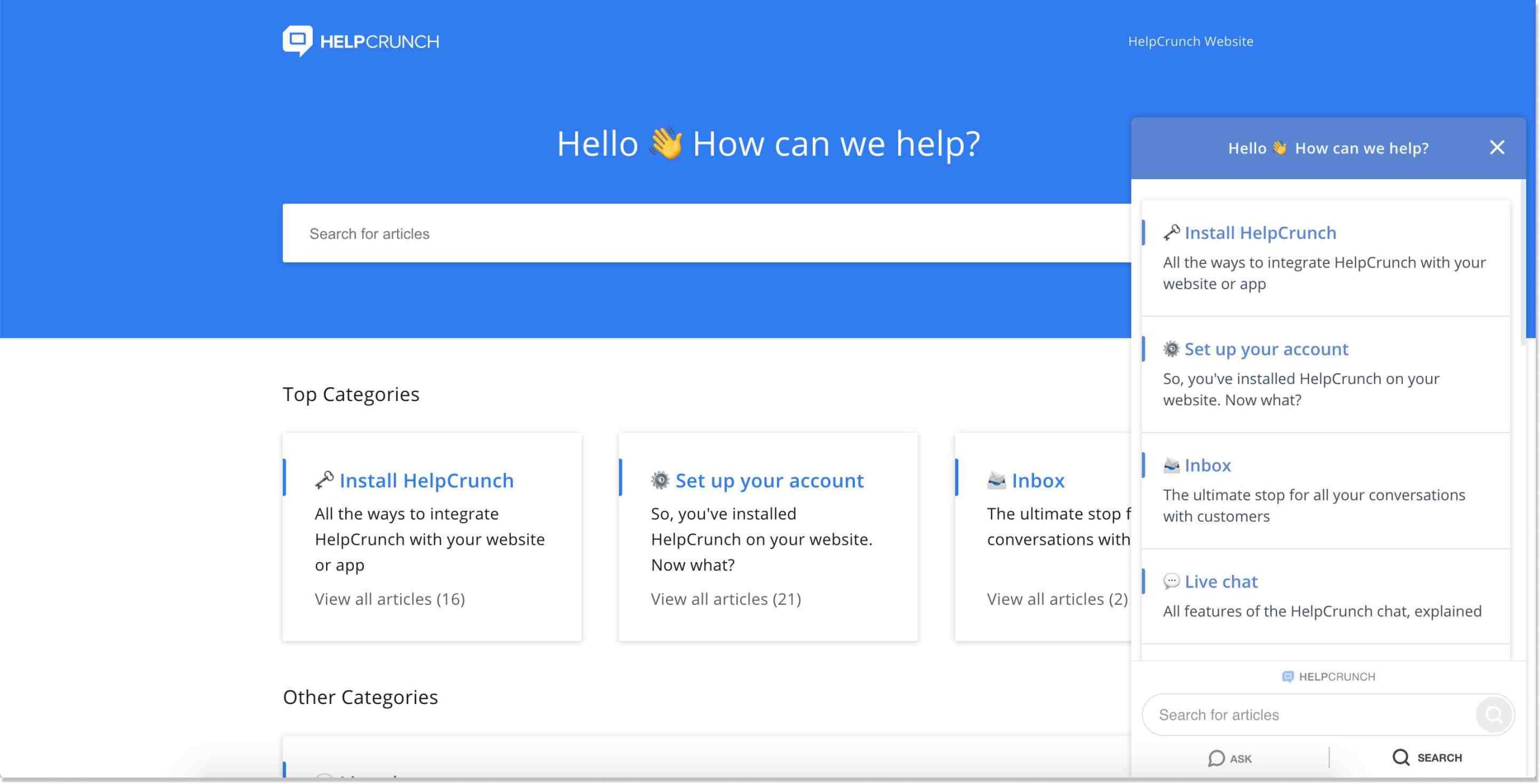 Features:
✦ Different platforms support – web, android, iPhone/iPad
✦ Live Chats
✦ Documentation
✦ Help Desk
✦ Forums
✦ Messaging
✦ Analytics
✦ Customizable branding
Pricing:
The price starts at the range of $15 up to $49 per month with a 14-day free trial in each plan.
9. Wix Answers
Best for: small and medium-sized businesses based on Wix
Wix Answers help small and medium-sized businesses access technical support systems based on Wix, where the site is hosted. In addition, they provide excellent cloud-based information users might need with the help of widgets.
Wix Answers also offer a high-end live chat for customer assistance and filtering out ticket systems, but they come with a higher cost range.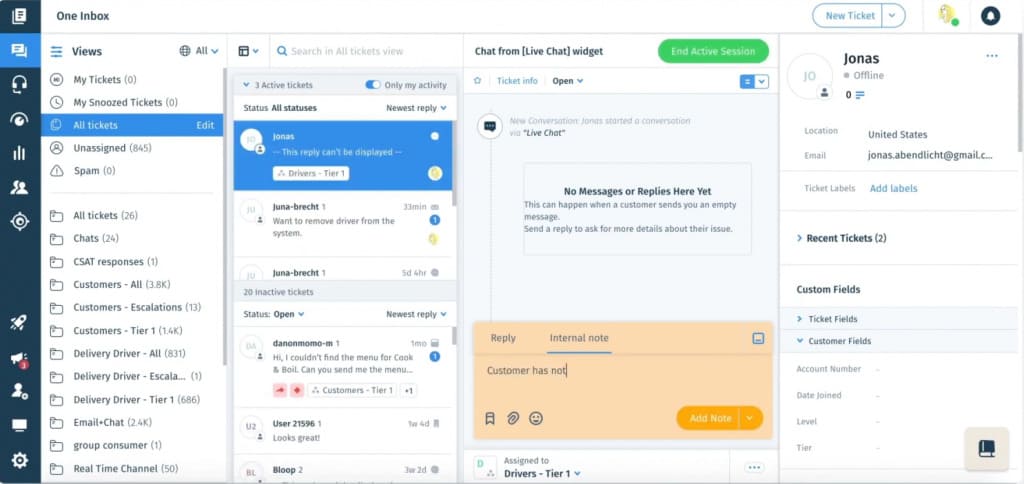 Features:
✦ Call center
✦ Ticket management
✦ Multilingual support up to 11 languages
✦ Search Engines
✦ Analytics
✦ Self-service portals
Pricing:
This software offers two different kinds of payment. You can avail of an agent, which costs $24 per month, or a live chat and ticketing system for $60 billed monthly. Each plan offers a 14-day free trial to help you get acquainted with its tools and benefits.
10. Confluence
Best for internal base knowledge software with organized workspaces.
Users appreciate using Confluence because they can easily establish team areas and keep things organized by using a template from their library, even if it can seem and deliver a user experience similar to Notion. In addition, there is a strong emphasis on facilitating the management of business projects and expanding the organization's internal knowledge base.
The platform also features a seamless interaction with workspaces, such as Trello and Jira, which makes it simpler for teams to collaborate.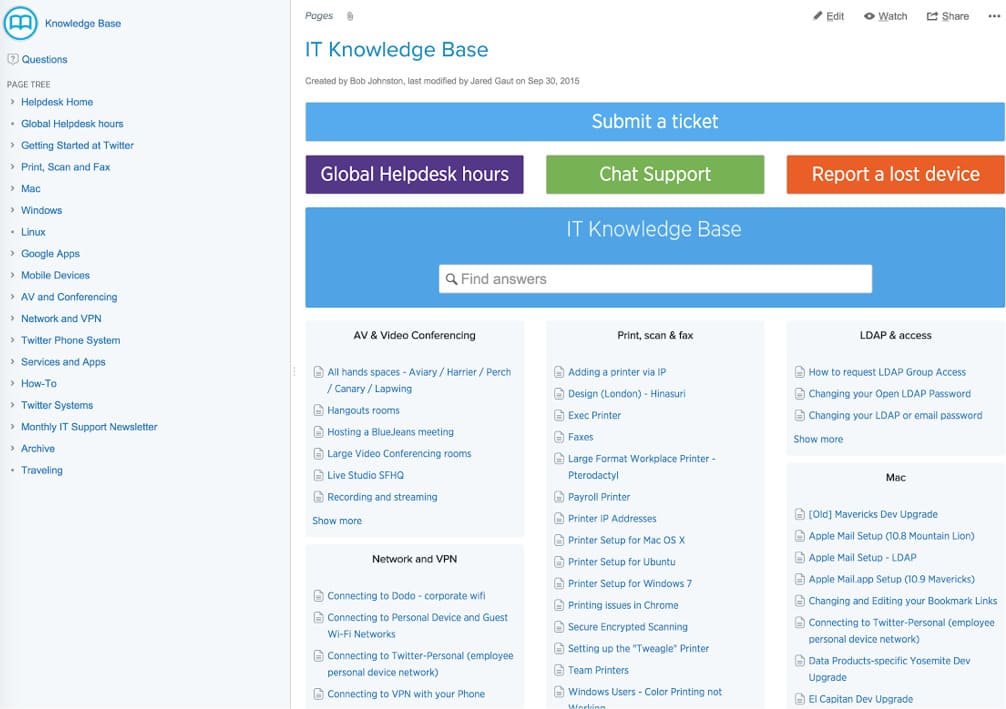 Features:
✦ Templates
✦ Analytics
✦ Integration
✦ Content Editor
✦ Search engine
✦ Comments
✦ Accessible versions and version history
Pricing:
Confluence is free when you only have 10 users on your team. Paid features range from $57.50 per user up to $110 a month, which already gives you a lot of software features that allow team collaboration. Trying to make up your mind? You can use Confluence cloud for a 7-day free trial.
11. Slab
Best knowledge base for open-source projects
Modern workplaces use Slab to store their knowledge base information. As a result, not only it integrates well with the tools most workspaces have, but it also produces efficient team collaboration without getting in the way of one another.
Slab organizes content for the users according to its importance. You can do this by tagging each post and seeing the insights at a glance. Using the software, you may notice that its interface is friendly to all kinds of users, whether you're hosting an open-source project or saving knowledge bases for non-profit organizations.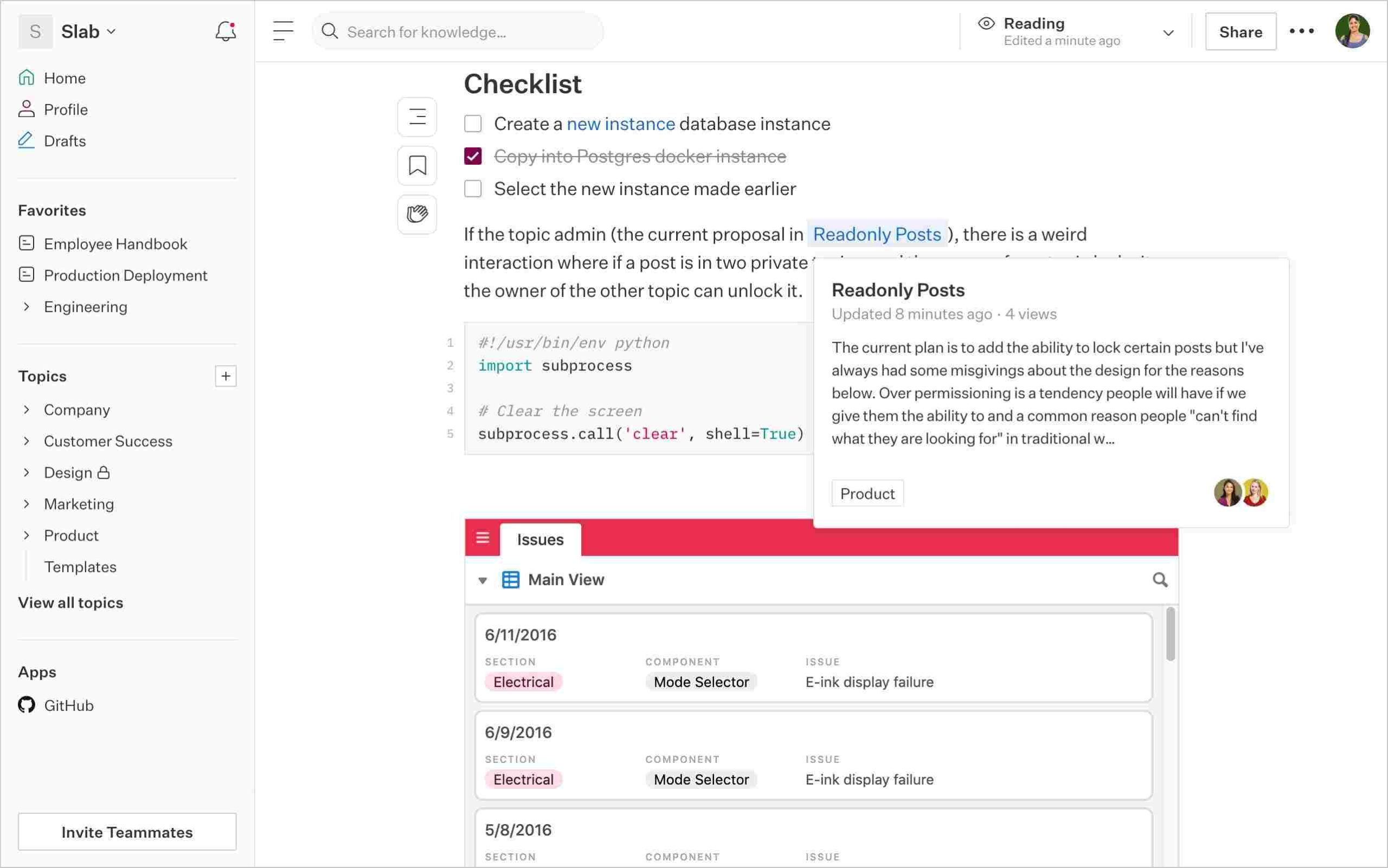 Features:
✦ Easy to use and setup
✦ In-content feedback
✦ Comments
✦ Content Editor
✦ Page Analytics
✦ Content Management
✦ Integration
✦ Customizable branding
Pricing:
You can start using slab for free or pay $12.50 for each user a month.
12. Notion
Best for an internal knowledge base with highly optimized knowledge management features
Notion is an efficient note-taking application, which makes it the best internal knowledge base for teams and collaborators. Unlike other knowledge base systems, Notion focuses on work management tasks that make employees more effective in their work. Gathering data from this software should be easy, with different kinds of databases to explore.
You can access almost everything you need to know about your workplace as long as it is stored in the database. It also allows you to filter out who can access the information and organize every piece of information seamlessly according to your company branding.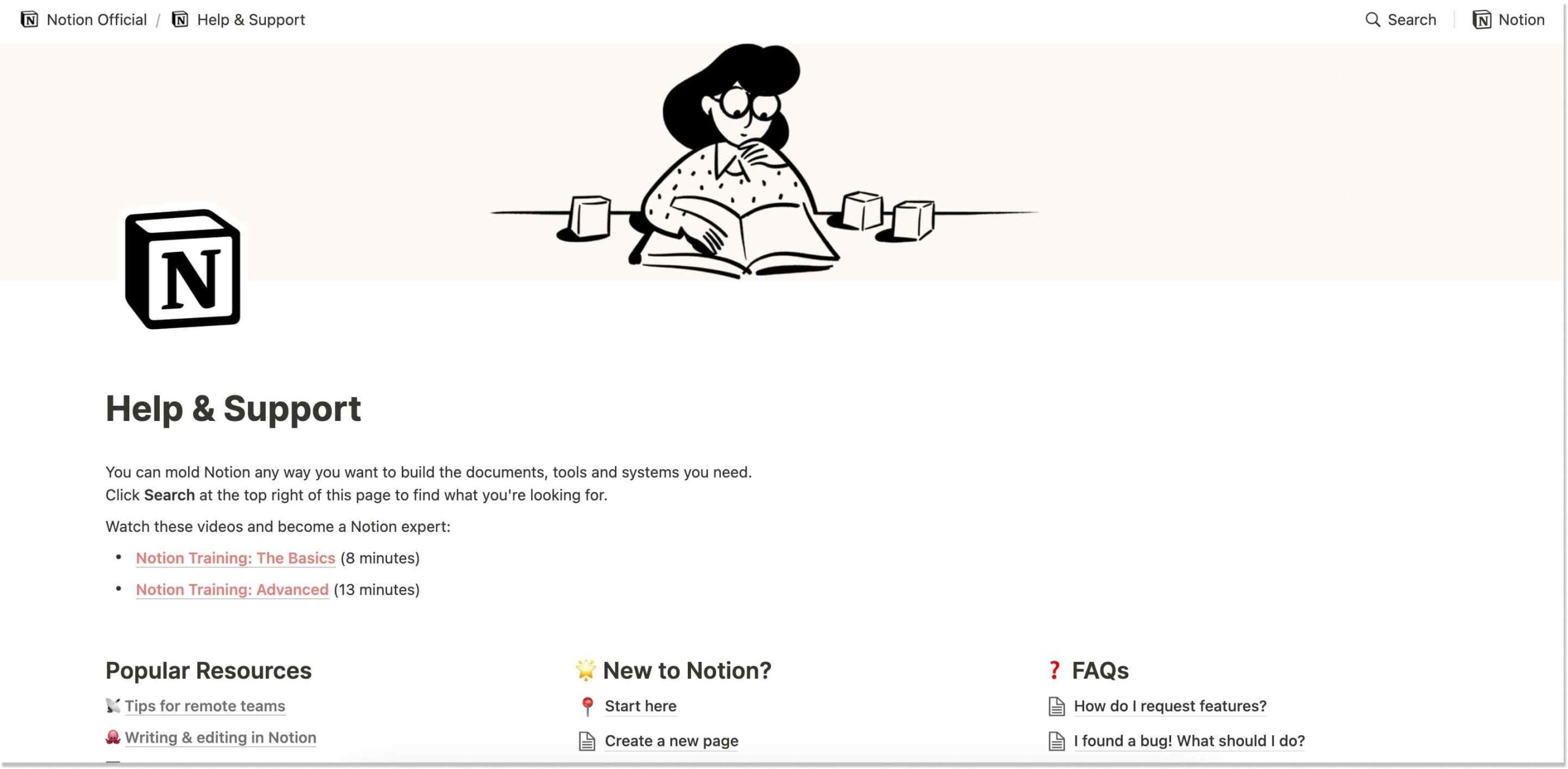 Features:
✦ Comments
✦ Templates for internal knowledge bases
✦ Permissions
✦ Calendar View
✦ Task Prioritization
Pricing:
Notion is free for personal use, but when you need it for team collaboration or business, you will need to pay $8 per month.
13. Zoho desk
Best knowledge base for ticket systems
Zoho desk can be integrated with any platform. Whether you want to use Zoho Desk over your phone, SMS text, or social media, it delivers quality customer communication for your business. Its features are easy to use for both content writers and editors. Aside from that, it quickly categorizes articles by their topics.
This knowledge base software allows users to set up customer portals and attach logos or branding according to their needs.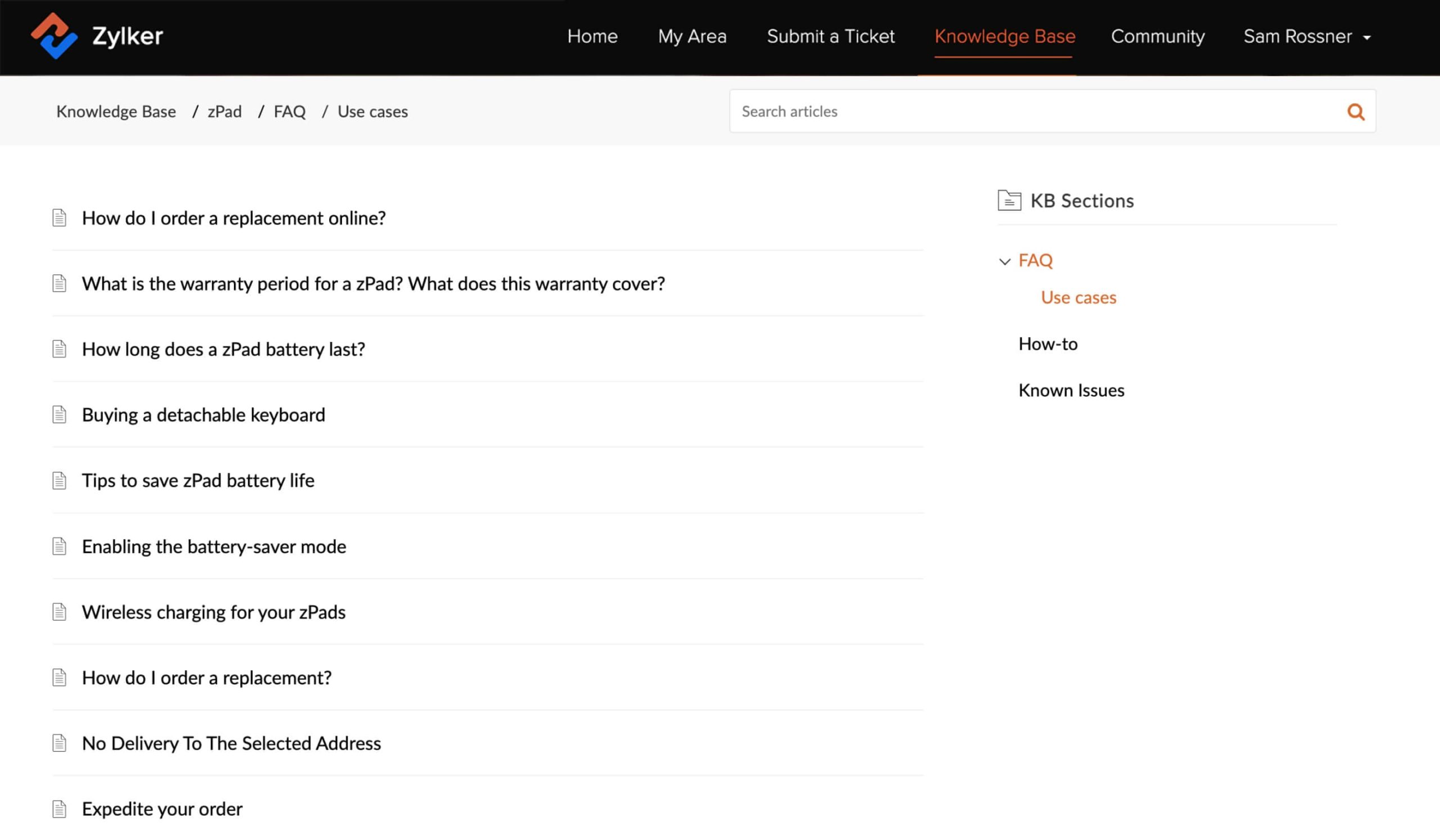 Features:
✦ Customizable branding
✦ Analytics reporting
✦ Dashboards
✦ Customer or Contact Database
✦ Ticket management
✦ Customer Portal
Pricing:
Small businesses that comprise three members have access to a free plan, while standard businesses start at $14 for each user billed monthly.
14. Guru
Best knowledge base system for categorizing pre-existing information
In terms of categorizing all of the existing workflows by their relevance and essential information, Guru is the great knowledge base to choose from. This system already integrates your workspace tools like Teams, Slack, or your CRM, and it is constantly updating information.
Artificial intelligence makes grouping relevant information possible, making the whole database and suggestions smarter as it studies the patterns.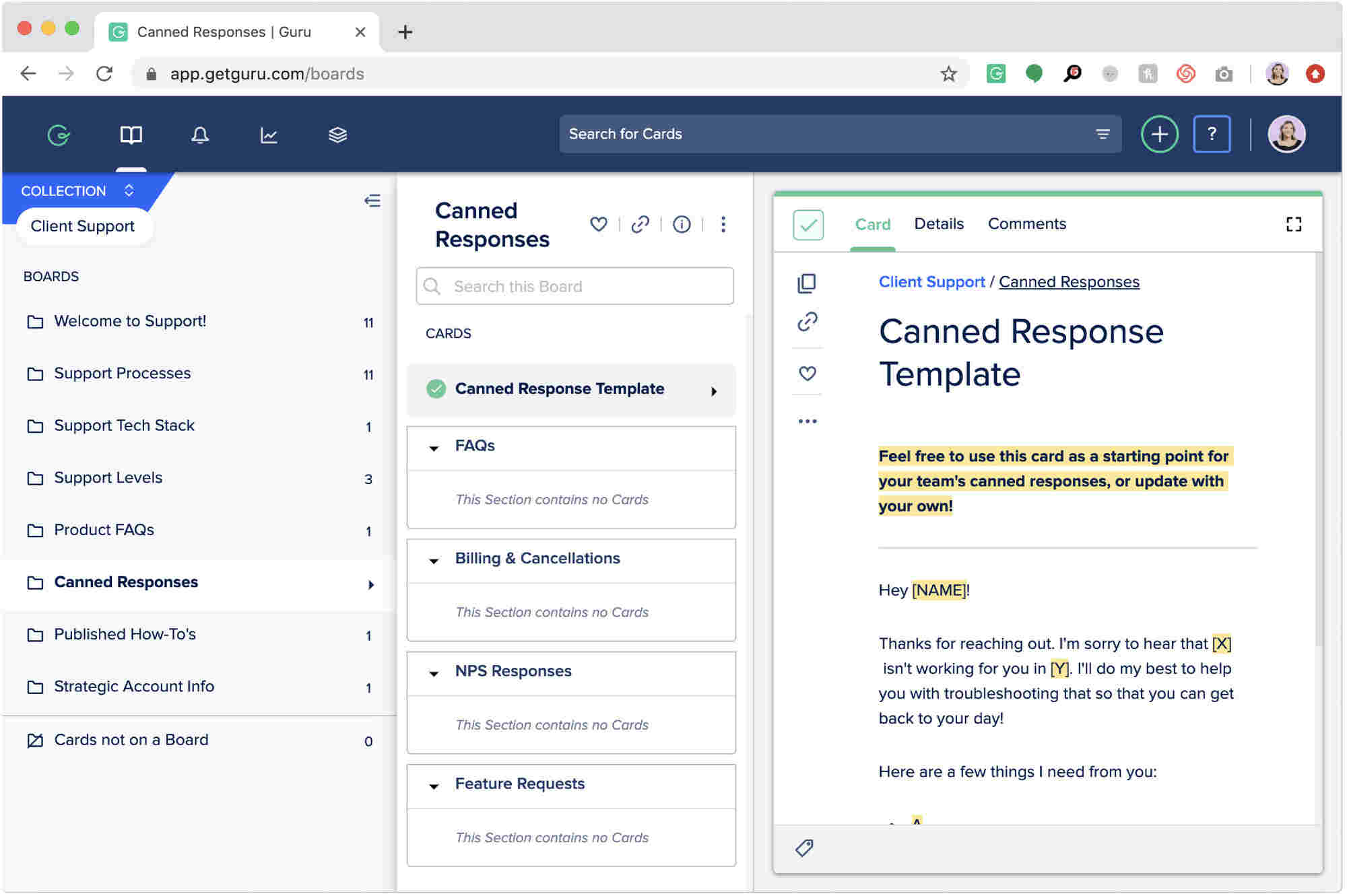 Features:
✦ Widgets
✦ Integration
✦ Notifications
✦ Categorization
✦ Content Management
Pricing:
10 or fewer team members can enjoy a free plan while starting price ranges from $5.00 to $10 for each person per month. If you want a more advanced plan, ticket linking and AI-suggest texts come at $20 for each user per month.
15. Bitrix24
Best knowledge base solution for SEO content
Bitrix24's knowledge base solutions store and share information by topic. You can use this system to edit text blocks, set up the knowledge base template you select, and then personalize it with the media of your choice.
Employees have access to the company knowledge base, which contains rules, instructions, information, and queries. In contrast, a project's knowledge base is a centralized repository of information accessible only to those actively engaged in the project.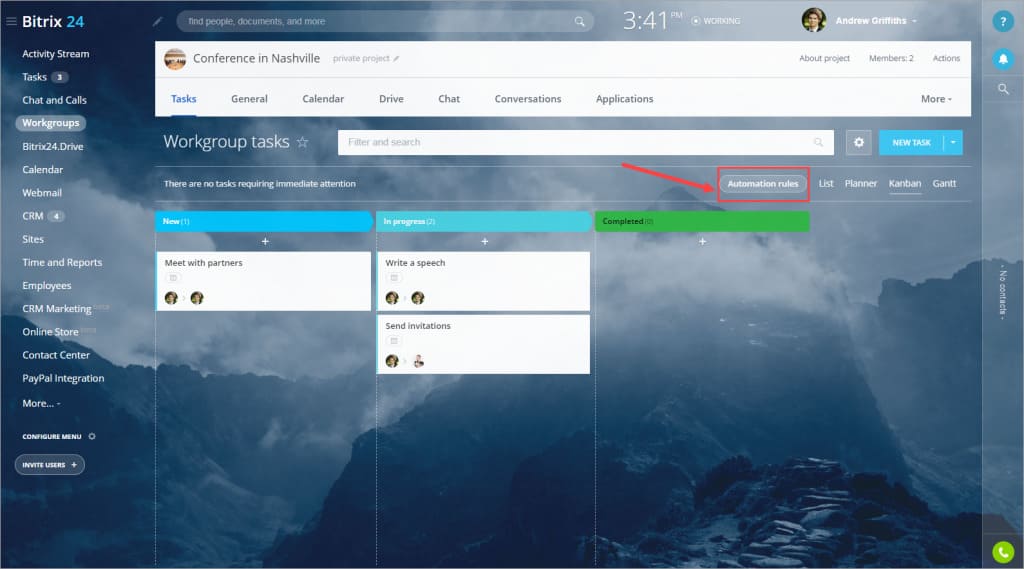 Features:
✦ Integration
✦ SEO
✦ Search Engine
✦ Dashboard
✦ Notifications
✦ Customer Relationship Management (CRM)
Pricing:
The price goes from free to the Professional plan of $249.00, which is accessible for 100 users per month.
How to create a knowledge base
Follow the step-by-step guide below to help you build a knowledge base that accurately reflects your brand, allows easy navigation, and regularly updates your business with the latest information for you and your business needs.
Step 1: Pick the right knowledge base software
Now that you finished reading our detailed review of the best knowledge base software, making the right choice should be easy when you pick the most appropriate software for you to use.
Step 2: Choose knowledge base topics
After picking the right knowledge base software to use, researching the trends of your customer queries should be the best way to get started in selecting the topics for your knowledge base.
The process can be broken down into the following two steps:
Find Frequently Asked Questions (FAQs) by looking up the old tickets.
Gather further insights using analytics.
Step 3: Optimize the knowledge base articles
After identifying customers' needs and lining up the topics, planning and writing your knowledge base articles are the next steps to take.
Here are some pointers to remember while optimizing your content:
• Prepare and use visual aids (Screenshots/GIFs/videos)
• Improve the Agent-side workflow by using custom templates
• Simulate the manner your users communicate
• Emphasize the features on top of the benefits
Step 4: Structure your knowledge base
Structuring your knowledge base documentation helps your customers find what they need quickly. However, because of this, you must have them all in order. To do this, you can create a home page layout for your knowledge bases that will hold all of the support-based articles for your business.
Categorizing your knowledge base should be easy by using these four simple steps:
Create a search box to enable searches within the page.
Group articles based on the same topics.
Cross-link relevant articles.
Ensure tagging each article for efficient navigation across topics
Step 5: Keep your knowledge base up to date
Your knowledge base is simultaneously updated with all the information your business is going through. And with that, you need to manage your content constantly to keep the users posted.
With each new product your business is releasing, we recommend updating the support portal first. Then, work on releasing the changes or the features you introduce.
By then, you can make changes according to the customer feedback you were tracking. Your knowledge base must always reflect the answers to the Frequently Asked Questions and incoming support tickets. You can ensure that you cover all of the issues by scheduling weekly or monthly checking.
Benefits of knowledge base support software
Customers benefit from knowledge base systems. Here are the four biggest benefits they usually get:
1. Deliver 24/7 customer Support
Customers resolve their problems no matter what time of the day it is with the help of a knowledge base. This software is one of the best investments business owners can make, especially if they need support, even if the team is already done serving their fixed business schedules.
2. Prevents Repeated Questions
Instead of accepting the same queries all over again, having a good knowledge base software can help you save time from answering the same questions repeatedly. Instead, the customers will be directed to the tutorial or guide they need.
3. Enhanced representative performance
The agents can perform their jobs efficiently in solving customers' problems when they can find the resources within a minute. This is possible if they are using a well-organized IT knowledge base.
Additionally, knowledge base tools are also helpful when combined with the use of chatbots. The answers to the customer's queries will be addressed automatically, without the need for an agent to answer the simple and repetitive issues the users are facing.
4. Enhances customer experience
Customers find considerable value in self-service and rate it as highly as a positive face-to-face interaction. It frees them up to focus on less time-consuming matters, like updating their passwords. Nevertheless, the information presented here is insufficient to demonstrate what it is that customers seek.
Giving clients access to knowledge management system-based data allows them to solve their problems and conduct more research if they need to.
Frequently Asked Questions (FAQs):