The recent increase in remote work and cloud computing solutions has made remote access software more important than ever. They are also excellent tools to facilitate the operation of a distributed workforce.
Remote access software enables employees to work at home, access company files from wherever they are located, and provide customer support to distant users. Read our article and find out about top-notch remote control software in 2023! These solutions can be used for both individuals (e.g. free software) and for businesses of any kind of size.
Our remote access software reviews
We invite you to read our reviews of the best remote connecting software for business and discover some of the features that distinguish one solution from another.
TeamViewer
Business remote access software for organizations that want enterprise features such as collaborative tools and integrations with other solutions.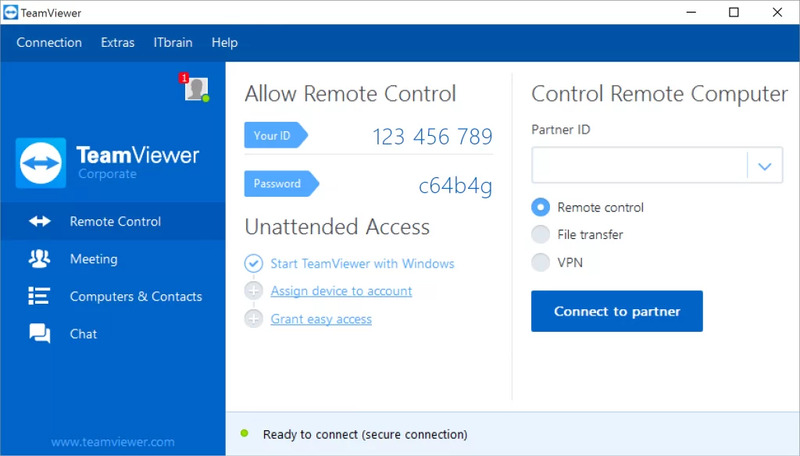 TeamViewer is our selection as the most practical and sure solution for remotely accessing Mac machines. It is suitable for IT departments that need to ensure that all connections to remote servers and devices are kept private and secure. The tool also supports Windows, Linux, Android, iOS, and Chrome OS devices.
---
Features
• Basic features: Remote access is provided with a host of features that includes VoIP, drag-and-drop file transfer, remote printing, software integrations, mass deployment options, and reporting on users and machine access. The tool is both cloud-based and installable, giving your employees options and making it easy to implement across an organization.
• Dedicated macOS support: Apple is in the process of transitioning from Intel chips to their proprietary M1 silicon chips. This will take about two years and promises a product for users with M1 chips that will deliver high performance and allow the machines to be used with innovative technologies. TeamViewer 15.12 for macOS supports the new Apple chips as well as the latest version of the macOS operating system. The company states that this version of TeamViewer promotes enhanced performance and uses less energy.
---
| | |
| --- | --- |
| | |
| TeamViewer integrates with other third-party tools like Zendesk, Salesforce, and MobileIron; | Annual billing with no monthly options; |
| Users can communicate in multiple ways including voice, video, whiteboard, text chat, and with TeamViewer Pilot, 3D annotations; | Extra cost for mobile support; |
| Customizable reports on technical performance; | Mobile support is an add-on feature; |
| Alerts for device status allow for proactive responses; | More expensive than alternate solutions. |
| Integrates with 24 different help desk and CRM solutions. | |
TeamViewer Pricing
Prices are quoted monthly and are billed annually.
GoToMyPC
A good solution for small teams in Windows-based environments.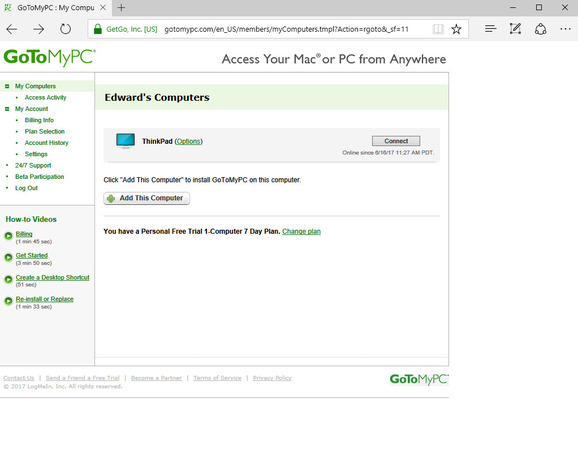 GoToMyPC has been a popular choice as a remote desktop solution for years. The tool provides a synthesis of features, security, and ease-of-use that makes it appropriate for general users requiring remote access. Users don't need to learn a standalone app interface, as the tool can be controlled from a web browser or a desktop shortcut to immediately access a remote computer. GoToMyPC is the best app we have found for furnishing mobile access and is an excellent solution for small businesses.
---
Features
• Basic features: GoToMyPC has all the basic features you need in a viable remote access solution including а file transfer, multi-monitor, and sound support while protecting your connections with 256-bit AES encryption, multi-factor authentication, dual passwords, and host access codes.
• Advanced features: One of the nice advanced features that are included in all plans is the LogMeIn antivirus protection to help keep you safe. Other advanced features include the ability to lock the remote keyboard and black the screen on your PC to protect your privacy and Real-Time Diagnostics.
---
| | |
| --- | --- |
| | |
| Scan be run primarily from a web browser; | Degraded features when accessing Mac systems; |
| Desktop icons make it easy to access remote machines; | Displays a distracting testing-server message when booting a computer. |
| An intuitive and easily navigated interface; | |
| Drag-and-drop file transfers; | |
| LogMeIn antivirus protection; | |
| Can connect within a private network or over the Internet; | |
| Smooth multi-monitor support. | |
GoToMyPC Pricing
Prices quoted are per computer per month.
---
RemotePC
A remote control tool suitable for teams looking for a simple and scalable solution.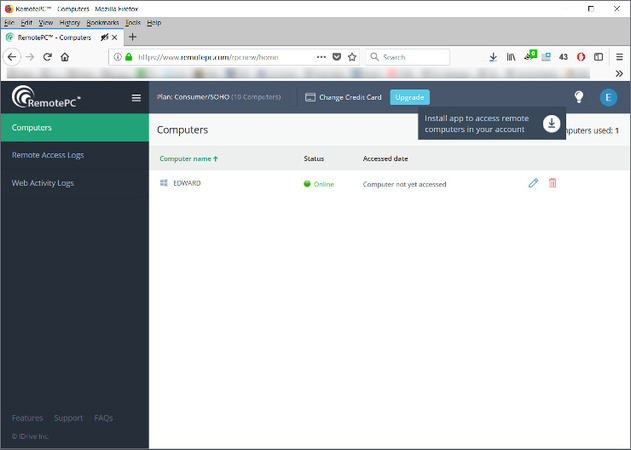 RemotePC by IDrive is a solution we recommend for companies that need a simple to use and comprehensive remote access solution. Multiple plans are available that are billed annually and offer extensive features, allowing businesses to choose one that works for them. RemotePC is an easily scalable solution that can grow with a small business.
---
Features
The feature set provided by the RemotePC is tiered and varies by the plan chosen by an organization. Here are the best features of this remote access solution.
• Basic features: All plans contain basic remote access functionality like remote printing, file transfer, session recording, and video conferencing. Collaborative tools such as text or voice chat make it easy for teams to work together to resolve issues on remote computers.
• Advanced capabilities: Enterprise plans provide advanced features such as group organization, computer grouping, and the ability to define user roles and permissions.
• RemotePC Meeting: This new video conferencing offering simplifies remote communication with multiple collaborative tools. Teams can share a whiteboard, engage in group and private messaging, share a screen, record sessions, and enjoy unlimited video conferencing. RemotePC Meeting is included with all pricing plans and the application can be obtained through the Google Play Store and the App Store.
---
| | |
| --- | --- |
| | |
| Always on remote access capabilities; | Less intuitive user interface than some competitors; |
| Easy to implement, use and scale; | Some lag time may be experienced when connected to remote sessions; |
| Flat-rate pricing enables users to conduct unlimited sessions simultaneously; | Instant chat support and 24/7 email responses are only available with specific plans; |
| Plans are easy to implement and scale when necessary; | |
| | |
| RemotePC Meeting for enhanced communication. | |
RemotePC Pricing
The quoted prices are introductory rates that go up to regular rates after the first year.
---
AnyDesk
Remote access software solution for small and midsize businesses.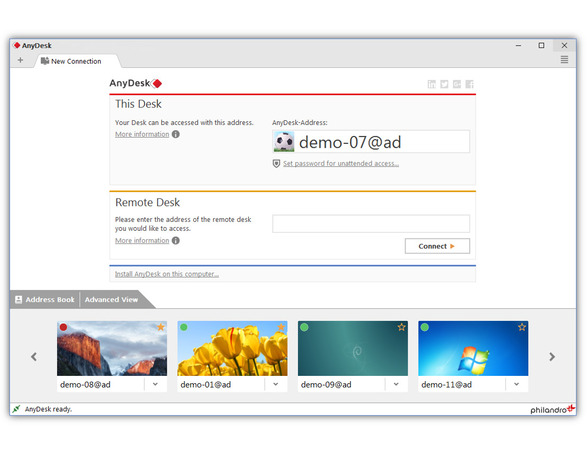 AnyDesk is a simple to use remote support solution designed to enable users to access files and computers on any device from any location. The tool provides for online collaboration, enables users to personalize their interface, makes it easy to share files, and supports access controls.
---
Features
• Basic features: The tool supports file transfers, wake-on-LAN, and protects remote connections with robust encryption. An address book lets users keep track of connections and contacts to enable remote machines to be accessed quickly.
• Advanced features: Enhanced security can be implemented in the Performance plan. One of the most beneficial features of AnyDesk is its ability to operate with poor connectivity by minimizing bandwidth usage.
---
| | |
| --- | --- |
| | |
| | Requires an annual subscription; |
| Uses minimal bandwidth for performance with poor connectivity; | Support for only one unattended device in the Essential plan. |
| Can be deployed on-premises or as a cloud-hosted solution; | |
| Available for individuals or teams; | |
| International keyboard support. | |
AnyDesk Pricing
Prices quoted are per user per month.
*On the official website, AnyDesk states that the software is free for personal use.
Splashtop
A good fit for small businesses searching for an economical solution providing basic functionality.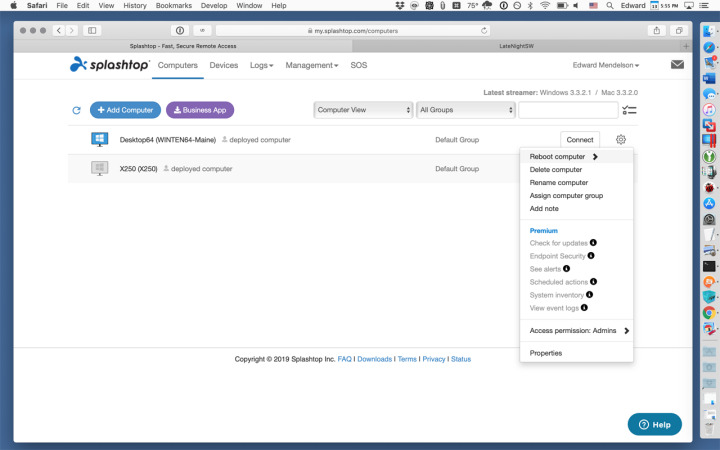 Splashtop offers customers a solution that supports remote access to multiple types of devices. The tool provides plans that meet the needs of businesses and individuals including remote technical support teams and help desks. All plans feature robust security and fast connectivity.
---
Features
Some features are only available in the more expensive plans.
• Basic features: All plans provide the ability to remotely access devices from Windows, Linux, macOS, iOS, and Android machines. Features include remote printing, drag-and-drop file transfer, and remote deployment.
• Advanced features: The Business Access Pro version provides users with features such as remote reboot and wake, session recording, view-only mode, chat, and user management.
• Jira integration: The integration with the Jira platform facilitates providing remote access by support teams. Splashtop On-Demand Support (SOS) can be used to remotely access and control devices through direct integration with Jira. This lets support technicians provide remote support while remaining in Jira without any software installation.
• Extensive Android support: The remote access functionality of Splashtop has recently been extended to include all devices running the Android 8.0 operating system and above. This encompasses over 100 Android brands of tablets, smartphones, and other devices. The Splashtop SOS Enterprise and Splashtop Remote Support Premium plans are required to get this support.
---
Splashtop Pricing
The quoted prices are monthly costs that are billed annually.
| | | | |
| --- | --- | --- | --- |
| | | | |
| | | | |
| | | | |
| | | | |
| Managed Service Providers | | | |
| | | | |
ConnectWise Control Support
Remote access software for small businesses that need advanced security and features.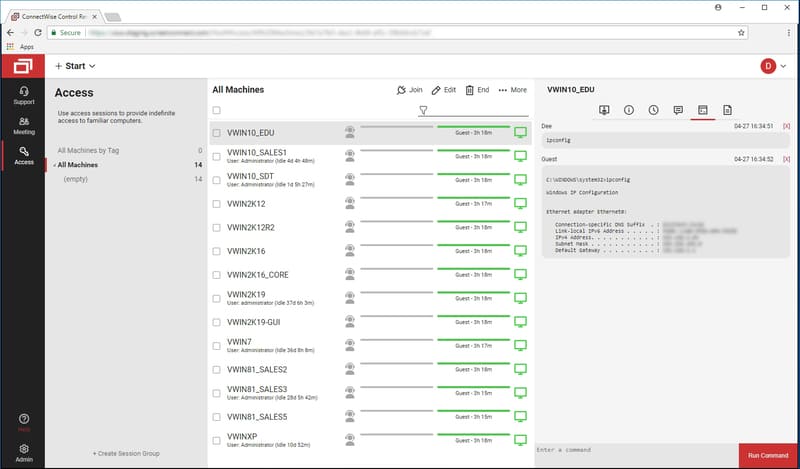 ConnectWise Control, which has recently been rebranded from ScreenConnect, works well when connecting to virtually any platform. It is a customizable solution that requires some technical proficiency to install and use. After the complexities of establishing a session are resolved, ConnectWise offers fast and efficient remote access.
---
Features
• Multi-platform support: ConnectWise Control is accessible by a link or installer package allowing it to be used to connect to Windows, Linux, macOS, iOS, Android, and Chrome OS devices.
• Basic features: All paid plans feature basic remote access functionality such as the ability to drag and drop files to transfer data between devices.
• Advanced features: Based on the plan chosen, available features include text chat, VOIP, a shared toolbox, multiple monitor support, monitor blanking, and remote printing. Surveys, extensions, and ConnectWise View can also be integrated with the tool.
---
| | |
| --- | --- |
| | |
| All plans provide extensive security features that include secure session codes, role-based security, OAuth integration, brute force protection, and LDAP and SAML integration; | Installer agents must be built, making it difficult to set up an initial connection to a device; |
| Feature sets, security settings, and branding are customizable; | More complex setup than other remote access solutions; |
| | Can exhibit issues when connecting to macOS systems; |
| | |
ConnectWise Pricing
Prices are quoted monthly and can be billed monthly or annually.
| | | | | |
| --- | --- | --- | --- | --- |
| | | | | |
| | | | | |
| | | | | |
| | | | | |
| | | | | Unlimited simultaneous sessions, chat |
Zoho Assist
The best overall inexpensive and comprehensive remote access software for commercial use.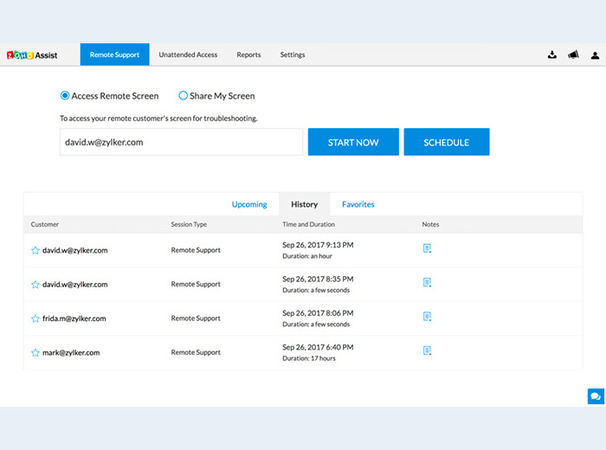 We think Zoho Assist is the best overall remote access solution for small businesses due to its affordable plans and extensive features. It's a suitable tool for IT departments that perform remote support as well as for employees needing to connect to corporate servers while working from home.
---
Features
• Basic features: All ZoHo plans include the functionality you would expect in a remote access tool. The solution provides screen capture, file transfer, multi-monitor navigation, and customized reporting.
• Advanced features: More advanced plans furnish users with screen sharing, screen annotation, session scheduling, video conferencing, and voice chat capabilities.
• Unattended access: The unattended access plans offered by ZoHo provide features that include file transfer, wake-on LAN, bulk deployment, screen capture, group permissions, computer grouping, and remote power options. The Professional plan adds voice and video chat, remote printing, and domain mapping. It also supports Internet of Things (IoT) and mobile devices.
• Integration: Many integration possibilities are available when using ZoHo Assist including connecting with other ZoHo applications or third-party solutions. Some examples are Zendesk, SpiceWorks, and G Suite. API integration enables the development of custom apps to connect to a wide variety of applications running on Android or iOS devices.
---
| | |
| --- | --- |
| | |
| Intuitive and friendly user interface; | The tool struggles with file transfers over 2GB which may force you to break up the data or deal with lag; |
| Affordable plans with extensive features designed to meet the needs of small businesses; | Limited number of concurrent connections; |
| Ability to quickly reboot remote machines; | Mobile and IoT device support is only provided in the Enterprise plan; |
| LAN connections are used in unattended access to wake up and shut down remote desktops. | Smaller file transfer size limit than other solutions. |
ZoHo Pricing
Prices are quoted monthly and can be billed monthly or annually.
| | | | | |
| --- | --- | --- | --- | --- |
| | | | | |
| | | | | |
| | | | | |
| Professional Remote Support | | | | |
| Enterprise Remote Support | | | | |
| Standard Unattended access | | | | |
| Professional Unattended access | | | | |
---
Parallels Access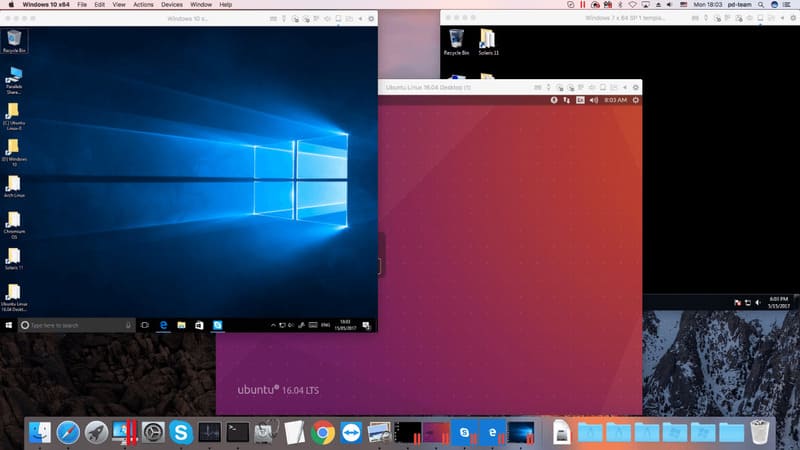 Parallels Access is designed primarily to enable users to access and control remote computers from mobile devices. Most of its features are focused on providing mobile access, though the tool also supports connectivity between computers. It is an economical solution for users needing access to corporate or private machines from their smartphones or tablets.
---
Features
• Basic features: The tool enables you to run desktop applications on your mobile devices without sacrificing clarity or usability. Access and manage files on remote machines or in the cloud from anywhere with an intuitive interface optimized for mobile devices.
• Advanced features: The modified remote desktop display is designed to be more user-friendly when employing the tool from a mobile device. You can access remote computers from any web browser without any additional software installation.
---
Parallels Access Pricing
Prices quoted are per user per year with the Standard version being a one-time purchase.
| | | | | |
| --- | --- | --- | --- | --- |
| | | | Number of computers for access | Number of mobile devices for access |
| | | | | |
| | | | | |
| | | | | |
| | | | | |
The best free remote computer access software
Let's look at the free solutions available for accessing computers remotely. Also you can check the best remote desktop software for Mac in 2023.
HelpWire
User-friendly remote access solution for small businesses.
HelpWire is a fast, safe and easy-to-use remote access software that is perfect for small to medium enterprises. Moreover, it is completely free, making it suitable for businesses wanting to save budget.
Based on exclusive remote desktop technology, HelpWire guarantees performance-oriented remote access to several computers with a set of optimized features that will help you have a convenient experience.
Control of multiple workstations:This remote access software lets users connect and manage numerous desktops of a single client at the same time by swapping between them.
Cross-platform support: HelpWire offers native apps for Windows and macOS with cross-platform compatibility.
Built-in chat lets you have a conversation with your clients in real time and boost the efficacy of any remote support session.
File transfer: You can transfer files by copying and pasting them to the remote session window.
Simple session initiation: Customers can start remote connection easily using dynamically built unique client applications that avoid puzzling session IDs and passwords.
Chrome Remote Desktop
A free basic remote access solution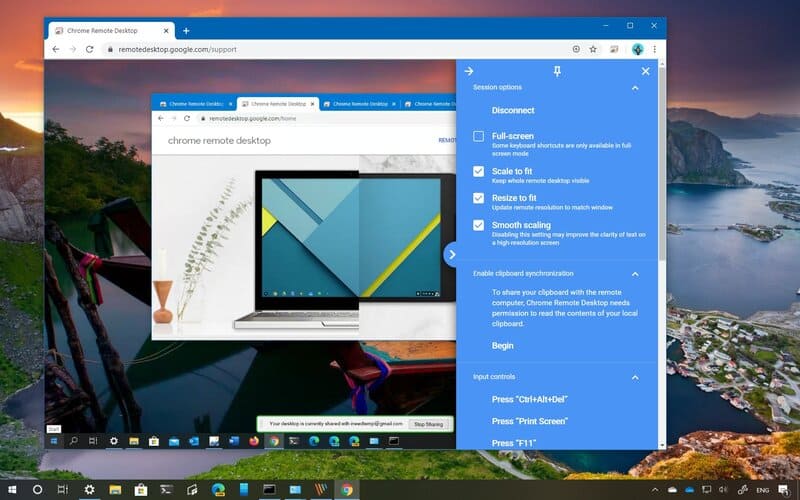 Google's Chrome Remote Desktop is a free solution suitable for small teams or individual use. It provides basic functionality that can be sufficient in some usage scenarios. The fact that the tool is free and easy to use makes it worth a look despite ranking low in our evaluation of more comprehensive applications.
---
Features
• Ease of use: The Google Chrome browser is very popular and if you are running it, you don't need any additional software installation. Setting up a remote session is a relatively simple activity.
• Screen sharing: You can share your screen with the tool to assist a remote user with a task or assume control of their machine to resolve a problem.
• Security: Authentication is handled by sending a one-time code that eliminates the chance that devices can be used without permission.
---
Microsoft Remote Desktop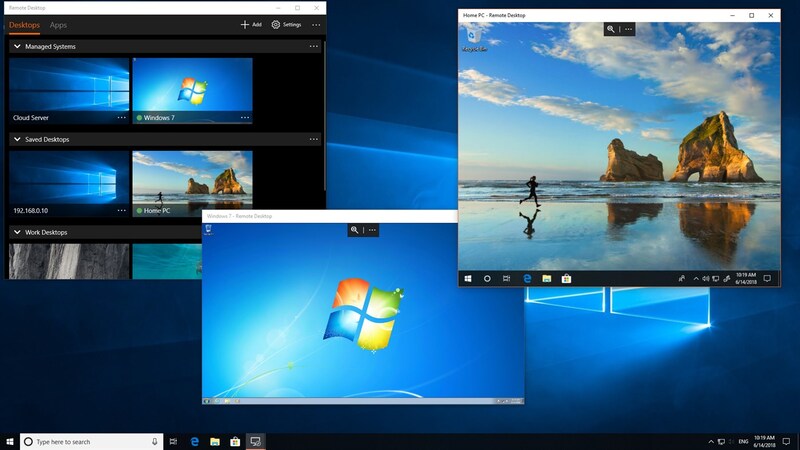 The Microsoft Remote Desktop is a popular and free method of connecting to remotely located Windows servers and desktops. The tool employs the Remote Desktop Protocol (RDP) and enables users to connect to remote PCs that have been configured for remote access.
However, there are some limitations. While you can have any OS version on a server-side of your remote connection, the client-side machine must be running Windows Professional, Windows Enterprise, or Windows Server.
---
Features
• Remote access: Remotely access computers running Windows Professional, Enterprise, or Windows Server. Remote access is possible through a Remote Desktop Gateway or a Windows Virtual Desktop.
• User interface: The tool supports Windows gestures as well as high-quality video and audio for an enhanced user experience.
• Security: Secure connections can be managed easily from the Connection Center.
---
| | |
| --- | --- |
| | |
| Free remote desktop solution enabling Windows users to connect to remote machines; | Can only connect to Windows machines; |
| Supports audio, video, and Windows gestures; | Not suitable for multi-platform environments; |
| RDP establishes secure connections. | Servers need to run Windows Professional, Enterprise, or Windows Server. |
AeroAdmin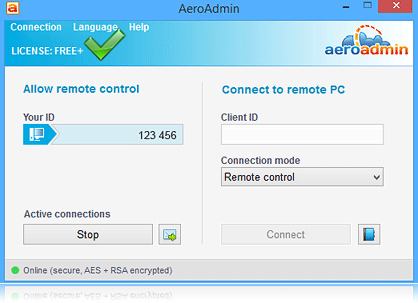 AeroAdmin is a popular free remote desktop software that can be used by individuals or small businesses. A reason for its popularity is that it is very easy to use. If you are a larger business with plans to control multiple remote machines, the limitations of the free version of the tool may be important. An example is the limit of 17 hours of connectivity per month with a maximum of 20 endpoints. This probably makes this free remote access software unsuitable for businesses with serious remote access requirements.
The premium version of the tool eliminates these restrictions and adds additional features like session reports and file transfer. Organizations can also customize the app's interface with their brand.
---
Features
• Unattended access: The software can be configured to run as a service letting you establish a connection without a user being present at the remote machine.
• Parallel sessions: You can control multiple machines from the app or have several users connect to the same remote computer.
• Contact book: A small database is used to store contact information, making it easily available for establishing future sessions. The contact book can be exported to another computer or the cloud.
• Security: Data is accessed through a secure encrypted channel with a combination of AES and RSA technology.
• Customer support: AeroAdmin offers support via phone, email, and support tickets.
---
| | |
| --- | --- |
| | |
| Free for personal use and commercial use; | Does not support remote printing; |
| Supports the Windows, Linux, and macOS operating systems; | Limited connection time with the free version; |
| Unattended access and remote logoff and reboot; | No real-time chat support. |
| Employs AES and RSA encryption; | |
| Supports synching clipboards between desktops. | |
The purpose and deployment of remote access software
If you are wondering "what is remote access software?", here's a simple answer: it is a tool that helps you work on remote computers and mobile devices like they were just within arm's reach. With a dedicated app designed to increase your productivity, you can redirect commands from your local mouse and keyboard to a remote machine and operate it in full no matter its physical location.
How remote access software works
A rightful question may arise here: How does remote access software work? Well, although we have a myriad of remote access tools in the current market, the basic idea for most solutions is the same.
After the software is downloaded, its installation should be done on all computers (servers and clients) that will take part in the communication. These include your local computer or device from which you are going to connect to the remote machine and the remote machine you are connecting to.
Once installed, you should have no problem opening the app and setting up your remote desktop connection. What's important is that the desktop on the remote side should be up and running and have stable internet access.
There's usually nothing complicated in configuring and using a special program to control another computer. However, some advanced apps offer specific options and provide professional capabilities to stand out from the rest of modern solutions.
Attended and unattended remote access software
Remote control for computers is most commonly required by small and large businesses providing remote tech assistance to their customers. Without a doubt, it allows saving significant costs and dramatically reduces support time. When deciding which remote software tool to pick, probably the first thing to bear in mind is whether it will let you deliver unattended or attended customer support.
Why provide attended remote support?
• Software for attended remote access usually allows real-time interaction with the users on the endpoints via a built-in chat. This may help a technician to get additional information they may require on the issue they are fixing.
Why give priority to remote unattended access software:
• Being available around the clock, the remote support team is not limited by time zones, end-user work hours, etc.
• If the problem resolution requires more than one session, after the initial session, support may be performed without the participation of the end-user.
Security as the major priority for remote access computer programs
Another important aspect to take into account is the level of security your remote access tool offers. In case businesses involve much cooperation with third parties, it becomes crucial to choose the most secure remote access software that protects the data it works with.
In terms of security, remote desktop access apps could be a great alternative to private networks.
By allowing a connection to your corporate VPN, you provide access to the whole network, which opens up a huge opportunity for hackers. The best secure remote access software allows communications with remote desktops and laptops over individual protected channels. This helps prevent unauthorized connections and attacks against the entire enterprise network and devices it covers.
Conclusion
Hopefully, this guide will help you make up your mind about whether or not remote access software is something you need for your business or personal use. Given a whole slew of remote access tools available today, including such premium applications as TeamViewer, LogMeIn, Splashtop, RemotePC and many others, it's easy to choose a solution that will meet any and all of your individual or corporate needs.