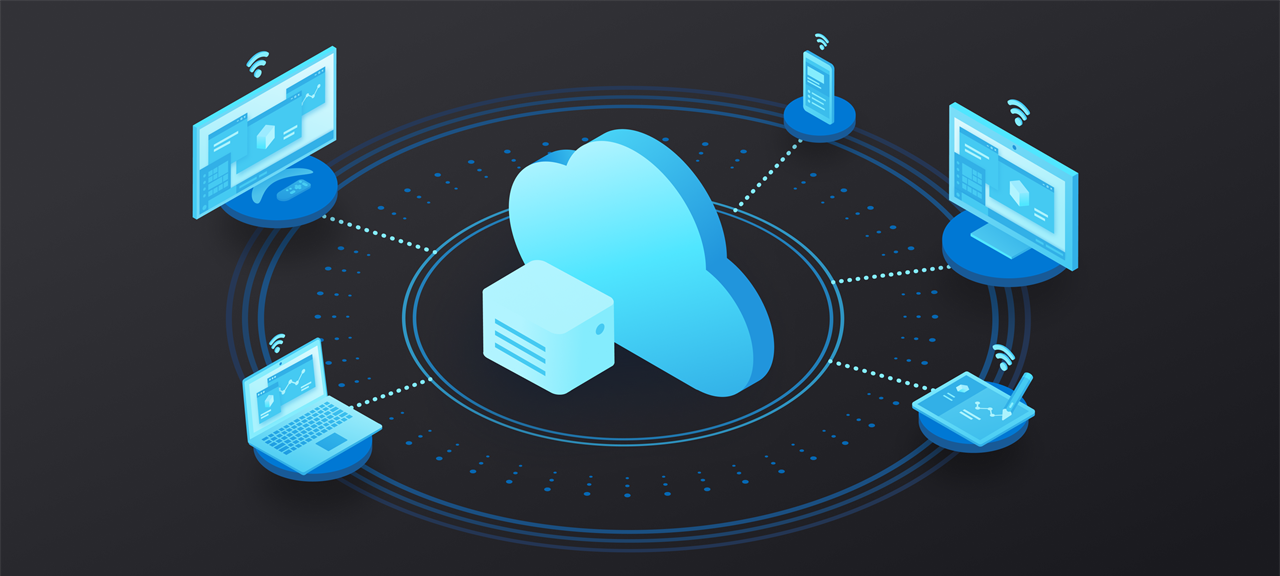 Remote access software: everything you need to know!
Do you remember the last time you needed to access your laptop or desktop computer remotely? It could be just a file that you forgot on your office PC or maybe you had to continue doing your job while far away from your physical workplace. The scenarios are many but the solution is always the same – dedicated remote access software. Today, with simple apps it's possible to connect to virtually any remote Windows or macOS computer in just a matter of seconds.
In this complete guide, you'll learn how remote control software works and what makes it an indispensable part of people's modern life.
The purpose and deployment of remote access software
If you are wondering "what is remote access software?", here's a simple answer: it is a tool that helps you work on remote computers and mobile devices like they were just within arm's reach. With a dedicated app designed to increase your productivity, you can redirect commands from your local mouse and keyboard to a remote machine and operate it in full no matter its physical location.
Being easy to use and extremely efficient in the reality of today's world, secure remote access software like TeamViewer, LogMeIn, Zoho Assist, Splashtop, RemotePC, etc. is widely applied in many fields. In addition to assistance with everyday tasks, it helps a lot with providing remote customer support and tech assistance.
How remote access software works
A rightful question may arise here: How does remote access software work? Well, although we have a myriad of remote access tools in the current market, the basic idea for most solutions is the same.
After the software is downloaded, its installation should be done on all computers (servers and clients) that will take part in the communication. These include your local computer or device from which you are going to connect to the remote machine and the remote machine you are connecting to.


Once installed, you should have no problem opening the app and setting up your remote desktop connection. What's important is that the desktop on the remote side should be up and running and have stable internet access.
There's usually nothing complicated in configuring and using a special program to control another computer. However, some advanced apps offer specific options and provide professional capabilities to stand out from the rest of modern solutions. Below we will consider how many types of remote access software exist in regards to the user presence on the remote endpoints and will highlight the main features to take into account when choosing a tool for remote access to a computer over the internet and LAN.
Attended and unattended remote access software
Remote control for computers is most commonly required by small and large businesses providing remote tech assistance to their customers. Without a doubt, it allows saving significant costs and dramatically reduces support time. When deciding which remote software tool to pick, probably the first thing to bear in mind is whether it will let you deliver unattended or attended customer support.
What is considered to be unattended remote support? In a nutshell, the situation where a support specialist gets access to a remote user's laptop or device and controls it with no presence of any user on the remote side is known as unattended support. This method is especially suitable for regular device maintenance, diagnostics, and troubleshooting.
As for attended remote support, this means a technician connects to a remote device with the user being present and active on the remote side. Based on the approach chosen, tech assistance providers rely either on free (or paid) unattended remote access software or on attended software to control another computer. Each type of apps has its advantages.
Why provide attended remote support?
• Software for attended remote access usually allows real-time interaction with the users on the endpoints via a built-in chat. This may help a technician to get additional information they may require on the issue they are fixing.
Why give priority to remote unattended access software:
• Being available around the clock, the remote support team is not limited by time zones, end-user work hours, etc.
• If the problem resolution requires more than one session, after the initial session, support may be performed without the participation of the end-user.
Security as the major priority for remote access computer programs
Another important aspect to take into account is the level of security your remote access tool offers. In case businesses involve much cooperation with third parties, it becomes crucial to choose the most secure remote access software that protects the data it works with.
In terms of security, remote access apps could be a great alternative to private networks.
By allowing a connection to your corporate VPN, you provide access to the whole network, which opens up a huge opportunity for hackers. The best secure remote access software allows communications with remote desktops and laptops over individual protected channels. This helps prevent unauthorized connections and attacks against the entire enterprise network and devices it covers.
Remote access tools for small and large businesses
Today you can find a plethora of solutions that come in handy for businesses of any size. They work smoothly on all popular platforms, including iOS, Windows, and Linux. Versatile remote access software for business all serve the same purpose – to improve remote customer support provided by small teams and large enterprises. Based on such factors as price, key features, and setup, it's possible to distinguish applications best suited for small businesses or huge corporations.
GoToMyPC – ideal solution for small support teams
Thanks to its simple configuration and user-friendly interface, this application is the perfect choice for support teams of small businesses. Why it is the best remote access software for small business:
• It lets you perform diagnostics and get information about your current support session in real time.
• It allows sharing your session with guest users which can e.g. join your demonstration or help with fixing complicated customer issues.
• You can create a desktop shortcut of the app that will store your login details, etc.
Zoho Assist – well-suited for mid-sized teams and businesses.
The optimal solution for those looking for free remote access software for business. The advantages:
• On-demand remote sessions.
• The possibility of unattended remote access within and outside your local network.
• Efficient tools for analyzing the status of hardware, printers, services, and software, associated with a particular PC.
• A one-click reboot of any remote desktop, etc.
TeamViewer – a great application for support departments of large-scale enterprises
TeamViewer is one of the most popular business remote access software that offers efficient tools for desktop, mobile, and web browser users.
The best features:
• Support for text, video, and voice chat with remote customers.
• The ability to record sessions for future analysis.
• The whiteboard option to annotate the screen.
• High-level security of connections thanks to AES-256-bit encryption and two-factor authentication, and more.
Now let's take a look at the remote access applications in the context of the operating systems they work on. Of course, there are cross-platform tools that run perfectly well on all most popular OSes. But if you are looking for a program that will definitely support one of the following platforms: Windows, macOS or Linux here are our picks:
Remote access software for Windows
Say you need to remotely access a Windows desktop and are looking for a simple and secure way to achieve this. Good news: there is dedicated remote control software for Windows that will let you connect to a remote PC from another Windows machine, an Android device or even from an iPad. Just a few steps to take and your Windows remote access tool is set up and ready to work. What is meant here is the universal Microsoft Remote Desktop app which is available for download from the Microsoft Store and the App Store.
All you should do is install the app on both the host and the client computers. The host PC is the one that is going to be accessed remotely and the client is the computer from which you want to connect to the remote host. Before trying to start communication between the devices, don't forget about the configuration of the remote host to permit the connection to it from the remote client.
Another option to remotely control a Windows PC over RDP is Microsoft's Remote Desktop Connection tool built into the Windows operating system. This easy-to-use solution is good for access to your office computer while working from home or for any scenario that requires the use of remote PC resources. Or you can resort to the help of third-party software like Splashtop, RemotePC or Zoho.
Remote access software for Mac
When it comes to using your Mac computer remotely, it's not difficult to find a solution that will make this possible. Among an array of free and paid remote access software for Mac, you can select a tool that will meet any and all of your needs. Whether you want to transfer files, watch videos, or work remotely on a Mac located miles away, simple Mac remote access software like LogMeIn or UltraVNC will come to help.
Also, you can try to set up remote Mac connections using a native method. Just allow remote login via the System Preferences and use the Terminal app or an SSH client to access your Mac from another machine. If you aim to establish cross-platform communications between Windows and Mac machines, the Microsoft Remote Desktop app will be a good choice.
Remote access software for Linux
Depending on your usage scenario, you can rely on efficient software for remote access to a Linux desktop. TigerVNC, X2Go, and Remmina are just a few of the most popular tools that will let you work with a remote Linux machine whenever you need it. Some of the useful features provided by remote access software for Linux include the possibility to adjust connection settings on the fly (Remmina), cross-platform connectivity and advanced TLS encryption (TigerVNC), efficient screen-sharing technology (RealVNC), accessing files, watching videos, playing games, or editing documents remotely (NoMachine), and many more.
When deciding on a software solution for remote access to Linux, you should remember that in addition to a vast majority of free open-source tools there are many powerful professional apps that offer trial versions for evaluation purposes and provide pretty affordable editions for personal use.
Conclusion
Hopefully, this guide will help you make up your mind about whether or not remote access software is something you need for your business or personal use. Given a whole slew of remote access tools available today, including such premium applications as TeamViewer, LogMeIn, Splashtop, RemotePC and many others, it's easy to choose a solution that will meet any and all of your individual or corporate needs.