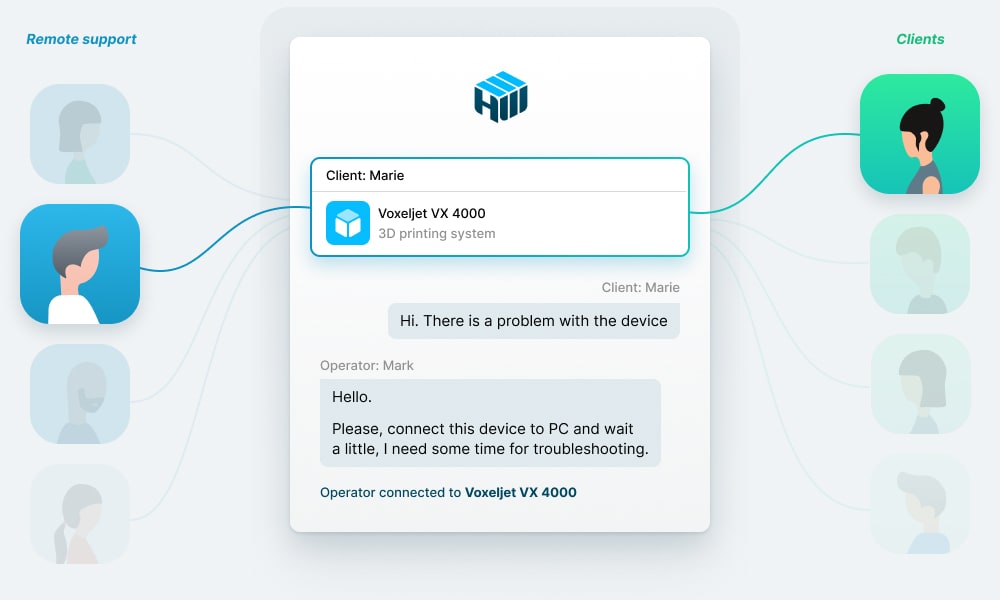 Remote Tech Support Software for your Business
You might be the designated tech support person for your friends and family. If that's the case, you should be interested in free remote tech support software so you can access other servers and desktops without traveling. Read on to learn more about Remote Support Software.
There are many remote technical support solutions available that have varying capabilities. We are going to look at some of the best remote tech support software options for business and individual use. With these tools, you can perform a proactive installation before support is needed or download the app from the Internet when a problem arises.
What is Remote Support Software?
Remote control support software is an application that enables users to access remotely located and network-attached computers from any other network-connected machine. This type of software is often used by technical support departments to automate tasks and resolve problems with physically distant equipment. It allows support to be provided from a central location without forcing team members to travel to address customer issues.
In addition to enabling technical teams to resolve issues without being on-site, remote computer support software has many other valuable functions. It allows remote systems to be monitored for performance and availability. Other functionalities built into this type of application include the ability to perform identity management, tools for auditing remote systems, fine-grained permission control, and regulatory compliance assistance.
IT departments in many industries use tech support remote software because it increases team productivity while saving the company time and money. Technicians avoid the expensive travel or lengthy phone conversations that waste time and can directly connect to the affected server or desktop from their iOS device and get right to work.
The deployment of remote technical support software has become standard in the IT world. In addition to its use as a standalone solution, the software is often integrated with a remote monitoring and management (RMM) tool. It provides the means to address issues discovered while monitoring remote systems.
Remote desktop software shares many characteristics with remote tech support software, but the two solutions are for different audiences. More functionality is built into tech support software for remote teams so they can perform their activities. Remote desktop software won't provide the features needed by a remote support team, though it might let users share a whiteboard for collaboration.
How to choose the best remote software for tech support
Selecting the best remote solution for tech support can be challenging. There are many choices on the market. Following are some criteria you should consider when searching for the right tool to address your specific requirements.
Security
Security is a critically important aspect of remote tech support tools. Establishing connections to remote machines requires secure connectivity and the ability to safely transfer data. A reliable and safe solution offers advanced encryption to ensure all data transmissions are secure. The stability of connections is also important and should be ensured with a network of distributed servers. Make sure the tool is regularly patched to keep up with security standards.
User-friendliness
A remote support software tool will be used by a team with diverse skill sets. Some may be more proficient and comfortable with complex, command-line interfaces than others. A flexible solution should offer advanced features and be easy to use so the staff can address issues promptly. Connection speed and the ability to establish contact without modifying complicated settings are also things to look for in remote tech support software and aid in team productivity.
Compliance and compatibility
Organizations in healthcare, finance, and other industries need to maintain compliance with regulatory standards like PCI-DSS or HIPAA. Meeting these standards requires enhanced privacy and security features like data encryption and two-factor authentication. Make sure the tool you choose addresses your compliance needs. You should also look for a solution that is compatible with other applications in your team's software toolbox.
Customer support
24/7 customer support is essential for remote tools to handle the diverse time zones involved. An installation with an overnight deployment cannot wait for customer support until regular business hours. Look for flexible customer support options that include phone, live chat, email, and other communication streams.
Remote Tech Support Software - HelpWire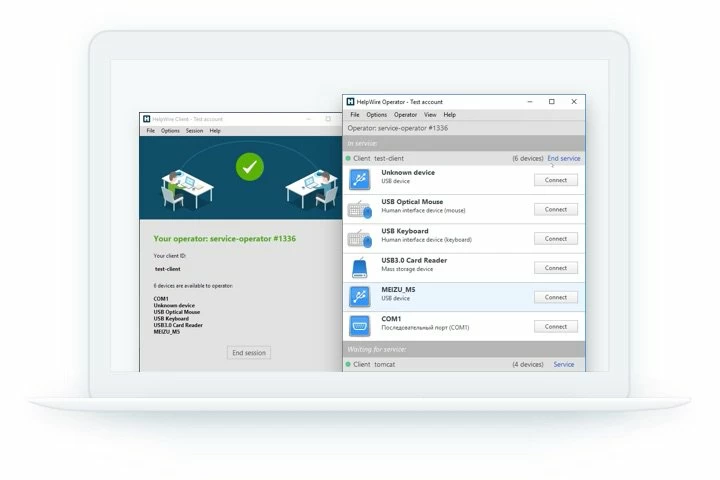 HelpWire is a remote tech support software application that can be customized for your company's specific requirements. Our team's ability to customize the tool makes it one of the best remote support software solutions for any business.
HelpWire Benefits
This custom remote access support software for technical support provides the following features and benefits.
Global connectivity
HelpWire furnishes the remote connectivity necessary to conduct high-quality technical support without physical proximity to a device. A connection to the Internet or a LAN is all that's needed to perform complex technical support or software installation tasks remotely from anywhere in the world.
Ease of use
HelpWire doesn't require any complex setup or configuration changes. It has an intuitive interface that makes it easy for users to connect to any hardware device with a few clicks.
Competitive advantage
The increased customer satisfaction achieved with this remote support software for Linux, macOS, and Windows gives your business a competitive advantage. This gives a support team a great deal of flexibility when assisting remotely located users.
Remote support with HelpWire provides:
• Improved customer satisfaction by more effectively and efficiently resolving problems with users' desktops or computers;
• Comprehensive remote support software for Windows, Linux, and Mac systems;
• The elimination of technical support travel expenses;
• A reduced need to move or transport equipment.
Other options for remote support
There are alternative options to HelpWire, but not all of them provide users with the same capabilities. Tools like Skype, SplashTop, TeamViewer, and LogMeIn all feature some of the functionality required for remote technical support software.
Skype offers whiteboard and screen sharing but doesn't let you remotely control Macs or Windows machines over the Internet or a LAN. Its use as a remote support tool is limited by this lack of advanced functionality.
LogMeIn is another remote support option. It offers a remote desktop solution, but it focuses on commercial solutions for use by businesses.
The average user may like TeamViewer for its ease of use and support options. A level of support can be provided through its QuickSupport application without the need for administrator access.
If you use Windows or Chrome there are some limited, built-in remote assistance features. They are easily accessible if you use the platform.