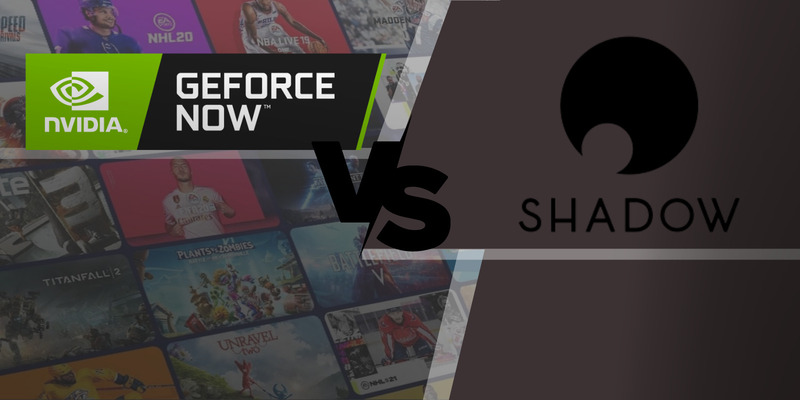 Shadow vs NVIDIA GeForce NOW, learn the differences and choose the best
The cloud offers a gamer the opportunity to pursue his or her passion without the expense of purchasing an expensive gaming rig. In cloud gaming, games run on high-end hardware and are accessible to gamers via a desktop interface and an Internet connection.
Cloud gaming platforms use streaming technology to deliver game action to players using remote PCs or mobile devices. They let you play your favorite games virtually anywhere with a low latency network connection. There are many different gaming platforms. This article provides a comparison of GeForce NOW vs Shadow to help you make the right choice.
---
Overview
Shadow and Nvidia GeForce NOW are two popular cloud gaming platforms that let you enjoy your games without purchasing a lot of expensive hardware. Since the foundation of cloud gaming is streaming technology, you do need a low latency network connection to achieve optimal performance.
Shadow

Shadow offers users a complete and powerful Windows PC that can be remotely accessed from any Internet connection. Without buying any expensive hardware, you have access to a cloud PC that can be used for work and play. The platform supports large workloads and the newest Windows-compatible software. This makes it an excellent solution for businesses requiring Windows machines and designers who want to make use of cutting-edge Windows-supported tools.
It's also a great gaming platform for users who enjoy playing PC-based games. It can be frustrating when games are not natively available for your Mac or Linux machine. Shadow resolves the problem by enabling you to simply launch an app and log into a Windows machine to play the games of your choice. You can install any Windows-compatible game on your Shadow machine.
Shadow launched its product in 2016 with the goal of providing access to a high-end cloud-based PC for anyone who wants one. They have grown into a global cloud computing company focused on developing new cloud solutions for business and personal use. The company recently introduced Shadow Drive, a secure and affordable inline storage solution developed with Nextcloud. Shadow's servers are located and operated out of Europe.
Nvidia GeForce NOW

Nvidia GeForce NOW is strictly a cloud gaming service that enables users to access their large library of titles on a wide range of desktop and mobile devices. It offers users over 1,000 games and lets you stream games you already own by connecting to digital PC game stores. The platform includes over 100 free games so you can start playing right away.
The platform is backed by Nvidia, a major innovator in computer graphics since 1993. The company is credited with inventing the graphics processing unit (GPU) in 1999, paving the way for graphic-intensive applications for desktop computers. Nvidia shipped its billionth processor in 2011 and continues to lead the industry in graphic processing and other areas of modern computing.
Features
Shadow and GeForce NOW take very different approaches to cloud gaming. This means they offer users different types of features that may make them more or less attractive as a cloud gaming platform. Let's look at the main features you get from each of these cloud-gaming solutions.
Shadow
• Shadow provides you with a complete cloud-based Windows 10 PC that can be used for gaming and as well as any other purpose.
• You can install and play any Windows-compatible game on your Shadow PC.
• Data is secured with systems hosted in ISO 27001-certified data centers.
• Simply download an easy-to-use app and log into your account to get going.
• Powerful components are used to build your cloud PC including:

◦ GPU – GeForce GTX 1080 or equivalent;
◦ Processor – Intel XEON 3.5 GHz or equivalent with 4 cores and 8 threads;
◦ Memory – 12 GB;
◦ Storage – 256 GB of secured storage with SSD performance.
GeForce NOW
• GeForce NOW offers users access to an extensive catalog of over 1,000 games that can be streamed to their devices.
• A subset of free games enables you to enjoy the platform at minimal cost without purchasing additional titles.
• Multiple subscription plans let you tailor your cloud gaming experience.
• Free membership is available with limited session time that allows you to test the platform before committing to a paid plan.
Operating System
Operating system support for your devices is essential when selecting a platform for cloud gaming. Shadow requires you to download an app to your computer or mobile device and is available for multiple operating systems.
GeForce NOW also provides an app for compatible devices that can be used to access the platform. You can also access GeForce NOW through your web browser without downloading any software to your device.
The following table list the OS compatibility of both solutions.
---
Pros And Cons
Let's take a look at some of the pros and cons of GeForce NOW and Shadow gaming.
Shadow gaming
| | |
| --- | --- |
| | |
| Complete access to a powerful Windows 10 PC; | A more expensive option than other cloud gaming platforms; |
| The ability to run any Windows-compatible game or application; | Not all users need the full functionality of a Windows 10 PC which increases the price of this solution. |
| Additional storage available with Shadow Drive; | There can be a substantial waiting period while your machine is being built. |
| Connect from anywhere with a compatible device and Internet connection; | |
| Power Upgrade available for 4K streaming. | |
---
GeForce Now
| | |
| --- | --- |
| | |
| Large selection of game titles; | Strictly a gaming platform with no support for other computing functions; |
| Some titles are optimized for advanced graphics; | Games must be purchased individually; |
| Offers a technically mature and stable platform; | Resolution may unexpectedly be reduced to 720p; |
| An inexpensive way to get started with cloud gaming. | Single-player solution with no multiplayer option. |
---
Pricing
Different pricing structures are implemented by GeForce NOW and Shadow. A factor to consider when comparing pricing options is that Shadow provides more than a gaming platform with access to all the functionality of a Windows 10 PC. This may be more than a gamer interested in a cloud gaming platform needs and comes at an increased cost.
Following are the pricing options available from these two gaming platforms.
Shadow
• The base price for a Shadow Windows 10 PC is $29.99 per month.
• The Power Upgrade adds another $14.99 per month to the price.
• Shadow Drive costs $8.99 per month for 2TB of storage capacity.
GeForce NOW
• Free membership is available with a one-hour session limit.
• Standard membership costs $9.99 a month or $49.99 for six months.
• High-performance plans cost $19.99 per month or $99.99 for six months.
Conclusion
The cloud gaming platform you choose should fit your budget and gaming objectives. The two solutions we have looked at offer users very different sets of features. This makes it hard to make a one-to-one comparison of GeForce NOW vs Shadow. While both are suitable for cloud gaming, not all gamers need access to the full functionality of a Windows 10 PC. They may just want to play games and not be concerned with other the features available with cloud computing solutions like Shadow.
For that type of gamer, GeForce NOW may make more sense with its game-specific platform and lower prices. You shouldn't pay for functionality that you don't intend to use. If you want to do more with a cloud PC than just gaming, you should take a close look at Shadow. Both Shadow and GeForce NOW let you expand your gaming universe by enabling you to play games anywhere on a remote PC or mobile device. Choose the one that suits your needs and start cloud gaming today.