With the use of a Virtual Reality headset, Virtual Reality gaming immerses the player in a computer generated 3D environment. Due to the higher resource demand, and generally more complex user interaction, VR gaming in the cloud is not that popular. In order to have a fun and responsive gaming experience, you need to have a reliable high speed connection with very low latency. While the technology exists and new services like PlutoSphere introduce the ability to stream VR games, until the internet technology is improved, any growth in this market is severely hampered.
Services and tools for Cloud VR Gaming
PlutoSphere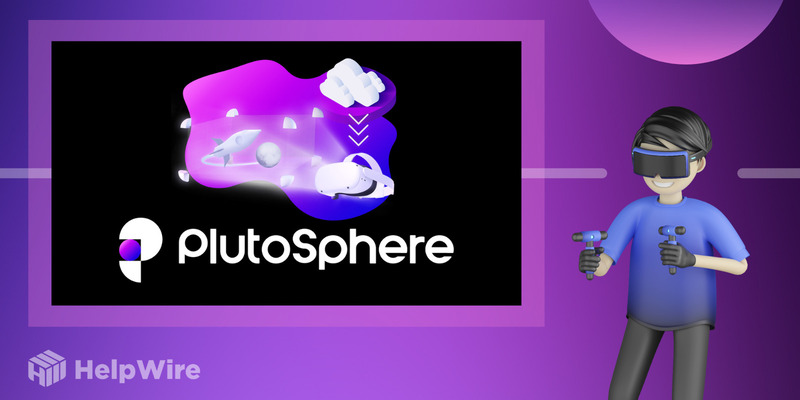 PlutoSphere is a hardware agnostic Desktop-VR streaming service that creates an open ecosystem allowing people to connect seamlessly, despite physical location. While Android, iOS and Windows support is currently not available, it is on the cards. Thanks to community collaboration and open standards, PlutoSphere brings high-end VR to every spatial device. (A spatial device is one that allows the sending and receiving of data in a 3D world using AR, VR and MR).
PlutoSphere ships with both the Steam and Epic Stores. All games and apps already owned on these platforms will be accessible via PlutoSphere.
The requirements to use PlutoSphere include:
• Oculus Quest or Quest 2
• Hi Speed Internet connection (minimum 50+ Mbps recommended)
• A 5GHz WiFi 6 connection
You can download PlutoSphere for free, but you need to buy tokens for time on the VR gaming rig. Currently users are assigned tokens automatically, but to stay connected, you need to visit the token store to purchase additional access tokens. Tokens are available in bundles of 600, 3000, 6000 or 60 000 costing from $1.99 up to $150.
For more information, have a look at this trailer on Vimeo.
Features:
•

Pre-installed Steam.

•

Any PC games or apps owned on other platforms are also accessible.

•

Ability to install any other Windows apps.

•

Oculus PC titles accessible using LibreVR / Revive.
Nvidia CloudXR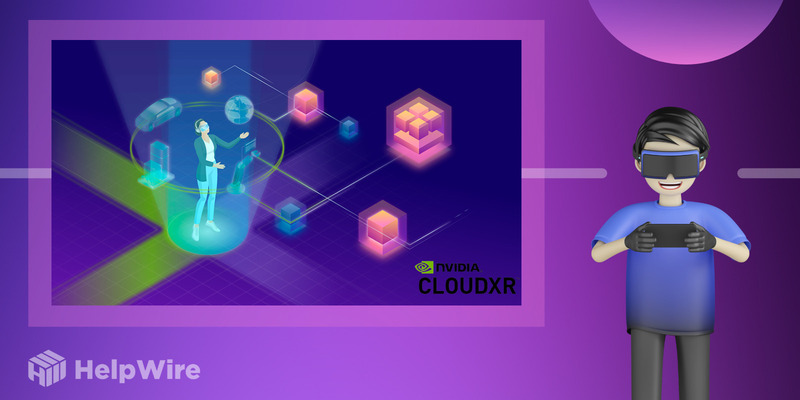 NVIDIA CloudXR provides streaming capabilities delivering Virtual and Augmented Reality over 5G and WiFi. Built on NVIDIA RTX technology, it is fully scalable for data centers and edge networks. Edge networking is the practice of reducing latency by reducing the physical distance between data storage and computation points and the point of request.
CloudXR is an extension of NVIDIA RTX Virtual Workstations, this means you can stream fully accelerated immersive graphics from a virtual environment.
CloudXR works with a server client setup. The server receives and encodes frames and audio from the OpenVR application before sending them to the client. The client then decodes the data and forwards it to the end device.
You can get CloudXR via the Google Cloud Marketplace. Pricing starts at $0.26/hr. For datacenter and server usage, rates range from $180.80/month to $268.64/month. For a full infrastructure setup including a VM instance with vCPUs, 200GB persistent disk space and a NVIDIA Tesla T4 GPU will cost you around $840/month.
Features:
•

Drive powerful VR and AR over high-performance networks.

•

Uncompromising performance and mobility.

•

Stream AR, VR, and XR from the edge.

•

Telco-grade manageability, security, and multi-tenancy.

•

Merge hardware and software with a revolutionary devkit.
Shadow VR
Shadow VR is a virtual reality cloud gaming application designed for the Oculus Quest headset by Shadow, an industry leader in the virtual computer renting niche. The application lets users play games from their SteamVR account without requiring a VR-ready system or an expensive gaming rig.
It is compatible with both the Oculus Quest 1 and Quest 2 devices. With the use of bleeding-edge cloud storage and network engineering technology, they are slowly chipping away at the challenges preventing the adoption of VR cloud gaming.
Features:
Some of its main features include the following.
•

It has a VR refresh rate of 72Hz.

•

It requires a download speed of >50Mbps, a 5GHz Wifi 6 connection, and a latency of not more than 20ms.

•

It has a 2D button to launch your Shadow PC within the VR headset and a virtual keyboard to operate and navigate the 2D interface.

•

It offers persistent storage of 256GB SSD and optional extra storage of up to 2TB HDD.

•

There is the option to set the video quality bitrate to adapt to network conditions automatically.
| | |
| --- | --- |
| | |
| It eliminates the need for expensive gaming rigs to enjoy basic VR gameplay. | ShadowVR is not available in the Oculus store. Users would need to create an Oculus account as a developer to run ShadowVR through third-party apps. |
| The wireless connection between multiple devices creates a neat, uncluttered gaming setup. | Shadow VR would not work unless a user installs StreamVR. |
| The persistent storage feature ensures that whatever users download on their virtual PC is saved even when they log out after the session. | |
Peculiarities of VR gaming
The two main areas of consideration when considering VR gaming is the processor or CPU, and your GPU. The CPU handles game play in terms of user inputs, as well as keeping track of the environment and all character actions. High clock speed is more important than having lots of cores. Intel Core i7 11700k 8 Core and AMD Ryzen 7 5800X 8 Core are good options for VR gaming.
The video card needs to handle all the display factors including lighting and shadows, shading and special effects that translate to a realistic 3D environment. A good starting point is the NVIDIA GeForce RTX 2060 6GB, however if you are able to up the specifications, the RTX 3000 Series will give you better performance including improved real-time ray tracing capabilities.
When it comes to memory requirements, 16GB RAM is recommended but you can get away with anything between 2-8GB.
Solid State Drives (SSD) are always more expensive, but the investment is worth it. Having your operating system and software on a SSD will result in a quick boot up and all your media will run faster. Capacity depends on what you want to store. Anything over 100GB should suffice, and you can always upgrade should the need arise.
Cloud Gaming with VR, is it possible and why not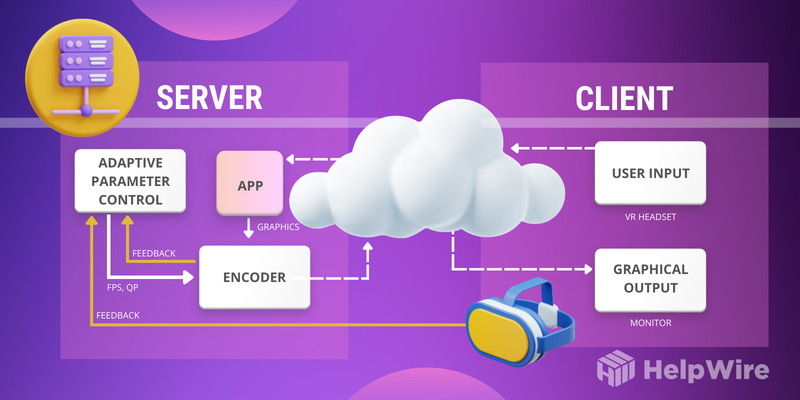 The biggest hurdle for playing VR games in the cloud is latency. Latency is the amount of time it takes for data packets to travel from the sender to the receiver and back again. The player can experience this latency as a lag between their input and the game response time. This lag is not just frustrating but it also makes the game feel unresponsive.
It is possible to reduce cloud gaming latency using the right combination of hardware, resources and available protocols. A virtual cloud server can have less latency than dedicated remote computers. Client side, consideration to reduce latency include physical distance between client and server. The further the data has to travel, the higher the latency.
5G role in VR cloud gaming
5th generation mobile network or 5G makes use of MIMO (mobile input, mobile output) antennas that make it possible to send and receive more data concurrently. This and other technology like Starlink – which makes use of satellites to provide high speed internet – makes 5G cloud gaming a possibility even with VR. Anything that reduces latency is a plus for virtual, augmented and mixed reality cloud gaming.
Conclusion
VR cloud gaming is not new but the growth of the technology has always been stunted by the slow uptake of specialized VR equipment and also the limitations thanks to latency. Products like the Oculus Quest 2 that was released in 2020 and more recently, Meta's VR headset, Apple's VR/AR device and Sony's PlayStation VR 2 are creating waves in the VR Cloud metaverse.