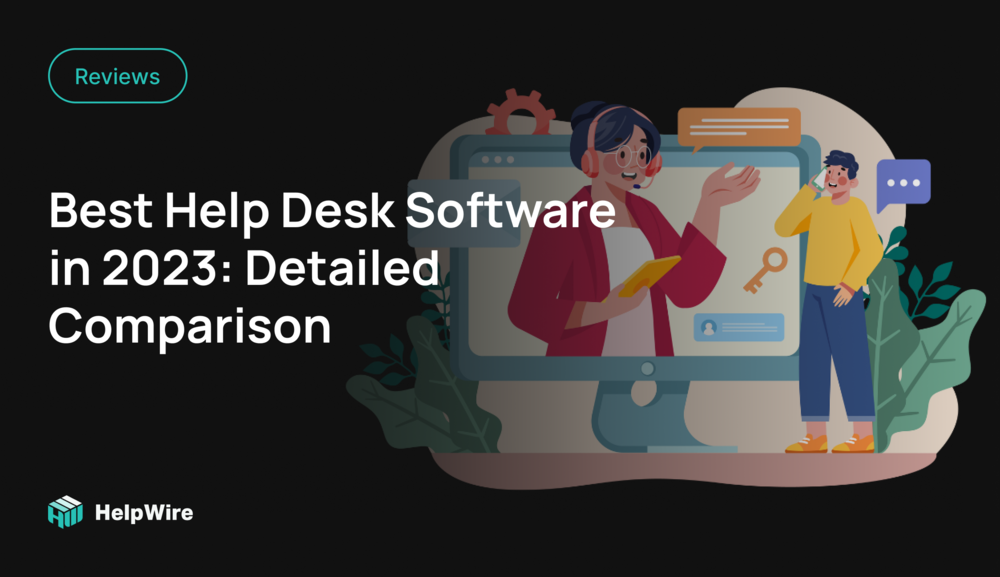 Top 10 Help Desk Software for 2023
Are you looking for the best help desk software that you can use for your business? Do you want to know which help desk software best suits your needs? If so, read on and take a look at the help desk software list we prepared for you. These help desk systems have been tested for functionality, efficiency, strengths, weaknesses, and primarily their capacity to run smoothly IT support activities.
After reading this article, you'll be able to choose which software can boost your business's customer service overall quality.
Best for a business with a customer support team comprising more than 500 individuals.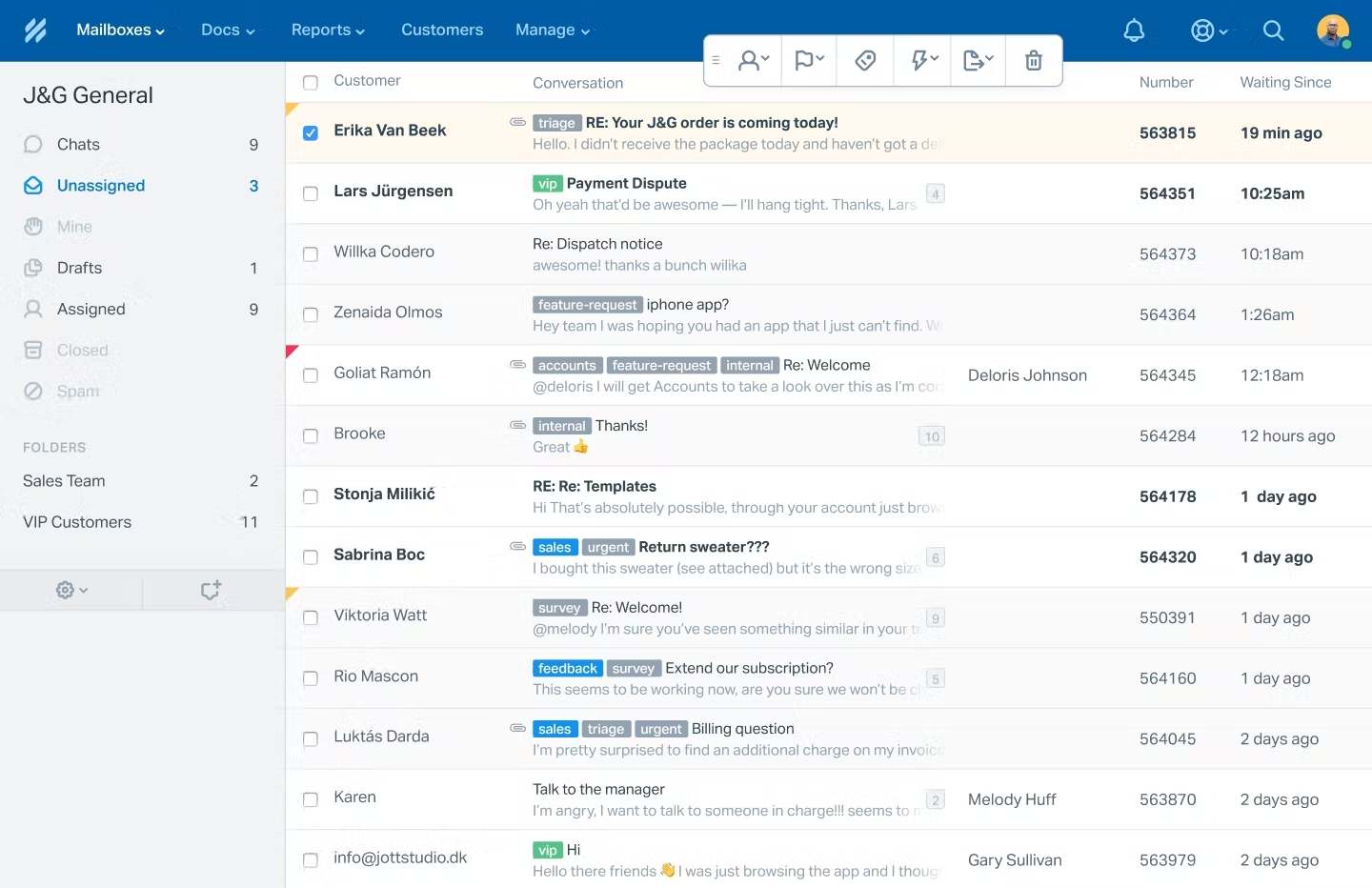 Help Scout is definitely one of the most popular help desk software. It's recommended if customer satisfaction is your company's priority. It provides detailed reports of incoming activity, has a native knowledge base, and is also small-business friendly. This help desk software might just be what you're looking for. This help desk solution is available also on iOS and Android, so you can also use Help Scout on mobile devices in order to provide support even quicker.
Features included:
✦ On-site live chatting
✦ Collaboration tools
✦ Knowledgebase Manager
✦ Data Analytics
✦ Multi-channel Support
✦ Ticket Routing and Prioritization
✦ Templated Responses
Pricing:
Best help desk software for multi-division teams and companies.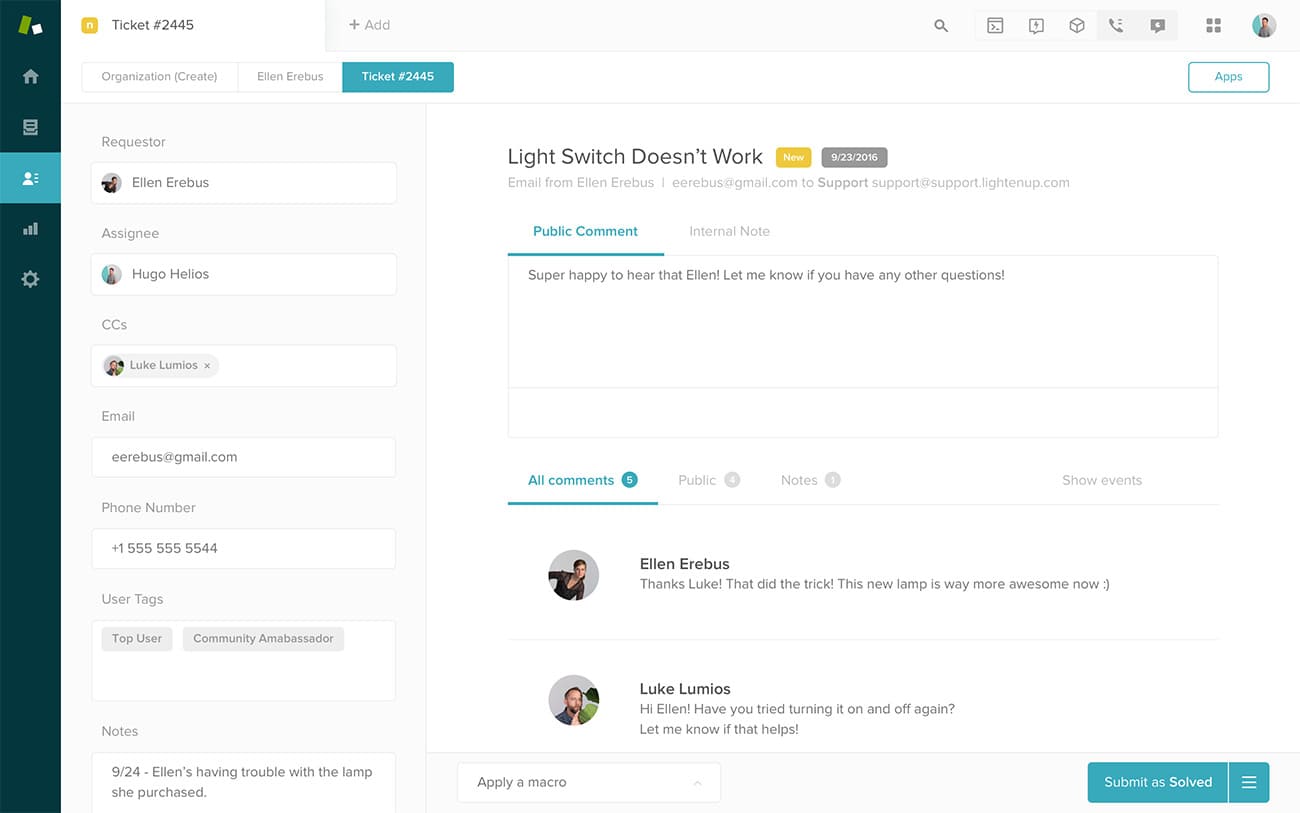 Through its years of service, Zendesk has always been one of the top choices when building an omnichannel ticketing system. With Zendesk, it is easier to organize your ticketing system and support activities. It is equipped with a top-of-the-line AI-based chatbot system that allows automated responses.
You can get this feature if you subscribe to their deluxe plans. One thing to note is that this system may require additional training, which means that besides the subscription fees, you'll have to dedicate additional time, energy and resources to be able to use the software to its fullest potential.
Features included:
✦ Voice Software
✦ Data Analytics and Reporting
✦ On-site Live Chatting
✦ App Integrations
✦ Supports multiple languages
✦ Multi-channel support
✦ Custom Branding
Pricing:
Best for small-sized businesses in terms of budget and functionality.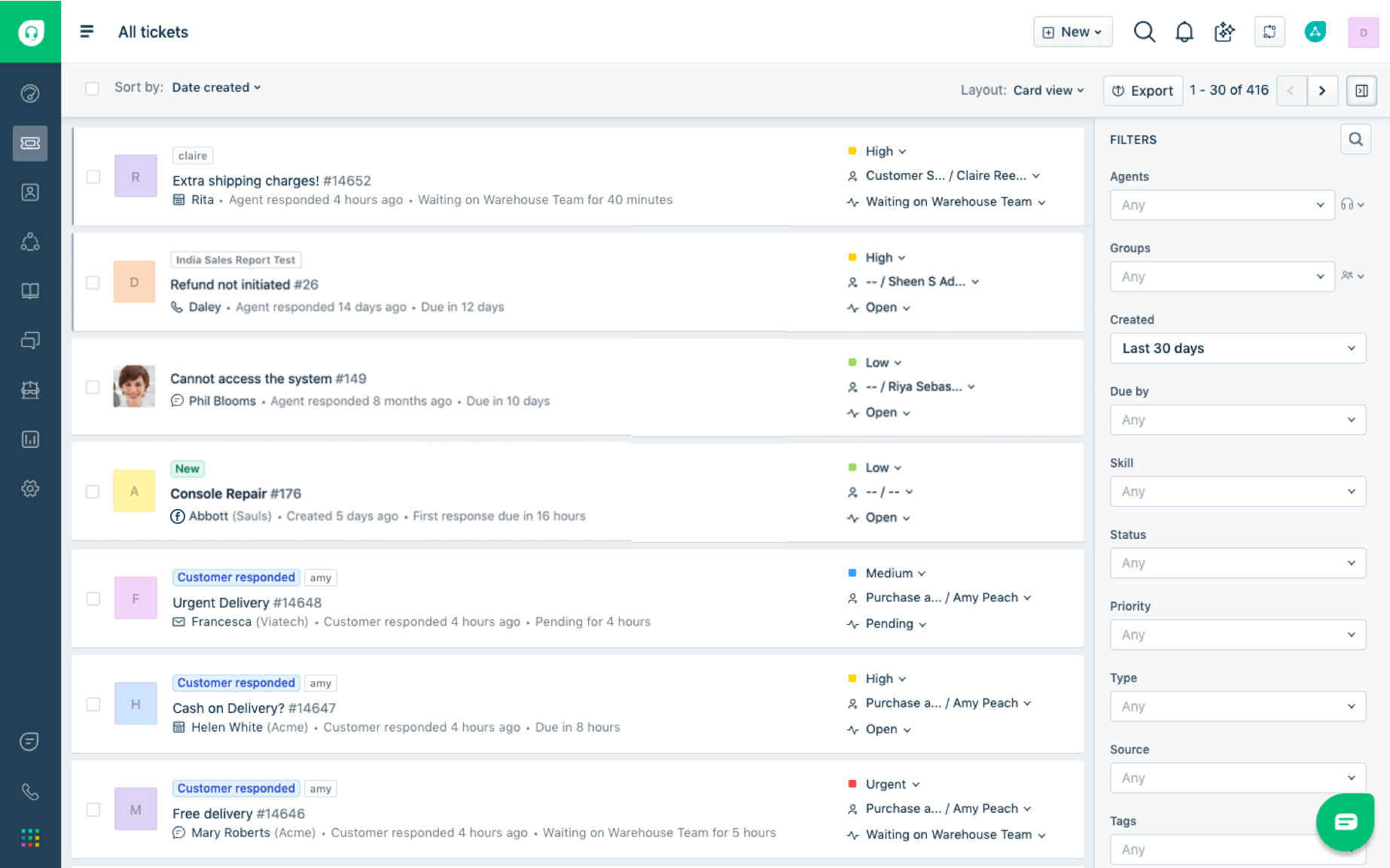 Freshdesk is one of the best help desk software for call center applications in business setups. There are also several add-ons that you can include in your subscription package to really modify the software specifically to your needs, including AI and machine learning integration and field service management.
Features included:
✦ Data Analytics
✦ Detailed Reporting
✦ Mobile-Compatible
✦ Predefined Responses
✦ Collaborative DashBoards
✦ SLA Management
✦ Approval workflow
✦ Freddy AI Chatbot
Pricing:
| | |
| --- | --- |
| | |
| | |
| | |
| High-Performance Pro Plan with Advanced Automation | |
| Enterprise-level Support Plan | |
Best for small businesses and startups to help in streamlining their customer service operations.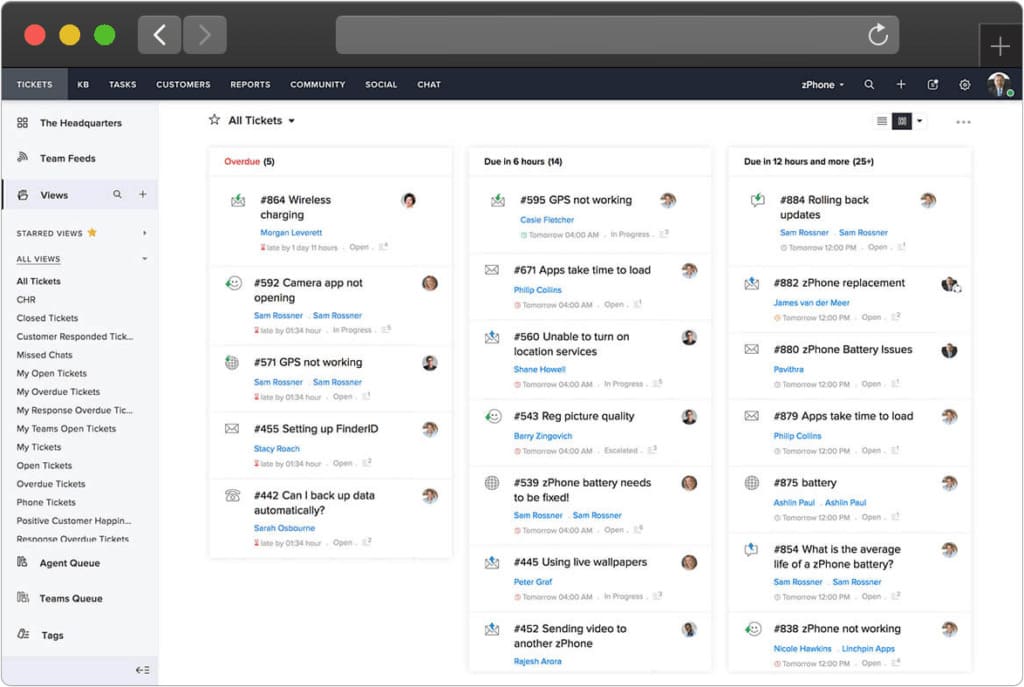 Zoho Desk is a budget-friendly help desk software that has all the basic features that other popular software use, like AI, multichannel support, and workflow automation.
Your business can use it to respond to several types of communication channels, including email, phone, and social media. It also has an integrated live chat feature that you can use for your website. This software is great for organizing and automating repetitive tasks, which can help the economy of small businesses in the long run.
Features included:
✦ Zoho CRM tool
✦ Ticket Management System
✦ Workflow Automation
✦ AI-powered Assistance
✦ Mobile compatibility
✦ Custom Branding
✦ Knowledge Base
✦ Omnichannel Support
Pricing:
Best for small to midsized e-commerce stores.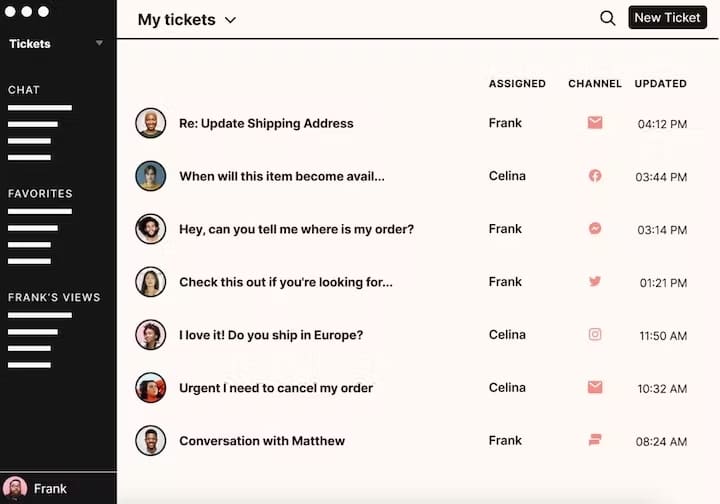 Gorgias help desk software is a beginner-friendly solution with a simple and intuitive user interface. What sets it apart from other help desk software is its ability to link Shopify, Magento and BigCommerce operations.
It's also capable of scanning the World Wide Web for reviews from customers about your products and services, both negative and positive, and it will display the said results in the application itself.
Features included:
✦ Simple and intuitive user interface similar to standard email UI.
✦ Automatic data collection for customer complaints
✦ Customization of automated responses.
✦ Compatible with most e-commerce platforms
Pricing:
| | |
| --- | --- |
| | |
| | |
| Starter Plan for 50 monthly tickets | |
| Basic Plan for 300 monthly tickets | |
| Pro Plan for 2000 monthly tickets | |
| Advanced Plan for 5000 monthly tickets | |
Best for the needs of medium to large enterprises.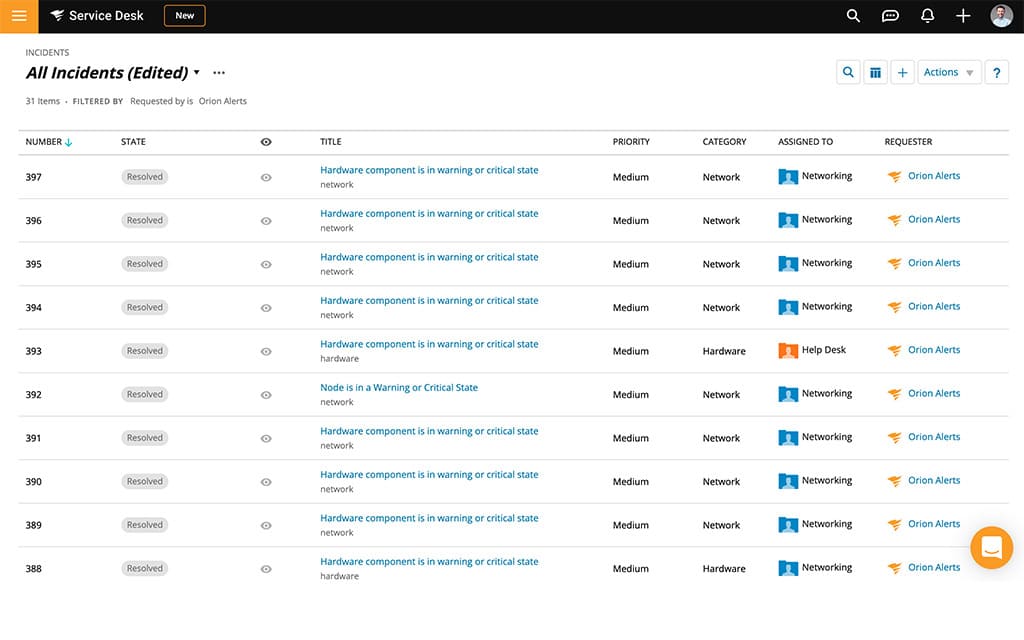 This service desk app is an IT service management (ITSM) solution that caters to the needs of medium to large enterprises. It can handle a multitude of data and traffic with its asset management and workflow automation system that allows for easy ticket creation and routing. It also has a unique incident management feature that allows for multichannel management of tickets. In order to get a 14-day free trial, you have to install this help desk software on your own server hardware. Unfortunately, the only option to get more information about the account in a cloud-hosted setting is to watch a demo provided on the webpage.
Features included:
✦ Relationship Mapping
✦ IT Asset management
✦ Configuration Management Database Software (CMDB)
✦ Help Desk Knowledge Base
✦ Procurement Tools
✦ Service Automation
✦ Service Desk Chat
✦ Service Desk Reporting
✦ Risk Management
Pricing:
| | |
| --- | --- |
| | |
| | |
| Team Plan for Smaller Teams | |
| Business Plan for Growing Teams | |
| Professional Plan for Mature IT Organizations | |
| Enterprise Plan for Full Customizability | |
Best for companies with a limited budget.
Happyfox help desk software solution is a flexible IT solution for businesses of all sizes. It has all the basic features that a help desk software should have, and it's also a budget-friendly choice. It can also be used in collaboration with Salesforce, Microsoft Teams and Slack.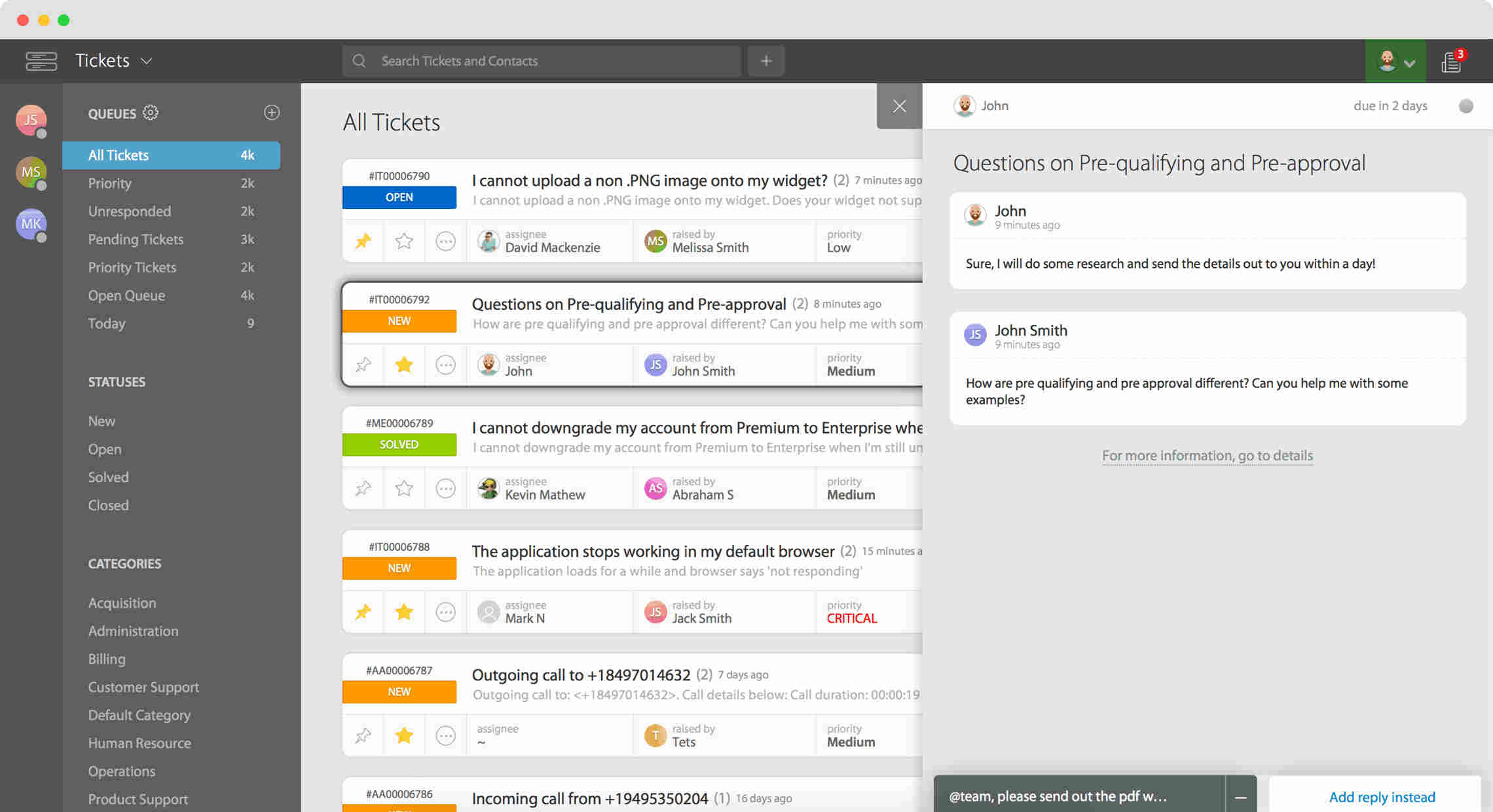 Features included:
✦ Smart Rules-based Automation
✦ Workflow Macros
✦ Website Live Chat
✦ Advanced Reports
✦ Ticket Routing, Categorization and Tagging
✦ Unlimited Shared Inboxes
✦ Custom Branding
✦ Knowledgebase Management
✦ Omnichannel Communication
Pricing:
| | |
| --- | --- |
| | |
| | |
| | |
| Enterprise Plan (most popular) | |
| | |
Best for a small team for an online business operating on WordPress.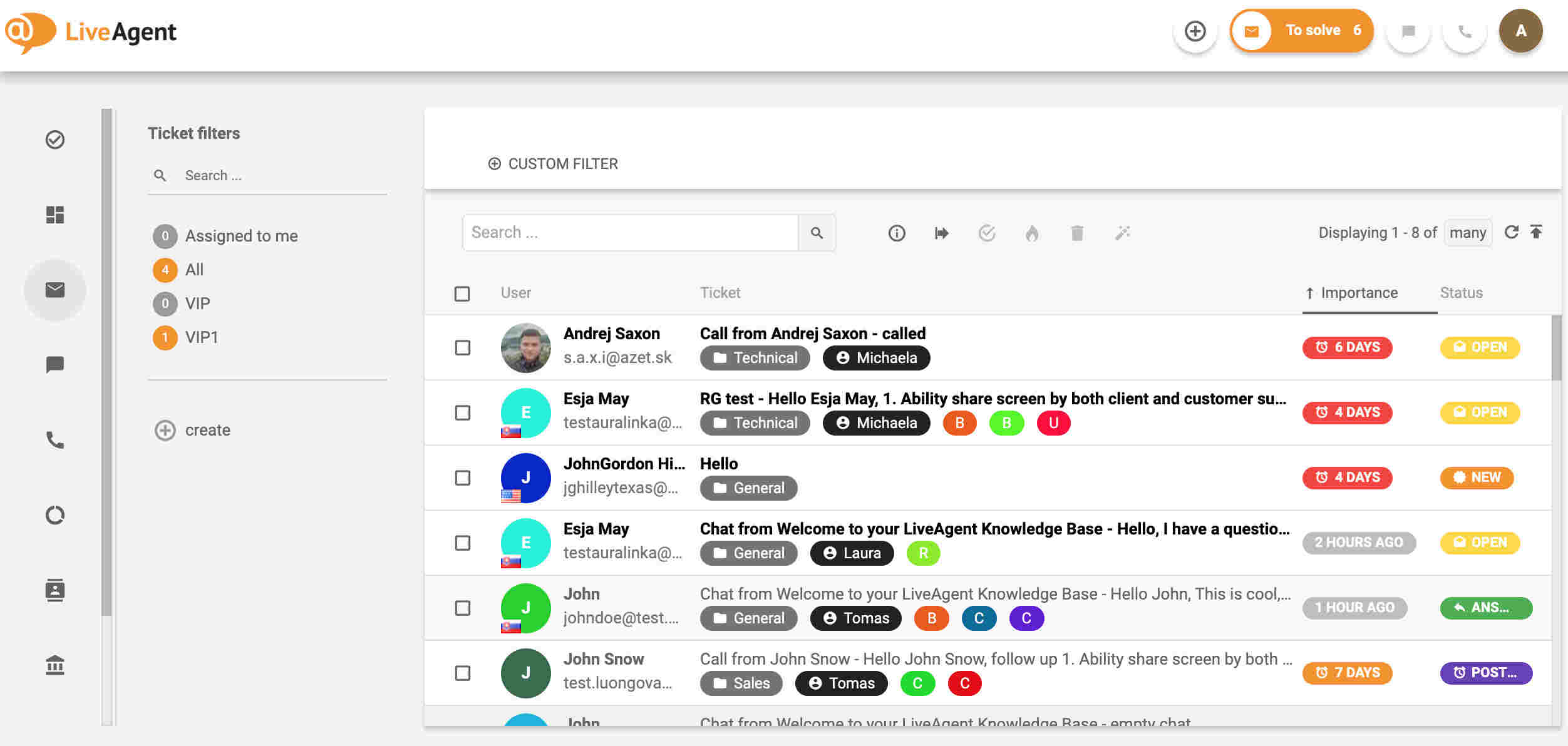 Live Agent is one of the best help desk solutions that you can use to handle your customer service operations. This software has a multichannel inbox where voice, email, chat, and social media tickets are sent for resolution.
Features included:
✦ Universal Inbox
✦ Customer Portal
✦ Omnichannel Support
✦ Knowledgebase Support
✦ Workflow Automation
✦ Simple and Intuitive UI
Pricing:
Best for small to mid-sized B2B companies.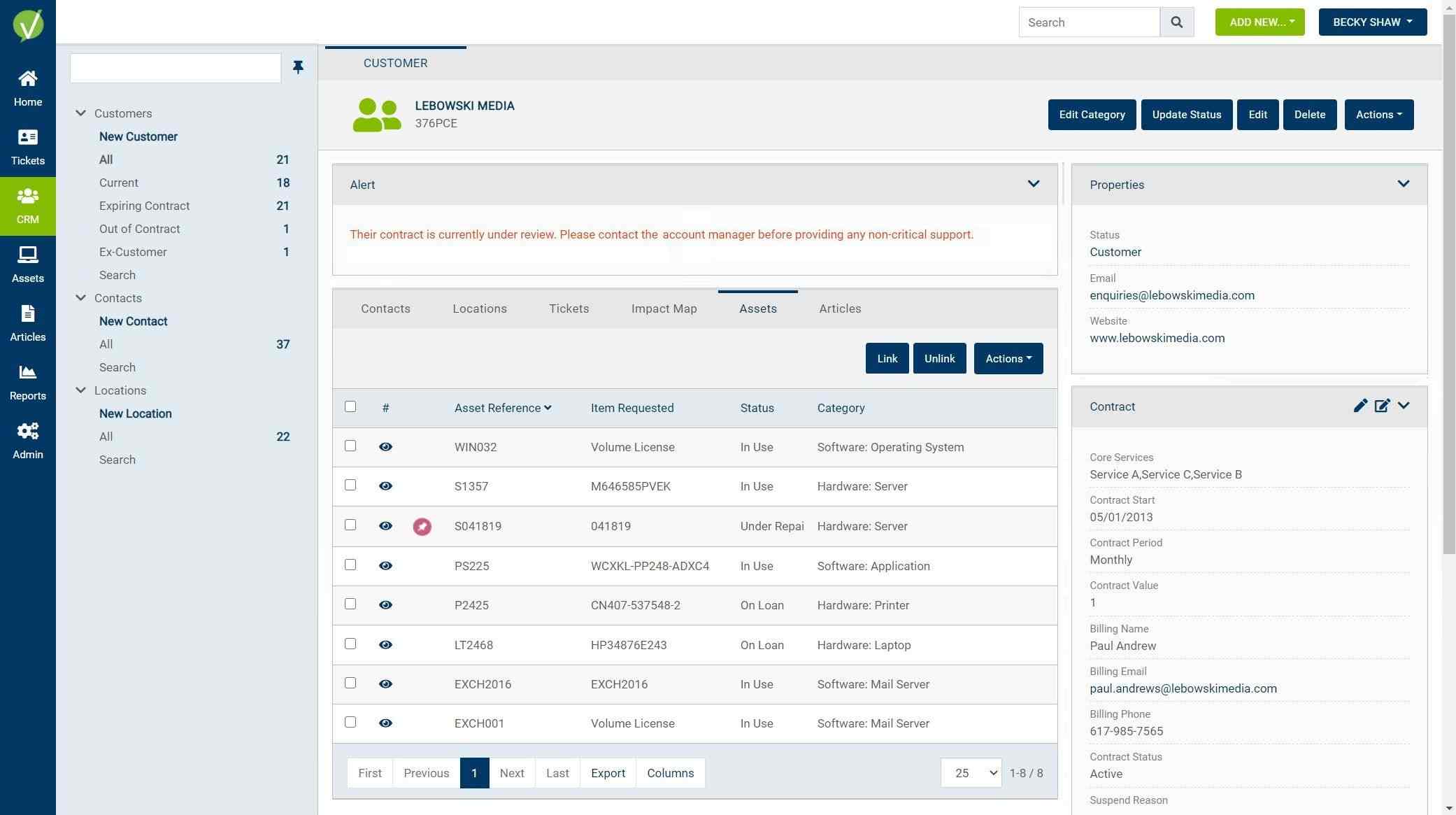 Vivantio is for B2B businesses that are currently finding their ground or trying to expand into bigger markets. It is one of the best help desk software that is enterprise-oriented. It houses advanced features which allow ITIL-compliant service at a competitive price.
Features included:
✦ Ticket Hierarchies
✦ Intuitive Interface
✦ Call Center Management
✦ Live Chat
✦ Queue Management
✦ IT asset Management
✦ Workflow Configuration
Pricing:
Best free help desk software for startups.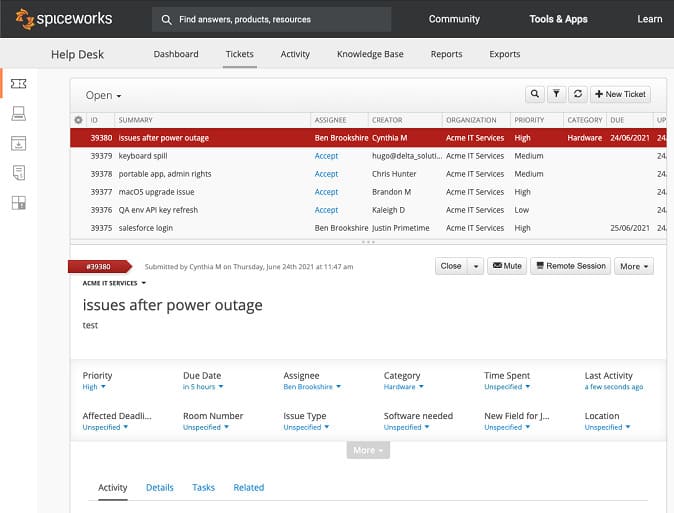 Spiceworks is one of the best help desk software available today, especially for businesses that are on a budget. It's not recommended for large businesses handling sizeable operations because of its limited features. Using this software, a small business can organize and manage its conversations with its customers. It also has a self-service portal that allows people to resolve issues on their own. Without any costs, you'll be able to access vital tools needed for the help desk management system, including automation tools.
Features included:
✦ Tracking and reporting
✦ Calendar scheduling
✦ Knowledge base
✦ Remote Desktop
Pricing:
This software is free.
Comparison of the Best Help Desk Software
Here is a detailed best help desk software comparison to help you decide which one you should purchase for your business. In this help desk software review, you'll be able to determine which software has the features that you're looking for.
| | | | | | | | | | | |
| --- | --- | --- | --- | --- | --- | --- | --- | --- | --- | --- |
| | | | | | | | | | | |
| | | | | | | | | | | |
| | | | | | | | | | | |
| | | | | With Zoho Assist integration | | | | | | |
| | | | | | | | | | | |
| | | | | | | | | | | |
| | | | | | | | | | | |
| | | | | | | | | | | |
| | | | | | | | | | | |
| | | | | | | | | | | |
| | | | | | | | | | | |
| | | | | | | | | | | |
| | | | | | | | | | | |
| | | | | | | | | | | |
| | | | | | | | | | | |
| | Cloud (on Amazon Web Services) | Cloud (on Amazon Web Services) | Cloud (on Amazon Web Services) | Cloud (on Amazon Web Services), on-premise | | | | | | |
What is a help desk software?
Your business needs the best help desk software to be able to efficiently resolve issues from your customers. This software allows you to organize, manage and respond to support tickets in one application. Usually organizations blend several tiers of IT support based on their needs. There are two types of help desk software solutions that are used for two kinds of requests, namely external and internal. One of most well-known options for a internal support is using a knowledge base software.
These software programs share the same goal. Thus, most of these have the same features, differing in the UI, efficiency, and pricing. Some of the most common features include a shared inbox, a knowledge base, and live chatting.
As of today, the help desk solutions industry is continuously growing and is expected to blow up to a whopping 11 billion USD industry in 2023, according to studies. This is not really a surprise seeing the benefits these help desk platforms are giving small and large businesses when it comes to improving their customer's experience.
Top Help Desk Solutions Features
1. Multi-channel Support
With this multi-channel customer support customers can send their requests through different channels, including phone, email, and through social media among many others.
2. Unified view of the customer
Even with multiple supported channels, help desk solutions should still be able to filter and organize all incoming information from customers. The customer's profile, conversation logs, and other details should be accessible in one place to allow easier access and when a client needs to be transferred to another agent, the transition will be smooth and easy.
3. Knowledge base and community forum
This is where your customer base and your workforce connect with each other online to talk about your product/service, issues encountered, and possible solutions.
This is a way for your customers to create their own community, feel an emotional and social connection, and at the same time, help each other solve problems. Ultimately, this will lessen the load on your ticket system while still effectively resolving more customer issues.
4. Tracking and Analytics
A tracking and analytics system helps your support agents filter through a large number of tickets. This feature allows them to resolve similar tickets at once.
Most importantly, this feature creates a detailed report of your product/service's performance based on the data received from the customers. This can help you improve your team's product/service quality performance.
5. Automation
One of the best it help desk practices that we have today is automation, made possible by modern technology. By making repetitive tasks automatic, you'll be able to lessen the workload on your employees and allow them to focus on more important and complex tasks.
In the customer service department, this can be done by creating automated responses for queries/issues that are most common. One software called Zendesk does this with the help of an AI-powered bot named Answer Bot, which learns how to respond to customers by accessing information from a knowledge base.
6. Apps and Integrations
Apps and integrations allow your support agents to choose from a variety of tools that can help them perform better and more efficiently. This feature makes collaborative efforts between your employees possible and makes accessing important information easier and faster.
7. Customer Feedback
Knowing what your customers need and want is vital to your business's success. You can use several feedback collection methods to determine how your products/services are performing based on your customers' experiences. Feedback can come in the form of online reviews, social media posts, online store reviews, and support tickets.
8. Agent Efficiency Tools
The backbone of a customer support system is your workforce. With agent efficiency tools or collaboration tools, you can effectively boost your team's performance and efficiency in resolving customer issues.
In a 2023 trend report, it was revealed that 26 percent of companies believe that they lack cross-departmental collaboration. Giving their support agents collaboration tools can help them respond to tickets faster and answer questions correctly.
How do you choose the right help desk software?
At first, looking for the best help desk software amongst these options can be very overwhelming, especially if you're just starting a business and you've never heard about these software programs before. But worry not – we have some tips to make it easier for you.
Here are some things to consider when choosing the right help desk software for your business.
Channels of Support
Do you have multiple channels where your customers can reach you, or do you have just one? Make sure that the software that you will choose has the capability to receive customer messages from different channels. Also, opt for a software that does an excellent job at organizing data from multiple channels and has an efficient filtering system.
Usability
Pick a software that matches your customer support agents' qualifications and experience with similar software. There are some help desk software that are too complex that special training is needed to be able to operate them. If you don't have the budget or resources to conduct such training, look for a software with an intuitive and simple UI.
Price
When deciding which help desk software to buy, the price really isn't something that you should focus on. Expensive does not always mean quality, and cheap software sometimes has more valuable features. Always think about how the software can help your business become more efficient at handling customer service requests.
Scalability
There are some help desk software programs that are only good for small businesses that don't see much traffic, while some are best suited for large corporations handling thousands of tickets at a time.
However, it doesn't mean that every small business should only use small-scale help desk software. Consider your business's trajectory through the years. Will you be seeing more traffic in the next few months or years? If yes, then get a help desk software that will give you the needed room for growth.
Flexibility
Can the software adapt to your company's unique needs? Will it be able to support the needs of your organizational structure? Does it fit your business model? Can it handle the traffic in your chosen industry? Will it be able to accommodate additional channels if you ever decide to expand your business?