Providing multi-channel support as a part of your reliable help desk software bottom line, and improves a company's reputation with consumers. Choice is an integral part of customer expectations. Individuals want to use whatever method is most convenient for them when reaching out to have a problem solved.
Offering a multi-channel customer support makes it easy for people to contact you using a wide variety of techniques. Let's see how to implement a multi-channel help desk and how it can improve customer satisfaction and help your business grow.
What is Multi-Channel Support?
Multi-channel support is defined as providing customers and employees with multiple communication options that can be used to contact the help desk. This allows individuals to use the communication method they prefer. The choices can include phone support, email, live chat, social media, knowledge base and more.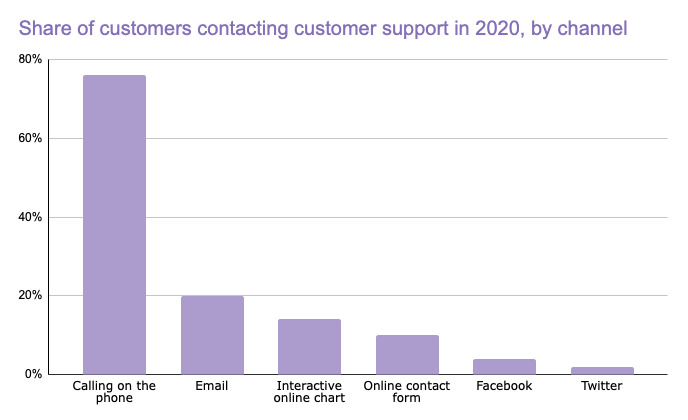 Some customers may want an immediate answer to a question and opt for a phone call. Other customer queries may not need to be addressed as quickly and an email will suffice. The goal of multichannel support is to enable customers to interact with the company using the channel with which they are most comfortable. An individual's preference can change based on the specific situation, and providing multiple options ensures that customers will not be disappointed.
Answering all communication channels with the same degree of professionalism keeps customers satisfied.
The Benefits of Multichannel Support
Providing multiple communication channels benefits both a company and its customers.
Individuals can use text messages, emails, phone calls, live chats, social media posts, or other methods of communication. Companies can increase brand awareness by offering multi-channel customer service. Organizations can also enjoy the following benefits from multi-channel support.
Faster ticket resolution
Help desk software solutions are used to track, categorize, and assign tickets to agents. A multi-channel help desk provides teams with a centralized and shared dashboard for more efficient ticket management. The IT ticketing software solution's ability to handle multiple channels reduces problem resolution time. Tickets are created and immediately routed to an appropriate technical resource so that queries and issues can be addressed promptly, leading to an enhanced customer experience.
Presenting a consistent customer experience
Multi-channel customer service enables a company to offer consumers and employees a consistent and flexible help desk experience. Using different channels will not negatively impact the quality of service or the time required to resolve an issue or respond to a query.
Improved team collaboration and productivity
A customer service support team's productivity and ability to collaborate are improved with a multichannel approach. Automated categorizing and assigning tickets ensures that the issue is being handled by the best agent for the job with an appropriate IT support level.
Facilitate omnichannel support
Multiple-channel support provides the foundation of a fully integrated omnichannel customer experience. Omnichannel customer service ensures that requests only are entered once. Customers can change channels and still monitor the progress of a query or problem resolution. Agents can share data and collaborate to quickly address customer issues. This consistency saves both customers and agents time and effort.
Consistent Multi-Channel Ticket Creation
Effective multichannel support requires the help desk software solution to function consistently across all channels. Once a ticket is created, automation categorizes the request, gives it a priority, and assigns it to a suitable agent. The ticket is tracked by the system until it is closed.
Ticket automation needs to be consistent across all support channels to meet customer expectations. Many companies support eight or more different channels that can be used to engage the help desk. Let's look at the main channels used to initiate customer interactions and how they can be best used by modern businesses.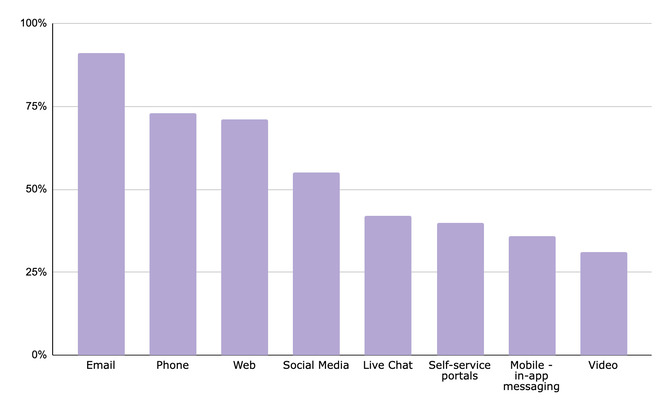 Email
Email is one of the basic communication channels and needs to be supported by all companies with an online presence. A majority of consumers indicate that they prefer email when communicating with an organization. It allows customers to quickly get back to other things after initiating a help desk query. Businesses can use email lists and email ticketing software to communicate with specific segments of consumers or employees.
Chatbots
Powerful artificial intelligence (AI) solutions have enabled chatbots to exhibit advanced functionality and interact effectively with customers. Most customers are glad to have their issues resolved quickly regardless of how the assistance was provided.
Situations where chatbots are effective as a customer support channel include:
• Addressing repetitive or standard queries independently to streamline response time and reduce the number of tickets and interactions with human agents;
• Acting as the initial point of contact to handle simple requests and escalate to human agents when necessary;
• Busy help desks where the addition of chatbots can reduce customer wait time and increase satisfaction.
Live chat
Live chat provides the immediate response desired by a majority of customers. Real-time and individualized attention to customer needs builds brand loyalty and offers an enhanced experience. In many cases, live chat is the next step when a chatbot cannot effectively handle an issue or query.
Live chat is useful as part of a multi-channel contact center to:
• Identify the parts of your website that attract the most attention from customers;
• Enable customers to reach out for immediate help;
• Provide pre-defined responses for faster and more accurate problem resolution;
• Rout issues to the correct technical team;
• Gather feedback from customer interactions to understand their level of satisfaction.
Phone support
Phone support is a proven and traditional channel for customers contacting the help desk. People are familiar with phone support and may appreciate the immediate feedback possible when engaged with a live agent. Viable phone support is essential when providing multichannel customer support. Companies can enhance their phone support by using the following best practices:
• Encourage agents to engage personally with customers by using their names and avoid reading from scripted responses.
• Train agents to ensure they optimize customer engagement with a positive tone and proper phone etiquette.
Video Chat
The interactive nature of video chat in a multi-channel help desk environment allows for more personalized and effective communication with customers. This raises customer satisfaction levels and makes video chat one of the more successful methods of providing help desk support.
Live video chat can be used effectively by businesses in the following ways:
• Video chat can help identify issues quickly and resolve problems in the first attempt. The ability to explicitly describe the problem to another human being often results in faster and more complete issue resolution.
• Video chatting can help build customer trust and satisfaction.
• Video chat can be very useful when dealing with complex issues that require an interactive and visual conversation between customer and agent.
Knowledge bases
A large percentage of customers take advantage of self-service options when they are available. Knowledge bases software and other self-service solutions enable customers to resolve their issues without engaging in another support channel. They make information available twenty-four hours a day. This reduces the resolution time for customers and the number of tickets generated by the help desk. What's more, they could be an integral part of a HR help desk software for internal employee support.
Knowledge bases help provide multi-channel customer support in at least three ways:
• Self-service options convert the help desk into a 24/7 operation.
• Cost savings can be enjoyed by a reduced ticket flow to the help desk.
• Customer satisfaction is improved as individuals can quickly obtain the information they need to address many issues.
Social media platforms
Social media has gained traction and is now a legitimate channel for communicating with the help desk. Popular platforms like Facebook, Twitter, and YouTube enable companies to engage in brand building by promoting social interaction and facilitating customer contact with support personnel.
Many customers find it more convenient to use social media to get in touch with the help desk than more traditional methods. A company's social media presence can become an integral part of a multichannel helpdesk.
The following tips can help a company maximize the benefits of its social media channels:
• Respond to queries quickly through a multi-channel support solution to provide timely resolution and increase customer satisfaction.
• Use a less formal and more conversational one than in email communication to interact with customers on a more personal basis.
• Listen to social media channels to gauge customer sentiment regarding your brand and to identify emerging trends that may affect your business.
Web-based interactive support apps
Interactive apps or widgets built into your website allow customers to easily initiate a query. The app can also serve as the front end for knowledge bases and provide customers with a streamlined method of accessing support information. Users may find it easier to access information through the app than by going directly to the knowledge base.
Social groups and online communities
Online communities, forums, and social groups can all serve as help desk channels. They give individuals a place where they can connect with other customers to ask questions, give each other tips, and learn about your product or service.
Online forums and communities improve customer service in the following ways.
• Users can search previous posts to determine if other customers have experienced the same issue and see how they resolved it. This saves time and reduces the number of help desk tickets generated.
• Customer connections can form, giving a real sense of community to an online forum. Customers may come up with creative methods of resolving issues that help everyone and can be incorporated into company knowledge bases.
Online forms
Online forms serve multiple purposes in a multi-channel customer support environment. Users can access and fill out online forms at their convenience while they are visiting your website. The information provided to your company through online forms can be used to build a customer profile and gauge sentiment regarding your product offering.
Web forms can be an important part of multi-channel support by:
• Collecting and saving a customer's basic information;
• Initiating contact with prospective clients;
• Gathering feedback on your products and services;
• Accepting comments and suggestions from the user community.
Supplementing Help Desk Teams with Artificial Intelligence
People expect a fast response to their queries, often under 30 minutes. They also want to access support outside of regular business hours to address issues that can't wait. Automation plays an important role in a multi-channel support environment.
Consumers are becoming more comfortable interacting with AI chatbots. In many cases, automated AI tools can be used to address standard queries on multiple channels without involving human agents. Customers can receive an immediate response from an AI solution that quickly resolves their issues.
A hybrid approach that incorporates AI as the initial touchpoint can benefit customers and the company. Autonomous tools provide fast responses when possible and escalate more complex issues to human agents. Companies save money on unnecessary human resources while customers get timely and accurate responses at any time of the day.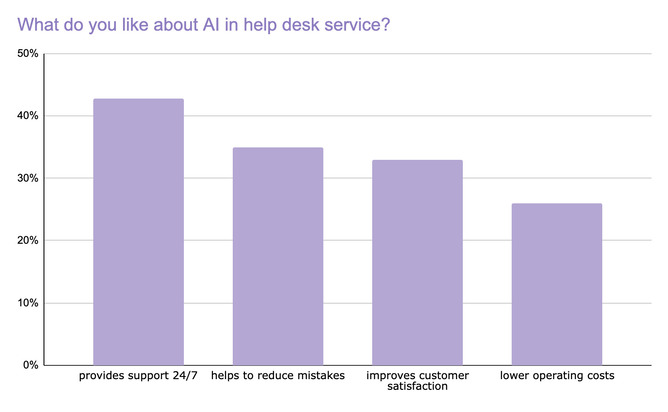 Choosing the right customer support channels
It's essential to focus your efforts on optimizing the right multi-channel communication options. Keep the following points in mind when determining which channels should be focused on by your multi-channel customer service team.
• You need to identify the expectations and requirements of your primary customer base.
• Consider industry trends and consumer sentiment that may result in certain channels becoming the preferred method of contact.
• Realistically evaluate the skills and capacity of your customer service support team.
• Focus on the channels that best address the combination of customer expectations and support team skills.
FAQ
Omnichannel refers to using all available communication channels to provide an exceptional and personalized customer experience. Multichannel is the practice of providing multiple methods for interaction between a company and its customers. Multichannel solutions are necessary components of an omnichannel strategy.
Multi-channel customer support enables customers to engage the help desk through multiple methods that include phone, voice chat, knowledge bases, email, social media, and more. Customer service agents can respond using the same variety of channels to provide timely and effective support.
Three keys to multichannel marketing success are:
• Consistency

– Customers should get a consistent message across all channels. Using the same design elements promotes brand awareness and makes your company more easily recognizable.

• Flexibility

– The consistent design elements need to be flexible enough to be used in various formats to address their effective presentation across all channels.

• Effective customer targeting

– Using the correct channel to appeal to a specific customer group is an effective marketing strategy. Targeted marketing saves money by eliminating wasting resources on unproductive channels.