Tiered help desk structure is important because issues can vary widely in complexity. After all, a junior employee probably can't fix downed servers. Adversely, a CEO would never handle team member timecard approval. It's important to trust the right people for the job.
Below you'll find out more about different IT support tiers, best practices for the 5 support levels and their peculiarities.
What Are Tier Support Levels?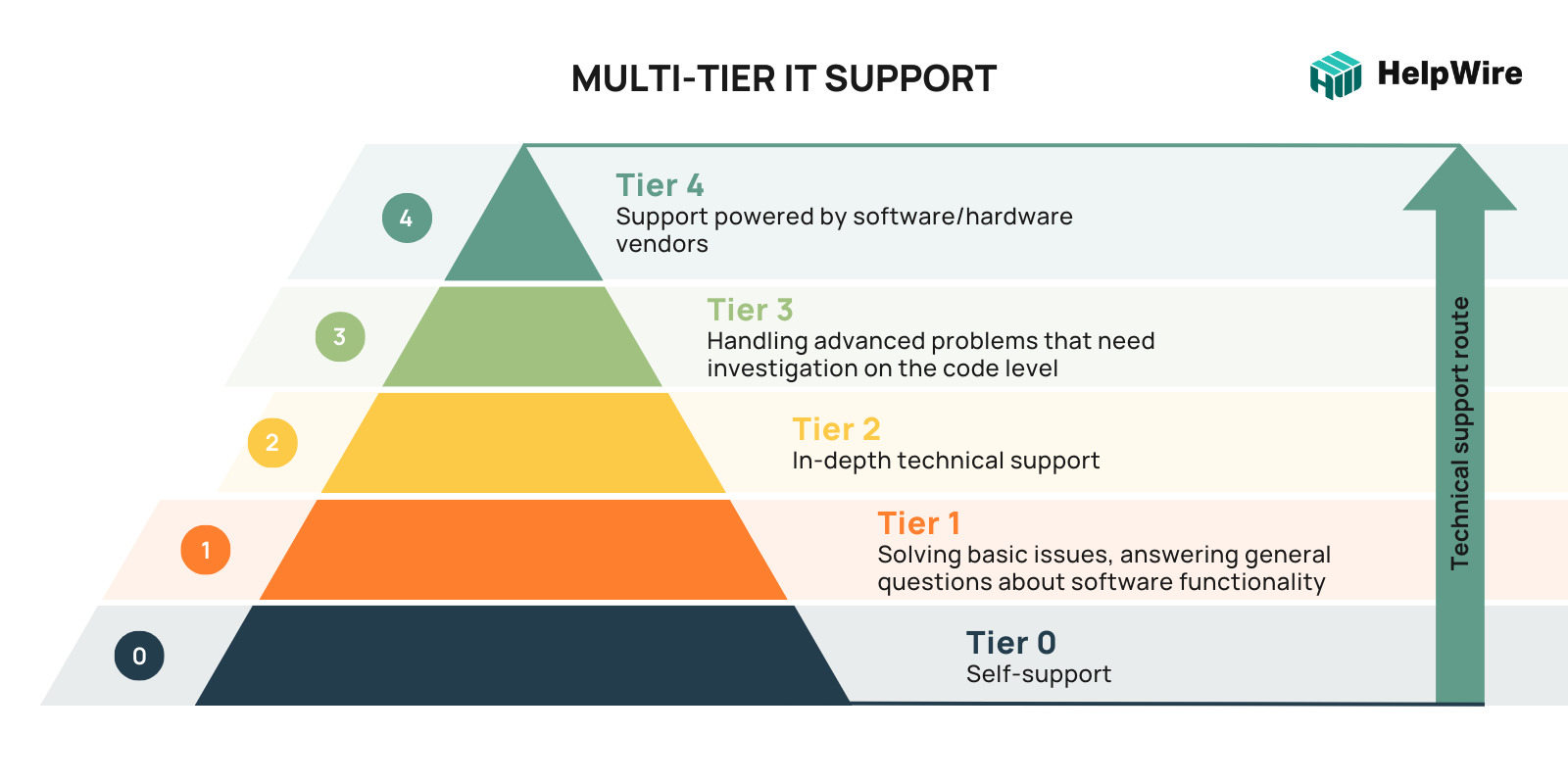 IT tier support levels are commonly classified using a number system (AKA: Tier 0, Tier 1, Tier 2, etc). Different organizations arrange their IT levels of support based on their unique staff size and experience. The way they name these tiers can also vary by business.
Most organizations utilize 3 tiers of IT support personnel, but the number can vary on the IT support model. A very prevalent support level is tier 2. Many organizations alter this template and blend IT support tiers based on their resources and principles.
Tiers can also be interpreted as timelines (i.e., the higher a problem is escalated, the more time and possible resources are required to solve it). An organization could:
• Create time limits on tiers:

if Tier 1 issues take more than 15 minutes, it's automatically elevated to Tier 2 support.

• Let your team use their intuition:

Your IT team are experts at what they do, let them determine when to escalate a problem.
Benefits of IT Help Desk Tiers
Here's why you should consider structuring an IT team using support tiers:
• Strategically address the needs of your customers;
• Ensure effective and pleasant customer satisfaction and experiences;
• Resolve minor issues quickly;
• Create timelines and protocols for more complex problems;
• Improve employee morale;
• Optimize employee training, growth, and retention;
• Receive suggestions for product development.
IT Support Level 0: Self Service & User-Retrieved Information
IT support Level 0 encompasses all tools/resources that an organization provides for the customer to resolve an issue on their own. This includes services catalogs, a self-service portal, and a knowledge base software. The main aspect of level 0 is the lack of direct customer-to-employee contact. A well-executed level 0 of IT technical support customers have easy resolutions within arm's reach.
A scenario where an issue would fall under the level 0 support tier:
One example of level 0 support is if a customer is struggling with the billing for a company-provided service. After reviewing the FAQ section and the company's customer forums, they realized that what they once thought was a problem was actually part of the company's billing policy. The solution? Simply wait a few days for a payment to apply.
This user-friendly level 0 support system helped the customer uncover a solution to their own problem without involving IT directly.
Examples of level 0 tools include:
• Support information provided on websites and applications;
• FAQs and manuals;
• Support forums;
• Social media.
Support methodology
Customers get their support information from mobile apps, pages, and web pages (like blog posts, FAQs, detailed product and technical information, manuals, and search functions).
Customers also use apps to access service catalogs to request services without involving the human levels of IT support.
Email via email ticketing systems, web forms, and social media contact methods (like LinkedIn, Twitter, and so on) to submit questions and help requests to higher IT support tiers or staff).
Company forums let customers crowdsource solutions amongst themselves — frequently without input from the organization itself.
IT Support Level 1: Front Line Basic Support
Help desk tier 1 is where personnel and support teams make direct contact with users to solve technical issues. This is when customers have their first contact with a company representative via multi-channel help desk, so it's crucial that those providing support are prepared to resolve the problem. Additionally, tier 1 tech support levels should know exactly when to transfer the problem to a higher tier. For a efficient customer support it's important to choose a reliable remote help desk software.
What issues fall under level 1 technical support tier:
End-users struggling to navigate a banking app and can't figure out how to request a bank loan. After submitting/initiating a help desk request, they're introduced to IT support that guides them through requesting a loan. The issue was fairly simple and doesn't need to escalate to a higher tier.
Examples of issues and tasks level 1 help desk support use cases:
• Help desk ticket creation;
• Resetting passwords;
• Infrastructure degradation;
• Network performance;
• Application performance;
• Hardware performance;
• OS Errors.
Support methodology
Provide support for basic customer problems like resolving usage issues and tackling service desk requests that require IT involvement.
IT Support Level 2: Advanced Support
Things get more complex once they escalate to these tiers of IT support. Professionals in this tier 2 technical support generally provide in-depth troubleshooting and under-the-hood support. Tier 2 of IT support often has greater expertise regarding their organization's software and hardware.
In other words, they make sure problems that level 1 IT support operators escalate, are resolved accordingly thanks to a more well-informed perspective.
What issues fall under level 2 technical support tier:
After receiving a ticket from level 1, level 2 IT support analysts recognize the customer has attempted to access their account but was blocked by the organization's anti-phishing protection. The end-user obviously isn't a scammer, but the system misidentified them as a threat.
The level 2 support specialist then lifts the block on the customer's account once they've analyzed the issue, finding the solution thanks to the technician's knowledge of the organization's app and automated help desk system.
Examples of level 2 help desk support problems are:
• Confirmation of elevated tickets and swift response to issues.
• Complex issues resulting from potential problems with hardware or servers that a level 1 specialist can't solve.
• Back-end issues that can only be solved by having extensive knowledge of the company's hardware, software, and network functioning.
Support methodology
Expert technicians analyze issues and offer solutions that tier 1 support teams can't resolve.
IT Support Level 3: Subject Matter Expert Support
When it comes to IT support, level 3 is usually the highest tier. Those included in tier 3 help desk levels understand how a company's products and services function, and how to access the highest level of technical resources.
Most commonly, they develop, maintain, and fix important components that compose the structural soundness of systems and apps. Frequently, they could possibly participate in building new software and hotfixes within the network, code, and additional tools.
What issues fall under level 3 technical support tier:
The customer is faced with a bug using the app, which jeopardizes infrastructure data. Level 3 specialists fix both this specific customer problem and update/resolve the application's code to ensure the issue does not arise again.
This can only be accomplished with an extensive understanding of the app's architecture.
Examples of level 3 help desk problems:
• Analyzing highly-complex hardware, code, and/or architecture problems.
• Administering app and system hotfixes ensuring the product functions.
• Providing server maintenance and resolving tickets escalated by level 1 and 2 help desk tiers.
Support methodology
Gaining access to the highest tech resources available for issue resolution or feature creation.
The goal of tier 3 technical support is duplicating issues to uncover the root cause via code, product designs, or specifications.
Once the source is identified, the company can then choose whether to create a new fix based on the cause. Any new solutions/fixes are documented for use by Tier 1 and Tier 2 support staff.
IT Support Level 4: External Support
This IT support tier handles outside tech support provided but not supported by the organization.
A flawed group of monitors and printers the company purchased now presents problems. Consequently, the official retailers fix or replace faulty devices.
Examples of level 4 help desk support issues:
• Issues with specific hardware built by outside vendors or business partners.
• Machine maintenance offered by official vendors and other outsourced services.
• Addressing security risks, firmware updates, and patches.
• Code updates and bug fixes.
Support methodology
Contracted support for products provided by but not directly serviced by the organization (like machine maintenance, vendor software support, printer support, depot support, as well as other outsourced services).
Problems or requests are forwarded to tier 4 of IT support and monitored by the organization for implementation.
A Summary of IT Support Tiers
IT support tiers are essential in a functional and modern business. As you can see, the difference between tier 1 and 2 support (and 3, and 4) are clearly defined. The scope of these common levels of support vary greatly based on the organization, but usually benefits the company and its customers.
As a best practice, outsourcing IT support is recommended to provide the best level of support.
| | | |
| --- | --- | --- |
| | | |
| | | Initial customer contact and solving routine issues. |
| | | Fixing problems beyond the capabilities of Tier 1. |
| | | Product design changes, patches, and updates when there's no other solution. |
| | | External support for 3rd-party components, systems, or services. |
---