10 Best Help Desk Software for Small Businesses in 2023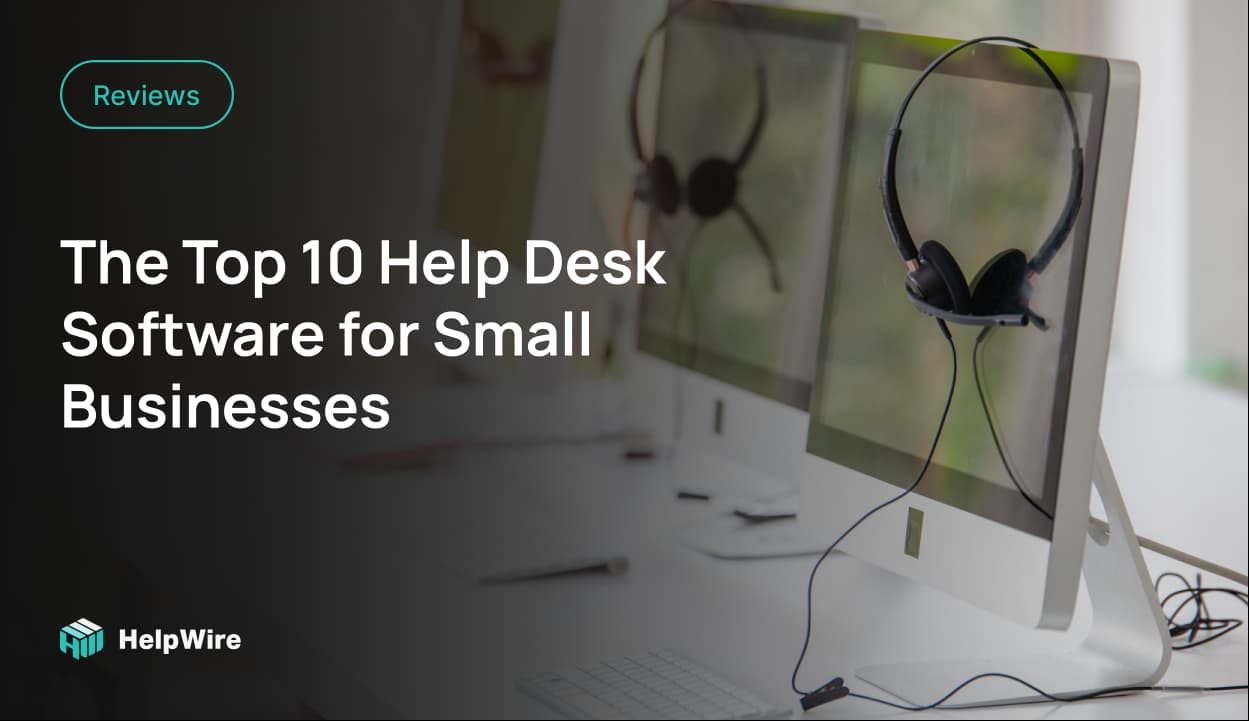 Even growing or small businesses encounter customer complaints, issues, or problems. Investing in good help desk software can help you gain your customers' trust and make them feel that you truly care for them.
While this being said, it's not always easy to pick out help desk software, especially when your needs aren't concentrated on just one functionality. Below are 10 of the best help desk software for small businesses.
Comparison of Best Customer Service Software for Small Businesses
To help you out, we put together a comparison table for the best customer service software for small businesses:
| | | | | | | | |
| --- | --- | --- | --- | --- | --- | --- | --- |
| | | | Multi-channel Communication | | Self-Service and Knowledge Base | | |
| | | | | | | | |
| | | | | | | | |
| | | | | | | | |
| | | | | | | | |
| | | | | | | | |
| | | | | | | | |
| | | | | | | | |
| | | | | | | | |
| | | | | | | | |
Help Desk Software for Small Business
1. HelpSpot
Best for: for teams that primarily provide email support.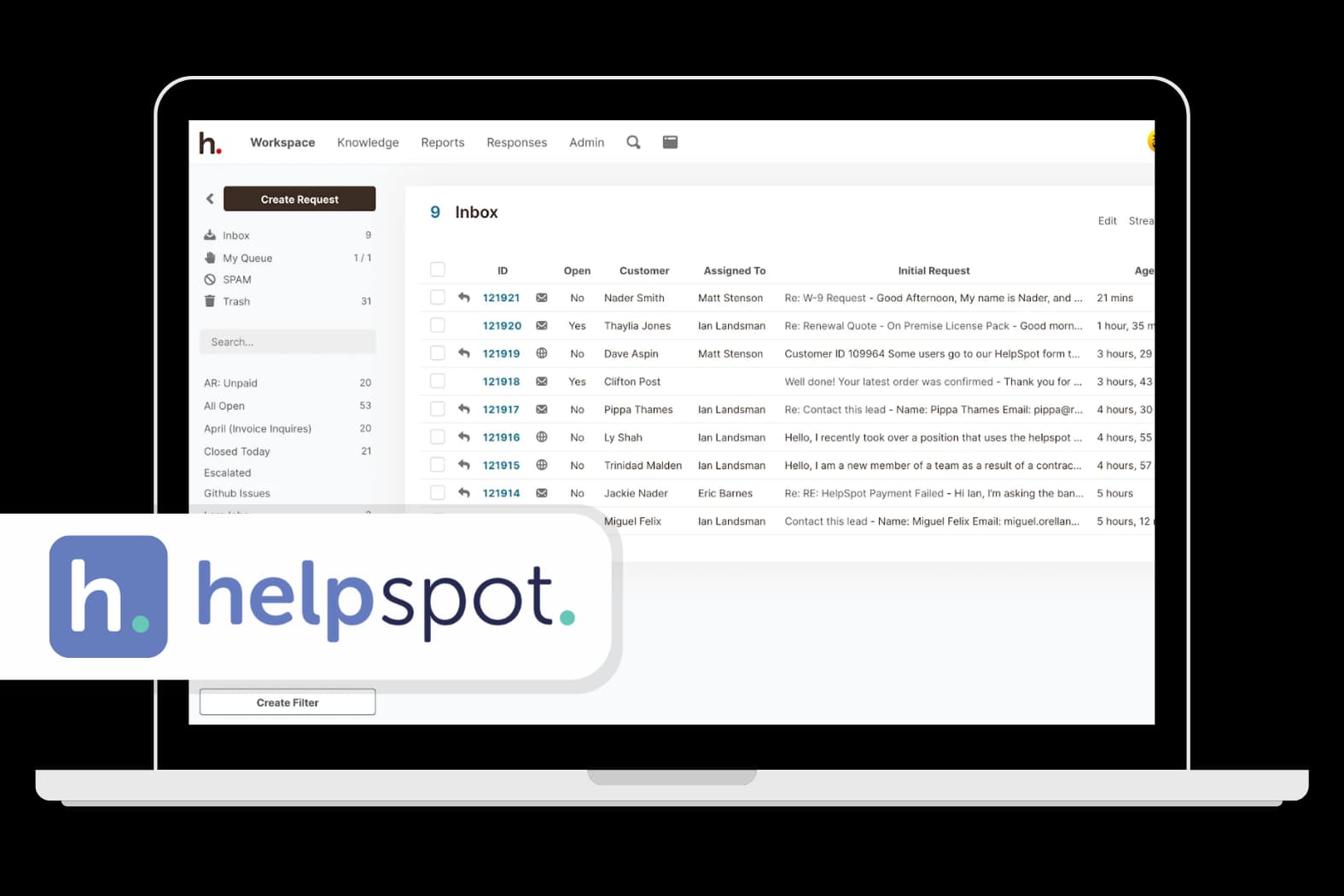 HelpSpot is an efficient help desk software trusted by thousands of businesses in almost every corner of the world. Its features are streamlined to help users switch to different email platforms, such as Google Mail or Outlook, easily switch ticket ownership, and have an overall pleasant experience when using the software.
Features
Email Management
HelpSpot allows you to manage one or more email mailboxes. Their email management feature lets you keep track of thousands of emails and organize them through a shared view.
You can also set up automated responses and customize your emails or templates to conform to your business brand.
Knowledge Base
Users or customers can get answers to their questions a lot faster. Operational cost and support volume can also be reduced while gaining increased team productivity and higher customer satisfaction.
Reporting
HelpSpot's streamlined reporting feature lets your team see data in real-time. You can also customize what data or information you want to see and save them for later use.
Self-Service Portal
Among the best features of HelpSpot is its Self-Service Portal.
Customers can go directly to the portal to view the progress of their tickets, update or edit information on their tickets, or find answers on the Knowledge Base.
Meanwhile, the portal allows your team to track what your customers are usually searching or asking for. You can also consolidate data by using contact forms, which you can then customize depending on what data or information you need to get upfront.
Pricing
HelpSpot offers a one-plan pricing option. You can choose a plan depending on the number of agents or employees you have that will be using the software. Up to 10 agents it's $14 per agent/month.
2. HelpScout
Best for: a company with a customer service team consisting of over 500 members.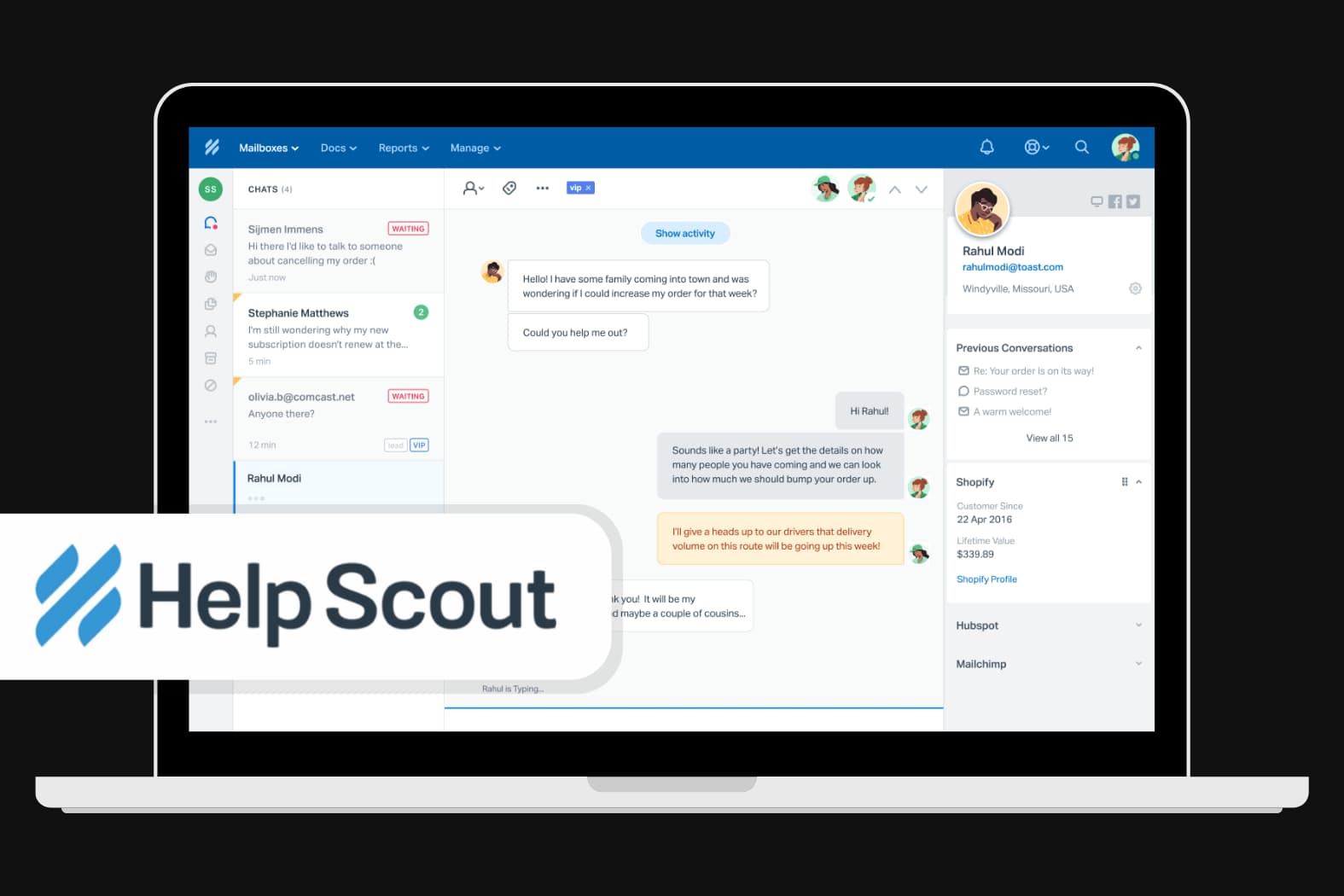 HelpScout is an email-based support platform that aims to help businesses stay productive and efficient while building strong customer connections.
You can create new channels in just a matter of minutes or familiarize the entire software within a few hours. Aside from this, there is no contract or red tape required when signing up for a plan.
Features
Mailbox
HelpScout's shared inbox allows you to assign emails to different agents, send notes to teams or agents to keep them in the loop, tag customer conversations, and save replies for future use.
Knowledge Base
One essential factor that you need to consider in getting a help desk provider is a solid Knowledge Base portal.
HelpScout helps businesses reduce customer emails or questions by up to 30%. Furthermore, you can customize the UI of your Knowledge Base portal to further enhance customers' positive experience.
Beacon
Their beacon widget offers customers articles that are relevant or related to their search topics or questions. They have also added Live Chats and Messages on Beacon to make it easier for customers to find solutions to their concerns, in real time.
Reporting
You can manage your data with filters and save custom views for later use.
Customer Management
HelpScout allows you to keep track of previous customer conversations and app activity to help you deliver support faster, and more efficiently.
Pricing
Free trial
Standard: $25/user/month
Plus: $50/user/month
Pro: $66/user/month
3. FreshDesk
Best for: for small businesses in terms of both affordability and features.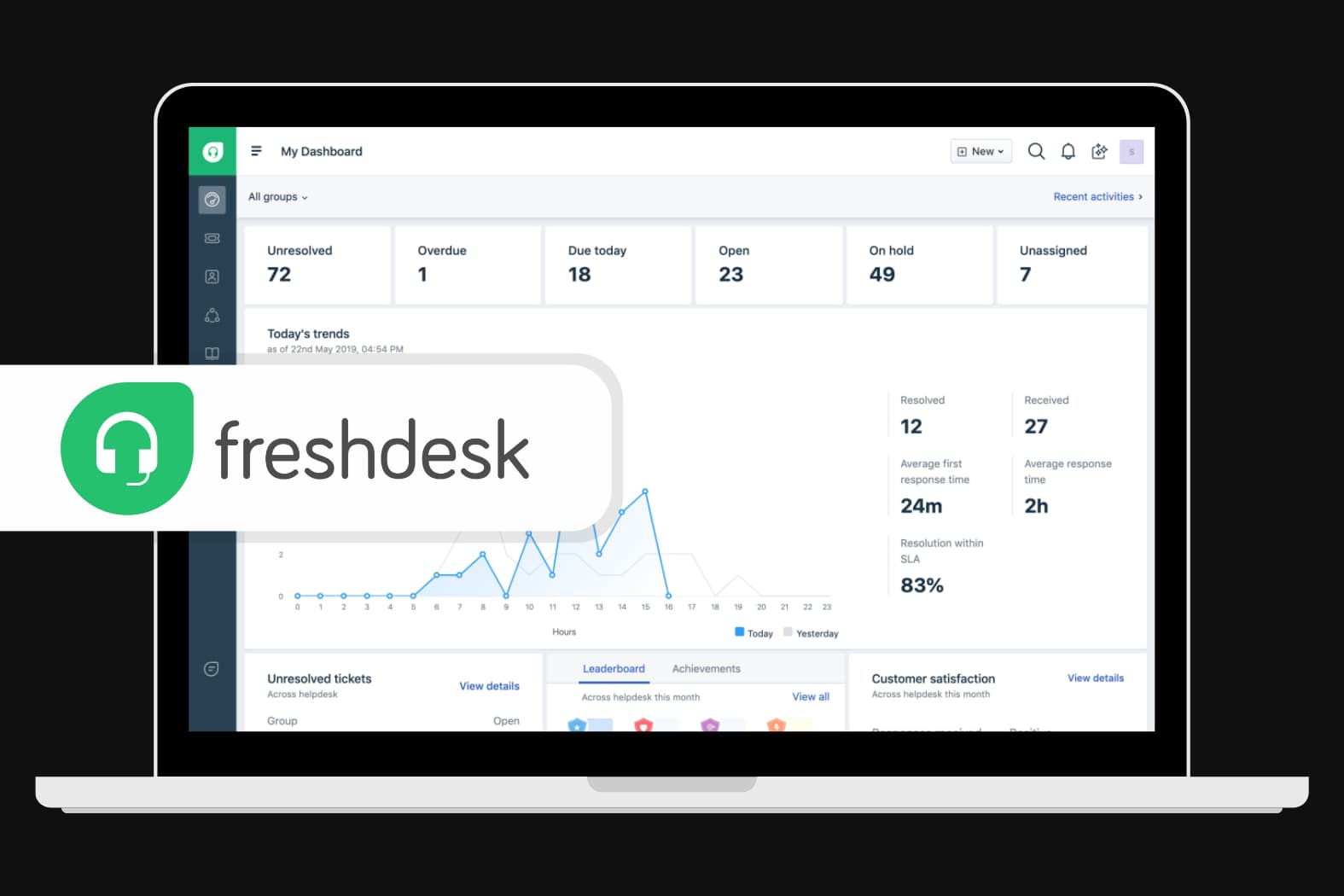 FreshDesk is one of the leading help desk software for small businesses in the market. It offers workforce automation, effortless customer support, and complete dashboard visibility.
Aside from this, you can also securely test out new settings and functionalities through its new feature, Sandbox.
Features
Shared Inbox
It allows agents to establish viewpoints to quickly use access tickets allocated to them or provide comments.
Automation
Freshdesk's AI-powered automation lets you carry out tasks on overdrive. Incoming emails or customer complaints can be automatically sorted out and routed to the right.
Knowledge Base
Another excellent feature of FreshDesk is how you or your agents can easily convert ticket responses into knowledge-base articles as they respond to queries.
Ticketing
You can prioritize or categorize every ticket and assign them to team members or agents to deliver an excellent customer service experience.
Integration
FreshDesk lets you integrate different tools into the software to help you produce high-quality results and increase productivity.
You can instantly connect your tools and data to the software and apply necessary innovations to meet your clients or customers' demands.
Pricing
Free: $0
Growth: $15/agent/month
Pro: $49/agent/month
Enterprise: $79/agent/month
4. HelpDesk
Best for: for a small business looking for a diverse range of customer support activities.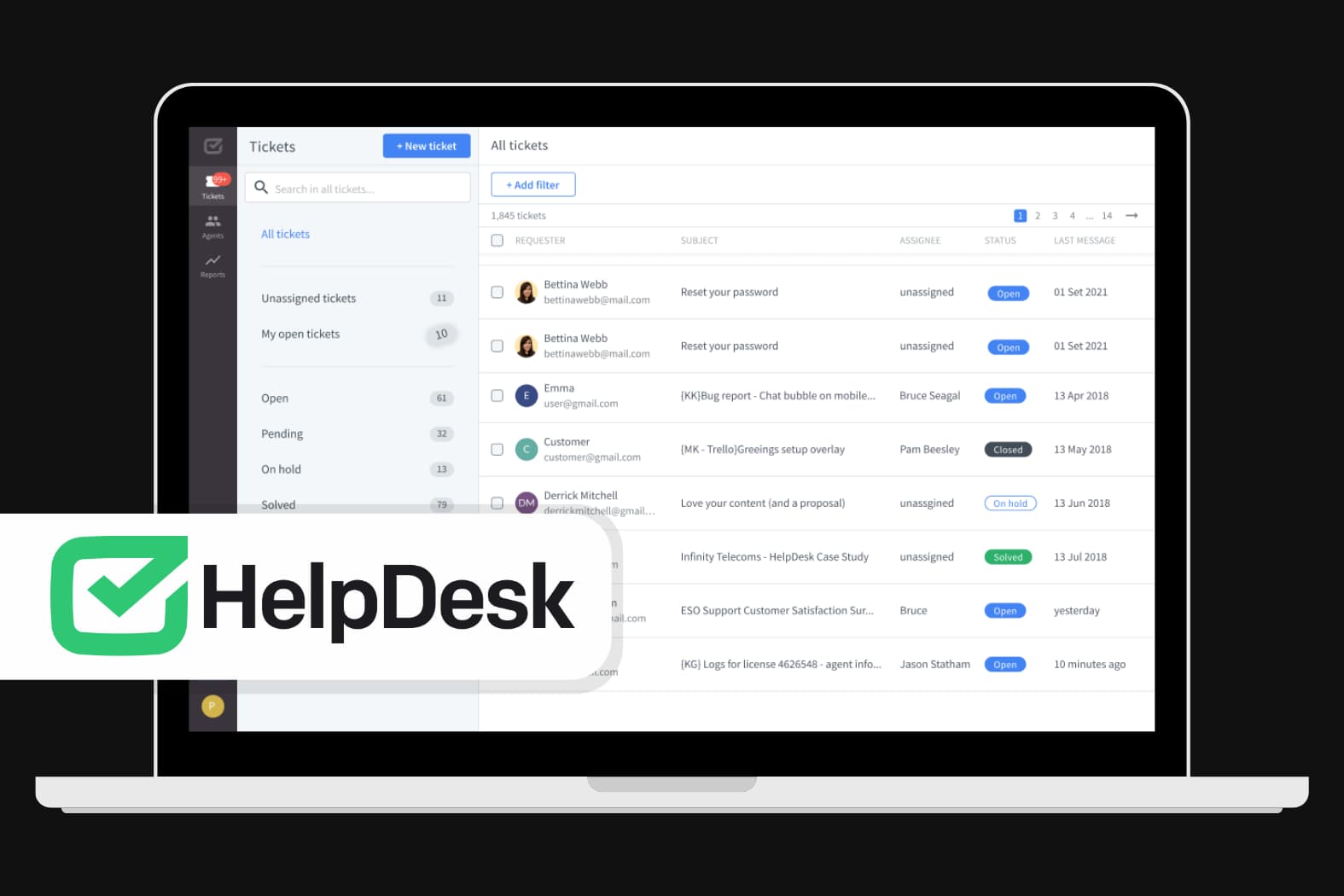 One thing you should consider when choosing the right help desk provider for your business is the value you're getting for the money you're paying for.
HelpDesk focuses on empowering your team and delivering smiles to your customers' faces with their real-time 24/7 chat support, instant customer feedback, optimal resolution time, and customizable domain.
Features
Multiple Email Templates
You can customize multiple email templates to respond to queries faster and more efficiently. You can also customize the look and feel of your messages as you go.
Custom Fields
HelpDesk's custom field feature allows you to create custom fields to add details or requester information to your tickets.
Ticket Management
HelpDesk has a one-ticketing system that enables you to manage all incoming emails, tickets, and requests in a simplified manner.
Team Collaboration
Without proper collaboration, your business runs the risk of performing redundant tasks or having your agents answer the same customer's question at the same time.
With HelpDesk, every member of your team can have the same access to the software through Viewer accounts. You can collaborate through private notes, automated assignments, or multiple inboxes to help each other provide faster solutions to customers.
Integrations
HelpDesk also has a very decent integration feature. You can exchange data with your CRMs, project management tools, etc.
Pricing
Free trial
Team: $29/agent/month
Enterprise: Custom
5. ProProfs Help Desk
Best for: Small to medium-sized businesses seeking an affordable and scalable customer help desk solution.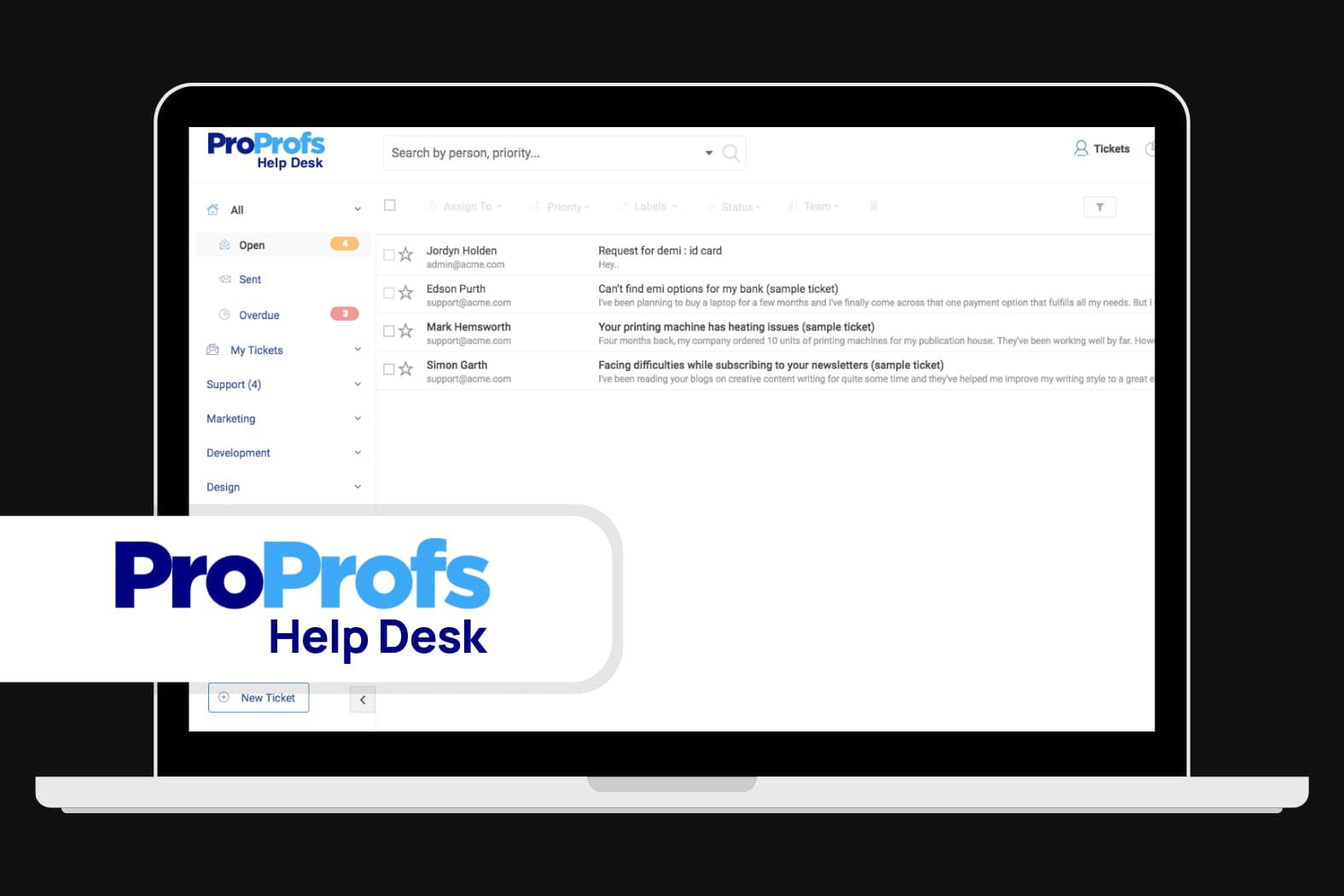 One of the main goals of ProProfs is to aid SMBs and people who are just starting to realize their businesses. They offer a 15-day trial of their premium plan so you can experience their premium features and make the right decisions when purchasing.
The software offers optimum security by allowing you to assign roles and access to your team members.
Features
Chatbots
With ProProfs's chatbot feature, you won't have to worry about addressing your customers' concerns even when you or your teammates are offline.
Dedicated Mobile App
ProProfs has a dedicated mobile application to help you manage support queries on the go.
Web Forms
You can create web forms to gather feedback or data. You can also customize the forms so you can control which pieces of information or data you only need from your customers.
Reporting
You can monitor all incoming data, ticket requests, handling time, agent ratings, and other important metrics that you can use to improve your services further.
Automated Surveys
ProProfs allows you to send automated surveys to your customers, so you will know their support experience, how delighted they are, and how likely you can retain them.
Pricing
15-day free premium trial
Essential: $10/agent/month
Premium: $15/agent/month
Enterprise: Custom
6. HappyFox
Best for: Small businesses requiring user-friendly and easy-to-set-up help desk software.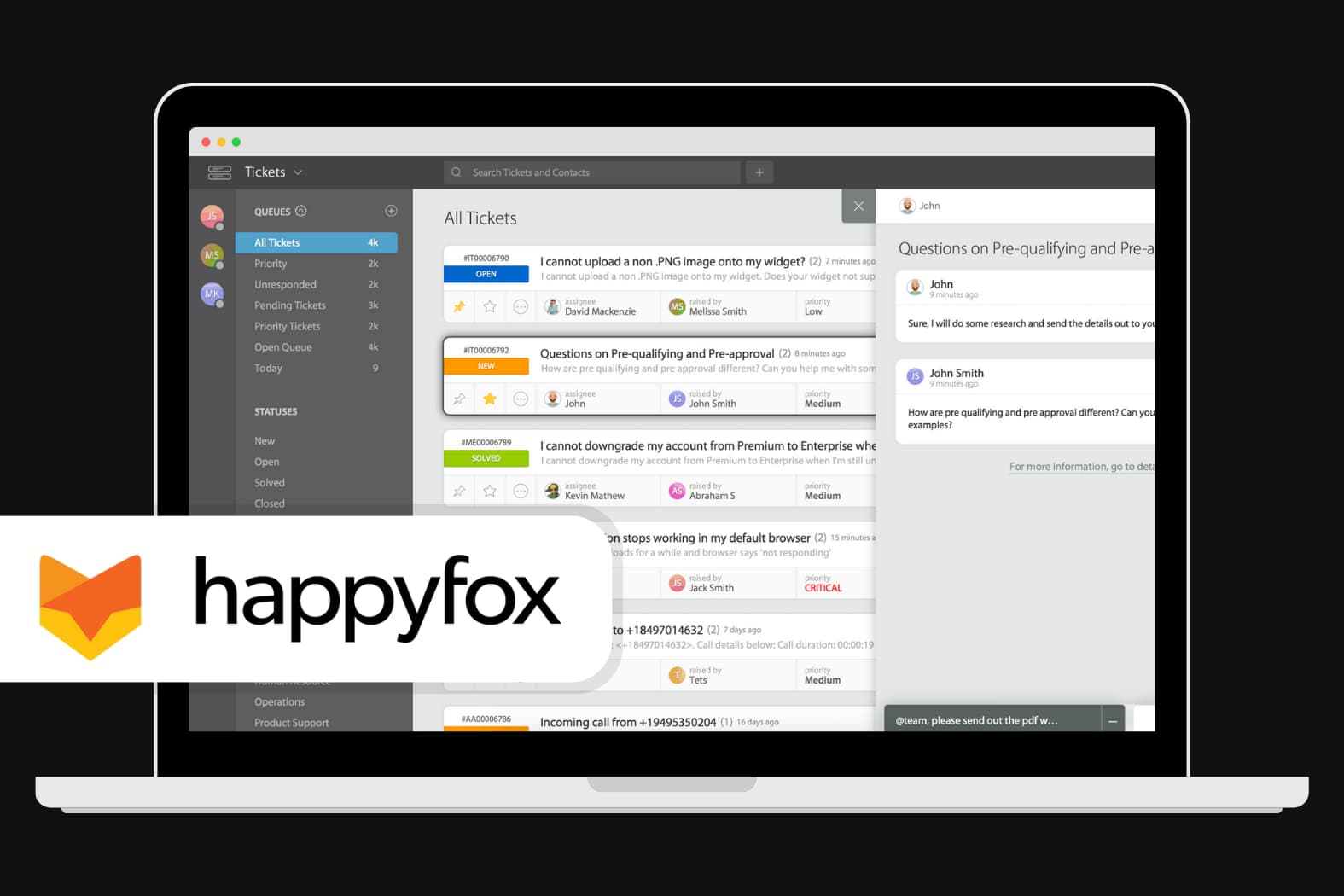 Some of the key features of HappyFox are a simplified customer support experience, workflow flexibility, and automated ticket management.
Aside from this, the software also offers a longer free trial period than most help desk software, which allows you to experience and familiarize its features deeper, and helps you make wise purchasing decisions.
Their free trial period lasts up to 30 days.
Features
Canned Actions
You can easily address customers' queries and issues, as well as provide quick solutions, through templated responses and actions.
Knowledge Base
It's packed with self-service pages, as well as a FAQ corner where customers can just read on. HappyFox offers a straightforward online knowledge base software that is appealing, searchable, social media-ready, and convenient.
Ticket Management
All incoming tickets or requests are automatically sorted out into categories to help you and your team proceed with solutions quickly.
You can create categories such as Sales, Marketing, Refunds, or Customer Service, and the system can automatically detect which category a ticket falls under.
Workflow Flexibility
Happyfox allows you to edit or modify existing workflows to reduce or improve the time spent on repetitive tasks.
Task Management
You can manage your teams' tasks and productivity with HappyFox's Task Management feature.
Set a specific timeframe for each task to make your work more efficient, get alerts when a task is due, or remind you of incomplete tasks when you close a parent ticket.
Pricing
Free trial
Mighty: $29/agent/month
Fantastic: $39/agent/month
Enterprise: $52/agent/month
Enterprise Plus: $64/agent/month
7. Zoho Desk
Best for: Businesses of all sizes to simplify customer service operations.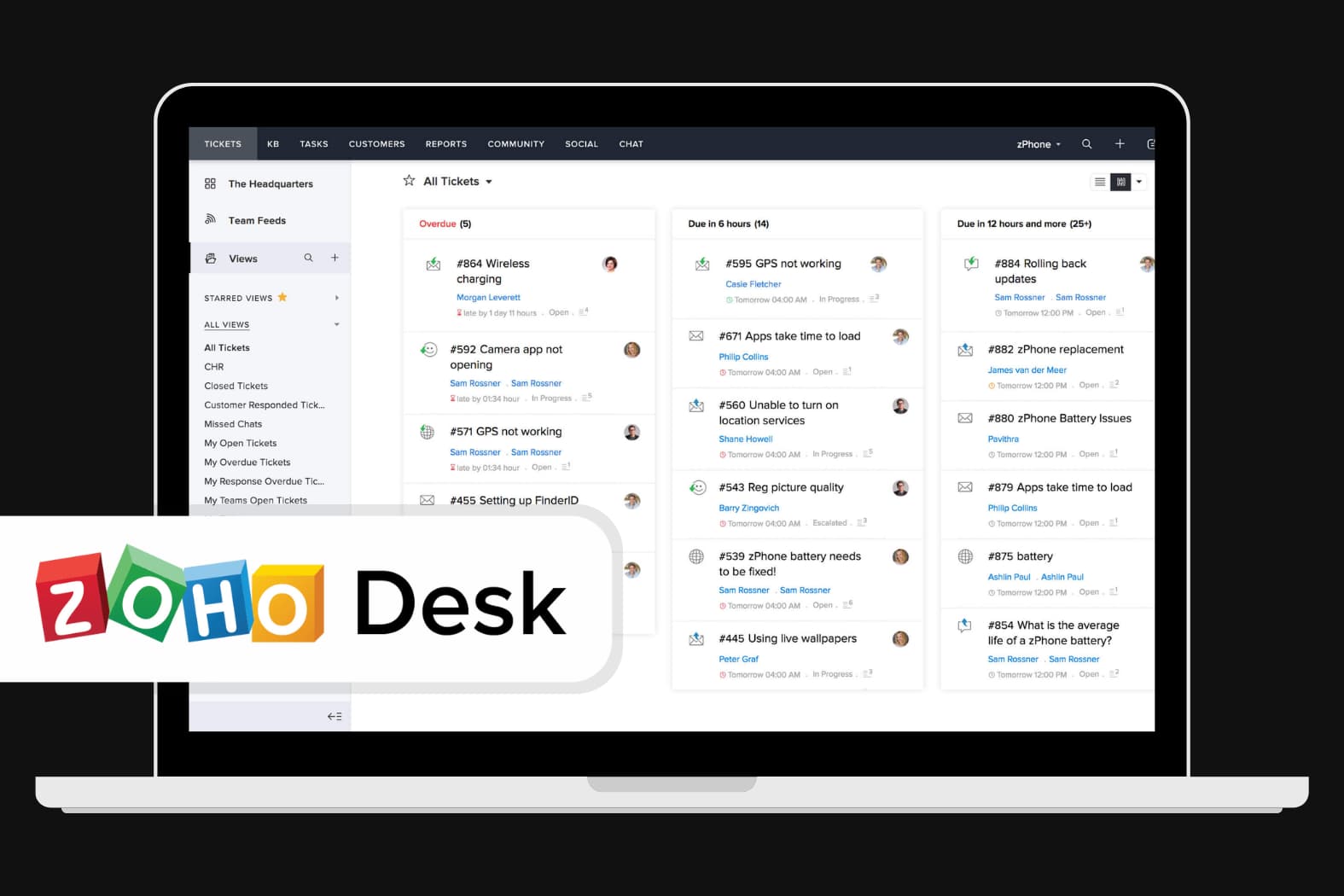 One of Zoho Desk's trump cards is how it allows businesses that cater to multiple brands to create numerous help desks tailored to your brands' different customers. Aside from the very competitive pricing plans, the software also allows you to create customer communities across different platforms.
Zoho Desk streamlines the process for your staff to fulfill SLAs by proactively raising issues when they are violated.
Features
ZIA
Zoho Desk has a very powerful AI consisting of a Knowledge Base Bot, auto-tag tickets, Zia notifications, a Zia dashboard, sentiment analysis, and a reply assistant.
Extensibility
You can create custom applications through Zoho Desk's Extensibility feature.
If you're a company with different brands, you can customize mobile applications for each brand that you support and choose which functionalities or features you want to include in your custom apps.
You can also integrate Zoho Desk with other software and tools you're using in your business.
Security
You can specify your teammates' roles and permissions so you can protect your customers' data and privacy while providing your team with relevant information to help them perform their tasks easily and accurately.
Agent Productivity
Work Mode is a feature only unique to Zoho Desk. It allows you to automatically sort out incoming or open tickets to increase your agents' productivity.
You can also customize your responses with Zoho Desk through customer context, F.A.Q.s, templates, and more.
Insights and Impacts
Zoho Desk has a time-tracking feature that allows you to monitor your teams' performance and productivity.
You can also create visualizations, reports on trends, and deeper details on account managers.
Pricing
Free trial
Standard: $14/agent/month
Professional: $23/agent/month
Enterprise: $40/agent/month
8. Zendesk
Best for: teams looking for a simple all-in-one solution.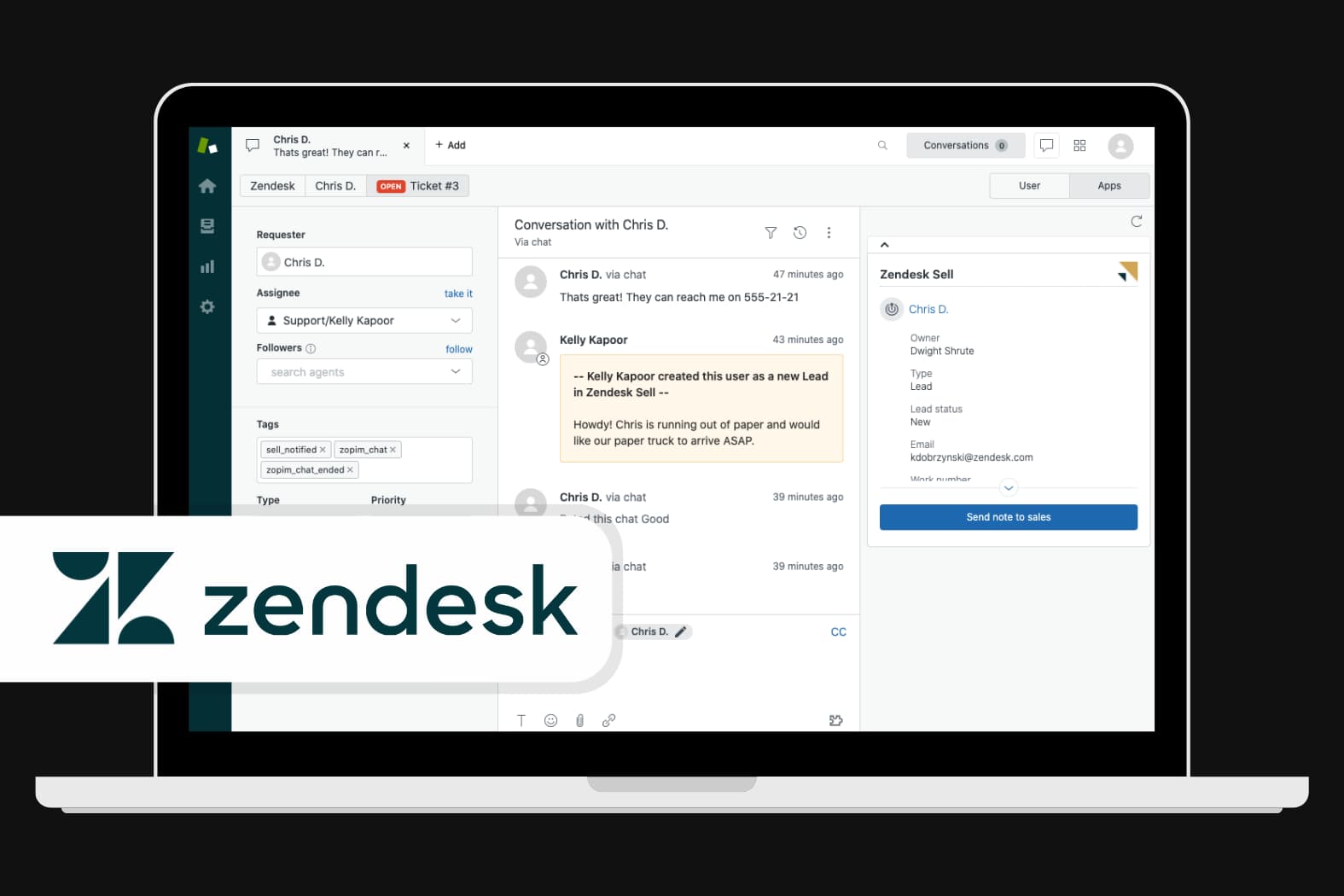 Customer support involves a lot more than just satisfying the customer. It involves both your company and its employees. Zendesk not only simplifies everything for your customers but also puts your teams on a path to achievement and keeps your business on track.
It is robust and has everything you need to ensure a stronger customer connection.
Features
Knowledge Management
You and your team can deliver prime self-service content that hits your customers' concerns right in the eye.
Routing and Intelligence
You can directly route concerns to available agents, specific skills and expertise, or workload to ensure that every customer's concerns are addressed properly and timely.
Moreover, Zendesk allows you to identify which tickets are time-sensitive and need immediate resolution. This way, you can prioritize them and avoid angry customers.
Team Collaboration
One of the main reasons why a company develops more is because of its strong teamwork and well-choreographed collaboration.
Zendesk lets you properly communicate with your team through private notes, collaborative tools, or side conversations.
Agent Workspace
You can get real-time updates and reply swiftly to incoming messages, check email, chat, phone, messaging in real-time, and instantly update ticket information through agent workspace.
More importantly, you can connect with hundreds of apps in the Zendesk App Marketplace to provide quick support to your customers.
Pricing
Free trial
Team: $49/agent/month
Growth: $79/agent/month
Professional: $99/agent/month
Enterprise: $150/agent/month
9. LiveAgent
Best for: a small business owner.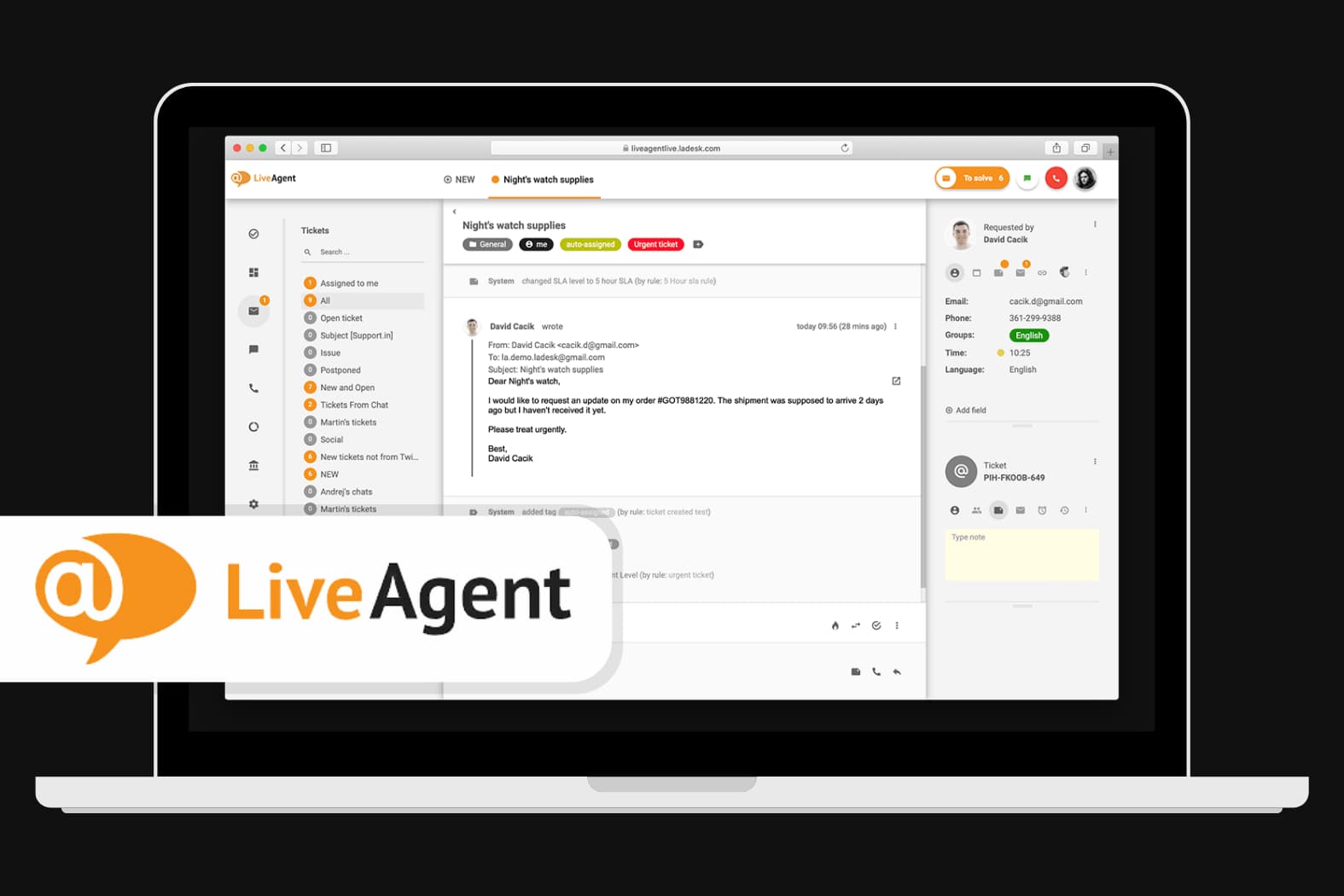 LiveAgent promises no setup fee, 24/7 customer service, no credit card requirements, and cancellation anytime you want.
For a small business owner, these promises are perfect to start with, as you no longer need to think of other things and just focus on running your business.
Features
Attachments
LiveAgent allows you to insert attachments easily by drag-and-drop function within ticket fields, chats, contact forms, and knowledge base articles.
Agent Collision Detection
You can avoid having two or more agents working on one ticket because LiveAgent has an Agent Collision Detection feature that detects when an agent is editing a response on a ticket or working on it.
Multiple Tickets Tab
You can work or switch to multiple tickets at once without having to close one.
IVR
LiveAgent features an interactive voice response. The system gathers customer information and concerns and responds by executing proper actions, like routing to the correct agent or scheduling a callback.
Pricing
Free: $0
Small: $9/agent/month
Medium: $29/agent/month
Large: $49/agent/month
10. Kayako
Best for: a remote support teams looking for advanced features.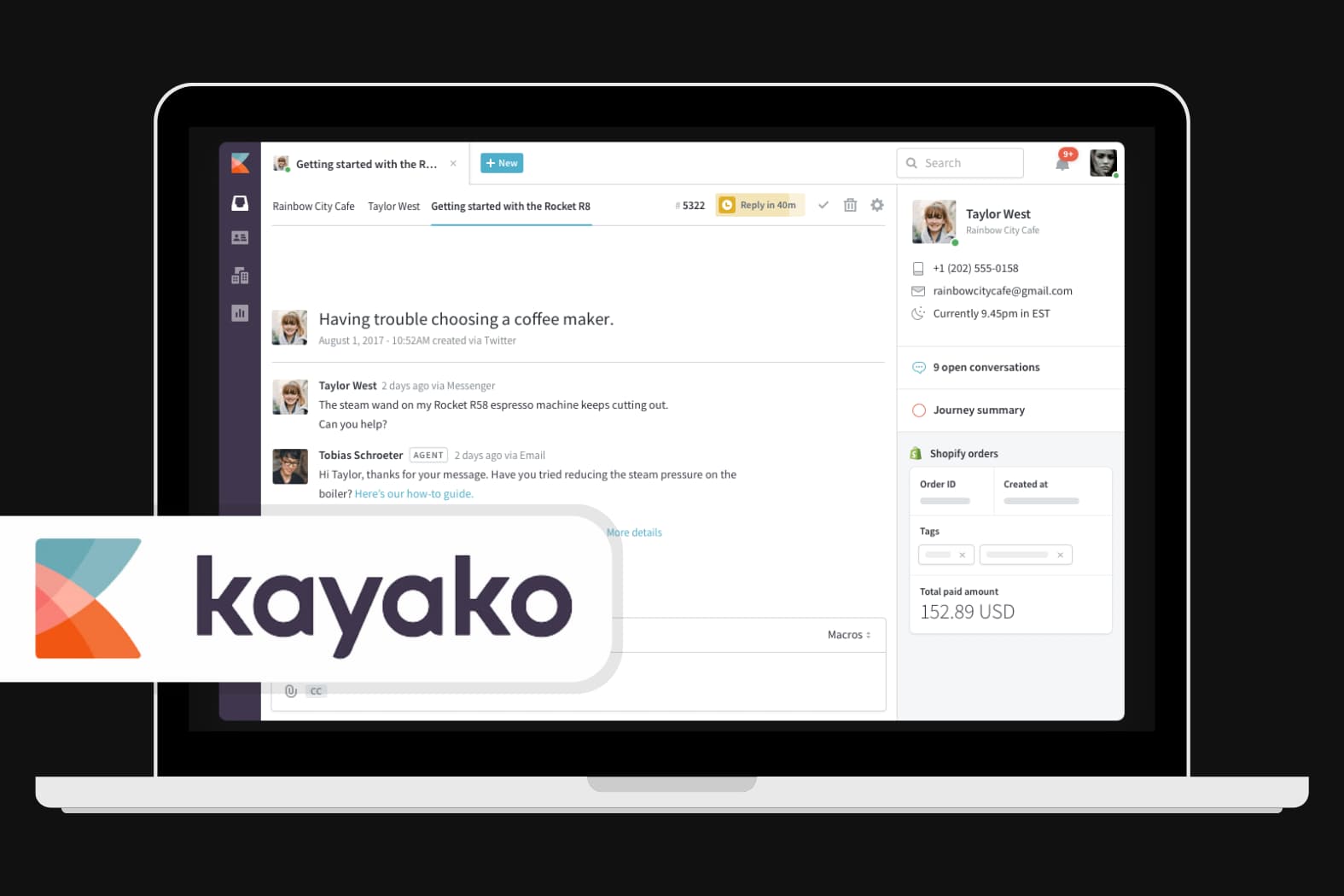 Kayako's SingleView, which is unique to the software, gives you relevant insights into your customers' purchasing track, support interactions, and more.
The software also has out-of-the-box capabilities that help you connect to your customers deeper while also maintaining a healthy team relationship.
Features
SingleView
Integrate every engagement your client has towards your company into a cohesive, user-friendly representation of their overall customer experience.
Help Center
You can develop multiple help centers and a knowledge base to help customers quickly answer their questions and find solutions.
Automation
You can automate responses and workflows so you can lessen repetitive tasks and answer questions quickly.
Pricing
14-day free trial
Growth: $30/agent/month
Scale: $60/agent/month
How to Choose the Best Help Desk Software for SMBs?
Picking out the best help desk software for small businesses with growing needs can be tedious sometimes. Your choices and actions can impact the performance of your business, even with just the simplest miscalculations.
To help you choose from the diverse options available in the market, here are three pointers to consider:
Set your team goals
Identifying your goals is essential in every business. What do you want to accomplish? How long do you need to realize these goals? What are your needs?
With a well-defined objective/s, you will be able to keep track of your progress, identify areas for improvement, and obtain certain accomplishments over time.
Set your budget
Once you identify your goals, set your budget. How much are you willing to spend on help desk software?
One of the most common mistakes that an individual who's just starting a business makes is not realizing how much budget is needed for the software. Just because the website says you get to save up to 40% by purchasing the enterprise plan doesn't mean you need to actually get it.
You don't need an enterprise plan if your team only consists of four members. Stick to a budget that aligns with your needs.
Sign-up for free trials
The best way to know which software works best for you is by actually experiencing how the software works. Almost all help desk software offers free trials to their customers.
There are even some help desk software that has free accounts. If you're just starting a business, it's wise, economical even, to use a free account.
Features to Look for in a Help Desk Software
These are some of the key features that you should look out for when getting a help desk software:
• Transparent Pricing and Flexible Payment Plans
• Automated Workflow
• Reporting and Analytics
• Streamlined Ticket Management
• Multiple Communication Channels
• Collaborative Tools
Frequently Asked Questions (FAQs)
Every company experiences customer complaints and issues. Thus, it is very important to have a dedicated system that can address these complaints or problems.
Help desk software helps small, and enterprise businesses connect better with their clients or customers.
Excellent customer service is essential for customer retention. This is what all businesses of different industries aim for.
There are many free online ticketing systems that you can use for your business. A good example is Zendesk.
Zendesk offers a forever-free account with commendable features. One of these is their ticketing system. There are also other help desk software that offers free online ticketing systems. Just choose whichever works best for your brand.
The first step to properly managing a help desk software is picking out the best help desk software for your business. Second, focus on the people, not just the software. This involves your customers and your workers. It's best to create employee feedback and customer surveys to identify which areas you still need to improve and what is lacking. Lastly, define your goals, realistic KPIs, and metrics.