If you handle several endpoints, you probably won't anticipate needing to go to every workstation to install the software. Remote software deployment tools can run over the internet or a network. Those programs will allow you to launch software deployment across multiple sites from one centralized location.
In this article, we will discuss top ten remote deployment software, to provide you with basic understanding of their main features, pros, and cons, so you can select one to achieve your specific needs.
Best Remote Deployment Solution on the Market
We've assessed all of the most popular remote software deployment services on the market based on their value for money, remote management performance, and task automation options. We also examined them based on whether they are time-saving, affordably priced, and other crucial factors you should take into account.
The list below includes some free tools for individual use, as well as some advanced paid solutions that are more appropriate for big, multi-site firms.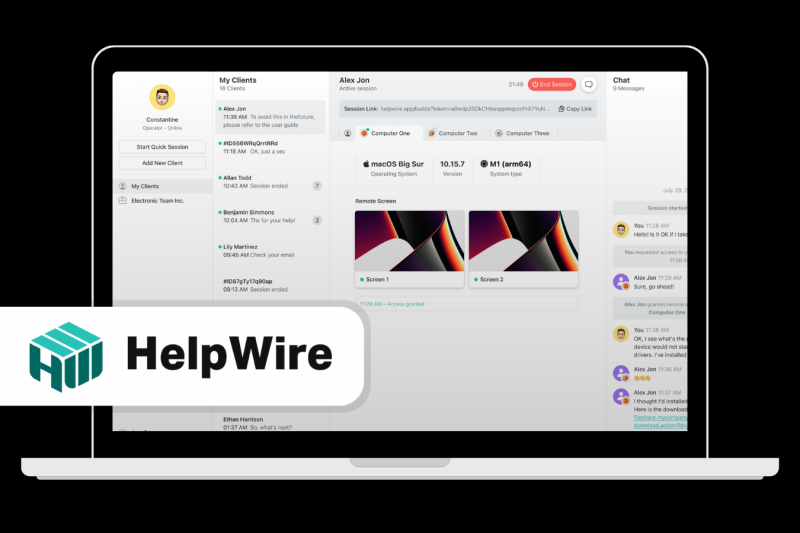 Best for: SMBs and Help Desk teams
Based on cutting-edge port virtualization technology, HelpWire is a one-of-a-kind remote software deployment tool. The app aims to cut down on both the price of technical support and the time needed to deal with customer issues.
With HelpWire, engineers can remotely manage and support their customers' equipment with ease. Moreover, the remote deployment solution enables technical experts to connect to an inoperative device over a network, such as Ethernet, Wi-Fi, or the Internet. The remote device will appear on the specialist's computer as if it was physically connected to their machine.
Key Features
Secure connectivity:

All data transfers made through HelpWire are protected with AES-256 encryption.

Easy team management:

Invite new team members, designate their roles, and manage several teams for different projects under one account.

Live communication:

You can communicate with customers in real time using HelpWire Chat to solve issues and raise customer satisfaction.
Pros
Scalability at no extra fee;
User-friendly interface;
Protected remote access.
Cons
Requires stable Internet connection.
2. SolarWinds® Patch Manager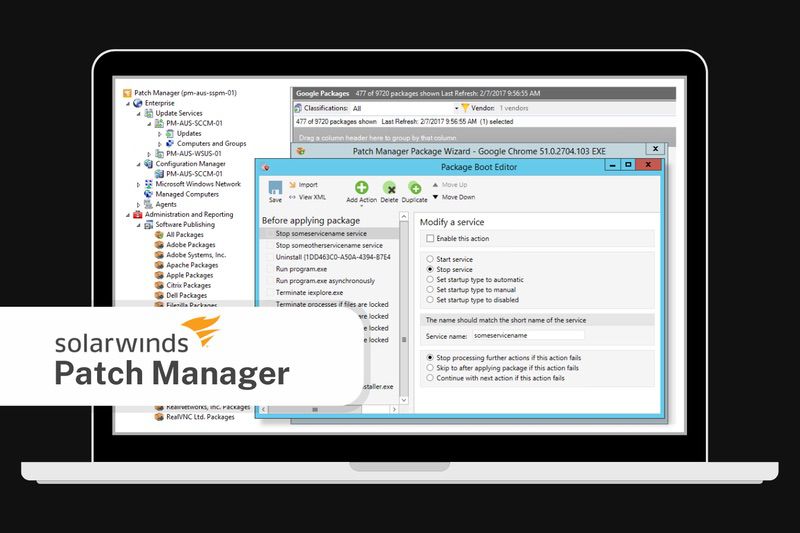 Best for: corporate system administration
One of the best Microsoft remote software deployment solutions, SolarWinds® Patch Manager is developed to automatically manage remote deployment across numerous workstations, Microsoft servers, and third-party software.
When installed on an SCCM or WSUS server, you can use Microsoft and third-party app updates to upgrade Windows servers and workstations in your corporate network. This remote and automated software deployment system can be set up as a stand-alone application or as an integrated deployment with an already-installed SolarWinds Platform.
Key Features
Automated deployment:

Patch Manager has dynamic automated scheduling features that enable continuous launch at each stage of deployment, from vital upgrades to complete installs.

Third-party capabilities:

The solution provides pre-built, examined, and automatically distributed packages for third-party programs like Google, Adobe, and Oracle Java.

Report infographics:

With this feature, the remote network deployment software allows you to track updates, check deployment status, and keep an eye out for missed installations or errors using charts and customizable lists.
Pros
Informative dashboard: The software allows you to see the status of software deployments easily;
Variety of options: Users can create packages or customize the software deployment process;
Alert system: This will aid in maintaining network security by providing deployment alerts and reports.
Cons
Many features were particularly created for Microsoft Management Console users.
3. LogMeIn Remote Deployment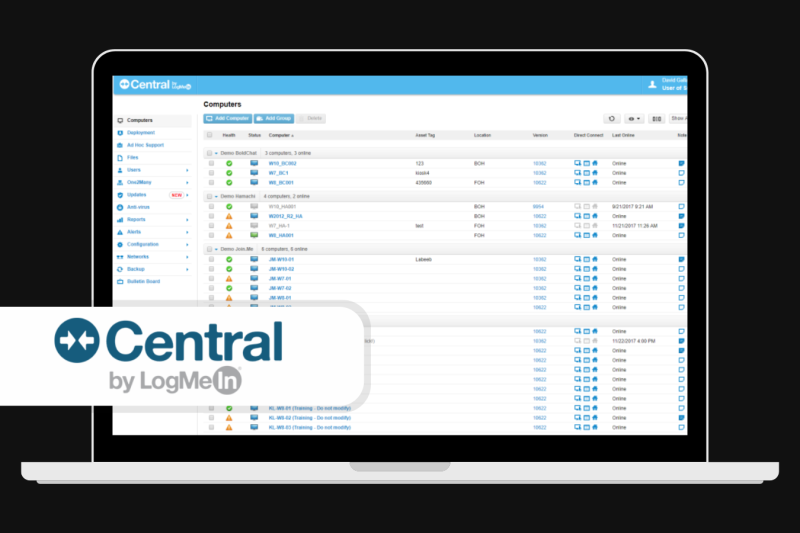 Best for: on-premise IT teams
LogMeIn Remote Deployment is a remote network deployment software available in the GoToMyPC Corporate tier. It is designed specifically to assist enterprises in maintaining their daily operations and to install a remote workforce that can access required details as though they were facing their desktop.
With the app, IT admins can remotely set up software on several computers simultaneously, automate update installation, launch batch files, run commands, and more.
Key Features
Windows Updater:

This enables you to control and schedule updates for Windows servers and computers.

Anti-Virus Manager:

Checks for problems and keeps antivirus programs updated with the latest threat lists.

Real-time monitoring:

You will receive real-time system alerts and fix errors before they turn into problems.
Pros
Time-saving: With the remote software deployment system, you no longer need to manually update computers individually. Instead, it gives you more time to complete your work.
Easily scalable: Enables users to set up anything from one main location.
System security: It keeps your app updated with the most recent security patches, minimizing vulnerabilities in your network.
Cons
An exclusive solution for GoToMyPC Central users only.
Price: Computed individually upon request.
4. NinjaOne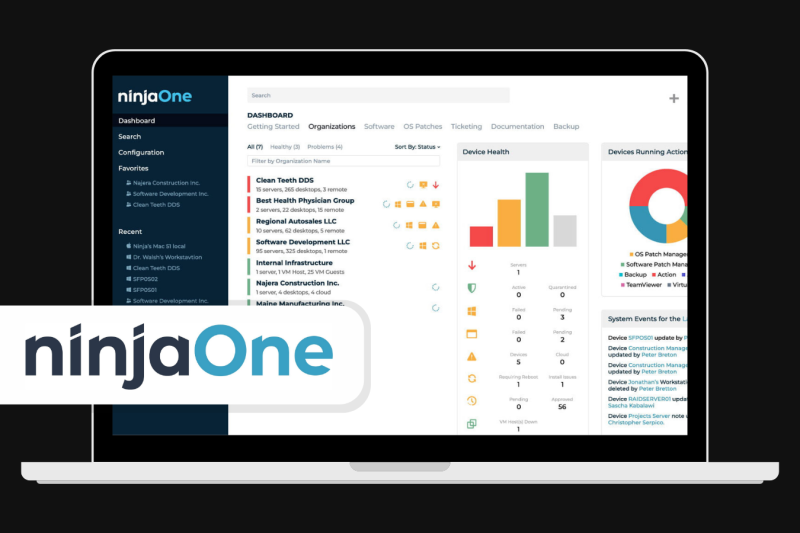 Best for: managed service providers
NinjaOne is a remote monitoring and management (RMM) system that runs on the cloud and has a built-in ticketing system. It supports multiple platforms, such as Windows, Linux, and macOS.
What makes this one of the best Mac remote software deployment solutions is that it can monitor VMs, check for patches for the systems that it sets up, and build app bundle definitions in user group profiles. It also monitors the system automatically and keeps track of resource usage. Support technicians need not check the monitoring console because alerts can be delivered via system notifications.
Key Features
Domain diagnostics:

With NinjaOne, you can monitor, inventory, and control software on any endpoint that is connected to the internet.

Deployment automation:

There's an existing policy system guaranteeing that the apps are used in line with the endpoint user roles.

Scalable management:

You can execute app management actions when necessary on individual devices, automatically based on system conditions, or all together.
Pros
Focused solution: The remote software deployment tool was designed for managed service providers (MSPs), and its architecture offers sub-accounts for client data.
Easily accessible: You can access the software from anywhere using any common Web browser thanks to its cloud-based location.
Auto log keeping: The app systems meticulously record each software management process for compliance auditing.
Cons
Provides better patch management for Windows than for Linux or macOS.
Price: Estimated per person upon request.
5. ManageEngine Endpoint Central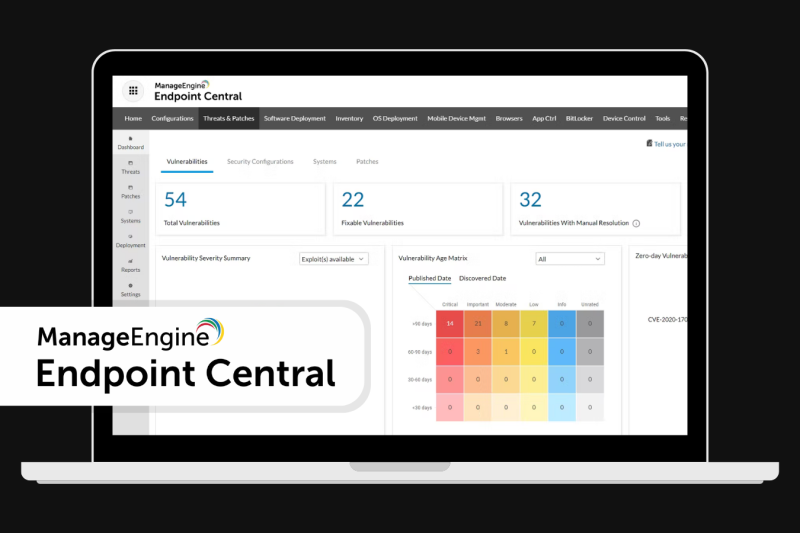 Best for: IT Operations departments
ManageEngine Endpoint Central, formerly Desktop Central, is one of the best Mac remote software deployment systems. It is also compatible with other operating systems, such as Windows, Windows Mobile, Linux, Android, and iOS.
In the program, you can perform standard endpoint management tasks like patching, software deployment, OS imaging and deployment, license management, usage statistics monitoring, and remote desktop control.
Additionally, the remote deployment solution allows you to impose limitations on the installation of apps, the use of the camera, and the use of browsers. You can even enable passcodes, remote lock/wipe, and more to secure your devices.
Key Features
OS imaging:

Automate imaging and deployment of the OS, together with the installation of necessary programs and drivers, on Windows computers.

Ransomware protection:

One-click recovery, fast ransomware detection, and mitigation are made possible with multi-patented and ML-assisted technology.

Threat management:

This feature helps proactively find and fix network vulnerabilities with the use of CIS compliance, security configuration, and risk-based vulnerability evaluation.
Pros
All-in-one tool: The remote software deployment tool has the ability to manage maintenance requests, client contracts, and other auxiliary services that MSPs typically provide.
Device detection: Through automatic asset discovery, NOC teams are updated on the extent and number of devices newly added to the network.
Deployment variety: Accessible for both SaaS and on-premise deployment.
Cons
ManageEngine offers an array of products and services that may take you some time to completely explore and deploy.
Price: Determined individually upon request.
6. Atlassian Bamboo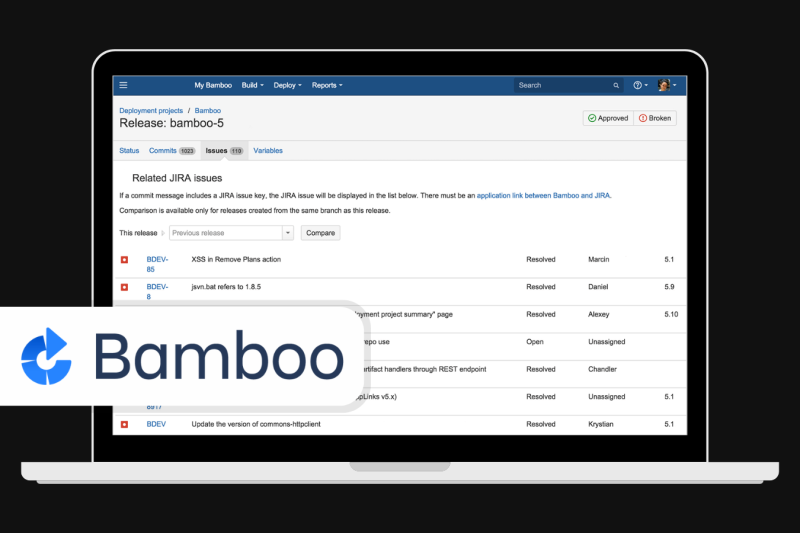 Best for: Software development teams
Atlassian Bamboo is one of the top remote software deployment tools on the market. The system handles the development, testing, and launch of the software, making it ideal for organizations that build their own utilities internally.
Moreover, Atlassian Bamboo enables union with Jira and Bitbucket for a more efficient development process, Docker and AWS CodeDeploy for delivering your finished product, and IOpsgenie for equipping your response teams with the tools they need to respond to incidents more quickly.
Key Features
Workflow Automation:

The remote application deployment software has an automated code-to-deployment workflow, which increases the power of quick development procedures.

Disaster recovery:

The built-in recovery system will help reduce downtime and help your teams stay online and on schedule.

Advanced auditing:

You can better control workflow and risk thanks to Atlassian Data Center, which gives a digital record of your business's activity.
Pros
Development Tools: The remote deployment software provides many customization and program development options, as well as a prebuilt development module.
Easy integration: Combines with tools like AWS CodeDeploy and Jira.
Installer packages: Updates current clients and produces download installer packages for new software sales.
Cons
More built-in software monitoring features would be beneficial.
7. AWS CodeDeploy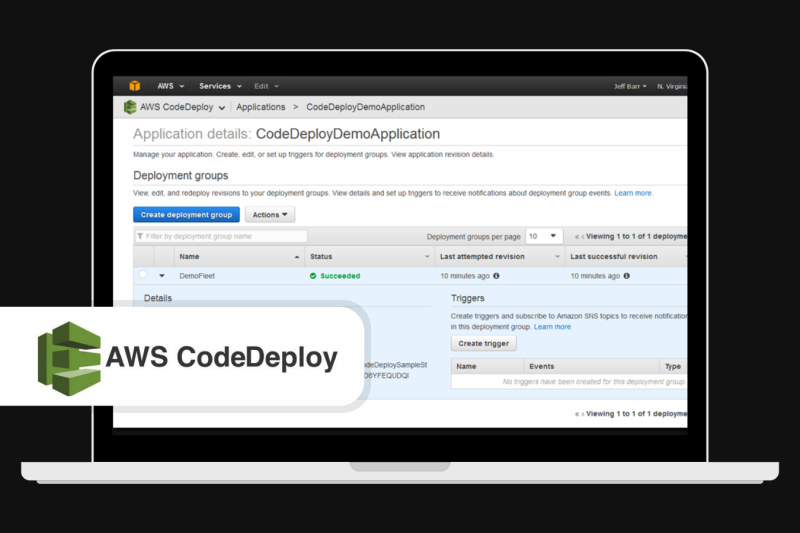 Best for: AWS customers
AWS CodeDeploy is another great option when it comes to remote software deployment solutions. It provides automatic software deployments to different compute services, including your own servers, Amazon Elastic Container Service (ECS), Amazon Elastic Compute Cloud (EC2), and AWS Lambda.
Having said that, there's no need for error-prone manual operations anymore. With the program, you can start and track the status of your application deployments, check the condition of your fleet, and automatically cancel updates when needed.
Key Features
Advanced techniques:

The remote and automated software deployment system supports various deployment types, such as blue/green, in-place, and canary.

Automated rollbacks:

Set up alerts that will halt ongoing application deployments and trigger rollbacks to undo problematic updates.

Mass-deployment:

Allows users to utilize a file- and command-based install model to repeat an application deployment across various groups or situations.
Pros
Flexibility: Offers both internal and AWS cloud environments for deployment.
Real-time control: Can keep an eye on metrics for feature adoption and performance on new deployments.
Post-install monitoring: Even after installation, the remote deployment software consistently checks new apps, identifying issues brought on by incompatible systems or coding errors.
Cons
Only AWS users can access the app.
Price: Free for AWS EC2 and Lambda users.
8. Google Cloud Deployment Manager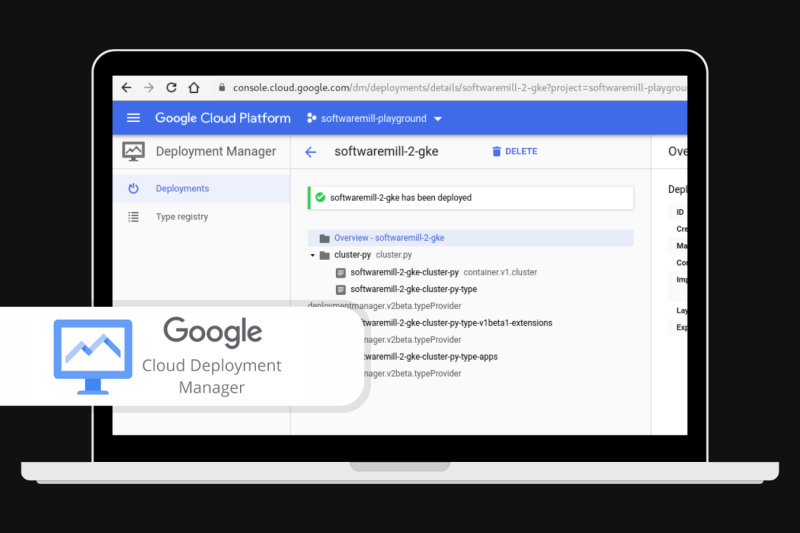 Best for: users of GCP services
Google Cloud Deployment Manager is another excellent choice for remote application deployment software. It comprises process automation as well as status reporting.
When preparing to use new software, the first thing to do is set up a template for the launch, which is a replicable installation script. Once created, the template for installing an app is saved for subsequent use. This will give you the chance to assess your deployment procedure and schedule the launch in bulk for processing outside of normal business hours.
Key Features
Rollout templates:

The remote and automated software deployment system allows you to make a template and launch it on any machine without the need to execute individual pre-installation examinations on the whole group of endpoints.

Deployment packages:

A typical deployment package for a software release includes system checks and the installation of supporting services before the main feature.

Test installation:

To check if your template is functioning properly, you can start a test deployment.
Pros
Extra flexibility: There is no limit to the number of deployment templates you can make in the remote software deployment tool.
Cloud-friendly: You can install a new program on a Google Cloud Platform Virtual Machine with no additional charge using the Google Cloud Deployment Manager.
Compatibility: Compatible with virtual machines hosted on Google Cloud.
Cons
Many features are designed only for Google Cloud customers.
Price:  Free for users of Google Cloud Platform virtual servers.
9. GitLab Continuous Integration and Delivery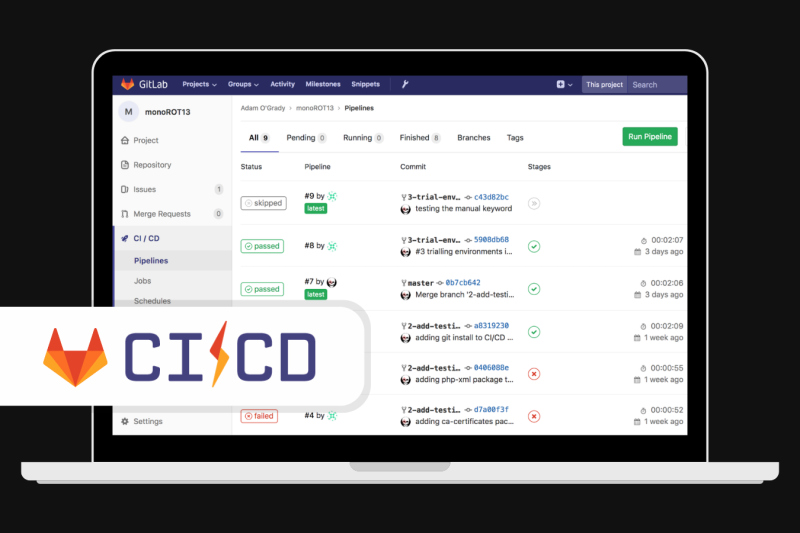 Best for: in-house development department
GitLab Continuous Integration and Delivery is another remote and automated software deployment system on the list. In this app, each necessary step to create, analyze, and deploy your code to your production environment is automated.
Continuous integration generates release packages, gives feedback through code reviews, automates builds, and automates code quality tests. Meanwhile, continuous delivery handles ticketing, changes to the infrastructure, and versioning of releases automatically. It enables continual code deployment, confirms and tracks changes, and offers rollback functionality.
Key Features
Feature flags:

This is a unique feature of the Microsoft remote software deployment system. It enables you to tailor the deployed program to the individual requirements of every endpoint.

Flexible pipelines:

Besides the built-in templates, Auto DevOps will give you pipelines that are generated automatically.

Software repository:

The software has the largest version-controlled software repository.
Pros
Advanced security: The software's simplified approach to policy adherence includes built-in application security testing, audit reports, management of vulnerabilities, approvals, and traceability.
Multicloud support: The remote software deployment system can run on private clouds, FaaS, Google Cloud Platform, Amazon Web Services, Microsoft Azure, and Kubernetes clusters.
Docker integration: Software developers can concentrate on the functions of the app without needing to worry about system compatibility.
Cons
Two tools are required for testing and deployment.
Price: Free for individual users (can only use limited features).
10. Windows Deployment Services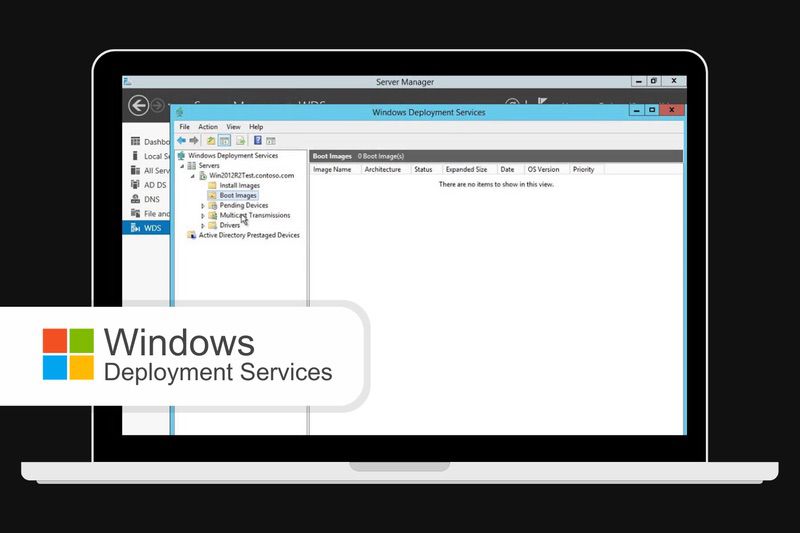 Best for: corporate network administrators
The last remote network deployment software on the list is Windows Deployment Services (WDS). This program allows you to deploy Windows operating systems across a network, eliminating the need to install each OS directly from a CD or DVD. As opposed to manual installations, network-based Windows OS installation is less expensive and less complicated.
You can use Windows Deployment Services on Hyper-V virtual machines to create custom images. Moreover, you can add driver packages to the server and adjust them to be distributed to client devices together with the install image.
Key Features
MMC Snap-in:

This feature on the remote application deployment software helps users handle images, computers, and common server settings with ease.

Image Capture Wizard:

Making images of a reference computer is possible with this feature.

PowerShell cmdlets:

You can use Windows PowerShell scripts to oversee and track the WDS server.
Pros
Cost-efficiency: This app is available without charge to Windows users.
Surefire connectivity: This remote deployment solution uses multicast functionality to transfer images and data.
Compatibility: Has the ability to deploy images for a variety of environments, from Windows 7 and Windows Server 2008 R2 to Windows 8.1 and Windows Server 2012 R2.
Cons
Many features can only be used by Google Cloud customers.
Price: Free for Windows users.
How to Choose the Right Remote Deployment Solution for Your Business
Here's a list of the primary elements you should take into account when selecting the best remote and automated software deployment solution for your business:
Avoid remote software deployment tools that demand complicated setups or integrations with other programs to function as intended. It is preferable to be aware of the functions you need and select a service that offers them all.
Reliability and performance 
In your contract or service-level agreements, include straightforward benchmarks and required clauses to hold solution providers responsible for dependability and performance. If you are going to rely on a third party, make sure they are capable of doing everything you ask of them.
Search for solution providers with well-known security standards and frameworks, and be sure to check out the System and Organization Controls (SOC) reports of each one.
Try everything before you purchase. Use free trials and demos to explore the primary features and functionalities of the remote application deployment software and determine whether it meets your needs.
Technical support's quality and availability are crucial. In addition to thorough documentation, you need to have easy access to support personnel if necessary.