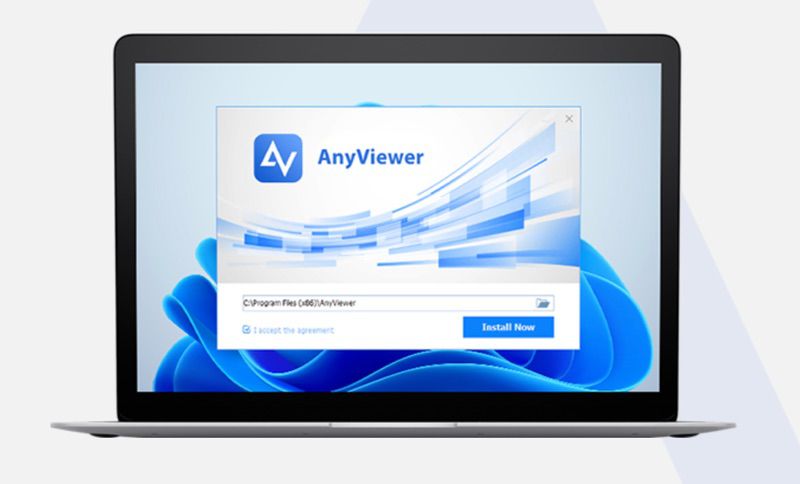 AnyViewer Review: Remote Desktop Solution for Windows
Given that fully-remote or hybrid work is the new reality for millions of people worldwide, a reliable tool that lets you safely access a remote machine is an absolute must-have. AnyViewer is a visually simple and intuitive remote desktop software solution with the most demanded toolset that includes remote control of Windows machines, file transfer, and VPN service.
What is AnyViewer used for?
For individual users, AnyViewer is an easy way to access an office workstation from home and operate it as if you were physically sitting in front of it or connect to your friend's machine remotely and help tackle software-related issues. Plus, you can safely transfer files to and from the remote machine. As a nice bonus, you can use the mobile version of AnyViewer to play PC games on your iOS or Android device whenever you are.
For business owners, AnyViewer can be a great addition to a collection of remote access tools. You can use it to perform urgent work duties while out of the office, collaborate with your team to solve complicated tasks more efficiently, lower risks of data loss while transferring big files over long distances, assist colleagues and customers with technical issues, and even control Windows machines from mobile devices.
Platforms supported by AnyViewer
PC version:
▪ Microsoft Windows 8.1 and later;
▪ Microsoft Windows Server 2012 R2 and later.
iOS version:
▪ iOS 10.0 and later.
▪ Android version:
▪ Android 6.0 and later.
Picking the right subscription plan
AnyViewer Free
This version is free to use, but due to its limitation will only be a good fit for an individual user with no more than three devices, for that is the number of devices this plan allows you to log into your account from. On the bright side, this free plan lets you have up to 10 devices on 'speed-dial' (a.k.a. one-click connect) and two remote connections in parallel. Also, you can use almost all the app's features, including file transfer (limited speed), live text chat, and multi-monitor switch.
Please note that this plan's tech support is limited to business hours only with no specified timezone, so it may take them a significant amount of time to reply, no matter how urgent your request is.
AnyViewer Professional
$9.90/month ($118.80/year) with a monthly payment
$49.95/year ($4.16/month) with an annual payment
This plan will work best for small businesses and professional teams of up to 10 members. With this plan, you are allowed up to 5 simultaneous remote connection sessions, 100 devices in the one-click connection menu, and around-the-clock tech support. Plus, there is no speed limit for the file transfer feature.
On top of all the features already familiar to you from the free plan, you will also get the Privacy Mode option that lets you black the remote device's screen and disable its physical keyboard and mouse during your remote connection session. Also, you can view the remote screen in the highest resolution.
AnyViewer Enterprise
$29.90/month ($358.80/year) with a monthly payment
$199.00/year ($16.58/month) with an annual payment
This plan will suit medium- to large-scale businesses and in-house tech support teams. It offers up to 10 simultaneous remote connections with the highest data rate and maximum screen resolution view, 100 devices on 'speed dial', 1000 devices in the Currently connected list, and top-priority 24/7 tech support.
In addition to all the features available to the Professional plan users, you will also get access to Mass Deployment (MSI) feature you can use to significantly speed up your remote app installation process by installing applications on multiple machines at the same time.
Interface
As you will see, AnyViewer's interface is rather clear-cut and simplistic. When you start the app, a window pops up with a left-side main menu. And, on the very first tab you see, you can create your AnyViewer account or log into the existing one and also download the latest AnyViewer versions for different operating systems: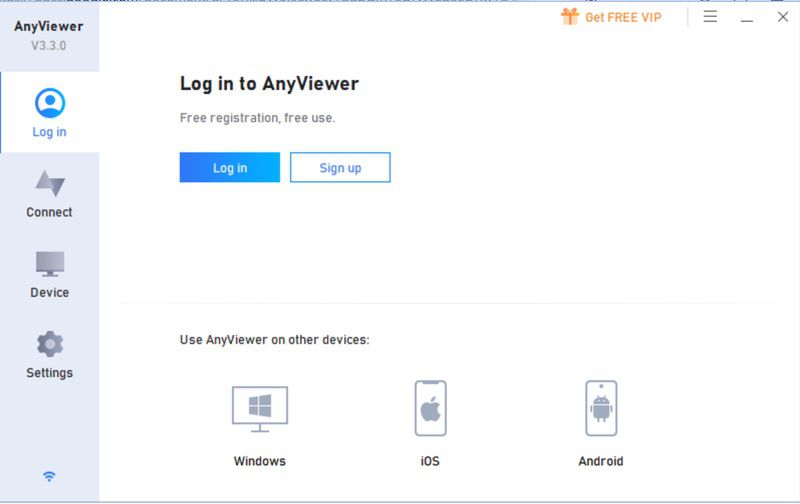 Once you log in, this tab will also show a dropdown menu you can use to change your login and password, enter a license code or log out. Also, you can check if you still have slots in your one-click access device list and whether or not you can log into your account from a new computer:
The Connect tab looks the same for the logged-in and guest users.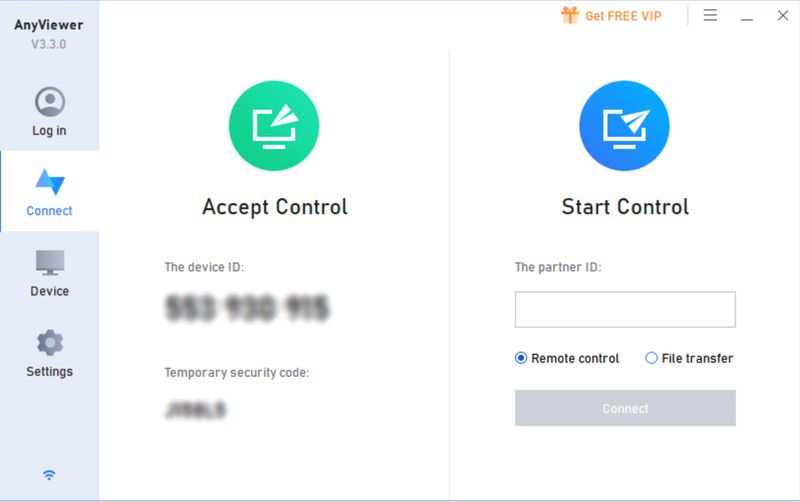 Here you can find your device ID, which you'll need to pass to whomever you wish to allow remote access to this machine, along with a temporary security code. And to request access to a remote machine, enter said machine's ID and the security code provided to you or send a connection request:
The Device tab will only come in handy for logged-in users as it shows your one-click access device list: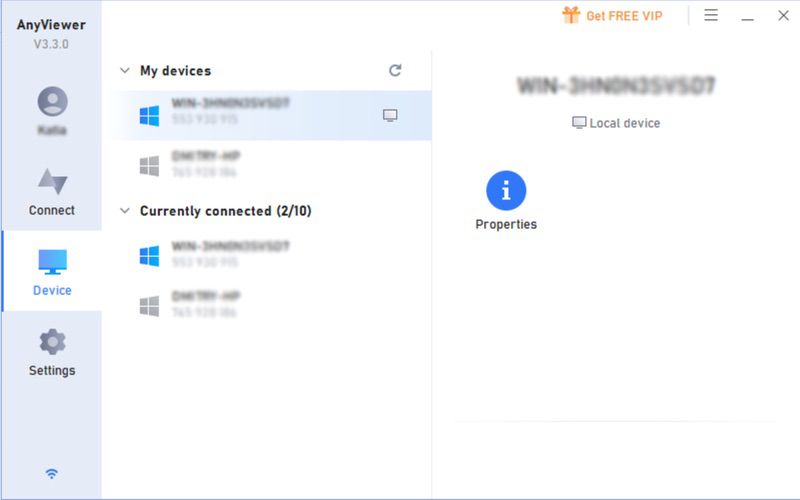 Blue icons indicate devices that are currently online and are available for remote connection.
In the Settings tab, you can set a permanent security code and lock timeout for your device, select your preferred interface language, etc.: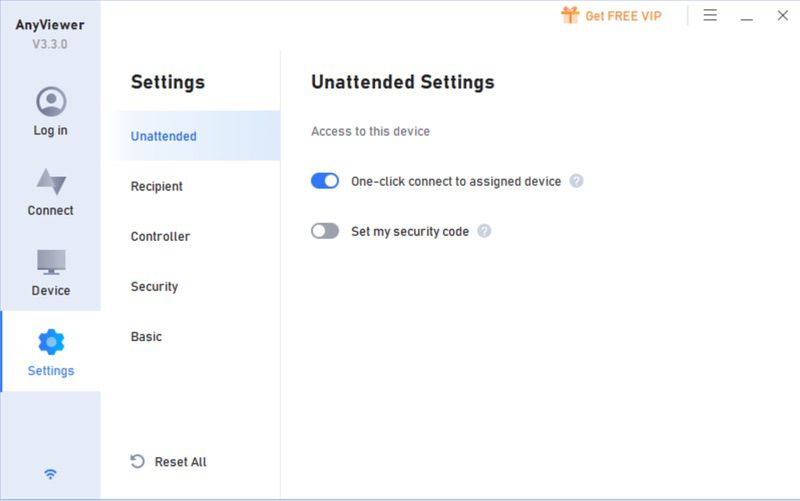 Most of the settings are only available for logged-in users.
After you connect to a remote device, you will see a new window with a real-time image of a remote desktop you can interact with just as if it was your local one: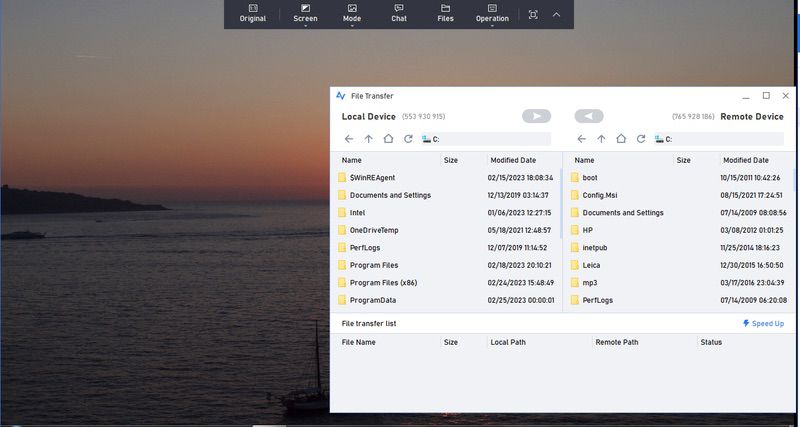 From the menu on top, you can choose screen resolution and image quality, invoke the file transfer and chat windows, lock, reboot, or shut down the remote machine, and more.
AnyViewer: Key features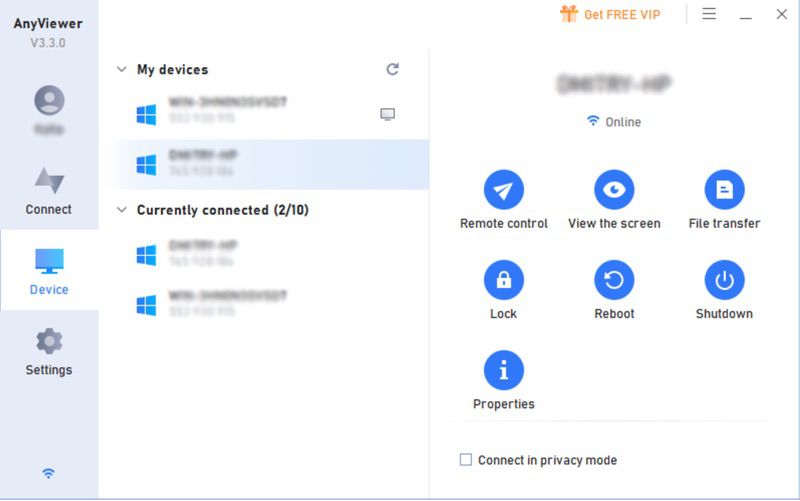 Remote control: grants you full access to a remote computer so you can manage files and folders, change settings, and run apps in real-time. For this to work, the remote machine must be up and running, and there must be someone near it to grant you permission for remote connection or pass you the access code. During the session, you can communicate with the person on the other side in the text chat window (pops up automatically on both ends), which also shows the history of all the actions you perform on a remote machine. The session can be terminated from either side at any moment unless you use Privacy Mode (only available in paid versions).
View the screen: connects you to a remote computer so you can view its screen in real time with no access to controls. If the remote machine has several screens, you can easily browse between them using the multi-monitor switch. Also, you can communicate in chat and exchange files (unless the operator of the remote machine disables file sending and/or receiving).
File transfer: invokes the file exchange window you can use to send a copy of a file to or from the remote computer unless the operator of said remote machine blocks one or both of these functions. Please note that a free version's upload/download speed is limited, so sending or receiving big files will take some time. If the connection drops at any point of a transfer, the process will be terminated, and you will have to start over.
Lock: logs off the current Windows profile on the remote computer to the lock screen. The catch is you can't unlock by clicking on this function again so don't do this unless you have the security code and know the remote system's access password, or there is someone at the remote machine to allow you access.
Reboot: restarts the remote machine. Once you click on this feature, your remote connection will be terminated along with any ongoing file transfers, so please be aware of that.
Shutdown: turns off the remote computer, so you will not be able to access it again until someone physically turns it back on.
How to use AnyViewer
Step 1: Download the client from the official website, App Store, or Google Play Market.
Step 2: Double-click on the setup package or tap Install, then follow the on-screen instructions to install AnyViewer on all of the devices you plan to use it on.
Step 3: Create your AnyViewer account by clicking the Sign up button and submitting a short registration form: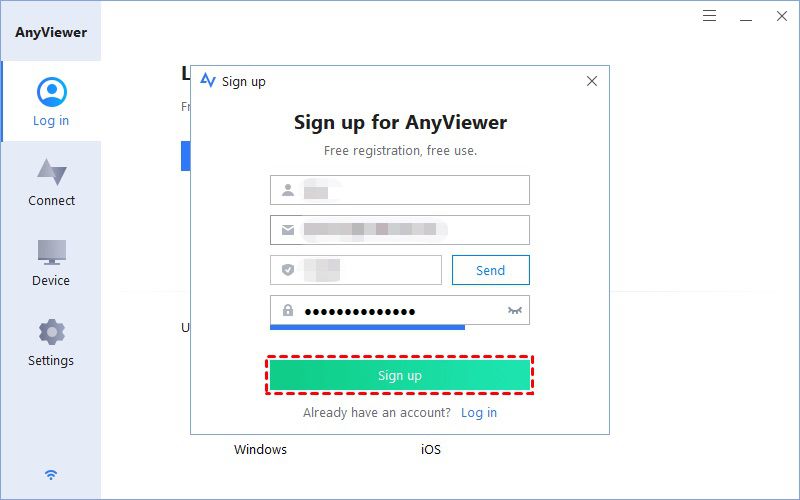 It's important to provide a valid email address, as the app will send the verification code required to proceed with the registration.
Step 4:
Once you click the Signup button, you will be automatically logged in on your current device and can start using AnyViewer with no additional settings. For instance, you can set a permanent security code on both your office workstation and personal laptop so you can use your work-related software while working from home or play games you have on your home PC during your in-office lunch break.
For instance, you can set a permanent security code on both your office workstation and personal laptop so you can use your work-related software while working from home or play games you have on your home PC during your in-office lunch break.
Clear-cut user-friendly interface;

No versions for Linux, Mac, or ChromeOS;

Superb data transfer speed on paid plans;

Compulsory client installation on every device;

ECC encryption for additional data security;

Lack of two-factor authentication option.

Stable connection with no lags;

Fully functional free version

with no time limit.
TeamViewer vs. AnyViewer:
★ Compatibility:

TeamViewer has a much more comprehensive range of supported operating systems. AnyViewer is supported by Windows, iOS, and Android. TeamViewer has versions for Linux, MacOS, and Chrome OS.



★ Pricing policy:

TeamViewer's corporate-grade license will cost you more than ten times more compared to a similar AnyViewer license.



★ Communication:

TeamViewer users can communicate in text, audio, and video format, while AnyViewer only has the text chat option.



★ File transfer:

TeamViewer won't let you pass large files to and from a remote machine, while AnyViewer doesn't have file size limitations.



★ Commercial use:

TeamViewer strictly forbids commercial use of their free version, while AnyViewer doesn't have any limitations in this regard.
FAQ
Unlike many other remote access software solutions, AnyViewer has a fully-functional free version that has no time limit and no commercial use restrictions.
All the data transferred via AnyViewer is protected with ECC for end-to-end encryption, plus it has additional encryption in place specifically for password protection.
With the free version of AnyViewer, you can only control two remote machines at a time. If you need to access more remote devices simultaneously, consider upgrading to AnyViewer Professional or Enterprise plans.