Telemedicine software makes it possible to provide certain health services and information to patients digitally. This is especially useful in recent times with the need to avoid face to face contact, but it also makes medical care available to remote communities that are otherwise not easily accessible.
There are many software options available and this article will provide a side by side comparison of some of the market's most popular offerings, allowing you to choose the best HIPAA compliant telehealth platform that will serve your needs best.
1. Doxy.me
Doxy.me is a free to use online telemedicine solution. It requires no downloads and can be used in all modern day web browsers. Doxy.me can be accessed on your desktop or mobile device. Doxy.me focuses on ease of use, providing a simple and convenient way for patients to access their medical practitioners with a simple video call. All sessions are anonymous and all transferred data is encrypted, and never stored.
All medical providers are given their own virtual doctor's room with a unique url that allows patients to simply, and anonymously log in without registration. Doxy.me meets worldwide security requirements and is HIPAA, GDPR, PHIPA/PIPEDA & HITECH compliant.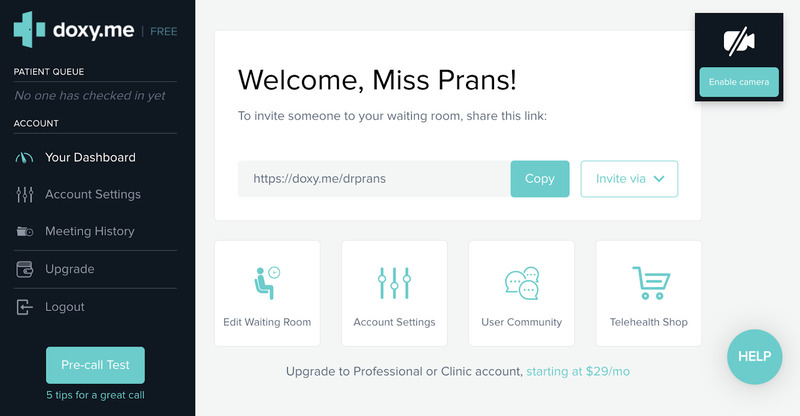 | | |
| --- | --- |
| | |
| Secure end to end audio and video encryption; | In remote locations, internet connection may be unreliable or even non-existent. |
| | |
| | |
| No downloads or installation required; | |
| All data generated during a call is permanently deleted when a call is terminated; | |
| Users can remain anonymous as no registration is required and no patient protected health information (PHI) is stored; | |
| Option to upgrade to the professional version for additional services. | |
Operation Systems
Doxy.me is a browser based application and is not dependent on the operating system. You just need a web browser and an internet connection.
Price
Doxy.me is free to use but there is a paid upgrade available starting from $35/month. There are a number of paid options which include various added features:
Professional:
This is for a single provider and costs $35/month.
Additional features include:
• Text and email notifications;
• High definition video;
• Voice/Audio calls;
• Screen sharing;
• Online payments;
• Group calling;
• File Transfer;
• On demand chat support or bookings for audio/video support;
• Ability to edit waiting rooms and create room passcodes.
Clinic:
This licensing model allows for between 2 and 50 professionals and costs $50/month.
In addition to the other features it also allows for:
• Simultaneous calls;
• Patient transfers;
• Whitelabeling and customized branding;
• Administration controls;
• Tele Consent forms;
• Custom Business Association Agreements (BAA);
• Custom security review;
• Shared rooms.
Enterprise:
Enterprise is suitable for larger organizations. Pricing is customized according to your needs and you'd need to contact Doxy.me directly for a quote.
The Enterprise version includes:
• An Onboarding team;
• A dedicated customer success manager;
• Single sign-on;
• Free support;
• Five customized teleconsenst forms;
• Usage reports;
• Group discounts;
• Security reviews.
2. Healthie
Healthie is an all in one health and wellness telehealth online solution allowing wellness professionals to extend their reach by offering remote services while managing and streamlining all aspects of their online business.
Healthie provides the tools to take your entire medical practice online. Replace reams of paper records with secure electronics records. Pull patient records with ease. Send automated email & text appointment reminders and even share wellness programs with your clients.
Healthie also integrates with other common business solutions and tools like Office Ally, Zoom, Fullscript and Stripe. You can create one single secure login to access all your applications.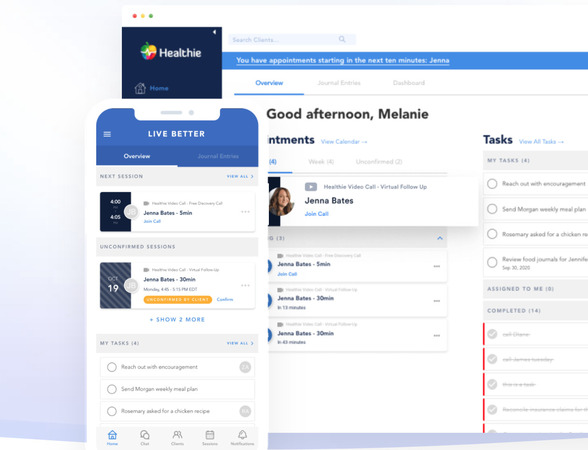 | | |
| --- | --- |
| | |
| Easy access on laptop, tablet or mobile phone; | |
| | Limit of one attachment per chat; |
| HIPAA, PIPEDA, GDPR and PCI compliant; | |
| Client management portal for appointments, secure messaging, storing of personal health data etc.; | |
| Can be synced with other wellness apps and fitness devices like Apple Health, FitBit and Google Fit; | |
| Ability to create subscription services with recurring payments. | |
Operating System
The web portal can be accessed on any device running any operating system as long as it can connect to the internet. The mobile app is available for iOS and Android.
Price
Healthie offers a free 14 day trial on all their packages. Thereafter there are a number of price plans suited to your needs. Options to pay monthly or annually exist, and the annual payment affords you a 10% discount.
Starter:
A free starter option allows up to 10 active clients. It includes all the basic features including scheduling, and payment processing.
Essentials:
This will cost you $45/month. It allows for up to 250 active clients. In addition, you have a CMS; group messaging is possible, and you can send outbound eFaxes.
Plus:
At $115 a month, this is the most popular plan. You can have unlimited clients. Additional features include Office Ally integration, Group telehealth, online programs and dedicated eFax.
Group:
Group is suited for provider-owned practices with multiple practitioners. On this package you get the added benefit of a shared calendar; internal team chats; adding of team members; assigning roles and permissions to team members and free support.
3. Medici
Medici is a HIPAA compliant end-to-end telemedicine solution offering scalability and ease of use whether in a private practice or a large clinic or as a third party provider. Medici provides a single solution for multi-patient management with easy EHR integration.
Medici lets you engage with your patients in a one to one session, or broadcast messages to multiple recipients. You can collaborate with other medical practitioners while in a session – giving your clients the added benefit of a real time second opinion.
Medici is quick and easy to use. No downloads, no registration. With in-app billing, patients can be billed immediately after a consultation and pay online, quickly and securely.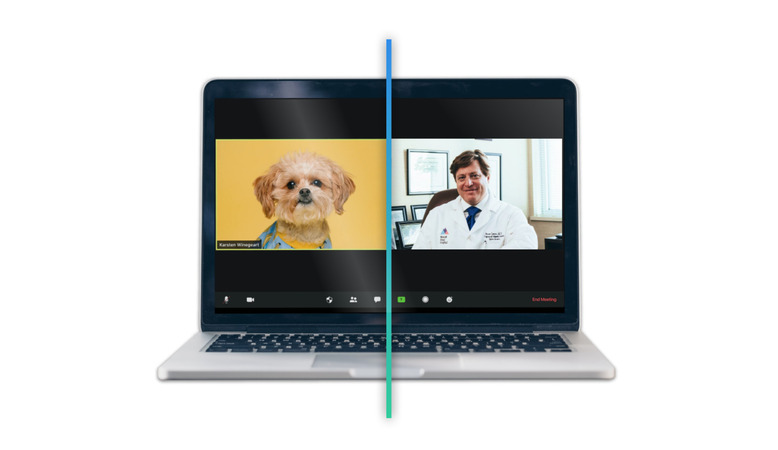 | | |
| --- | --- |
| | |
| Real time chat translation; | Online/offline indicator is not apparent; |
| SOC Type 2, HIPAA and VCPR compliant; | Uploading video can be glitchy; |
| No download or registration required; | Payment process is sometimes delayed; |
| Option of secure text, voice or HD video consultations; | No differentiation between new patients and patients that have already been attended to. |
| | |
| Immediate post-consult billing and payment; | |
| | |
Operating System
Medici is available as a mobile app for Android and iOS.
Price
Medici includes a free trial. Licensing starts from $149/month. The pricing models include the following
Personal:
• Unlimited text messages;
• Group messaging;
• Add patients by simply importing them;
• eReferrals;
• Directories.
Professional:
• Billed consultations;
• Voice and video consultations;
• ePrescritons;
• Assign chats to various team members;
• Create custom networks.
Practice:
• Auto chat translations of up to 40 different languages;
• Premium marketing;
• Premium tech support.
4. SimplePractice
Conduct secure and anonymous video appointments with SimplePractice, a cloud based HIPAA compliant online EHR platform. Clients can access medical care quickly and from the comfort of their homes by simply clicking on a link on their computer or mobile. No logins or passwords are required.
Clients can request appointments easily while practitioners can manage appointments and use a handy time management tool which gives a real time display of elapsed time during a session.
Typical video chat features like text chat, customizable backgrounds and media sharing is all possible with SimplePractice. HIPAA compliant with Hitrust CSF certification, let SimplePractice take care of the admin of your business.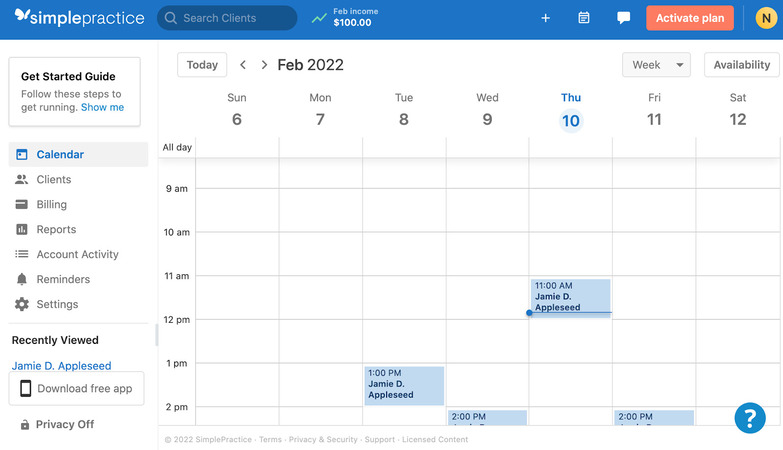 | | |
| --- | --- |
| | |
| | No partial payment option available via the client portal; |
| Website builder to create a professional image; | |
| Customisable text, voice and email reminders; | |
| Paperless intake process; | Confusing user interface. |
| Client portal with secure online payment options; | |
| Simple and Customisable invoicing; | |
| Dedicated support in the form of email, live chat, phones and online screen sharing. | |
Operating System
SimplePractice can be used via the browser or as a mobile app for Android and iOS.
Price
The Starter package is $29/month. It includes paperless intake, unlimited clients, the client portal, automated invoicing and many other features to get you started.
The popular Essential package includes useful tools like appointment reminders; the ability to cancel or confirm appointments via text, and secure client messaging. It also includes access to TeleHealth which allows for video appointments. Essential costs you $69/month.
The Plus option starts at $99/month. Additional features include AutoPay, Insurance coverage reports, unlimited document storage, diagnosis and treatment plans and much more.
5. VSee
VSee comprises a family of products that make up the all in one telehealth platform.
VSsee Clinic
• Scheduled or walk-in visits;
• Customizable intake forms;
• Clients can enter the waiting room through an email invitation or a CTA button on a website;
• Decided on what to display to clients in the waiting room.
VSee Messenger
• Secure HD group video;
• Screen share and live annotation;
• Text chat with picture support;
• Ability to stream peripheral devices like EKGs, ultrasounds etc.;
• Remote Pan-Tilt-Zoom camera to view patients and symptoms.
VSee APIs
This allows for custom development to create your own unique platform that best suits your needs. Integrate into any of the other existing VSee products seamlessly. No servers or admin privileges required.
Vsee Telemedicine Carts & Kits
The telemedicine kit or home care kit and the telemedicine cart are all there for you to get started.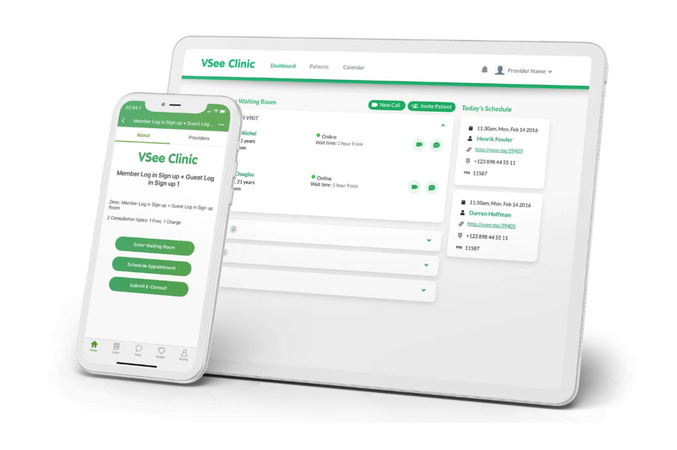 | | |
| --- | --- |
| | |
| Ability to stream peripheral devices like ultrasounds and digital stethoscopes; | Unreliable customer service; |
| | Notifications only available on the app; |
| | |
| 100% flexibility with the ability to turn on features as required; | |
| Available for desktop or mobile. | |
Operating System
Available for Windows, Mac, iOS and Android
Price
VSee offers a Free, Basic and an Enterprise version. Basic costs $49/month. Contact VSee for Enterprise pricing.
6. eVisit
eVisit is a purpose built Enterprise Virtual Care Platform. It encompasses all the functionality required for a streamlined patient experience from scheduling, intake and payment. eVisit allows medical practitioners to perform triage and remote patient care efficiently by providing all the necessary management tools at the practitioner's fingertips.
eVisit came out tops in The Forrester Wave ™ Virtual Care Platforms for Digital Health rankings. eVisit allows you to manage multiple calendars and practitioners can set their status to online or away that is visible by anyone on the platform. A waiting room management dashboard lets you see average waiting times and re-route patients to other specialists if necessary, ensuring the best experience for your patients.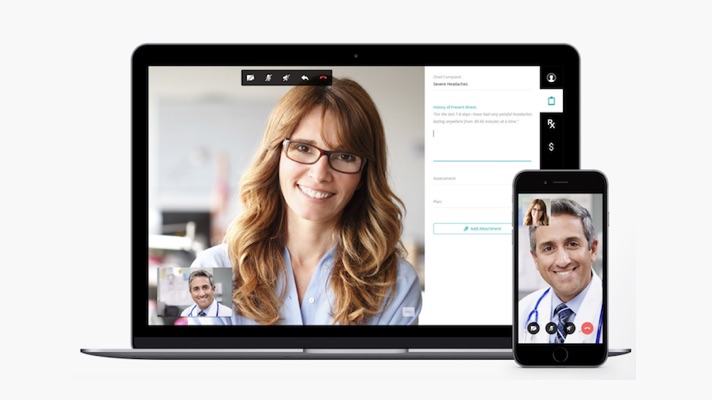 | | |
| --- | --- |
| | |
| Patients can schedule their own appointments; | Only available in English; |
| Automatic appointment reminders for practitioners and clients; | |
| Automatic post-consult charging options; | Reliant on internet connectivity. |
| Practitioners have easy access to patient profiles during a virtual examination; | |
| Ability to take notes and send attachments during a chat; | |
| ePrecribe means you can send prescriptions directly to pharmacies on the network; | |
| Waiting room management with notifications should someone be waiting a long time; | |
| Integrates with over 50 supported EMRs; | |
| | |
| No downloads or installation required. | |
Operating System
Available for Windows and macOS but it is limited to Chrome and Firefox browsers.
Price
Pricing for eVisit starts at $600 a month. Contact eVisit directly to get a quote.
7. Mend
Mend provides a turnkey and flexible healthcare solution that is HIPAA compliant and easy to use. Simply create a link which initiates a secure connection between practitioner and client.
Mend can be used on a computer, tablet or smartphone and no download is required.
Mend uses PredictiveIQ AI to identify no-shows and cancellations, freeing you up from time wasting clients. Email, SMS and voice reminders are sent to clients which also prompt them to reschedule if they can not make an appointment. This helps increase your business revenue.
Mend integrates with typical practice management software and EHRs – making managing your practice and your online healthcare service a breeze.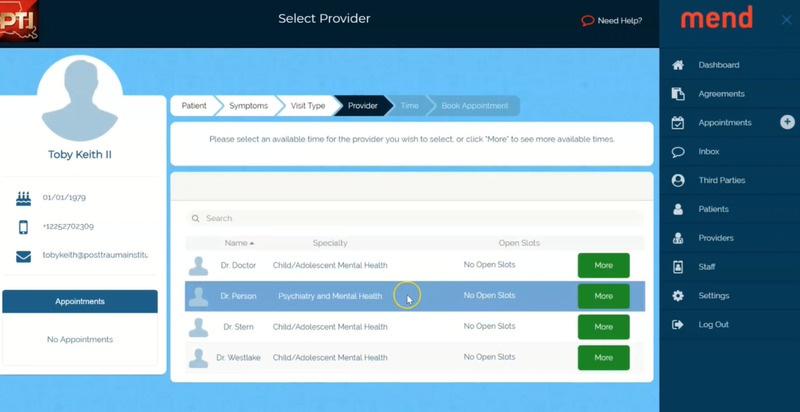 | | |
| --- | --- |
| | |
| No download or installation required; | Enterprise version is expensive although a free version is available; |
| Requires minimal bandwidth; | |
| Appointment reminders with email, sms and voice notes; | Clients must have an appointment before they can sign on; |
| Unlimited staff and patient users. | |
Operating System
Available on all devices that have internet access.
Price
Mend offers a free version as well as an Enterprise version. Contact Mend directly for a quote.
8. swyMed
swyMed uses their own patented data transport protocol to offer up a digital telemedicine platform that is not reliant on high speed connectivity. swyMed's solutions creates a Mobile Integrated Healthcare (MIH) system and this includes Doc-on-Tap (DOT) connectivity solutions which makes it possible to provide real-time video telemedicine anywhere and anytime.
swyMed makes it possible to perform Remote Patient Evaluation (RPE), Mobile Telestroke, and patient monitoring during transportation. With swyMed it is easier to monitor patients after being discharged, irrespective of where they live.
Running swyMed in traditional hospital facilities includes the ability to connect with typical EHR and PACS systems and any other medical devices allowing easy seamless integration into labs, other specialists and remote clinics or even emergency personnel.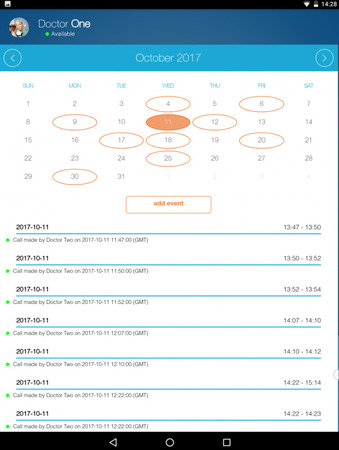 | | |
| --- | --- |
| | |
| Competitive low pricing model; | |
| Simple intuitive user interface; | No pricing information publicly available. |
| Includes a free SDK and open APIs allowing for custom development and integration; | |
| HITRUST-certified data session; | |
| | |
| Fully interoperable with HL7 compliant EMRs; | |
| Ability to white label the system to your look and feel. | |
Operating System
As the system is cloud based, it can be used by any computer or device that has internet access.
Price
Contact swyMed for pricing details.
9. Teladoc
Teladoc helps you use technology to connect patients with care providers. With the goal being to provide greater access to more health and mental healthcare services, Teladoc empowers providers to provide higher quality care.
Encompassing a "Whole person" ideology, Teladoc aims to provide low cost, high quality medical care 24/7 for all areas of treatment. With a data-driven approach, the client experience is personalized and flexible according to each individual's unique needs.
With connected devices, Teladoc aims to empower people with chronic conditions like diabetes and hypertension. Patients can be monitored remotely and have motivational and educational material pushed to them.
| | |
| --- | --- |
| | |
| Users must create an account to book an appointment; | |
| Video and phone appointments; | Return calls from providers show up as unlisted and can be blocked or ignored as a result; |
| Clients can choose medical practitioner rather than being assigned one; | |
| Chat and phone technical support; | |
| No need to download an app; | |
| | |
| | |
| Can be integrated with existing health insurance; | |
| Can call instead of using the app or going online when internet connectivity is not available. | |
Operating System
Teledoc can be accessed via your computer or mobile app. Available on Window, Mac, iOS and Android.
Price
Pricing starts from $49, but you have to contact Teladoc directly for details. Available for Android and iOS
10. Quenza
Quenza focuses on the care of clients by not just diagnosing them, but then also providing treatment programmes and activities to treat their ailments.
With Quenza you can, at the click of a button, complete your intake process, onboard your client, schedule a new appointment or follow up appointment, and track your clients' progress.
Set customized individual goals or use the library science-based activities and share those with your clients.
Your clients can complete activities in their own time and use the app to keep track of their progress. With automated reminders and notifications of new activities, clients have an easy to use health helper in their pockets.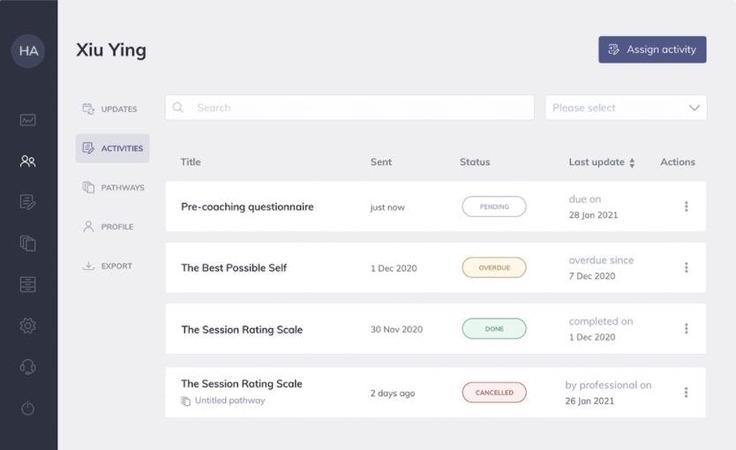 | | |
| --- | --- |
| | |
| Easy drag and drop activity builder; | Automatic translation not accurate; |
| Activity library with commonly used activities and pre-built pathways; | |
| Users can opt to receive activities by email; | |
| HIPAA and GDPR compliant; | |
| Ability to track client results; | |
| Notes section for commenting with options to share with clients or allowing comments; | |
| One month trial available for $1; | |
| Create groups to engage with multiple clients at the same time; | |
| File storage to easily organize and access documents. | |
Operating System
Available on the web and as mobile apps for iOS and Android
Price
Quenza offers three billing plans.
Lite will cost you $49/month. Features include:
• 15 clients;
• 20 activities;
• 5 pathways;
• 500MB professional storage;
• 250MB client storage;
• 250 send credits/month;
• 10 expansions;
• Client Notes;
• Chat feature;
• Groups.
Standard will cost $89/month
• 50 clients;
• 100 activities;
• 20 pathways;
• 1500 send credits /months;
• 20 expansions;
• 2.5GB professional storage;
• 1 GB client storage;
• Chat;
• Groups;
• Whitelabel.
Unlimited costs $149/month
• Unlimited clients and activities;
• Unlimited pathways, send credits and expansions;
• 10GB professional storage;
• 2.5GB client storage;
• Chat;
• Groups;
• White Label.
Important features of any telemedicine software
Calendar
An easy to use calendar to allow clients to view available slots and make bookings. Practitioners should be able to have an overview of all bookings with options to filter and view linked details of clients etc.
Patient Records
All patient data must be stored securely and within HIPAA compliance regulations. Data should be easily accessible for practitioners for ease of consultation.
ePrescribe
The ability to select medicines from a database and generate an electronic prescription for clients that can be automatically sent to participating dispensaries is beneficial to practitioners and patients alike.
Accounts and Billing
Being able to automatically invoice clients after an appointment, access account history and send details to insurance companies will make for more streamlined admin processes. Allowing the client to make payments online, including co-payments is convenient.
Patient Portal
A patient portal allows clients to log in and manage their own appointments, account payments and treatment history. It is convenient for the client to be able to access their data when and where they need to without having to call the practice to request the information.