Visiting a doctor involves enduring city traffic and seemingly never-ending waits. Sometimes, we must put up with a waiting area filled with different illnesses, like sneezing and coughing. Luckily, we can now avoid these with remote medical assistance.
Remote medical support provides a modern approach to addressing patients' health concerns. This comprehensive system isn't only about virtually meeting your doctor; it is designed to make healthcare more accessible, faster, and personal.
All medical services given remotely fall under this category. Telemedicine is one example. It guarantees that a healthcare professional is always ready to assist patients during an accident or unexpected illness.
In this article, you'll learn what remote medical assistance is, its different types, how it works, and more.
What Are The Different Types of Remote Medical Support
It is critical to understand that remote healthcare solutions don't refer to only one type; there are various kinds of them, such as the following: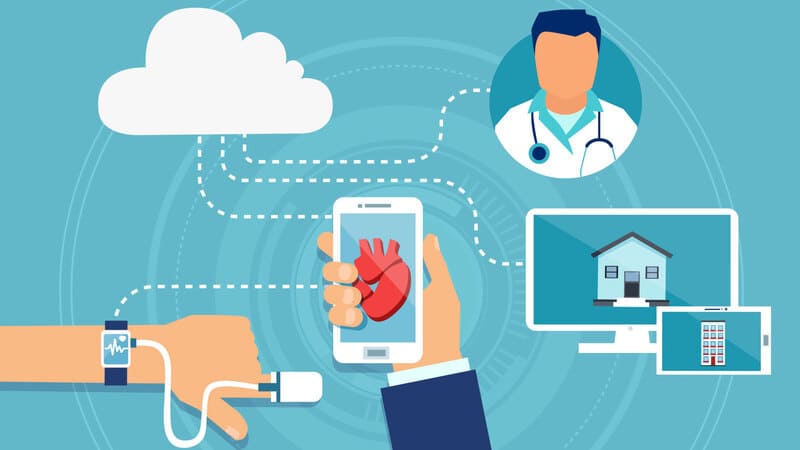 1. Telemedicine
Telemedicine has become a popular method to assist people residing in isolated and neglected areas. Experts use tools and software to provide consultations and remote medical services to patients, no matter where they live.
These are the subcategories of telemedicine:
Remote Patient Monitoring (RPM)
This subtype is about medical specialists remotely observing patients. They check their vital signs and health information using different devices and sensors. Their patients either have chronic conditions (e.g., heart disease, diabetes, and hypertension), ongoing surgical recovery, or need close examination.
These specialists obtain information about their patients and review it to create remote medical treatment options. If necessary, they may contact their clients.
Store-and-Forward (Asynchronous Telemedicine)
In this type of remote medical support, patient-related images, documents, and information are shared with medical professionals for future assessment. Experts in dermatology and radiology can benefit from this strategy; they can use client data or high-quality images instead of physical examination.
Virtual Consultations (Synchronous Telemedicine)
Virtual consultation is a popular aspect of telemedicine. This communication method is direct and real-time, similar to a video call, so it's perfect for professionals delivering remote medical services.
This video format also benefits patients since they can contact their doctor regardless of the location they are calling from. Whether you will tackle your mental health, re-review a past condition, or simply talk with your doctor, remote consultations are an excellent choice.
2. Telehealth
Telehealth covers a wider range of services than telemedicine. Aside from treating illnesses, it aims to prevent diseases, offers full-service remote medical support, and promotes overall wellness. 
Moreover, it uses digital platforms to make health services and data easily attainable, contributing to a healthier and more knowledgeable society.
3. Mobile Health (mHealth)
Smartphones are among the electronic gadgets we bring wherever we go, so why not use them to care for your health?
mHealth promotes healthcare app development to take our wellness journeys to the next level. Giving medication reminders and monitoring your mental well-being are just a few of the services mHealth offers. It surely makes health management a breeze.
These are some of the most popular mHealth subtypes:
Health Apps
Several health applications are available for mobile download. They offer features like fitness tracking and medication reminders, turning smartphones into effective tools for wellness and health.
Text Message Reminders
With reminders sent via text, patients can avoid missing appointments with their doctors and remember the medical recommendations given to them. It's a convenient way to receive timely notifications and health advice.
Wearable Devices
Health monitoring is one of the features of medical wearable devices, such as smartwatches and fitness trackers. It helps users check their physical activity, heart rate, sleep patterns, and more.
4. Virtual Home Health Care
This final type involves using technologies to provide remote medical services, including therapy, nursing care, and health observation. That means patients don't have to leave their homes for these services.
How Does Remote Medical Support Work?
In this section, we have enumerated the stages of remote medical assistance to help you understand how the process goes.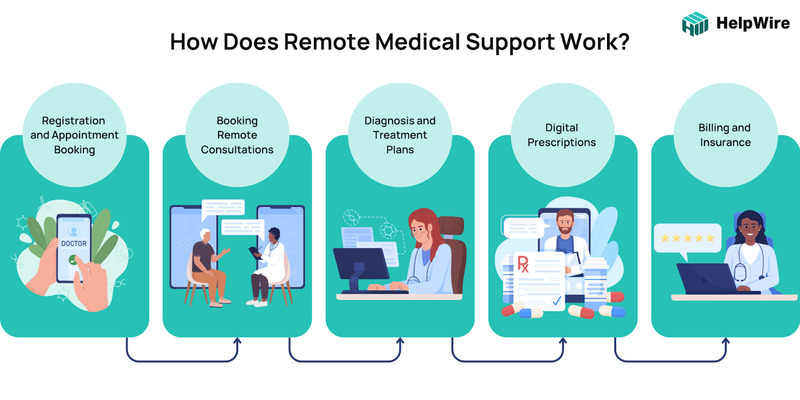 Patient Registration Process and Appointment Booking
First of all, patients should register on telemedicine software platforms, which are renowned as some of the best telemedicine apps. These tools offer user-friendly interfaces, meaning the sign-up procedure would be easy enough.
Remote Consultations and Examinations
Virtual sessions with healthcare specialists are the center of remote medical support. After creating an account, you can contact your doctor to ask for remote medical treatment solutions, advice, or tips. This remote appointment will make you feel like you are in your doctor's office.
Moreover, virtual check-ups are as thorough as in-person visits, thanks to tools that enable doctors to conduct remote examinations.
Diagnosis and Treatment Plans
Following a consultation, doctors use the healthcare workflow to develop a diagnosis and a course of treatment. They have access to connected medical databases to ensure their most recent findings are used in medical research.
Digital Prescriptions 
Remote medical assistance enables healthcare experts to send electronic prescriptions to patients or their preferred pharmacy. Patients also benefit from this since they won't worry about losing their prescriptions.
Billing and Insurance
The last stage is the financial aspect of remote medical support. The remote medical treatment solution becomes simple enough with billing and insurance included in it. To be precise, fitted tools manage insurance claims, while e-billing assists patients in settling their payments without worrying about paper bills.
The process becomes even more critical in specialized fields like telemedicine pain management. That's because timely interference, consistent contact, and efficient follow-up significantly enhance patient results.
Remote Medical Support: Importance of Privacy and Security
Remote medical support prioritizes the protection of the privacy and security of patient data. In this section, you'll discover the vital areas, from the best approaches and legal structures to technological solutions, to secure patient confidentiality.
Why Is Patient Privacy Important?
Patient Trust
Building and maintaining a patient's trust depends on ensuring privacy and security, because any breach could result in a loss of reliance on remote medical support services.
Legal Compliance 
Providers must abide by standards like HIPAA in the U.S., GDPR in Europe, and other regional laws to avoid legal consequences and ensure the moral management of patient information.
Aside from individuals, all healthcare providers, health plans, healthcare clearinghouses, and business partners are among the covered entities. Those who need to use or disclose the following are considered business partners:
         – HITECH and HIPAA
The  Health Information Technology for Economic and Clinical Health Act (HITECH) and the  Health Insurance Portability and Accountability Act (HIPAA) established the standards in the United States for safeguarding patient data in remote medical support.
            – GDPR
In the European Union, the General Data Protection Regulation (GDPR) governs the management of personal information, including health data. They set strict protocols for processing data and protecting the rights of patients.
           – Risk Reduction
One effective way to lessen risks related to cyber threats, such as data breaches and unauthorized access, is to take proactive steps to retain privacy and security. This method can protect both healthcare specialists and patients.
Remote Medical Support: Best Practices To Ensure Privacy and Security
Routine Audits and Evaluations
By performing regular security audits and risk reviews, you can determine vulnerabilities and take action immediately.
• IoMT devices on open networks and the internet are more likely the target of cyber attacks. Ensure that all sensitive information is accessible only through a private network and all security measures, like firewalls, are in position.

• Use strong passwords and change them often.
Training Medical Specialists
Teaching the best methods for data protection and cyber hygiene to experts offering remote medical services and support staff may help maintain a safe environment.
Educating Patients
It's also a must that patients learn how to engage in remote medical support procedures safely. They should know how to secure their internet connections and be alert during remote sessions with their doctors.
Types of Remote Medical Support Devices to Gather Health Data
Many different types of devices are used in the implementation of remote health solutions. Some of these devices are general-purpose pieces of equipment familiar to everyone. Others are specialized components manufactured to perform a specific healthcare-related activity.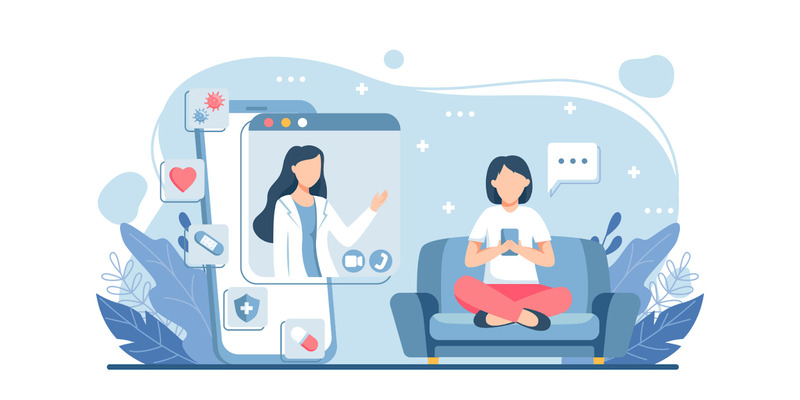 Following are some of the most common types of devices used for remote medical support offered by consumer electronics and dedicated remote healthcare companies.
✦ Laptop and desktop computers can be used for remote medical consultations, visiting patient portals, and evaluating data generated by mobile devices. Android and iOS phones or tablets can be used to provide more flexible and convenient access to the same services.
✦ Glucose monitors can provide automatic and continuous monitoring of blood sugar levels in diabetic patients.
✦ Heart-rate monitors offer more effective tracking than periodic checks that may miss critical fluctuations indicating severe problems.
✦ IoMT-connected inhalers help patients and providers understand what triggers an attack and monitor their frequency for more effective treatment.
✦ Ingestible sensors provide a unique insight into a patient's internal systems.
✦ Wearable devices like wristbands can automatically call for help if a fall is detected while also offering manual options for obtaining immediate medical assistance.
Remote Medical Assistant and His Role in the Telemedicine Process
A remote medical assistant is an individual who provides remote medical assistance to healthcare professionals, patients, and insurance companies. The assistant uses phone calls and other electronic platforms to communicate between the various entities involved in providing and receiving healthcare.
In a role providing remote medical assistance, an individual can expect to perform many clinical and administrative duties associated with providing healthcare from a remote location.
Activities previously performed in person by the staff at a healthcare facility are now handled by a trained remote medical assistant.
A remote assistant may be responsible for working remotely with multiple healthcare facilities from a centralized location. Some of the tasks likely to be involved in a remote medical assistant position include:
• Gathering medical information from patients;

• Scheduling appointments;

• Establishing remote communication between patients and providers;

• Reviewing insurance benefits;

• Billing and collecting payment for in-person and remote healthcare services;

• Answering patient questions.
You can find several available vacancies for a remote medical assistant. Remote medical assistance plays an important part in the transformation from in-person to remote medical support. Individuals filling this role will help patients and providers make the most efficient use of telemedicine solutions.
Conclusion
The advantages of remote healthcare promise to make medical care more accessible and affordable for a large segment of the population. Individuals in rural communities can remotely access the resources of large healthcare systems and receive up-to-the-minute care based on installed IoMT devices. The level of care possible with remote medical services far exceeds the capabilities of traditional healthcare systems.
The acceptance of remote medical support has undoubtedly been spurred on by the COVID-19 pandemic. However, the substantial benefits to patients and healthcare providers ensure that the use of remote health solutions will continue to increase. Opportunities will be available for remote medical assistants and developers focused on creating new tools and devices to further the advancement of remote medical support.
Frequently Asked Questions
Remote medical services are healthcare-focused activities that are carried out by physically distant healthcare professionals. Services may include monitoring a patient's condition, providing virtual consultations, or furnishing informational resources.
The basis of remote care is communication between mobile or wearable devices and healthcare professionals. This connectivity facilitates activities such as virtual patient visits or monitoring post-operative vital signs from a remote location. Healthcare professionals can review and evaluate data transmission from remote health solutions to diagnose a patient's condition and prescribe effective care.
Yes, hospitals make use of remote patient monitoring solutions. The use of IoMT devices provides nurses and doctors with an overview of all patients from a centralized location. Remote patient monitoring allows healthcare facilities to allocate resources more efficiently while increasing the level of patient care and customer satisfaction.
An example of remote patient monitoring in action is an embedded heart monitor that can alert providers to abnormal activity so they can take proactive measures. The ability of the device to communicate with providers in real-time makes it more effective in addressing changes in a patient's condition.