What is DaaS in Cloud Computing?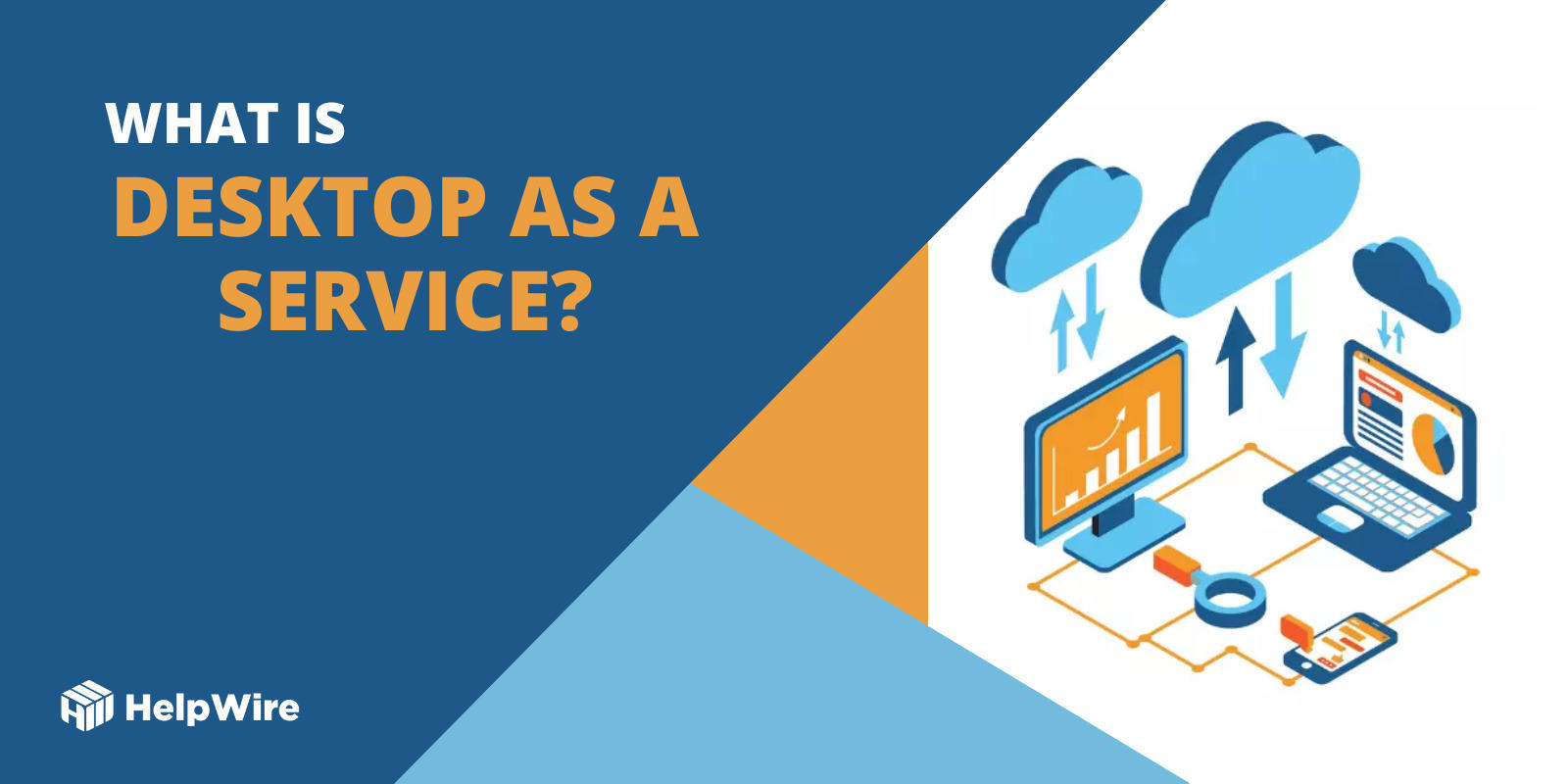 DaaS meaning "Desktop as a Service" is a cloud computing service that delivers virtual desktops over the internet to users. It refers to the cloud-based delivery of virtual desktops to end-users, one that is becoming an increasingly popular option in cloud computing.
With DaaS in cloud computing, users can access a fully functional desktop environment, complete with operating system, applications, and data, from any device with an internet connection. The virtual desktops are hosted in the cloud, typically in public or private cloud infrastructure, and are managed by a third-party service provider. The service provider takes charge of the maintenance, security, and software updates of the virtual desktops, giving businesses the luxury of time to focus on their core operations instead of combining IT management to their list of concerns.
Businesses running their operations around remote or mobile workforces often use DaaS, as it gives employees seamless access to their work desktops from anywhere, using any device.
DaaS can also be useful for businesses that want to minimize their hardware and software investments, as it eliminates the need to purchase and maintain expensive desktop hardware and software.
Advantages and Disadvantages of DaaS
Below we've outlined several of the main pros and cons that DaaS provides users.
Pros
Minimized downtime for IT support: IT support downtime is decreased thanks to Desktop as a Service. Businesses can now offer online IT help to their staff right from the comfort of their home.
Less expensive to run: One of the key benefits of Desktop-as-a-Service (DaaS) is its potential for cost savings. DaaS-enabled devices require significantly less computing power compared to traditional desktops or laptops, resulting in reduced expenses and lower power consumption. This can translate to considerable cost savings for businesses, making DaaS a cost-effective solution for IT infrastructure.
Increased device flexibility: Businesses benefit from the greater device flexibility offered desktop-as-a-service (DaaS), which makes it run on a variety of operating systems and device kinds. The trend of employees bringing their own devices to work aligns with this flexibility, which relieves the cloud service provider of the burden of supporting these devices. This lessens the workload for IT support teams and guarantees a uniform user experience across various platforms.
Alleviates Security Risk: Data from devices on DaaS infrastructure are collected in central storage. With this, DaaS significantly reduces security risks by storing data in a secure data center, which prevents unauthorized access to sensitive data in case of device theft. Additionally, DaaS simplifies security updates and patches as it allows remote installation on all desktops concurrently.
Cons
Higher long-term costs
While DaaS may have lower upfront costs compared to VDI, the subscription-based pricing model of DaaS can accumulate over time and result in higher long-term costs.
Less Customizability
Another drawback of DaaS is that not all organizations may benefit from it, as not all organizations may have their own unique security and regulatory needs met by a conventional DaaS package. Therefore, it can be difficult to locate a DaaS package that ideally suits an organization.
Limited Control
Desktop-as-a-service (DaaS) provides limited management of updates and security, potentially resulting in intractable IT challenges. These challenges are mainly caused by hosting issues associated with using a public cloud system. An organization's output may, therefore, be totally hampered if the public cloud that houses its virtual desktops is completely disrupted.
Use Cases for DaaS
DaaS system is applicable to various use cases and scenarios, including:
•

Working with multiple endpoints

: Tech experts whose roles demand working from multiple devices can now do so without having to deal with numerous physical devices with varying OS. With DaaS, users can access unique virtual desktops instead of moving between devices or different operating systems on a single PC.
•

Ad hoc or seasonal workers

: DaaS's cutting-edge technology can have a virtual desktop up and running for temporary employees in a short time. And when their contract time with your organization comes to an end, you can easily decommission their desktop in no time.
•

Institutions of Learning

: IT managers can simply give teachers and pupils their own virtual desktops, packed with the required permissions. And DaaS makes it so simple that decommissioning their computers when it's time for them to depart the institution of learning is only a couple of mouse clicks away. This guarantees an efficient procedure for handling laptop management and access control, enabling instructors and students to concentrate on what's most important—learning.
•

Professionals in the Healthcare Industry

: DaaS infrastructure comes in handy in the healthcare industry, where privacy is a top priority. IT managers can configure desktop rights and guidelines specifically for each healthcare professional, ensuring that they have access only to the patient whose data they need. With DaaS, each healthcare professional has their own individual virtual desktop, which can be easily decommissioned when they leave the organization.
•

Nomadic and Remote Workers

: Desktop-as-a-Service (DaaS) offers a suitable solution for mobile and remote workers craving secure access to corporate resources from any location, anytime, and on any device. This technology affords mobile and remote workers the advantage of leveraging these features to boost organizational efficiency while still maintaining high-security standards.
What Is the Difference Between VDI and DaaS?
Specialized IT experts are necessary for creating, constructing, configuring, and managing VDI services—but DaaS carries its own demands, as well.
DaaS takes care of all the technical aspects of your infrastructure:



- maintains every system up to date; - checks hardware;


- resolves potential problems;


- takes care of VMs;



- provide technical assistance when necessary..

With VDI, you are essentially in charge of everything IT, whether it be on-site or at a hosting center:

- manage web servers, networking, storage, licenses, endpoints, and other things by or own.

- running VDI on an off-site private server, so the host company takes care of infrastructure management, giving you more free time.


Multi-tenancy architecture, where a server or data center hosts a single instance of an application that serves numerous customers or "tenants."



Each tenant's services are isolated and made available on demand by the DaaS provider.



However, the consumption of resources or the security of other clients can impact your services, particularly when there is a case of compromise in the system.

Single-tenant, where clients' operation is in an exclusive, dedicated setting.



It affords IT managers total authority over the distribution and configuration of the IT resources used by their companies.



It helps eliminate concerns about other organizations consuming excessive resources and interfering with services.

DaaS takes over the management of an organization's complete IT infrastructure, including monitoring, configuration, and storage.



Сonnection to the internet is needed to access the DaaS management layer, which can raise vulnerability to breaches and cyber attacks.

With VDI you possess absolute authority over IT tools.



This is so that IT managers can limit access to virtual desktops and apps to only authorized users, thanks to the single-tenant architecture of the VDI solutions.

A subscription-based strategy without significant upfront expenses.



And thanks to their pay-as-you-go pricing model, companies can flexibly expand their operations and only pay for the resources they use.



A cost-effective solution for small to medium-sized businesses (SMBs) with varying resource requirements.

Procuring and maintaining an up-to-date VDI infrastructure demands a huge capital expenditure (CapEx).



VDI is an option for enterprise-level organizations that substantially have stable projections on resource needs and development.

DaaS installations offer options for incredible adaptation. For instance, in accommodating contract workers or ad hoc workers, virtual workstations and apps can be quickly provisioned headlong without hassle. Additionally, scaling down resources is effortless.

To construct and sustain the VDI, there is a need for high-level infrastructure configurations and substantial work. Introducing new features may require a significant time investment, sometimes spanning several days or even weeks.
Desktop as a Service (DaaS): What's next?
DaaS markets are expected to grow at a compound annual growth rate of 18 percent from 2019 to 2029. The increase in cloud-platform implementation fuels the growth of Desktop as a Service overall.
DaaS growth can be attributed to the ongoing trend of BYOD. Trends are expected to improve during the post-pandemic world as remote work flexibility continues to be more commonplace.
Because the BYOD trend flourishes, organizations leverage desktop virtualization—enabling smoother, cost-saving, and more productive BYOD policies. All of this amounts to data security becoming an even higher priority than it already is.
Data and programs exist on the cloud (not the end-users actual device) with DaaS services—but organizations have the additional security protection from the cloud provider, as well.
The added protection allows companies to search for multi-factor authentication—a security measure defending against data theft by preventing access to the attacker.
Empowered by ever-evolving cloud technology, DaaS is fast becoming a widely used platform by most enterprises. This solution improves employee productivity and wellness.
The increasing popularity of hybrid work is accelerating DaaS's large-scale deployment. However, hackers are getting better and better at keeping up with tech advancements, meaning security blindspots must be considered and addressed.
Note: Companies must ensure they implement DaaS with additional security measures from the cloud services provider to optimize protection.
Below you'll find answers to some of the most frequently asked questions around Desktop as a Service (DaaS.)
FAQ
SaaS provides software to anyone with a connected computing device, a web browser, and reliable internet connection. The software is a web-based app with backend databases and processes operating within the cloud.
Alternatively, DaaS offers a full desktop experience for users via the internet. DaaS specifically focuses on helping organizations easily and effectively manage remote desktop access.
Overall, DaaS is a secure access point for virtual desktops where security protocols are administered by the DaaS provider. Being that DaaS has a reputation to maintain, they invest major amounts of money into ensuring the security of their service.