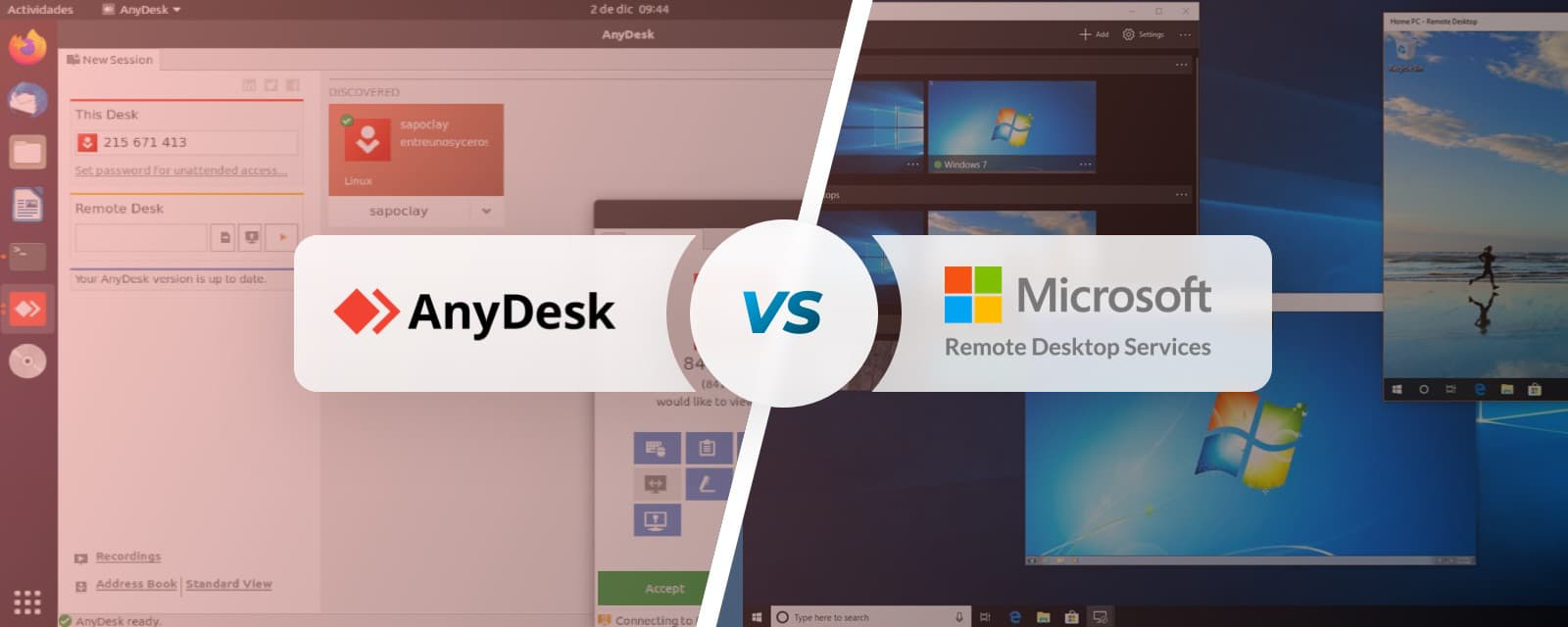 Microsoft Remote Desktop vs AnyDesk
Remote access software is an essential solution for individuals or organizations who need to manage and access remotely located computers. Many remote access tools are on the market with different features that appeal to various audiences. This article looks at the differences between RDP and Anydesk to help you select the right one for your situation.
Overview

Microsoft provides Remote Desktop Protocol (RDP) as a solution for remote connections between computers and/or servers. RDP is integrated into the operating system and is compatible with both Windows and Mac operating systems. RDP provides an easy-to-use graphical interface for connecting to and accessing the remote computer. Two separate software versions are required. The machine that is being accessed must run RDP server software while the user wanting to access the server must run the client version of RDP.

AnyDesk is an alternative to Microsoft's RDP. It is proprietary software that is compatible with all the common operating systems. AnyDesk is free to use for private users. To connect remotely, both computers need to download and run AnyDesk. When you launch AnyDesk – it will show you that computer's Personal ID. Share that ID with the person you want to grant access to your machine. AnyDesk allows you to share keyboard and mouse access as well as screenshots of the desktop. While there are other similar products available on the market, AnyDesk outperforms these with the speed at which it runs.
Features
Microsoft RDP
RDP is available as a desktop or mobile application. When trying to access an application using a mobile device – you can still access traditional keyboard shortcuts and keyboard modifiers with the app's separate keys.
RDP gives you full access to files stored on the remote computer allowing easy printing and sharing of documents.
The RDP software lets you stop the server machine from going to sleep to allow for remote connections.
Resources like session-based desktop, virtual desktops and other RemoteApp programs can be made remotely accessible by the Admin of your computer.
AnyDesk
For an alternative to RDP, consider AnyDesk. AnyDesk is similar to other commonly used products like TeamViewer – however AnyDesk is much faster.
As its name indicates – AnyDesk lets you gain remote control anywhere, anytime and from any desktop provided the software is installed. AnyDesk is free for personal use, with various pricing options available for business users.
AnyDesk is lightweight – only 2.8MB and it allows you to collaborate online with the option to record sessions. You have full control to own and control your own network with high-speed performance.
---
Interface Comparison
Both RDP and AnyDesk offer a user-friendly interface. The visuals are good on both applications and images are crisp and clear. When connecting to a mobile device, the user experience is the same as when connecting to a remote desktop computer.
---
Operating Systems
Either of these two tools is compatible with multiple operating systems. Another way to compare the NoMachine and RDP is by the number of operating systems that can be accessed remotely with the tools.
---
Pros and Cons
The pros and cons of Microsoft RDP and AnyDesk are outlined in the following tables. We think this will help you compare their features with AnyDesk and SplashTop and make the correct purchasing decision.
RDP
| | |
| --- | --- |
| | |
| By using the remote server's resources to run applications, a high-speed internet connection is not required. | Advanced configuration required to setup a remote connection |
| With RDP you are not limited to the type of device you choose to connect from. | Networks and remote systems are not accessible during downtime |
| Monitor and control connected devices with ease | It's an expensive and complicated set up for multi-user environments |
| Access files and folders easily | You can not reboot a computer remotely with RDP |
| Hassle-free troubleshooting | May require additional third-party tools |
| | If multiple users are accessing a computer simultaneously, resource bottlenecks may occur. |
| | Only compatible with Windows devices |
---
AnyDesk
| | |
| --- | --- |
| | |
| Download file is only 3MB | Some users have experienced issues when copy-pasting |
| Fast navigation due to low latency rate | Sometimes the resolution during sessions changes |
| | Users must install the software to access system files |
| Easy user-friendly interface with keyboard shortcuts | |
| | |
| | |
| | |
---
Price
As with many remote assistance tools, various pricing options are available with these solutions. You can easily compare the price of these tools with the cost of alternative solutions like AnyDesk and Zoho Assist.
RDP is compatible with all versions of Windows but there is one restriction: the machine that is being accessed remotely must be on either Pro or Enterprise versions of Windows 8 and 10. This restriction does not apply to the machine wanting remote access. Windows 10 Pro licensing starts at $200 There are three pricing options for AnyDesk: Essential at $9.90/m, Performance at $19.90/m and the Enterprise plan is customized for your requirements. You would need to contact AnyDesk for a quote.
Each plan offers the minimum required features available on all the plans. The performance plan allows up to 3 devices per user.
A 14-day trial is available to allow you to determine which plan suits your requirements without incurring any costs.
---
Conclusion
Whether you opt for AnyDesk or Remote Desktop Connection (RDP) – both will provide you with the ability to access various devices remotely. AnyDesk does trump RDP in that it provides a few more additional features. The free personal version of AnyDesk includes most of the features of the software. The commercial plan give more options but is still affordable.
If cost is a factor, then RDP is a good choice to consider as it is free for personal or commercial use. Easy to use with a simple interface, RDP provides a secure remote connection with limited customizable features. RDP includes features like a privacy mode where users can blacken the screen; the ability to take screenshots; choose different input options; and switch between windows if working within a multi-screen setup.