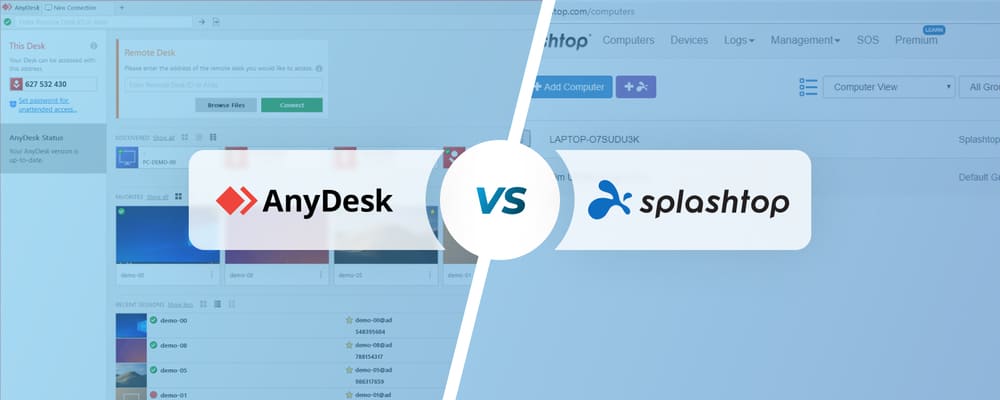 AnyDesk Vs Splashtop
There are many tools available to make remote access possible. This article will highlight two of industry leaders – Splashtop and AnyDesk. We've done the legwork to save you the time from sifting through all the options available. We'll look at features, use cases as well as answer some common questions.
---
Overview

AnyDesk Remote Desktop allows you to access and interact with remote devices anywhere. Whether for remote working, support and maintenance or online collaboration, AnyDesk has a number of useful features to ensure the best adaptable and simple user experience. AnyDesk entered the market in 2014 and has since been adopted by over 100 000 users. AnyDesk is compatible with all major platforms including Windows, macOS, Linux, Android, Chrome OS and even Raspberry Pi.
You can also customize your desktop by using your personalized username instead of your default AnyDesk ID. This allows you to apply brand identity to your remote desktop creating a familiar and more user friendly experience. AnyDesk also allows full permission, privileges and feature configuration ensuring the software works for your needs.

Splashtop Remote Support is a remote support software and endpoint management solution. Boasting over 20 million users across the world, Splashtop is especially useful for managed service providers and companies that need to provide remote technical support and help desk services. With flexible monthly subscriptions, and a pay by number of endpoints model, the software adapts to your business needs.
You can have concurrent sessions and unlimited technicians and client devices, allowing you to connect from any device wherever you are.
---
Features
Anydesk
Remote Server Monitoring: AnyDesk allows you to monitor all workstations that are sharing a server. You can allow unattended access to any workstation to perform tasks like software updates and installations, file transfers and remote IT support. This feature is available for all versions of AnyDesk for Windows, macOS and Ubuntu.
Mobile Device to PC Remote Control: AnyDesk extends the traditional workspace by allowing users to access all remote computers and devices. The AnyDesk mobile app has most of the same functionality as the desktop app, allowing your staff to fulfill their job requirements from anywhere.
Whitelist Options: AnyDesk gives you total access control with its whitelist feature. You can specify users and devices on the whitelist allowing pre-authorized access to various servers and services, eliminating the need to keep requesting permission, while you avoid AnyDesk scams danger.
Widget-Inspired User Interface: AnyDesk's latest user interface is inspired by widgets. It is fully customizable and allows you to drag and configure the interface to suit your preferences. You can still choose to display the options as tiles, small tiles are a simple list.
Multi-Language Support: AnyDesk includes multi-language support which is especially useful in a global business environment with a workforce scattered across the world.
Splashtop
Splashtop is an easy to deploy remote access solution. Available for Windows, Mac and Linux – Splashtop is based on their high-performance engine that gives the end user HD quality and fast connections.
Splashtop includes industry standard security features like TLS and 256-bit AES encryption and two-step verification.
Splashtop supports all traditional functions like remote printing, session recording, chats between devices and file transfer. You can even transfer files without creating a remote session.
Some of the key features of Splashtop include:
Remote Wake and Reboot
Splashtop includes a remote reboot and remote wake feature. Whether you use the app or the web console, you can choose a normal for safe reboot. The ability to do a remote reboot is especially useful for IT support teams that may be doing remote software installations or upgrades.
Remote Wake or Wake on LAN (WOL) allows you to remotely wake up a remote computer on your LAN. The remote computer that you want to wake has to be connected via a LAN cable. The remote computer must support WOL to work.
With the increase in work from home or hybrid working models – Remote Wake and Sleep are two features that are mandatory in any kind of remote software.
Multi-Monitor Navigation
Splashtop lets users view multiple screens simultaneously. This is possible in a multi-to-one and multi-to-multi. The feature works on Mac too.
---
Interface Comparison
Both AnyDesk and Splashtop provide a simple and intuitive user interface. The various tools are displayed for each access and quick connections. The user is prevented with a clear image of the remote computer thanks to image scaling.
---
Operating System Support
Both AnyDesk and Splashtop support the main operating systems, however, AnyDesk is superior to Splashtop where it supports Linux, FreeBSD and Raspberry Pi.
---
Pros And Cons
The table below lists the pros and cons of AnyDesk and Splashtop. While it is outside of the scope of this article, we do recommend that you extend your comparison to other applications available like Anydesk and RDP.
AnyDesk
| | |
| --- | --- |
| | |
| Compact installation file; | Copy paste feature doesn't work well; |
| Low latency and responsive navigation; | Resolution is inconsistent; |
| Unlimited time limits for sessions; | Mandatory installation required. |
| Intuitive user interface with keyboard shortcuts for improved productivity; | |
| Multiple operating system support. | |
Splashtop
| | |
| --- | --- |
| | |
| Simple intuitive user interface; | Tricky installation process; |
| Variable pricing options; | Limited features on lower cost plans; |
| Multi-monitor support (plan specific); | Technical support availability based on price plans. |
| | |
| TLS and 256-bit AES Encryption; | |
| | |
---
Pricing
Choose your price plan based on your business requirements. Both Anydesk and Splashtop offer a range of plans which offer different features. If cost is an important consideration for your decision, also consider pricing of alternatives like Anydesk or Zoho Assist.
Splashtop
Splashtop offers a range of options which are all billed annually.
• Business Access Solo – For $5/month per user with access to up to 2 computers only. Billed annually $60.
• Business Access Pro – Best for individuals and small teams. Access up to 10 computers per user. $8.25/user per month. $99 annually.
• Business Access Pro Volume licenses are available for $6.19/user per month for 10+ users, for 4-9 users, $6.60/user per month.
• Enterprise options with Active directory and single sign on (SSO) options available. Contact Splashtop for pricing.
Anydesk
AnyDesk's most basic price plan is available in the Essentials package at $9.90/month. If you want additional business features, upgrade to the Performance package for $19.90/month per user. The Enterprise version offers a fully customizable experience, with cloud or on-premises services. Get all this and mass deployment ability for $29.90/month per user. All plans are billed annually.
Before you decide on what's right for your business, a 14 day free trial is available on both AnyDesk and Splashtop.
| | | |
| --- | --- | --- |
| | | |
| | | |
| Free personal use version | | |
| | Essentials $9.90/month per user | |
| | Performance at $19.90/month per user | Business access $60-$99/year |
| | | |
| | | |
---
Conclusion
Both Splashtop and Anydesk offer a suitable remote access solution for small and medium sized enterprises. With all the minimum requirements for which is extensible based on the price tier you decide on, you can empower your workforce and support teams to access any remote device from any location and from any device.