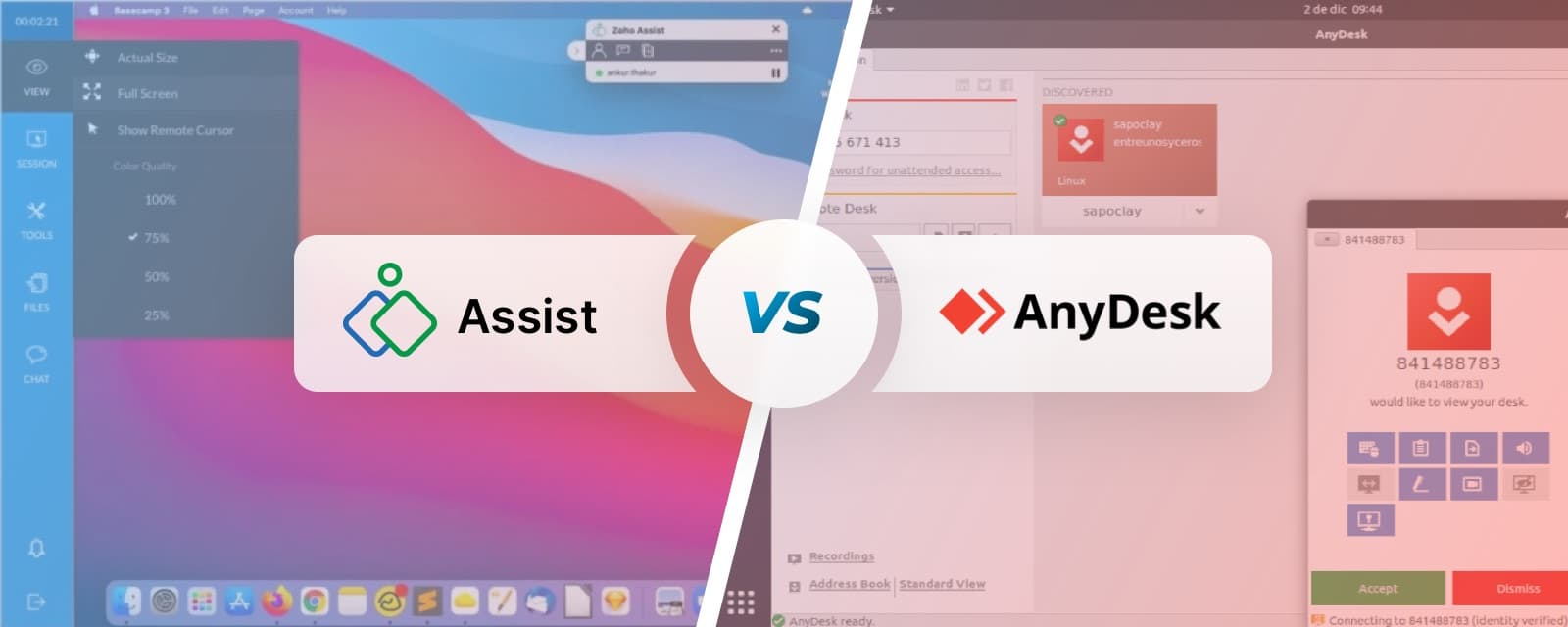 AnyDesk vs Zoho Assist
With so many options available for your remote desktop requirements, it's difficult to decide on what is best for your company's needs. This article will highlight two popular options – GoToMyPC and Microsoft Remote Desktop. With a side-by-side comparison of what each option offers, along with price and performance, making an informed choice between GoToMyPC or Microsoft should be a lot less daunting.
Overview

Online software company Zoho offers Zoho Assist – a secure and reliable remote desktop solution that allows you to make on demand or scheduled remote connections sessions. Zoho Assist allows for screen sharing as well as in session live chat. It works on Mac and Windows and requires no installation.

AnyDesk is another commercially available option for your remote desktop requirements. Unlike Zoho Assist, installation is required and the software must be running in order to initiate a remote desktop session. AnyDesk works on a device ID principle. The machine that you want to connect to must share its ID with the machine that is wanting remote access. This is similar to other popular tools like TeamViewer. The advantage of AnyDesk is its low latency rate – resulting in a faster user experience. Within an AnyDesk remote session, you can share your mouse and keyboard, and even take and share screenshots with a simple drag and drop action.
Features
Zoho Assist
Zoho Assist includes multi-screen support – allowing you to access various devices simultaneously. Every session can be recorded, and all support activities are logged for your internal records and training. Zoho Assist uses Two Factor Authentication (2FA) to provide additional security. These measures can include the user receiving an SMS or One Time Pin (OTP). There are no downloads or installations required to use Zoho Assist as it is cloud based. This means there's no issues around upgrades and version compatibility. All communications that occur within the Zoho Assist environment are encrypted using SSL and AES 256-bit encryption. Firewalls are also not an issue when using Zoho Assist and easily configured.
AnyDesk
AnyDesk provides an alternative for remote desktop requirements. Similar to other products like TeamViewer, AnyDesk is a lightweight application that is only 2.8MB. The file must be downloaded but installation is not required. Simply run the application from the downloaded file. AnyDesk offers a free for personal use and a paid subscription model for businesses. AnyDesk allows you to collaborate and own your network, quickly and securely. All sessions are recordable.
---
Interface Comparison
Both Zoho Assist and AnyDesk provide a user-friendly interface with a clear image display that can be scaled without losing any resolution. Both applications allow easy access to mobile devices.
---
Operating Systems
You can use both of these tools with all popular operating systems. Zoho Assist and TeamViewer support a wide variety of platforms for establishing remote access.
---
Pros and Cons
We provide the following tables with the advantages and disadvantages of Zoho Assist and Anydesk. You can compare them with what RDP and AnyDesk provide to make the best choice for your situation.
Zoho Assist
---
AnyDesk
| | |
| --- | --- |
| | |
| Small file size for download | Some users have experienced issues when copy pasting |
| Speed with low latency rate | The display resolution sometimes changes while in session |
| | While the application does not need to be installed, if you want to access system files, this is not the case |
| | |
| User friendly and responsive interface with keyboard shortcuts. | |
| Available for all major mobile platforms | |
| | |
---
Price
Zoho Assist Cost
Zoho Assist offers not only a limited free plan but also two paid unattended access solutions and three paid remote support options. Each plan comes with a monthly price, but you can avail of annual subscriptions, which can help you save over 15%.
Here's the breakdown of the packages below to learn about their prices and differences.
Free
The free plan backs one remote technician and five unattended computers. It includes plenty of features, such as desktop app, two-factor authentication, instant chat, user management, basic customer support, clipboard sharing, log reports, organization roles, and idle-session time out.
The package also covers multi-monitor maneuvering, Zoho Desk and SalesIQ integration, remote Ctrl+Alt+del, and Zoho Assist APIs and support for Chrome OS, Windows, Mac, and Linux.
Standard (remote support)
The Standard (Remote Support) plan costs $10 per month per technician when charged yearly or $12 when charged monthly. Everything in the free version is included in this package, alongside voice chat, file transfer, email configuration, screen capture, and remote screen blanking. It also has session transfer, reconnect and reboot, and fusions with ServiceNow, Google Contacts, Zendesk, and Jira.
Professional (remote support)
The Professional (Remote Support) package is priced at $15 per month when billed yearly or $18 when billed monthly. It has all the features in the Standard edition, together with personalized email templates, screen sharing, session scheduling, and advanced reporting. Moreover, it comes with mobile loT device support, screen swapping, and notes.
Enterprise (remote support)
Zoho Assist's Enterprise (Remote Support) plan is worth $24 per month per technician when charged yearly or $28 when charged monthly. This package consists of everything in the Professional package, plus a custom widget, video chat, service queue, extra VolP credits, and annotation. Moreover, it has remote print, session audit, additional cloud storage, department organization, and session recording.
Standard (unattended access)
The Standard (Unattended Access) package costs $12 when charged monthly or $10 per month per technician when billed annually. This plan comprises access to 25 unattended computers with limitless users or technicians.
Also, this offer consists of the features in the free version, along with Wake on LAN, tailored reports, computer grouping, multi-monitor navigation, and bulk employment. It even comes with group permissions, file transfer, mobile apps, session confirmation, screen-capture abilities, and remote power.
Professional (unattended access)
Finally, the Professional (Unattended Access) plan is priced at $18 when charged monthly and $15 per month per technician when billed yearly. This option is composed of all the features in the Standard version, plus advanced reports, annotation, mobile loT device support, bulk employment via Distributor, contact management, and diagnostic tools.
This package also includes session recording, tailored email templates, session audits, remote print, personalized domain mapping, department organization, and service queues.
Anydesk
There are three available AnyDesk pricing plans: Solo, Standard, and Advanced. The Solo option is $14.90 per month, the Standard is 29.90 per month, and the Advanced is $79 per month. There is also a customizable Ultimate plan for enterprise-level businesses, its price depends on your needs.
AnyDesk Solo
It's the most affordable plan from AnyDesk, which suits single-person businesses and individual users. It costs $14.90 per month and provides one remote session at a time. You can activate this license on 3 different devices.
It has basic features like file transfer, remote printing, restart, mobile device support, and auto updates. Plus, one address book with 100 entries and session logging on the main device only.
AnyDesk Standard
It's the most popular plan from AnyDesk, which fits small teams. There can be under 20 licensed users in a team with up to 500 managed devices. It starts with 1 outgoing connection for $29.90 per month, but you can additionally purchase the ability to have up to 20 sessions simultaneously.
It offers all features from the Solo plan, plus Wake-On-LAN, TCP-Tunneling, custom branding, and a command line interface. You can create up to 6 address books, record sessions, and use basic user management solutions.
AnyDesk Advanced
It's a great plan for middle-sizes and large teams. You can have up to 100 licensed users in a team with up to 1000 managed devices. This plan starts with 2 concurrent connections for $79.90 monthly, but you can buy up to extra 50 simultaneous connections.
It offers all Standard features, plus mass deployments, unlimited settings of group policies, advanced user management, and phone support. You can create 16 address books and get a beta-access to permission management.
AnyDesk Ultimate
It's the most robust plan from AnyDesk because businesses can fully customize it to their needs. It includes unlimited licensed users in a team with up to 2000 managed devices, unlimited address books, and entries. Session logging is available online for all organization members.
You get access to AnyDesk On-Premises, Single Sign-On (SSO), and customizable user management settings. Price is negotiable and depends on the company's needs.
| | | |
| --- | --- | --- |
| | | |
| | | |
| | | |
| | With Remote Support or Unattended Access $8/month | |
| | With Remote Support or Unattended Access $13/month | |
| | With Remote Support $21/month | |
| | | |
---
Conclusion
Commercially available remote support tools generally work across the most common desktop and mobile operating systems like Windows, MacOS and Android or iOS. Which solution you choose would depend on your company's needs. AnyDesk offers a stable and reliable remote desktop solution, but it can be expensive. Although their licensing fee includes all future updates, their top tier Enterprise plan can be customised for your company's specific requirements. If price is a consideration, Zoho Assist is a great choice to consider.