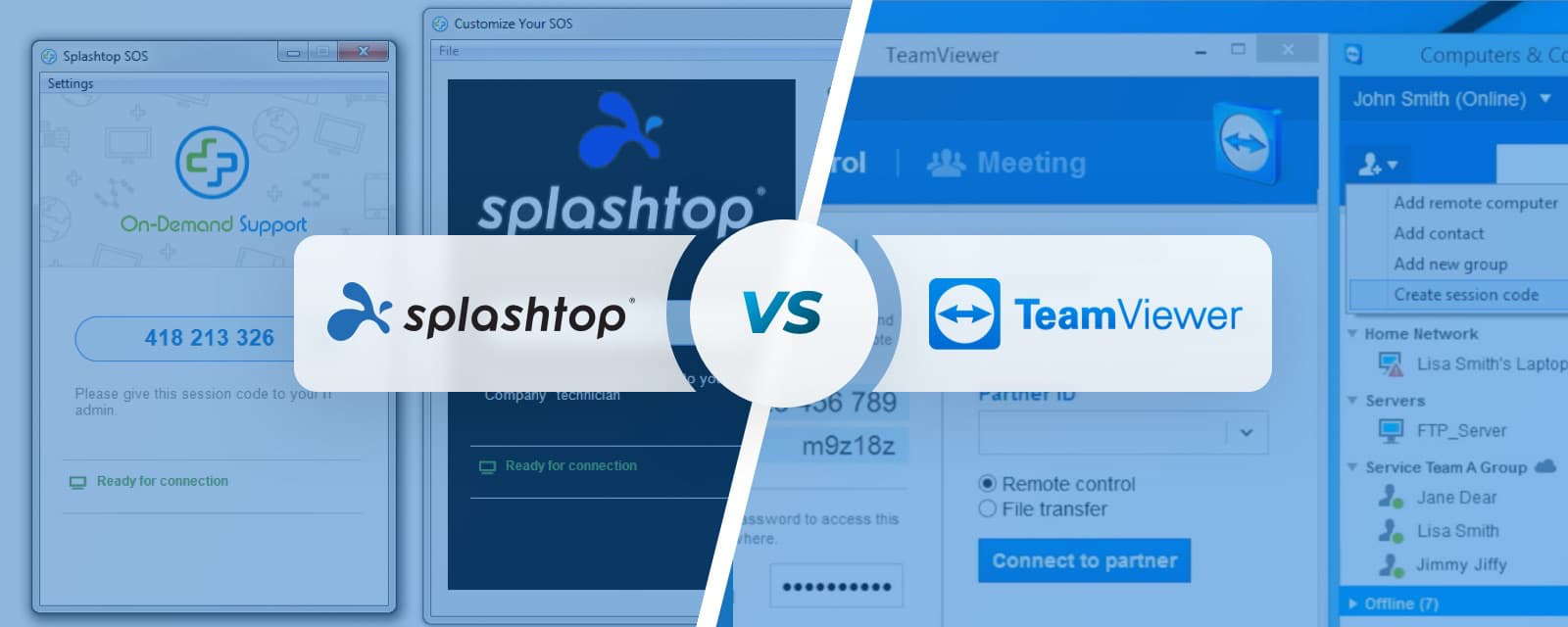 SplashTop vs TeamViewer
This article is here to help make choosing between TeamViewer and AeroAdmin easier. Below we compare and highlight the unique features and flaws in both of these software tools, giving the user the information they need to make the choice that's best for them. We discuss their commonalities, and identify key differences between TeamViewer and SplashTop, ensuring that readers can make their selection with confidence.
---
Overview
SplashTop

While there isn't a free version, an affordable and reliable remote desktop solution for small businesses is SplashTop Business Access. To access numerous features (such as session recording and chat), SplashTop Business Access requires users to subscribe to high-level plans.
However, when subscribing to SplashTop Business Access's "Solo" plan (for $99.00 per year), one user can enjoy remote wake-up, multi-screen displays, and numerous additional features. A highly convenient feature of the Solo plan allows users to access two different computers. Other similar single-user plans only allow access to one computer.
SplashTop Business Access also sells enterprise-level plans, as well as seperate remote access products designed for customer and IT support departments.
TeamViewer

Alternatively, TeamViewer is perfect for corporations, enterprise-level organizations, and IT teams- but does provide an extremely powerful free version that's meant for non-commercial use only.
TeamViewer is overflowing with features, and effortlessly supports numerous platforms, operating systems, and devices;
Offers highly effective and powerful data security measures;
Users gain full access to remote machines (and servers) capable of managing multiple systems simultaneously;
Provides a VPN alternative, super-easy file sharing, and online meetings that support up to twenty-five guests.
Feature
SplashTop
SplashTop gives users remote access tools that boast unique and highly-targeted features. Simultaneously, numerous and noteworthy global features include a straight-forward and user-friendly interface, and full access to client computers without the need to install software on the client computer. Splashtop Business Pro offers true multi-to-multi monitor support.
Simultaneously, SplashTop's intuitive application provides users with access and control over unattended machines from numerous devices. Users can also connect multiple unattended PCs, ensuring they always have full control over critical information and files.
Pending on the subscription plan purchased, SplashTop provides a variety of bonus features. One feature being that all subscriptions have file transfer tools by default, available session recording (when applicable), and support packages with built-in chat modules.
TeamViewer
At base level, TeamViewer provides users with screen share, and remote desktop access tools. Excitingly, TeamViewer also boasts extensive additional features that are described below:
TeamViewer provides streamlined cross-platform compatibility, meaning that users can access Android and iOS devices from Windows or Mac computers (and vice versa);
TeamViewer allows multiple users (like a tech support team) the ability to log into a single session simultaneously. Allowing for quicker, and more effective problem-solving for complex issues;
The TeamViewer interface even allows users to transfer files between devices/machines (all users need to do is connect via "file transfer" and follow the prompts);
TeamViewer is compatible with numerous network and IoT devices, allowing simplified monitoring and control over the device network.
| Features | TeamViewer | SplashTop |
| --- | --- | --- |
| File Transferring | | |
| Session Recording | | |
| Audio Support | | |
| Session Transferring | | |
| Remote Printing | | |
| USB-Sharing | | |
| Real-Time Chat Options | | |
| Mobile Access Capabilities | | |
Operating System
A wide variety of OS are supported by both software, and users can compare TeamViewer and AeroAdmin based on the total number of operating systems with remote support accessibility.
| Supported OS | TeamViewer | SplashTop |
| --- | --- | --- |
| Windows | | |
| MacOS | | |
| Android | | |
| Linux | | |
| iOS & iPadOS | | |
| Chrome OS | | |
Pros And Cons
See below for a detailed list of pros and cons encompassing both remote access software tools. We recommend balancing these pros and cons against RemotePC and SplashTop (ensuring the best possible decision is made).
TeamViewer:
Pros
Free version for personal-use only
User-friendly GUI
OS support for: Windows, Mac, Linux, Chrome OS, Android, iOS, and Blackberry OS
All features compatible with Mac and Windows operating systems
Robust security and protection (256-bit AES Encryption and 2-Factor Authentication)
Cons
Users cannot view 2 remote systems at the same time
Additional cost for mobile access
SplashTop:
Pros
Budget-friendly subscription plans
Simplified UI
Ultra-fast connection speed
Drag-and-drop file transfer feature
Complete multi-monitor displays (available with a high-tiered plan)
OS support for: Windows, Mac, iOS, Android, and Chrome
TLS and 256-bit AES Encryption, 2-Step Verification, Device Authentication, and numerous 2nd-Level password options
Cons
More intensive installation (Mac OS especially)
Purchase of high-tiered plans required to access most features
Priority technical support available with high-tier plans only (i.e. phone support hours aren't listed on website)
Pricing
Both options provide numerous pricing options, and with the insight provided for these 2 powerful apps, users can easily compare pricing policy with RemotePC and TeamViewer.
SplashTop
There are a variety of SplashTop plans based on a user's specific needs.
SplashTop Business Access

lets users access computers from any location. SplashTop Business Access costs between $60.00 to $99.00 per user (billed annually);

SplashTop Remote Support

allows remote unattended devices accessibility to a defined number of Window and Mac computers (accessible by an infinite number of licensed technicians). SplashTop Remote Support costs $299.00 for 25 computers (billed annually);

SplashTop SOS

is ideal for on-demand support provided by licensed technicians (higher-priced SOS plans provide unattended remote computer access). SplashTop SOS costs $199.00 per technician (billed annually);

SplashTop Education

provides screen-sharing tools specifically developed for educational purposes. SplashTop Education costs $29.99 per licensed teaching professional (billed annually).
Note: All SplashTop subscription plans provide a free 7-day trial
TeamViewer
As a leading remote access software tool, this is a shockingly good value- and thanks to frequent TeamViewer discounts and sales, costs are quite affordable and appealing throughout the year.
TeamViewer's lowest tier plan supports 1-user, and costs

$50.90/month

;
TeamViewer's next tier plan supports up to 20-users, and costs

$102.90/month

;
TeamViewer offers a plan that supports up to 200-users, and costs

$206.90/month

.
Regardless if users conduct business in a defined workspace, or function as a remote workforce spanning the world… Modernity demands that most white-collar positions use computers that IT teams will need to access for problem-solving and general maintenance.
Thus, remote access tools are a vital investment for business in 2022 and beyond.
| Plans | TeamViewer | SplashTop |
| --- | --- | --- |
| Free Version | Yes | No |
| Free Trial | No | Yes |
| Business License | $50.90 | $60.00 |
| Premium License | $102.90 | $99.00 |
| Corporate License | $206.90 | $299.00 |
---
Conclusion
SplashTop is ideal for single-users and small businesses because it's affordable, and provides better support. However, TeamViewer is an equally excellent software, and boasts greater performance and many additional features.
For businesses that require high-performance, and robustly-featured tools, TeamViewer is the perfect choice. For individuals, or small to medium-sized businesses (even enterprise businesses in certain circumstances), SplashTop is a better option.