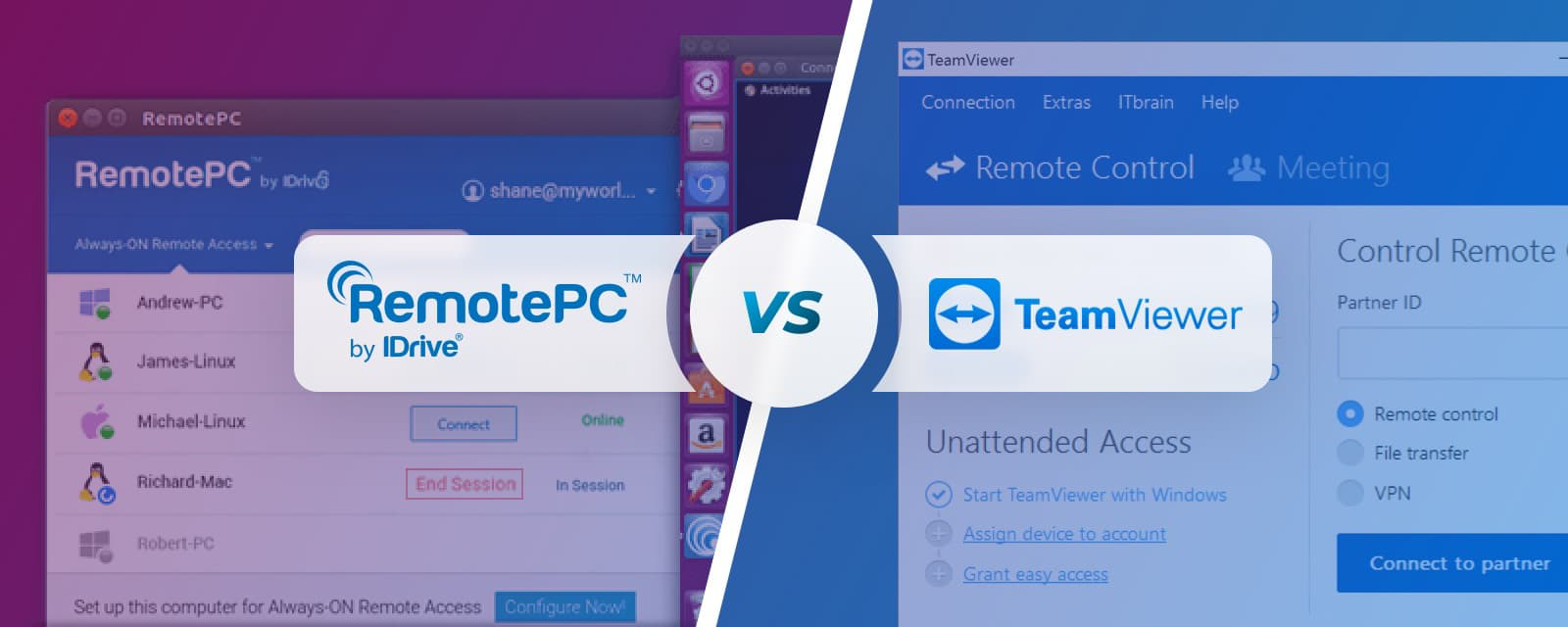 RemotePC vs TeamViewer
It can be difficult to select the ideal remote support software for your company when there's such a wide array of options to choose from. In this article, we'll compare two extremely popular remote desktop providers: TeamViewer and RemotePC. We'll go over important features, performance capabilities, and cost vs value. All of which, by the end of this post, should help readers feel confident in which solution fits their unique preferences.
---
Overview

Developed by IDrive Inc. (a cloud-storage, remote access, and online backup company founded in 1995), RemotePC is a remote access tool beloved by many. In fact, the Better Business Bureau gives IDrive Inc., an A+ rating! 
RemotePC makes it easy to access computers remotely, and runs on Windows, Mac, Linux (along with Android, and iOS devices with secure AES-256 encryption). Users are given two options for remote sharing: one is the "always on access", which provides remote access to a computer 24/7- or they can provide one-time access with a sharing key.
RemotePC doesn't even require installation.

TeamViewer is one of the most globally renowned remote desktop software toolson the market. Setting itself apart as exceptionally user-friendly, and making it quick and easy to connect with other computers/devices (be it server, laptop, or desktop PC).
TeamViewer is also a vital tool for many remote support teams, allowing experts to easily access and troubleshoot a computer from afar. It also provides exceptional screen sharing capabilities. In Spite of its many features, TeamViewer is more often than not considered an online collaboration tool, rather than a software management resource.
TeamViewer is compatible with several major platforms (Windows, Mac, and Linux), and also works with mobile operating systems like Android, iOS, and even Raspberry Pi. TeamViewer Pilot is a recent addition, and utilizes an augmented reality app to support remote maintenance capabilities.
Features
RemotePC
RemotePC offers an array of exceptional features that support a wide spectrum of user needs. Two prominent features include standard screen-sharing and remote access. Practically any file-type is transferable between two devices, and remotely management of any content-type is effortless.
Users can even remotely connect their mobile tablet to a desktop computer, and access video files stored on the hard drive.
These features are included with a free RemotePC subscription (but vary based on the plan users select). For example: linking thousands of different devices, or large-scale connection tools.
TeamViewer
TeamViewer is compatible with Windows, Mac, Linux- and even provides a version that works on iPhone (iOS) devices. They also offer an additional mobile option that users add to their USB drives or disks, allowing much more convenience and flexibility for those who travel.
TeamViewer also makes quick work of demonstrations, training videos, and presentations sharing- including a "status" display that helps participants easily locate and speak with each other.
It isn't required to install TeamViewer on every machine participating in the remote connection, making it an ideal tool for technical support scenarios where professionals need to access a customer's computer remotely. As long as a licensed version of TeamViewer is installed correctly on the tech professional's workstation, they can quickly access other computers without TeamViewer installed.
| Features | TeamViewer | RemotePC |
| --- | --- | --- |
| Transfer Files | | |
| Record Sessions | | |
| Support Audio | | |
| Transfer Sessions | | |
| Print Remotely | | |
| Share USB | | |
| Chat In Real-Time | | |
| Accessible On Mobile | | |
Operating System Support
Both solutions support a wide variety of operating systems. Also, you can compare TeamViewer and GoToMyPC by the number of operating systems accessible for remote support.
| Supported OS | TeamViewer | AnyDesk |
| --- | --- | --- |
| Windows | | |
| MacOS | | |
| Linux | | |
| Android | | |
| iOS & iPadOS | | |
| Chrome OS | | |
| RaspberryPi | | |
| Fire OS | | |
Pros And Cons
The following tables list some of the pros and cons of these two remote access solutions. Compare them with the NoMachine and TeamViewer apps to make the right choice.
TeamViewer:
Pros
User-Friendly Set Up And Operation
Powerful Group-Communication
Flexible Pricing
Cons
Two Remote Systems Can't Be Viewed At The Same Time
Additional Costs For Mobile Access
RemotePC:
Pros
User-Friendly Set Up And Operation
Costs Less Than Competing Remote Options
Live 24/7 Chat Support
Cons
Adding New Users Is A Slow Process
Web App Has Very Few Features
Pricing
A variety of pricing plans are available with both tools. Armed with the knowledge of these two apps, you can easily compare the pricing policy with the other two remote assistance tools, s.a. Microsoft RDP and TeamViewer.
RemotePC
There are 4 pricing plans available through RemotePC:
Consumer Plan:

$29.62 per year | Supports a single user with access of up to 2 computers.

SOHO Plan:

$59.62 per year | Supports a single user with access of up to 10 computers.

Team Plan:

$224.62 per year | Supports infinite users with access of up to 50 computers.

Enterprise Plan:

$449.62 per year | Supports infinite users with access of up to 100 computers.
Note: Both Team and Enterprise plans offer scaling to accommodate additional computers.
TeamViewer
Three pricing plans are available for TeamViewer, with the Business plan ideal for corporations, enterprises, IT departments, and more…
Business License:

$50.90 per month (billed annually).

Premium License:

$102.90 per month (billed annually).

Corporate License:

$206.90 per month (billed annually) .
| Offers | TeamViewer | RemotePC |
| --- | --- | --- |
| Free Plan | Yes | No |
| Free Trial | No | 7-day free trial |
| Business-Level License/Plan | $50.90 | $29.62/year |
| Premium-Level License/Plan | $102.90 | $224.62/year |
| Corporate-Level License/Plan | $206.90 | $449.62/year |
---
Conclusion
RemotePC is a cost-effective option that permits simultaneous remote access to a plethora of devices. Even though RemotePC doesn't contain some of the collaborative tools TeamViewer offers, it's a solid solution that boasts exceptional latency, provides smooth remote desktop usability, supports video chat, and offers live 24/7 chat support.
With all factors taken into consideration, RemotePC is the winner of the best individual remote desktop software competition. It's excellent for sole-proprietors and businesses from small to medium sizes, and offers an array of powerful features at a very affordable price.