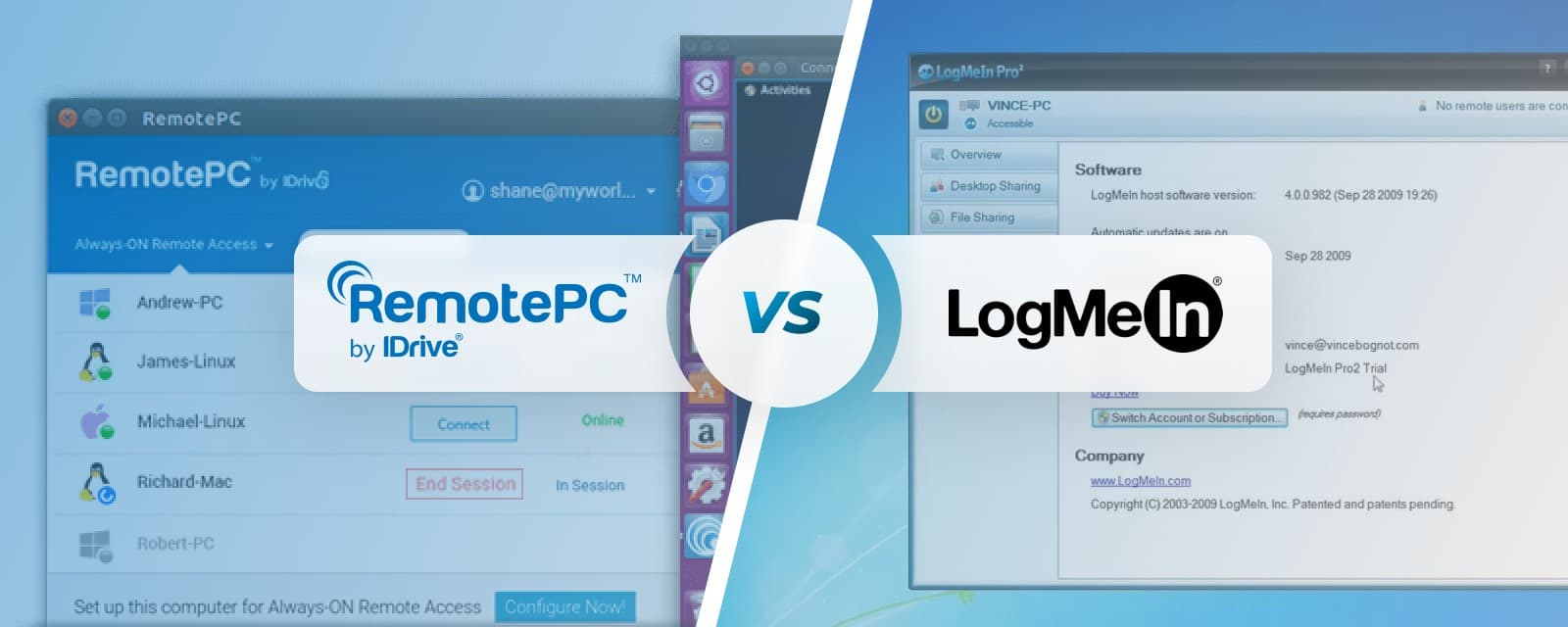 RemotePC vs LogMeIn
This article is here to help make choosing between RemotePC and LogMeIn easier. Below we compare and highlight the unique features and flaws in both of these software tools, giving the user the information they need to make the choice that's best for them. We discuss their commonalities, and identify key differences between RemotePC and LogMeIn, ensuring that readers can make their selection with confidence.
---
Overview

LogMeIn Pro is part of the LogMeIn family of products. Touted as "The work from anywhere company before work from anywhere was a thing" – their LogMeIn Pro works seamlessly with other products in the suite – including LassPass which is included with your LogMeIn Pro license. With 1TB cloud storage, LogMeIn Pro gives you easy, on-the-go access with three different subscription plans to suit your budget and needs.

IDrive Inc is a California based company that specialises in cloud storage, online backups and remote access. RemotePC is one of three of their core services that allows you to remotely access any computer from anywhere. RemotePC is available for Windows, Mac and Linux. Users have the option to select a "Always-ON" setting or "Attended access". Always On is useful for allowing 24/7 access when working across time zones or outside of normal office hours. Attended access makes use of a session code for secured and approved access.
Features
LogMeIn Pro
LogMeIn Pro lets you and an unlimited number of users access any remote machine quickly and securely from a desktop or a mobile app. You can move files between the host and the client machine with simple drag and drop. Send any file from the host machine to your local printer. LogMeIn Pro also includes 1TB cloud storage for easy and secure file sharing and storage.
You can also stream high quality audio from the remote computer to your local device. This is especially useful for multimedia presentations and online seminars.
Ramp up your productivity with the multi-monitor display. You can also wake up the remote computer via LAN connection for unmonitored access sessions.
For additional peace of mind – LogMeIn Pro includes LogMeIn Antivirus powered by Bitdefender for additional protection from any cyber threats.
RemotePC
RemotePC is a platform agnostic solution available for PC, Mac and Linux as well as mobile iPad/ iPhone and Android devices. RemotePC does not require any additional installation and can be simply accessed from the browser.
Offering easy file transfer and remote printing, all data transfers are secured using TLS v1.2/ AES-256 encryption. With an option for Always-On access or Attended access, the latter has the additional security level of a secure access code.
You can also remotely reboot the host machine and send and receive chat messages between the host and client machine. These are very useful features for remote technical support sessions.
For online collaboration sessions, RemotePC includes a whiteboard function, the ability to play sound on the host machine, and record all remote sessions.
RemotePC has four different pricing options – each with specific features included so it's important to determine which are paramount to your business requirements and to select your package accordingly.
---
Interface Comparison
Since RemotePC is a browser-based application – the interface may vary depending on your browser of choice. Both applications have a simple user-friendly interface allowing multi-screen display and simple file access.
---
Operating Systems
Both RemotePC and LogMeIn Pro support the traditional desktop and mobile operating systems with RemotePC having a few extra options available. Also, you can compare GoToMyPC and LogMeIn by the number of operating systems accessible for remote support.
---
Pros and Cons
The following tables list some of the pros and cons of these two remote access solutions. Compare them with the Bomgar and LogMeIn apps to make the right choice.
RemotePC
---
LogMeIn Pro
| | |
| --- | --- |
| | |
| exceptional security with 256-bit AES encryption and end-to-end authentication | expensive option with no free version |
| 1TB cloud storage included | some users experience random dropped connections |
| | trying to access a PC from a mac can be glitchy |
| free LogMeIn Antivirus included | only annual billing option available |
| | |
| whiteboard feature (on some packages) | |
| between 1 and 5 free user licences for LastPass (package dependent) | |
| 24/7 phone and ticket support | |
| | |
---
Price
Both LogMeIn Pro and RemotePC offer a range of price plans with different features. Armed with the knowledge of these two apps, you can easily compare the pricing policy with the other two remote assistance tools, s.a. LogMeIn and SplashTop.
| | | |
| --- | --- | --- |
| | | |
| | | |
| Free version for personal use | | |
| | | |
| | | Soho $44.62 - $59.62/year |
| | Small Business $1539.99/year | |
| | | |
---
Conclusion
It's important to keep in mind the main reason you are looking for remote access software. If you are simply wanting to provide remote access for technical support or file sharing, both LogMeIn and RemotePC can meet that requirement.
However if you want to host collaborative sessions and make use of screen and media sharing with live whiteboard annotations – LogMeIn might not be your best option.
With its good performance even with multiple concurrent users, RemotePC is a smart choice for individual and small business use. Affordable and extensible, with 24/7 technical support, you can't go wrong.