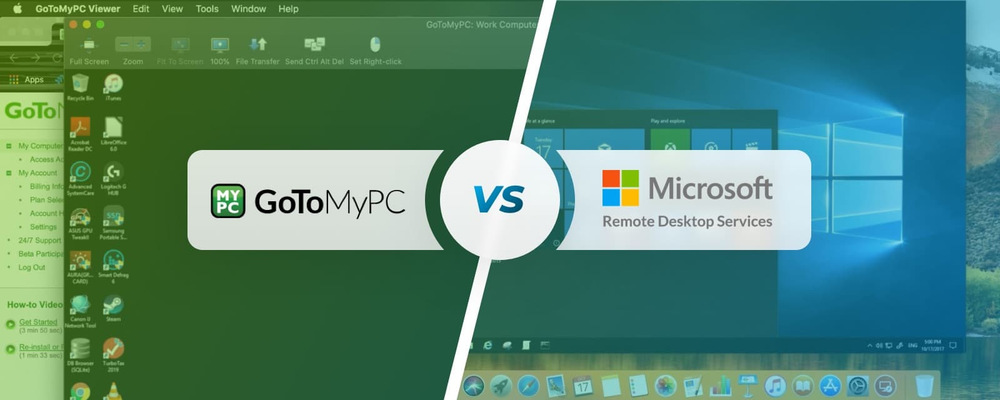 GoToMyPC vs RDP
With so many options available for your remote desktop requirements, it's difficult to decide on what is best for your company's needs. This article will highlight two popular options – GoToMyPC and Microsoft Remote Desktop. With a side-by-side comparison of what each option offers, along with price and performance, making an informed choice between GoToMyPC or Microsoft should be a lot less daunting.
---
Overview

Microsoft's Remote Desktop Protocol (RDP) is a built-in feature available for both Windows and Mac. It has been around for several years, and it makes it possible to connect to another computer or server remotely. In order for RDP to work, each computer needs to run either the RDP client software or the RDP server software respectively. RDP presents a graphical user interface that facilitates the connecting to and accessing of the remote computer.

Citrix's GoToMyPC works within a web browser. The host computer must have GoToMyPC installed on it. The installation includes a small server which in turn connects to the GoToMyPC cloud-based broker. The broker is responsible for actioning any user requests while a remote session is active.
Citrix has a similar product called LogMeIn. While they have similar features, LogMeIn is not defined as a remote desktop tool, and therefore is not in competition with GoToMyPC.
Features
RDP
Microsoft's RDP provides a flexible remote access user experience by allowing both desktop and mobile access. The mobile app works on iOS and Android devices. The mobile experience includes modifier keys to simulate the desktop specific keys like Ctrl, Alt and Option keys.
With RDP remote printing is possible thanks to the easy access of storage locations on the remote computer. Enjoy an uninterrupted remote session by adjusting the remote computer's settings to avoid entering sleep mode during an active session. It is also possible for your admin to make resources such as virtual desktops available for remote access.
GoToMYPC
GoToMyPC offers a powerful yet user friendly remote access solution for all your business needs. Compared to other popular options like TeamViewer, the user interface is well organized and sleek. You can easily access a remote computer, engage in remote chats and tech support sessions or transfer files with GoToMyPC. Installation is required to use GoToMyPC, but the installation process is simple and does not require any specific skill set. Remote printing is also available with GoToMyPC.
GoToMyPC uses encryption to protect all data transferred between remote sessions. The functions provided in the basic version of the app include file synching and transfer which makes it easier to access, edit or delete files on the remote computer.
Citrix offers a Small Business plan for GoToMyPC that includes a number of additional features. One of these is the ability to streamline the management of user payments with a central billing feature. You can also remotely start a computer or wake it from sleep mode over LAN.
---
Interface Comparison
Both RDP and GoToMyPC are user friendly with an intuitive user interface. You can scale the images without losing resolution. Whether you're connecting to a desktop computer or a mobile device, both applications work as expected.
---
Operating Systems
A wide variety of OS are supported by both software, and users can compare RDP and VNC based on the total number of operating systems with remote support accessibility.
---
Pros and Cons
See below for a detailed list of pros and cons encompassing both remote access software tools. We recommend balancing these pros and cons against SplashTop and RDP (ensuring the best possible decision is made).
GoToMyPC
| | |
| --- | --- |
| | |
| Uncluttered and intuitive interface for ease of use | Pricey compared to other software available |
| Easy drag and drop functionality for file transfer | |
| Multi operating system support including Windows, Mac, Android, iOS and even Kindle | Transmitting large files can result in lag or freezing during sessions. |
| Citrix offers 24/7 phone technical support | Canceling of subscriptions can be tedious |
| Available as an easy to use mobile app | |
| Supports multi monitor display | |
| Security features include 128-bit encryption, dual passwords, and end to end authentication. | |
RDP
| | |
| --- | --- |
| | |
| Fast internet connection not required to use RDP | Advanced configuration and setup required |
| Simple to monitor and control remote devices | System inaccessible during downtime |
| Great flexibility with different device types | Can be expensive especially when multi users are required |
| Easy file and folder access | Cannot reboot a machine remotely |
| | Some features required third party software |
| | When multiple sessions are open, resource bottlenecks can occur |
---
Price
Both options provide numerous pricing options, and with the insight provided for these 2 powerful apps, users can easily compare pricing policy with RemotePC and GoToMyPC.
RDP
When it comes to allowing remote access, RDP has a limitation around windows versions. Only computers with Pro or Enterprise versions of Windows 8 and 10 can be accessed remotely. The price of Windows 10 Pro will set you back from $200 upwards.
GoToMyPC
GoToMyPC offers a three-level pricing plan: Personal, Pro and Corporate. The personal plan costs $35 per computer per month. There is no limit to the number of remote connections you want to make but it is limited to a single user. The Pro plan costs $66 for two computers per month. You can access between two and 50 computers on the Pro Plan. If there is a requirement for more than ten users, then the corporate plan is worth consideration for $140 per month.
---
Conclusion
While GoToMyPC offers a very user-friendly remote desktop connection experience with its easy to use file transfer and remote printing, compared to many other applications available on the market – GoToMyPC is quite a bit pricier. Most other remote software applications allow free access for one remote desktop.
In comparison, Microsoft Remote Desktop is rather convoluted with its separate Windows apps and Settings and Locally Security Policy configurations. RDP is however very reliable and performs well especially on Windows 10. RDP is a strong contender if you're after a powerful and dependable remote access solution.