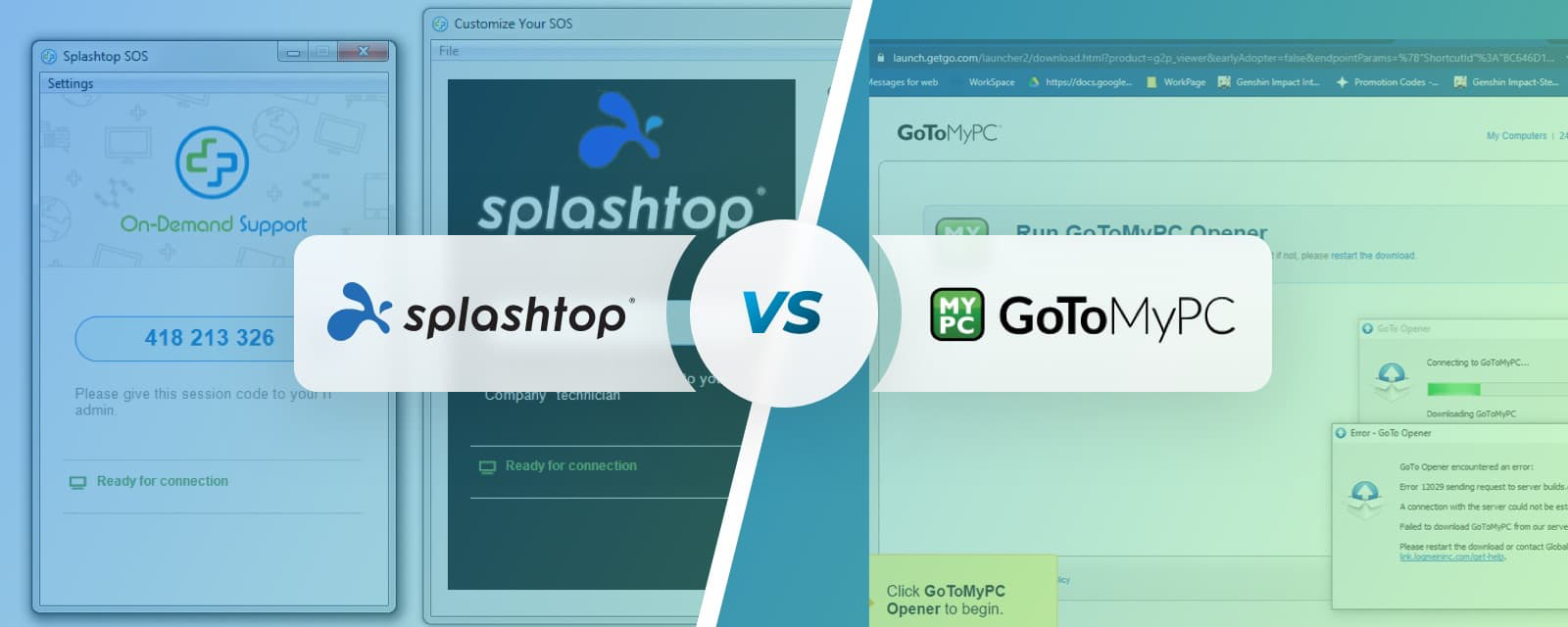 SplashTop vs GoToMyPC
Below we'll compare two top-tier remote desktop software: SplashTop and GoToMyPC. This comparison article will shed light on the pros and cons of both tools, giving users the data they need to choose a tool that enhances their remote desktop experience.
Most importantly, the best of the best remote desktop software is easy to use, regardless of someone's level of technological know-how.
---
Overview
SplashTop

One excellent and very affordable remote desktop solution is called SplashTop. While it doesn't have a free version, it's functionality and budget-friendly price tag make it a great option for individuals and small businesses. For users who need features like chat and session recording, purchasing a higher-tier SplashTop plan is necessary.
For just $99 per year, users can enjoy features like: multi-screen display, remote waking, and many more.
SplashTop's Solo plan gives access to 2 computers, making it a fantastic bonus for individual-users. This is a great feature, as most competing single-user software options only provide access to 1 computer.
For support and IT teams, SplashTop offers an Enterprise-level plan, as well as a separate remote support product.
GoToMyPC

Setting up GoToMyPC requires installing a server(small in size) on a host machine. This tiny server connects and communicates with GoToMyPC's central broker when users request access (via web-browser or desktop app) from a client computer. With GoToMyPC, users have access to remote desktops from any device, allowing them to sync/share files via the app's web browser.
Both GoToMyPC, and the software, LogMeIn, were developed within the LogMeIn product line. In June of 2016, Citrix published the GoTo product line, and by the end of 2016, merged with LogMeIn. It should be noted that, despite the products boasting similar features and capabilities, they aren't really comparable.
Feature
SplashTop
SplashTop is a tool that offers very specific features to provide sharply targeted remote access solutions. Even so, SplashTop has multiple, notable features to consider- including a minimalistic UI, and the option to access client computers (remotely) without additional software installation on the client machine required.
Simultaneously, SplashTop's app gives users access and control of unmanned computers from any device. The capability to connect with multiple unmanned desktops means that vital information is always easily accessible.
Based on the plan selected, SplashTop offers a wide and varying selection of bonus features. All subscription plans offer file transfer tools by default. Features such as Session recording, as well as support-oriented SplashTop plans (that include built-in chat modules), are also available when necessary.
GoToMyPC
Sessions are defended against hacking thanks to GoToMyPC's powerful encryption, meaning that your remote access metadata is safe from any unauthorized users.
GoToMyPC's Basic Plan provides syncing and file transferring features, assisting users with seamless access, updating, editing, and deleting of files hosted on a remote machine.
GoToMyPC's Pro Plan allows for central billing, ending the hassle of each GoToMyPC user paying individually.
GoToMyPC's Small Business Plan provides all of the aforementioned features, as well as additional options. The most notable being the "Wake of LAN" mechanism, which permits users to remotely turn on, or wake up (from sleep mode), a remote desktop.
| Features | GoToMyPC | SplashTop |
| --- | --- | --- |
| File Transferring | | |
| Session Recording | | |
| Audio Support | | |
| Session Transferring | | |
| Remote Printing | | |
| USB-Sharing | | |
| Real-Time Chat | | |
| Mobile Access | | |
Interface Comparison
Both desktop apps were easy to understand, navigate, and control. Both tools also demonstrated exceptional image scaling- providing crisp, clear, and beautiful results.
SplashTop and GoToMyPC's mobile-device compatibility, and remote computer connectivity, also functioned comparatively well.
Operating System
SplashTop and GoToMyPC provide support for a vast array of operating systems. Users can also compare SplashTop and Teamviewer by the number of operating systems accessible for remote support.
| Operating System | GoToMyPC | SplashTop |
| --- | --- | --- |
| Windows | | |
| MacOS | | |
| Android | | |
| iOS | | |
| iPadOS | | |
| Linux | | |
| Chrome OS | | |
Pros And Cons
Below we'll discuss the pros and cons of both of these remote desktop software tools. With the information below, compare GoToMyPC and LogMeIn to best decide which solution works for your needs.
GoToMyPC:
Pros
Easy and minimal GUI
Windows, Mac, Android, iOS, and Kindle support
Easy drag-and-drop file transfer
Multi-monitor displays
Excellent security: 128-bit AES encryption, dual passwords, and end-to-end authentication
The mobile app is more user-friendly than competing software
24/7 phone and ticket tech support
Cons
High Price
Certain features don't function as well on a MacOS
Reports of lagging or freezing when large data is involved
Multiple complaints regarding how difficult it is to cancel a subscription
SplashTop:
Pros
Budget-friendly subscription plans
Minimal and user-friendly GUI
Connection speed is very fast
Easy drag-and-drop file transferring
High subscription plans offer full multi-monitor display
Offers Windows, Mac, Android, iOS, and Chrome OS support
Excellent security: TLS and 256-bit AES encryption, device authentication, 2-step verification, and numerous 2nd-level password options
Cons
Lots of steps to install (especially for Mac users)
Purchase of high-cost plans required to access a lot of features
Priority tech support is available only to those who pay for higher plans (phone support hours not listed on the website)
Pricing
SplashTop and GoToMyPC offer a wide selection of price plans. With all of the additional insight into these products provided here, users can price-compare with alternative remote access tools like LogMeIn and SplashTop, ensuring they're making the best software choice for their specific needs.
SplashTop
The SplashTop Business Access Plan runs between $60-$99 per year (per user), and permits computer access from any location.
The SplashTop Remote Support Plan starts at $299 per year (for up to 25 computers), giving an unlimited number of licensed technicians remote access to a specific quantity of Windows and Mac OS computers.
The SplashTop SOS Plan starts at $199 per year (per licensed technician), and is ideal for on on-demand support.
**Please Note: More costly plans provide access to unattended remote desktop computers.
The SplashTop Education Plan is $29.99 per year (per teacher), and offers education-focused screen-sharing tools.
Additionally, all SplashTop plans offer a 7-day free trial, so users can have the opportunity to test software options without making a big and costly commitment.
GoToMyPC
The GoToMyPC Personal Plan costs $35 per month, and allows individual users access to an unlimited number of computers.
The GoToMyPC Pro Plan costs $66 per month, and supports access for 2 to 50 computers.
The GoToMyPC Corporate Plan costs $140 per month, and support 10 users or more
| Package | GoToMyPC | Splashtop |
| --- | --- | --- |
| Free Version | No | No |
| Free Trial | 7 days | 7 days |
| Business License | $35 | $60 |
| Premium License | $33 | $99 |
| Corporate License | $28 | $299 |
---
Conclusion
These two software options are not competing directly thanks to both solutions providing very different features. Most would assume that remote access service providers would be quite similar in the features and the support they offer. However, SplashTop and GoToMyPC are exceptions to this idea, as they're very distinct tools with very distinct use-cases.