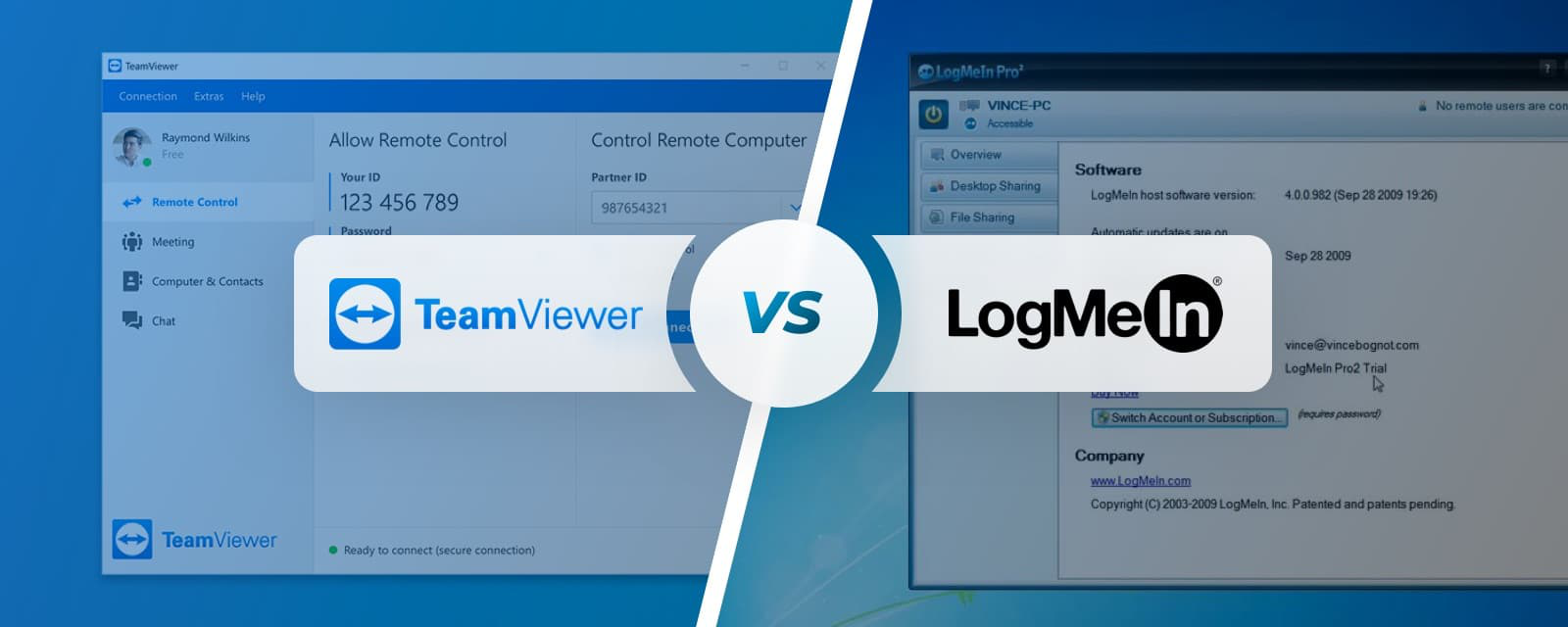 LogMeIn vs TeamViewer
For medium to large-size businesses, TeamViewer is an ideal software choice when it comes to remote desktop access. For small businesses, however… LogMeIn Pro is a much better option because it offers exactly what a small team needs – cost effectively.
Being that post-pandemic life includes a potentially permanent transition into remote work for many organizations, the remote access software market has exploded. LogMeIn and TeamViewer provide a host of magnificent features and top-of-the-line security standards, and this article compares both software options, helping users better decide the tool that's right for them.
---
Overview
One of the most celebrated remote desktop software solutions is LogMeIn Pro. LogMeIn Pro is owned by the same company responsible for tools such as GoToMeeting, which supports large-scale organizations.
LogMeIn Pro also provides exclusive bonuses like 1 TB of cloud storage, as well as LastPass Premium (password management service) with every subscription plan. Conveniently, LogMeIn Pro even lets users enjoy the flexibility of accessing the software from the app or web browser. The only drawback: the free version of LogMeIn Pro is no longer available.
TeamViewer is a beloved tool across the world when it comes to remote desktop access. TeamViewer is so simple that even total beginners can easily and quickly create connections between computers, regardless of whether they wish to connect to another desktop computer, or laptop.
TeamViewer is a critical element in remote support because it provides high-quality screen sharing, and allows an expert technician to perform repairs regardless of distance. Hence why TeamViewer is the go-to collaboration software, more so than a software management tool.
Another wonderful feature of TeamViewer is that it supports multiple operating systems. Not only can TeamViewer run on Windows, Mac, and Linux- but it's even available for mobile OS such as Android, iOS, and Raspberry Pi. The TeamViewer devs also stays ahead of technological innovation, publishing TeamViewer Pilot as an optional companion product that allows remote maintenance through an augmented reality application.
Feature
LogMeIn
LogMeIn Pro has a full suite of features that make it easy to securely access your files and remotely control a desktop. A File Manager gives you quick access to the host's file system, while IT managers will love the split display that allows for easy drag-and-drop file sharing between the client and host—an excellent solution for sharing large company files that can't be sent through email.
No problem if your host computer's asleep: the Wake On LAN feature will have you up and running in no time. For IT managers, Whiteboard Drawing enables you to easily draw attention to items on-screen, facilitating help sessions. If you're preparing a demonstration for later, you can Screen Record with easy AVI output.
Finally, graphic and web designers, developers, and anybody else who uses multiple desktops will appreciate intuitive Multiple Monitor support: you can view monitors individually on a single screen, or reproduce your workstation exactly with multi-monitor host-to-client support. Your programs and files stay organized just the way you like, so you can be equally productive no matter where you are.
TeamViewer
TeamViewer runs on Windows, Mac, and Linux operating systems. A version of TeamViewer that works with iPhones is also available. Users can purchase a mobile option that functions with USB sticks or disks (designed for travelers in need of an elegant and flexible solution).
TeamViewer can also share presentations, demonstrations, and even training videos- providing a "status" display that makes it quick and simple for team members to locate and communicate with one another.
TeamViewer does not need to be installed on each machine involved in remote access, making this especially convenient when customer and technical support circumstances arise. Users can operate programs without installation, allowing remote access rights to technicians trying to provide support. The technician, however, must have a licensed version of TeamViewer installed on their workstation.
This heightened flexibility makes TeamViewer a highly-valued software option in almost any situation.
| Features | TeamViewer | LogMeIn Pro |
| --- | --- | --- |
| File Transferring | | |
| Session Recording | | |
| Audio Support | | |
| Session Transferring | | |
| Remote Printing | | |
| USB-Sharing | | |
| Real-Time Chat | | |
| Mobile Access | | |
Interface Comparison
Thanks to an intuitive and user-friendly GUI, both apps perform exceptionally well. Both tools even allow users to connect with portable devices just as easily as they can connect to remote desktops, and demonstrate silky-smooth image scaling.
Operating System
Both remote assistance accessibility apps support a multitude of operating systems, allowing users to cross-compare RemotePC and TeamViewer based on the number of OS with remote support access.
| Supported OS | TeamViewer | LogMeIn |
| --- | --- | --- |
| Windows | | |
| MacOS | | |
| Android | | |
| Linux | | |
| iOS & iPadOS | | |
| Chrome OS | | |
Pros And Cons
Below we'll cover the pros and cons of both remote access tools, allowing you the option to cross-compare them against NoMachine and RealVNC.
TeamViewer:
Pros
Free Version Available (But Personal Use Only)
Stylish And User-Friendly Interface
High-Speed Connections
OS Support For: Windows, Mac, Linux, Chrome OS, Android, iOS and Blackberry OS
All Features Work On Windows And Mac OS
Powerful Security Protection (256-Bit AES Encryption And 2-Factor Authentication)
Cons
Higher-Price Compared To Other Paid Subscriptions
Slow Speed During Large File Transfers
Complaints Regarding Users Being Restricted From The Free Version In Spite Of Only Using It For Personal-Use
No Phone Technical Support On Weekends
LogMeIn Pro:
Pros
User-Friendly Setup And Usability
Share Computer And File Access To Unlimited Users
Drag-And-Drop File Transfer (Windows OS Only)
Complete Screen-Sharing And Multi-Monitor Display
OS Supports For: Windows, Mac, Android, And iOS
Powerful Security Protection (256-Bit AES Encryption, Double Password Protection, End-To-End Authentication)
1 TB Cloud Storage With Every Plan
24/7 Phone And Ticket Technical Support
Cons
Expensive
No Free Versions Available
LogMeIn Pro On Mac Has Fewer Features
Pricing
Because a variety of pricing options are available for both tools, as well as the information provided about these apps, users can effortlessly compare pricing policy with tools like AnyDesk and TeamViewer.
LogMeIn
LogMeIn Pro Individual Plan: $349.99 Per year. Price Includes: Full access to 2 computers via the web, another computer, or mobile devices with iOS or Android operating systems;
LogMeIn Pro Power User Plan: $839.99 Per year. Price Includes: Full access to 5 computers via the web, another computer, or mobile devices with iOS or Android operating systems;
LogMeIn Pro Small Business Plan: $1,539.99 Per year. Price Includes: Full access to 10 computers via the web, another computer, or mobile devices with iOS or Android operating systems.
TeamViewer
TeamViewer offers multiple package options based on specific user categories. For example, TeamViewer offers "Business", "Corporate", "Enterprise", and "IT" plans- outlined below:
TeamViewer Business License: $50.90 Per month (billed annually);
TeamViewer Premium License: $102.90 Per month (billed annually);
TeamViewer Corporate License: $206.90 Per month (billed annually) .
| Package | TeamViewer | LogMeIn |
| --- | --- | --- |
| Free Trial | No | Yes |
| Free personal version | Yes | No |
| Business License | $50.90 | $349.99/year |
| Premium License | $102.90 | $839.99/year |
| Corporate License | $206.90 | $1,539.99/year |
---
Conclusion
At this point, deciding which software solution is right for you will entirely rely on your unique needs. These remote access tools differ widely, specifically in 2 critical ways:
TeamViewer limits the number of users (just 1 to start).
LogMeIn Pro allows an unlimited number of users.
Note: TeamViewer does flex up to 200 users, so this limitation may not be a problem.
Adversely, LogMeIn Pro limits the number of devices for use (allowing up to 10).
TeamViewer allows access to up to 500 devices.
All in all, these specifications mean that LogMeIn Pro and TeamViewer are geared toward very different audiences. LogMeIn Pro is a great option for small businesses or sole-proprietors, whereas TeamViewer works for large organizations that must offer their employees (up to 500, at the very least) remote IT support.