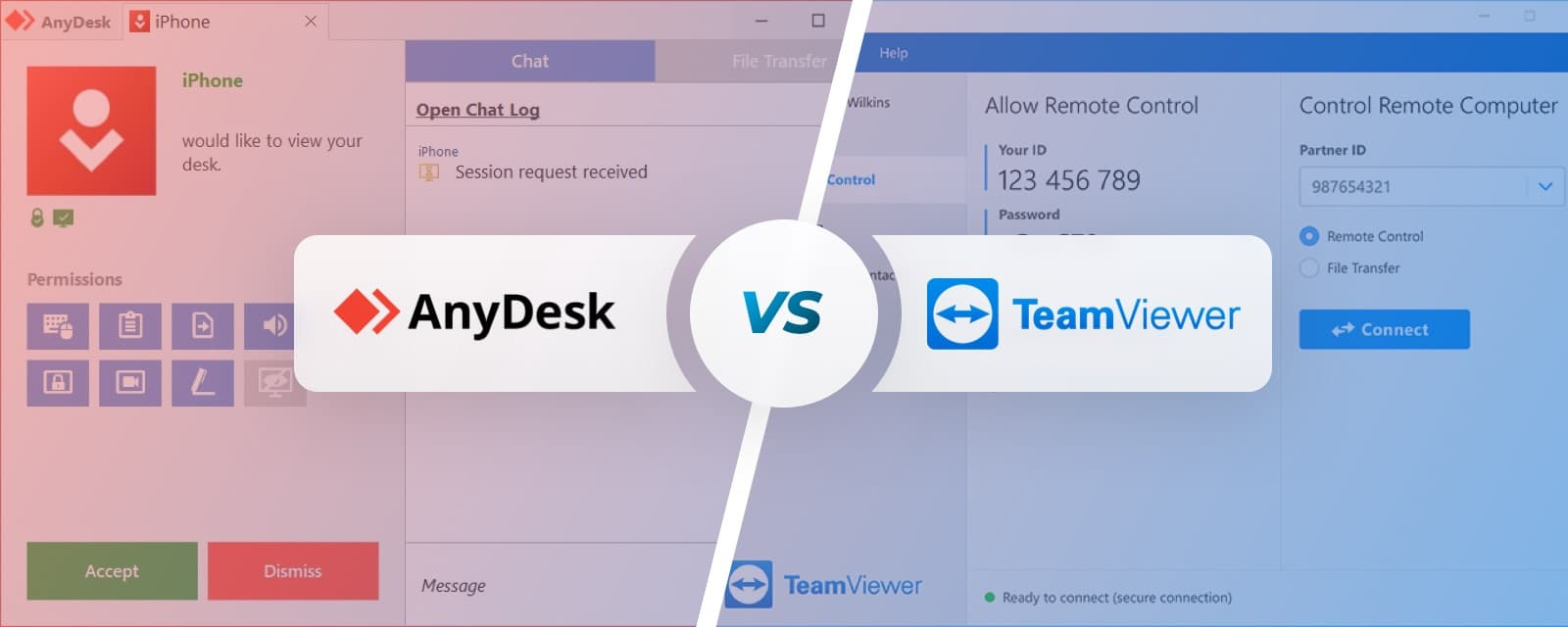 AnyDesk vs TeamViewer
Remote support software has always been a valuable tool—but in the age of remote work, it's now integral to ensuring a business remains productive, secure, and ahead of the competition.
In the article below, we'll be comparing two powerful and well-renowned remote access software options: TeamViewer and AnyDesk.
We'll discuss their unique features, use cases, and answer some frequently asked questions — that way, readers have the insight they need to decide which tool is right for them.
---
Overview

AnyDesk is a remote access software tool that launched in 2014, offering a wide array of useful applications (like cloud-based access and unattended access), and acts as a phenomenal solution for fast and fluid file transferring.
Additionally, AnyDesk is a very user-friendly software thanks to its hidden menu and tab-browsing experience.
Utilizing the screen-sharing tool is an equally simple process for local and remote connectivity from a mobile device—regardless of location.
AnyDesk also offers advanced file transferring features that allow a secure and fast 60FPS (frames per second) transmission via an internet or LAN connection.

AnyDesk's opponent in this article is TeamViewer, a long-standing remote access tool beloved by large-scale enterprises across many industries.
TeamViewer actually has an even longer history than AnyDesk, as it was launched all the way back in 2005. It's used that time wisely to continually enhance and adapt its product to the ever-changing times and needs of the modern workforce.
Reliable, and rich with features, TeamViewer provides a highly-secure remote access experience. Additionally, TeamViewer offers a plethora of audio, video, and text communication capabilities to suit an organization's specific style.
Feature
Highly-Secure Remote Access: TeamViewer safe and secure tool it allows users to access remote systems through the use of randomized ID credentials with the other user operating the remote desktop. Users can't access this remote machine without authorizing the session. All of TeamViewer's latest versions (including 12,13 and 14) are protected with advanced encryption protocols—providing added security, with AES sessions.
Cross-Platform Support: TeamViewer supports all popular operating systems, like Windows, macOS, Linux, and even Android. Additionally, TeamViewer offers cloud-based management services, allowing users to operate the software via browsers—eliminating the need to install it.
Note: This is very beneficial when tech support professionals need to help end-users solve issues on remote systems.
Remote Hardware Access: TeamViewer allows users to give commands to hardware devices connected to the system. Functions like remote printing access, cursor, and shutting down/restarting systems can be performed with TeamViewer's help.
Audio, Video, and Text Communication: TeamViewer offers responsive and convenient real-time communication capabilities between local and remote users. This makes it incredibly easy for both parties to share information, reports, and insights during remote access sessions.
Remote Server Monitoring: Users can implement AnyDesk to monitor workstations sharing a server, as well as carry out functions across the local network. Such functions could include file transfers, application installation, and troubleshooting end-user problems.
Notably, Ubuntu's version of AnyDesk is now compatible with remote server monitoring, too—just like AnyDesk for Windows OS.
Mobile Device to PC Remote Control: AnyDesk permits workers to access remote machines from personal computers, iOS, and Android devices with the AnyDesk App. With the AnyDesk mobile app, users can execute a majority of their tasks with the same ease and efficiency one would experience while using a desktop computer (like remote desktop access, file transfer, printer access, restart, and shut down.)
Whitelist Options: AnyDesk offers a whitelist feature so users can permit specific users and devices to freely access specific systems without repeated permission requests and still use the tool safely.
Widget-Inspired User Interface: AnyDesk's most recent update revamped its UI to adopt a widget-inspired interface style. This makes many processes necessary to maintain seamless workflows (like file transfer and quick commands) easy and fast.
Multi-Language Support: AnyDesk provides various language support, making it simple for non-English speakers to operate the software.
Interface Comparison
Both remote assistance tools worked as advertised for us. They have a user-friendly interface that made it possible to locate all of their features. Image scaling was smooth with both apps and they provide easy connectivity for remote desktops and mobile devices.
Operating System Support
Either of these two tools is compatible with multiple operating systems. Another way to compare the TeamViewer and LogMeIn is by the number of operating systems that can be accessed remotely with the tool.
Pros And Cons
The pros and cons of AnyDesk and TeamViewer are outlined in the following tables. We think this will help you compare their features with SplashTop and TeamViewer and make the correct purchasing decision.
TeamViewer:
| | |
| --- | --- |
| | |
| Free for non-commercial use; | Requires a fast and continuous Internet connection; |
| Multi-platform operating system support including for IoT devices; | Can be costly for commercial purposes that require licenses; |
| Enables training sessions for teams of up to 25 members; | |
| Drag-and-drop file sharing across multiple locations; | Cannot share large files; |
| Status to indicate if a device is being remotely accessed; | Is not compatible with proxy servers. |
| | |
| Chat, video, and voice over IP communication options; | |
| Share application windows or complete desktops; | |
| Superior customer support. | |
AnyDesk:
| | |
| --- | --- |
| | |
| Very small installation file; | Glitches while using the copy-paste feature; |
| Fast navigation thanks to low-latency; | Times when remote desktop resolution fluctuates; |
| No time caps for sessions; | Mandatory installation required to access system files. |
| Responsive UI and numerous keyboard shortcuts; | |
| Available for all major mobile OS/platforms. | |
Price
As with many remote assistance tools, various pricing options are available with these solutions. You can easily compare the price of these tools with the cost of alternative solutions like AnyDesk and SplashTop.
A variety of pricing plans are available with both tools.
Single users can use AnyDesk or TeamViewer non-commercially for free. Single commercial licenses for AnyDesk that allow connection to one remote device are $9.90 per month. TeamViewer allows a single license to access three devices for $29.90 per month.
Multi-user and team packages are also available for both applications.
TeamViewer's Premium license enables up to 50 users to each create a single session. A Corporate license lets ups to 200 users run three sessions at the same time.
---
Conclusion
While many factors and features are worth considering when deciding between AnyDesk and TeamViewer, it's most critical to assess a few key points we've outlined below.
AnyDesk is fantastic for individual users needing quick navigation solutions, control over a remote desktop, remote server monitoring, and an interactive dashboard (etc.).
Alternatively, TeamViewer supports the needs of individual users specifically requiring secure file transfer/sharing, communication modules, and cloud-based access.
FAQ
Both tools offer a user-friendly and fluid UI, as well as excellent performance. While AnyDesk provides built-in navigation and quick command options, TeamViewer boasts a variety of communication tools, making it the better choice for sharing smaller files.
Both TeamViewer and AnyDesk sport fast and reliable performances based on the functions they were developed to execute. For example, AnyDesk makes remote server monitoring and remote desktop control navigation incredibly fast. Whereas TeamViewer offers fast performance when sharing files via cloud access.
AnyDesk is accessible offline. Simply download the software and install it on the machine. Users can then access it offline for remote communication and sharing.