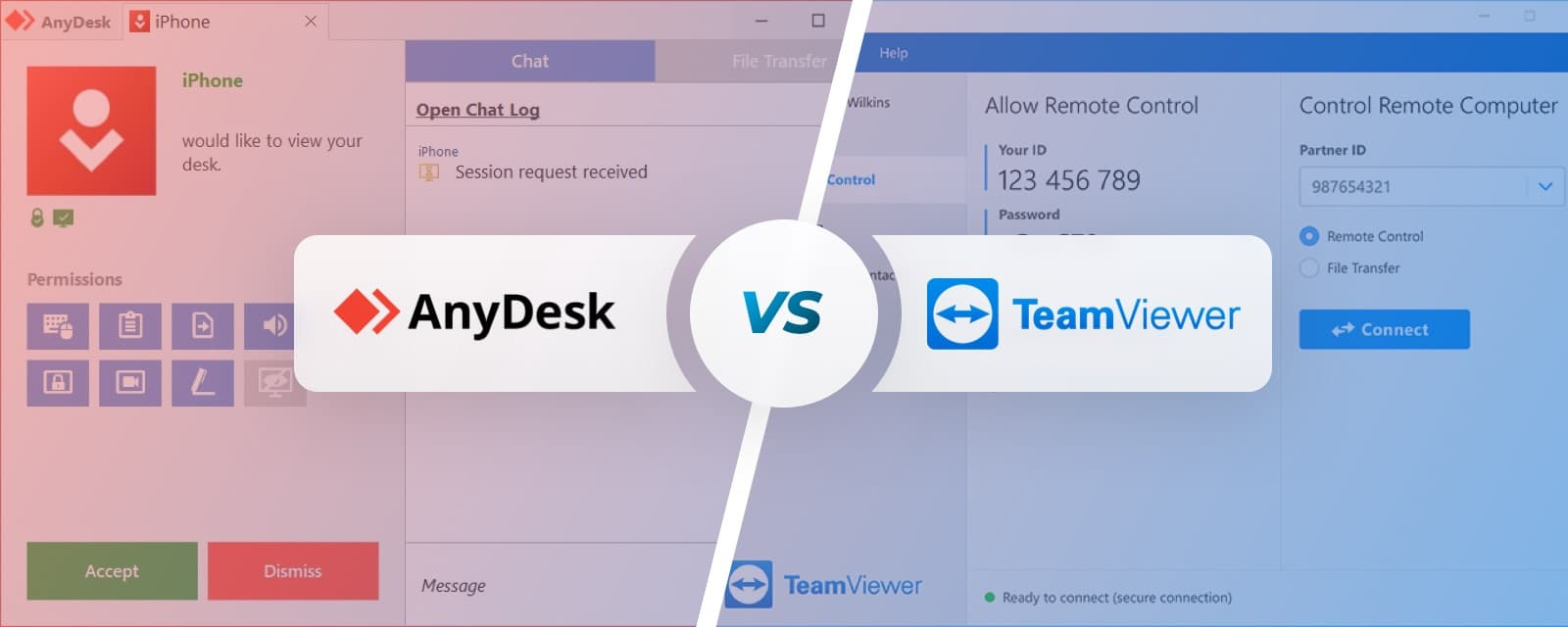 AnyDesk vs TeamViewer
Remote access software is essential for carrying out many activities in modern information technology (IT) environments. Remote access and desktop sharing applications enable technical teams to perform support for a geographically distributed environment from a centralized location. It also lets individuals collaborate with no need for physical proximity.
There are many remote access solutions on the market. In this article, we will look at the popular TeamViewer and AnyDesk applications.
---
Overview
TeamViewer offers a comprehensive remote access solution suitable for use by anyone with basic computer skills. Once the tool is installed, it should be no problem to access its extensive functions with its intuitive interface. Remote communication is secured with a unique 9-digit identification number that can be linked to a device. This ID number must be used to connect to the device from another computer to secure the systems and eliminate the possibility of unauthorized access.
AnyDesk is another popular remote desktop and access solution. One of its defining features is its connectivity speed. A small, portable file needs to be installed to run the program which enables users to share control of a mouse or keyboard. Desktop screenshots can also be shared among users, and AnyDesk also provides security. In this case, the access code of the local device needs to be shared with the remote machine to establish the connection.
Feature
TeamViewer
TeamViewer has become one of the most renowned remote desktop tools for good reason. It offers a wide variety of features wrapped in an intuitive interface any user can master. The tool provides a method of quickly connecting one computer to another network-attached machine. TeamViewer is used as a collaborative tool for diverse teams and is a popular choice for organizations providing remote technical support.
Multi-platform support is another of TeamViewer's features. It can be run on machines running Windows, Linux, macOS, iOS, Android, or Raspberry Pi. This support allows remote connectivity from virtually any type of device. A new feature is the augmented reality TeamViewer Pilot app designed to facilitate remote maintenance.
AnyDesk
AnyDesk is an aptly named and popular alternative to TeamViewer. It works similarly to TeamViewer and lets users remotely access, control, and manage just about any desktop they want. AnyDesk is a lightweight solution that only takes up about 2.8 MB of space on your device. The tool offers a high-performance vehicle for collaborating and recording remote sessions.
| Feature | TeamViewer | AnyDesk |
| --- | --- | --- |
| Mobile access | | |
| File transfer | | |
| Session transfer | | |
| Session recording | | Windows only |
| Real-time chat | | |
| Remote printing | | |
| Audio support | | |
| USB Sharing | | |
Interface Comparison
Both remote assistance tools worked as advertised for us. They have a user-friendly interface that made it possible to locate all of their features. Image scaling was smooth with both apps and they provide easy connectivity for remote desktops and mobile devices
Operating System Support
Either of these two tools is compatible with multiple operating systems. Another way to compare the TeamViewer and LogMeIn is by the number of operating systems that can be accessed remotely with the tool.
| Supported OS | TeamViewer | AnyDesk |
| --- | --- | --- |
| Windows | | |
| MacOS | | |
| Linux | | |
| Android | | |
| iOS | | |
| Chrome OS | | |
| FreeBSD | | |
Pros And Cons
The pros and cons of Microsoft RDP and TeamViewer are outlined in the following tables. We think this will help you compare their features with SplashTop and TeamViewer and make the correct purchasing decision.
TeamViewer:
Pros
Free for non-commercial use
Multi-platform operating system support including for IoT devices
Enables training sessions for teams of up to 25 members
Drag-and-drop file sharing across multiple locations
Status to indicate if a device is being remotely accessed
Easy to install and update with no router configuration needed
Chat, video, and voice over IP communication options
Share application windows or complete desktops
Superior customer support
Cons
Requires a fast and continuous Internet connection
Can be costly for commercial purposes that require licenses
Requires the same version of the software to be installed on both sides of the connection
Cannot share large files
Is not compatible with proxy servers
AnyDesk:
Pros
Compatible with all major mobile platforms
User-friendly interface with extensive keyboard shortcuts
Does not time cap sessions
Small and lightweight installation file
Low latency for fast connectivity speeds
Cons
Installation is required to use the tool
Inconsistent remote desktop resolution
Unreliable copy-paste feature
Price
As with many remote assistance tools, various pricing options are available with these solutions. You can easily compare the price of these tools with the cost of alternative solutions like SplashTop and GoToMyPC.
A variety of pricing plans are available with both tools.
Single users can use AnyDesk or TeamViewer non-commercially for free. Single commercial licenses for AnyDesk that allow connection to one remote device are $9.90 per month. TeamViewer allows a single license to access three devices for $29.90 per month.
Multi-user and team packages are also available for both applications.
TeamViewer's Premium license enables up to 50 users to each create a single session. A Corporate license lets ups to 200 users run three sessions at the same time.
| Price | TeamViewer | AnyDesk |
| --- | --- | --- |
| Free Trial | No | 14-Days |
| Free personal version | Yes | Yes |
| Business license | $50.90 | $9.90 |
| Premium license | $102.90 | $19.90 |
| Corporate license | $206.90 | Custom pricing |
---
Conclusion
TeamViewer offers a more productive platform for working and collaborating with coworkers. The tool facilitates sharing control of remote computers, making presentations, or brainstorming problem resolution. Its drag-and-drop interface makes it a simple task to send and share files.
Team sessions are another feature that makes TeamViewer a good solution for businesses. These sessions enable a system administrator to manage multiple remote machines simultaneously, streamlining the installation of software updates and patches.
The features available in AnyDesk allow you to share documents and an on-screen whiteboard. However, the tool does not offer the same level of collaborative functionality as TeamViewer.