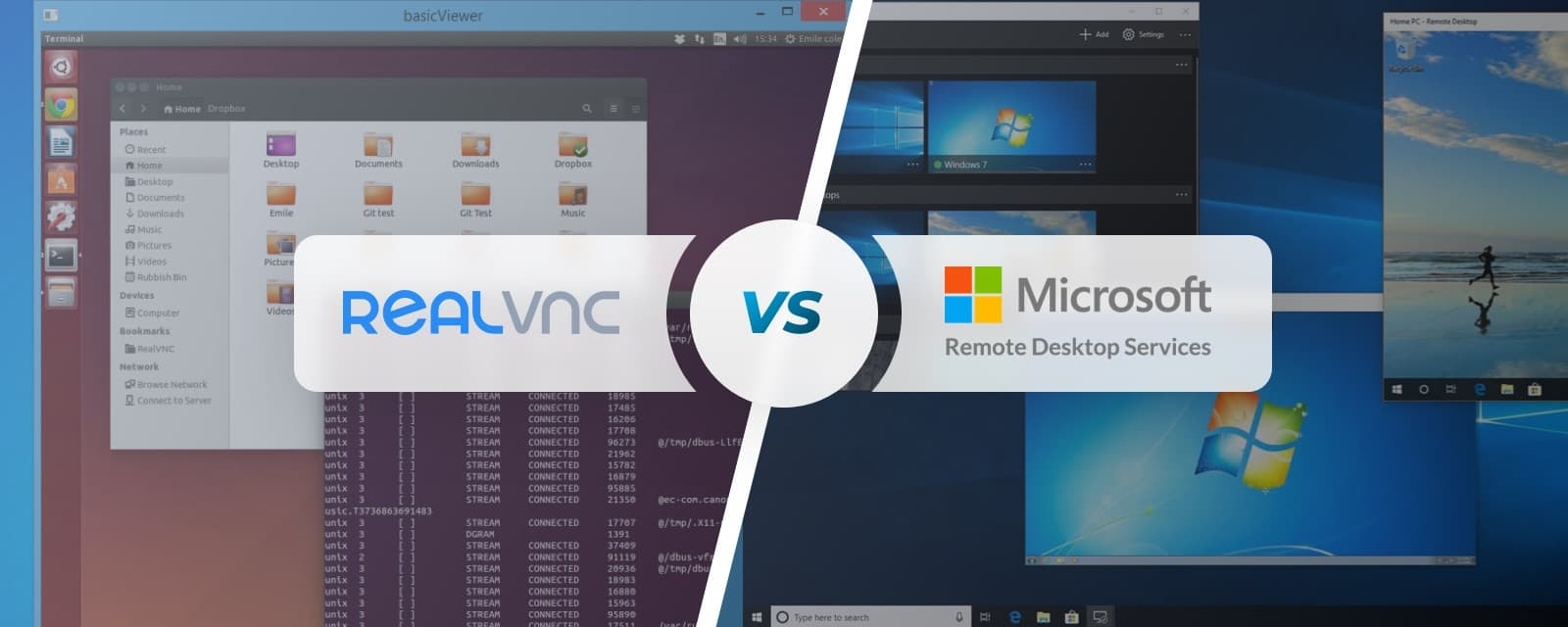 Microsoft Remote Desktop vs RealVNC
Remote Desktop software offers small businesses a powerful tool for controlling remote machines from a central location and sharing files among colleagues. These solutions are employed by technical teams to troubleshoot user issues and by individuals who need access to a remotely located computer.
If you are looking for a quality remote desktop solution, we are going to discuss two options that might work for your situation.
Overview
Microsoft Remote Desktop (same RDP) is a popular solution for remotely connecting to servers or desktops. This technology is supported on computers running the Windows and macOS operating systems. RDP provides users with a graphical user interface (GUI) that facilitates connecting, accessing, and controlling remote computers. The technology works by connecting RDP client software to another machine running RDP server code.
RealVNC produces VNC Connect which also provides the ability to remotely control computers and establish virtual meetings. Its free plans are appealing to individuals who want to access their home machines while traveling. VNC also offers inexpensive subscription plans that make it an attractive solution for small businesses.
While VNC is an affordable and simple solution, it does not provide some important features available in more costly remote desktop products. For example, with VNC you cannot drag files between a remote and local machine. You also can't invite another user to assist with a computer problem.
---
Features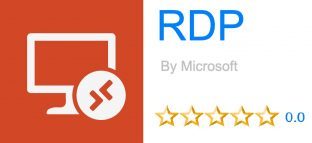 Microsoft Remote Desktop is a versatile solution that enables remote access from laptop and desktop machines as well as iOS or Android devices through the use of its mobile app. The mobile app is well-designed and allows the use of keyboard shortcuts with keys that replicate the control, option, and alt keys. Users can easily share or print files stored on remote computers from any location with an Internet connection.
Remote desktops can be configured to remain awake when not in use so they can quickly be used when needed. Resources such as RemoteApp programs and virtual desktops can be published by system administrators for remote access.

RealVNC or Virtual Network Computing offers users a graphical system for accessing and sharing remote desktops. A technician can access a remote machine and interact with its user while they work on the computer together. It uses pixel-based graphics, making it more versatile than RDP. The tool is platform-agnostic and enables users to share and access any combination of Windows, Mac, Linux, Raspberry Pi, and machines running other platforms.
---
Comparing Interfaces
Both remote desktop solutions offer interfaces that make it easy for users to locate all of their main features. The tools are effective at connecting to desktop machines as well as mobile devices. Images on both interfaces are crisp and can easily be scaled if the need arises.
---
Operating System
Both solutions offer extensive operating system support. The following table illustrates the systems that are compatible with RealVNC and Microsoft Remote Desktop. This may influence your decision when selecting the right tool for your needs.
---
Pros and Cons
Following are lists that highlight the pros and cons of RDP and VNC. These lists will be useful in comparing the two products with alternative solutions like LogMeIn and GoToMyPC.
RDP
| | |
| --- | --- |
| | |
| The RDP tool does not rely on a fast Internet connection since the remote server is used as the resource from which to launch applications; | No support for remotely rebooting machines; |
| RDP provides easy access to folders and files on remote computers; | Can only connect to Windows machines running Pro or Enterprise versions of the OS; |
| It's easy to monitor and control connected computers with RDP; | Can be costly and complex to implement in multi-user environments; |
| RDP offers support teams a fast and efficient method of resolving remote user problems; | Advanced configuration may be required including the addition of third-party supplemental tools; |
| RDP allows connection to Windows machines from any type of device. | Bottlenecks may impact connection performance based on the number of users attempting to access a remote machine and the computing power of the host computer. |
VNC
| | |
| --- | --- |
| | |
| VNC provides users with a simple interface; | Cannot send one-time invitations to users from a remote machine; |
| The tool provides two-way multi-platform support; | Setup can be confusing with separate server and viewer components; |
| Free plans for personal use and inexpensive subscription plans make it attractive for small businesses. | No drag-and-drop capability to transfer files between desktop and the viewer application. |
---
Price
Microsoft Remote Desktop
Both tools offer a variety of pricing plans that make them suitable for various usage scenarios. Once you are satisfied that these tools provide the features you need, you can compare them with other solutions like RemotePC and LogMeIn.
RDP supports all versions of Windows 8 and 10 for accessing remote devices. Unfortunately, there are limitations regarding the Windows machines that can be accessed remotely. To establish a remote connection, the target computer must be running the Pro or Enterprise versions of the OS. The cost of a Windows Pro license is at least $200.
RealVNC
RealVNC offers users a trial period during which they can decide if they want to invest in a paid plan. The least expensive paid option is called the professional plan and costs $40 per year. This plan enables a user to establish round-the-clock unattended and attended sessions and connect to cloud resources.
The Enterprise plan, which costs $55 per year, provides remote deployment options and lets you access direct remote connections. There are also plans designed for remote technical support teams that are in the range of $200 to $400 per year for each technician.
---
Conclusion
Microsoft Remote Desktop and RealVNC are both popular remote access solutions due to the feature sets they provide. The two tools are best used for different purposes. RDP is designed to be used in a Windows environment where resources must be shared from a remote computer. VNC works better as a screen-sharing tool for remote technical support, meetings, and education.