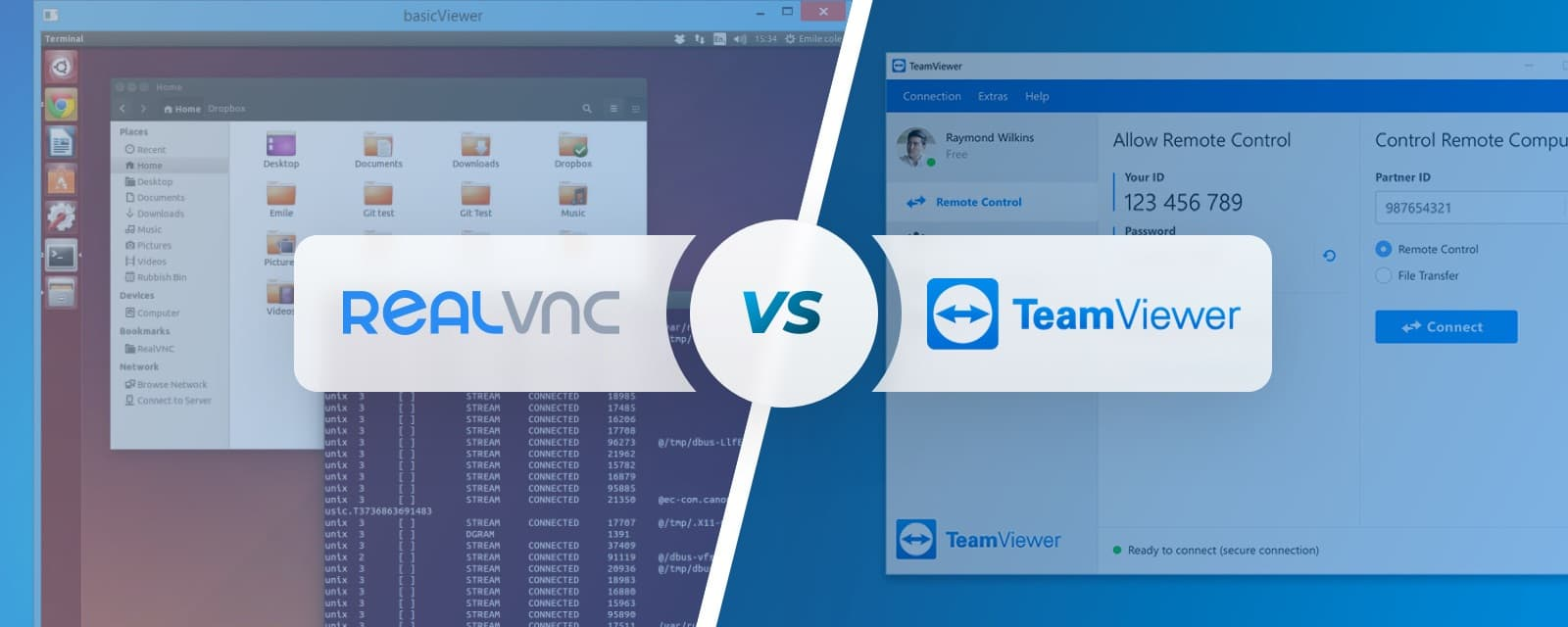 TeamViewer vs RealVNC
Remote access software is an essential solution for individuals or organizations who need to manage and access remotely located computers. Many remote access tools are on the market with different features that appeal to various audiences. This article looks at the differences between TeamViewer and RealVNC to help you select the right one for your situation.
---
Overview

VNC Connect is a remote control and shared meeting application marketed by RealVNC. It's a popular remote access solution for small businesses and home use because of its affordable subscription plans that include free options for individuals. While it is an easy-to-use and economical software tool, VNC Connect does not provide the same extensive feature set found in other, more expensive solutions.
Some examples are an inability to drag-and-drop files between local and remote computers or send invitations to remote users to engage them for support activities. The lack of features impacts its ability to meet some business requirements.

TeamViewer offers users a comprehensive application providing the capability to run remote meetings and access physically distant computers. The tool is compatible with all major mobile and desktop operating systems like Windows, Linux, macOS, iOS, Android, and the Chrome OS.
TeamViewer's interface is more modern and intuitive than other remote access solutions we have tested. Its full-featured version is most appropriate for use in larger organizations, but there is a free option with fewer features that was designed for non-commercial users.
Feature
RealVNC
VNC, also known as Virtual Network Computing, is a pixel-based graphical desktop sharing system. Users can remotely connect to and control a computer while the local user looks on or interacts with the remote visitor. It's a more flexible option than the Windows Remote Desktop Protocol and is a platform-independent solution.
VNC enables desktops to be shared between diverse systems running Linux, macOS, Windows, Raspberry Pi, and other operating systems. VNC applications can be used across platforms with no limitations.
TeamViewer
TeamViewer is supported for use with Mac, Windows, and Linux computers. There is also a dedicated iPhone version of the tool as well as a traveler-friendly edition that can be run from a USB stick or removable drive. It's a versatile solution that can address the needs of most individuals or businesses.
TeamViewer provides functionality that makes it a good tool for use by remote technical support teams. A status display makes it easy to locate and communicate with other users. While the technical support staff needs a license and the software installed on their machines, remotely located users can use the tool without performing an installation.
This is an excellent feature that simplifies troubleshooting problems on remote machines and facilitates sharing videos and presentations with a diverse user community.
| Feature | VNC | TeamViewer |
| --- | --- | --- |
| File Transfer | | |
| Audio support | | |
| Session transfer | | |
| Session recording | | |
| Mobile access | | |
| Real-time communication | | |
| USB sharing | | |
| Remote printing | | |
Interface Comparison
We conclude that both software tools have an intuitive clutter-free interface and don't reduce image quality when scaling. Also, these two apps were on their best performance both during desktop-to-mobile and desktop-to-desktop connections.
Operating System Support
Both solutions support a wide variety of operating systems. Also, you can compare Microsoft RDP and TeamViewer by the number of operating systems accessible for remote support.
| Supported OS | VNC | TeamViewer |
| --- | --- | --- |
| Windows | | |
| MacOS | | |
| Linux | | |
| Android | | |
| iOS | | |
| Chrome OS | | |
| Raspberry Pi | | |
Pros And Cons
The following tables list some of the pros and cons of these two remote access solutions. Compare them with the NoMachine and TeamViewer apps to make the right choice.
VNC:
Pros
Free plan for personal use
Multi-platform support
Reasonably priced subscription plans
User-friendly interface
Cons
Setup is complicated by separate server and viewer apps
Cannot send one-time invitations to other users from the remote computer
No drag-and-drop file transfers between the viewer app and remote desktop
TeamViewer:
Pros
Extensive feature set
Intuitive and attractive viewing interface
Strong multi-level security
Consolidates remote access and online meeting functionality in one solution
Free non-commercial version
Multi-monitor support
Cons
Security features can become an annoyance
Some options can be hard to locate
More expensive than other solutions
Pricing
A variety of pricing plans are available with both tools. Armed with the knowledge of these two apps, you can easily compare the pricing policy with the other two remote assistance tools, s.a. TeamViewer and GoToMyPC.
VNC
RealVNC has multiple paid plan options that include trial periods and are tailored to specific user groups. The least expensive plan, called the Professional version, costs $40 for a yearly license. This plan provides cloud connections and 24/7 unattended and attended access sessions.
The Enterprise package will set you back $55 per year. This plan adds direct connections to the cloud options of the Professional version and also enables remote deployment. Additional plans designed to meet the needs of large customer support teams can be obtained for $200 or $400 per year based on the supported features.
TeamViewer
TeamViewer also has several paid options designed to meet the needs of different users. Plans address the requirements of diverse business and corporate users including remote IT support teams. TeamViewer prices its plans monthly but bills annually. You can choose between a Business license at $50.90, a Premium license at $102.90, and the Corporate license which costs $206.90 monthly.
| Package | VNC | Teamviewer |
| --- | --- | --- |
| Free Trial | Yes | No |
| Free personal version | Yes | Yes |
| Business license | $40 | $50.90 |
| Premium license | $55 | $102.90 |
| Corporate license | $200 or $400 | $206.90 |
---
Conclusion
Choosing the right remote access tool for your unique situation requires you to consider various aspects of the solutions. You may find that one offers features that are necessary for your business needs, such as TeamViewer's ability to send user invitations or its ability to share screens on an iPhone.
Both of the solutions we reviewed offer wide operating system support, so that should not be a major factor in your selection.
Your budget may also be an issue, especially when multiple licenses are required for a support team. We believe RealVNC offers more value for the money and is a good solution for many users. TeamViewer is a more appropriate choice for large organizations with its focus on business-related features.