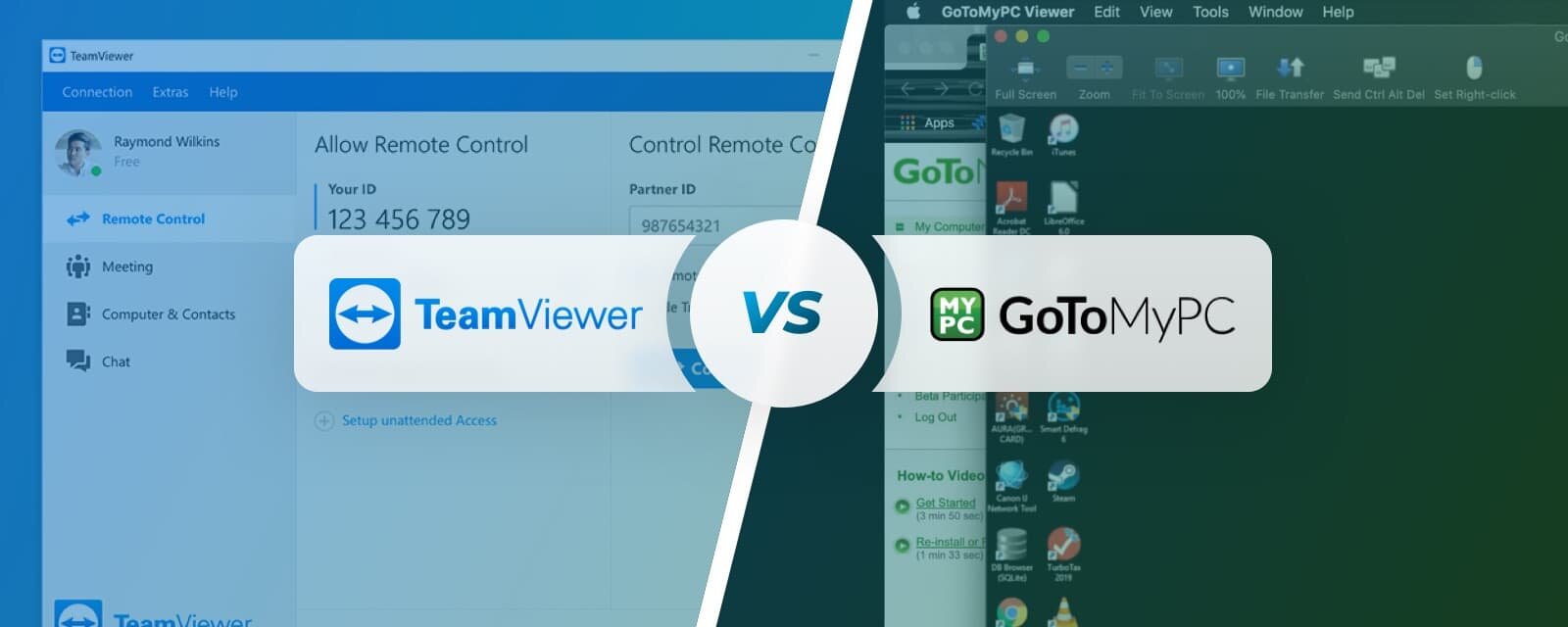 TeamViewer vs GoToMyPC
With so many options available for your remote desktop requirements, it's difficult to decide on what is best for your company's needs. This article will highlight two popular options – TeamViewer and GoToMyPC. With a side-by-side comparison of what each option offers, along with price and performance, making an informed choice between GoToMyPC or TeamViewer should be a lot less daunting.
---
Overview

TeamViewer is designed to serve the needs of corporate IT departments and enterprise-grade users. The tools provide teams with many features like strong security and support for multiple devices and platforms. A remote support staff can manage multiple dispersed systems simultaneously with persistent connections.
Other benefits offered by TeamViewer include a VPN alternative, streamlined file-sharing capabilities, and the capacity to hold online meetings with up to 25 users. A free version of the software is available for non-commercial use.

GoToMyPC lets users connect to remote desktops where they can sync and share files using the application's web browser. Using the tool requires the installation of a small server on the host computer. This server communicates with the centralized GoToMyPC broker to satisfy user requests when working on remote machines.
Citrix is the company behind GoToMyPC as well as the related LogMeIn application. Though these two products share some similar capacities, they do not directly compete with each other.
Feature
TeamViewer
TeamViewer supports any type of remote connectivity, meaning you can connect two desktops, a desktop to a mobile device, two mobile devices, or a mobile device to a desktop. In all cases, users can record the remote session and engage in text chatting with other users. Voice and video conferencing are also available with TeamViewer.
TeamViewer's feature list is more extensive than GoToMyPC, though both solutions let you manage connections, users, and permissions. With TeamViewer, you can white label the app with custom branding, make use of its internal ticketing system, and integrate the tool with CRM and help desk applications. Other features of note include remote data backup, malware protection, and the ability to monitor servers, networks, and websites.
TeamViewer's multi-platform support means you can use the application with the Windows, Linux, and Mac operating systems. It is a versatile solution that can also be run on an iPhone or stored as a mobile version on a removable USB device. The flexibility of the tool makes it suitable for use in a wide variety of situations where remote access to distant machines is required.
GoToMyPC
GoToMyPC is an easy-to-use remote access solution that is powerful enough for use in a business setting while offering a more streamlined interface than TeamViewer. The tool makes it easy for users to access remote computers, transfer files, chat with other users, and send invitations so colleagues can connect to their machines.
GoToMyPC is easily installed by users with general computer skills so they can be connected to remote support when troubleshooting problems by specialists is required. You can also print files from the remote computer to a locally attached printer.
All GoToMyPC sessions are encrypted to protect your valuable information from misuse by unauthorized users or hackers. The app's basic version includes file syncing and transfer capabilities that simplify the processes of accessing, editing, and deleting files stored on remote machines.
A GoToMyPC Pro account adds a central billing feature that simplifies the management of user payments. All of these features are also included in the Small Business plan as well as some additional functionality. A very useful feature is the Wake on LAN capability which lets remote users start a computer or wake it from sleep mode.
| Feature | TeamViewer | GoToMyPC |
| --- | --- | --- |
| Session recording | | |
| Audio support | | |
| Mobile access | | |
| Real-time chat | | |
| File transfer | | |
| Remote printing | | |
| Session transfer | | |
| USB sharing | | |
Operating System
A variety of pricing plans are available with both tools. Armed with the knowledge of these two apps, you can easily compare the pricing policy with the other two remote assistance tools, s.a. Microsoft RDP and TeamViewer.
| Supported OS | TeamViewer | GoToMyPC |
| --- | --- | --- |
| Windows | | |
| MacOS | | |
| Android | | |
| iOS | | |
| Linux | | |
| Chrome OS | | |
Pros And Cons
We provide the following tables with the advantages and disadvantages of TeamViewer and GoToMyPC. You can compare them with what GoToMyPC and LogMeIn provide to make the best choice for your situation.
TeamViewer:
Pros
Availability of a free version for personal use
Fast connectivity speeds
Strong security with two-factor authentication and 256-bit encryption
User-friendly interface
All features supported in Windows and macOS
Supports Windows, Mac, Linux, Chrome OS, Android, iOS, and Blackberry OS
Cons
More expensive than other paid solutions
No phone technical support on weekends
Can be slow when performing large file transfers
Reports of users being restricted from using the free version for personal use
GoToMyPC:
Pros
User-friendly and streamlined interface
File transfers can be done by dragging and dropping items
Supports Windows, Mac, Android, iOS, and Kindle
Full multi-monitor displays
User-friendly mobile apps for enhanced usability
Full multi-monitor displays
128-bit encryption, dual passwords, and end-to-end authentication provide a good level of security
Cons
Expensive solution
Some features do not work well with macOS systems
Sessions can lag or freeze when handling large files
Reports of difficulties canceling subscriptions
Pricing
Both tools offer multiple pricing plans to fit your needs. You can easily compare their value against the cost of competing products like AnyDesk or TeamViewer.
Both solutions support a wide variety of operating systems.
TeamViewer has three distinct pricing plans that begin with the $50.90 per month Business plan. All plans are billed annually even though the company quotes monthly prices.
GoToMyPC also has three pricing plans to suit your specific needs. They offer a $35 per computer per month Personal plan, a Pro plan that costs $66 for two computers per month, and a Corporate plan costing $140 per month.
The Personal plan is appropriate for a single user and enables access to as many remote computers as they wish. Access to between two and 50 computers is offered in the Pro plan. If more than ten users require access to remote machines, the Corporate plan is the way to go.
| Pricing plan | Teamviewer | GoToMyPC |
| --- | --- | --- |
| Free version | Yes | No |
| Free trial | No free trial is available | 7-day free trial |
| Business license | $50.90 | $35 |
| Premium license | $102.90 | $33 |
| Corporate license | $206.90 | $28 |
---
Conclusion
When deciding on the right remote access software for your personal or business use, you need to consider the functionality and features offered by competing solutions. The selected tool needs to address your usage scenario and support your team's processes and workflows. We hope this comparison of TeamViewer and GoToMyPC helps you make the right decision so you acquire the remote support features needed to simplify your work life and increase productivity.