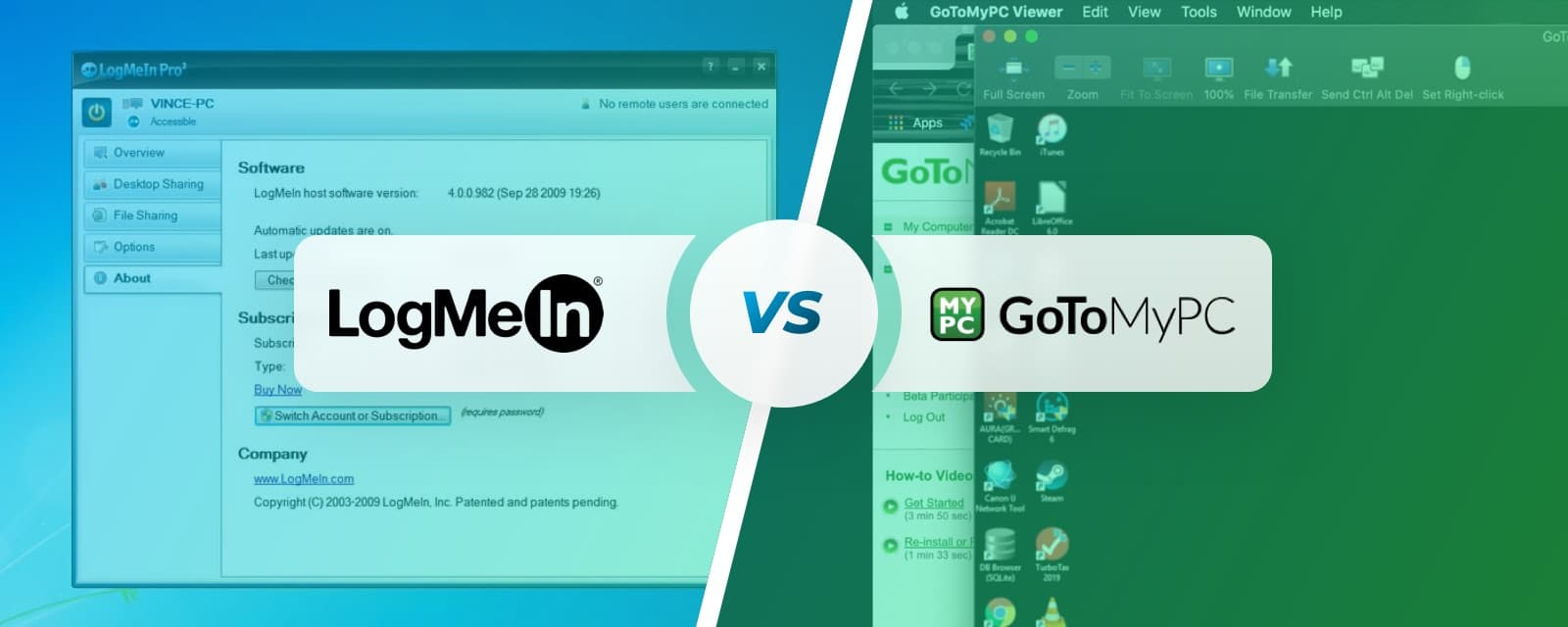 GoToMyPC vs LogMeIn
With so many options available for your remote desktop requirements, it's difficult to decide on what is best for your company's needs. This article will highlight two popular options – GoToMyPC and LogMeIn. With a side-by-side comparison of what each option offers, along with price and performance, making an informed choice between GoToMyPC or LogMeIn should be a lot less daunting.
---
Overview

LogMeIn Pro is a purpose-built remote access tool that gives you a reliable and flexible work anywhere solution. The company that brings you LogMeIn Pro is also behind other popular collaboration tools like GoToMeeting, GoToConnect and Grasshopper.
A subscription for LogMeIn Pro includes perks like 1 TB cloud storage and password manager LastPass Premium. LogMeIn Pro is available as a mobile app or browser based desktop application.

GoToMyPC is part of the Citrix family of products – much like LogMeIn but while similar, the two products do not compete. GoToMyPC is a simple and flexible solution that requires installation and configuration on the remote computer that you wish to access. This process generates an access code for the host computer that you are required to enter to start a remote session. GoToMyPC uses a "broker" to relay all requests between the accessing device and the remote machine through a private encrypted stream.
Features
LogMeIn
LogMeIn includes a wide array of additional features to give you the most reliable and flexible remote access experience. Recommended for small and medium-sized businesses, LogMeIn lets you add unlimited users to extend your remote network.
LogMeIn works on your desktop, iPhone, iPad or Android device – giving you maximum mobility to work anywhere. With 1TB cloud storage, store and share files quickly and securely, and print documents from anywhere.
Multi-monitor support lets you host online sessions and you can even screen record to AVI files. With the Whiteboard drawing feature, annotate any documents or slides as required. You can also wake up the remote machine via LAN which means unattended access is possible.
GoToMyPC
To use GoToMyPC you must download and install it on the host machine. In the Personal or Pro versions – setup must happen on the host machine. Only the Corporate package allows you to configure the software remotely. Once configured, simply log in on your browser via www.gotomypc.com or use the mobile app.
Once you've selected the machine that you want to connect to, the GoToMyPC broker triggers the session start signal to the host computer and you will be prompted to enter your access code. The access code is not stored by GoToMyPC – only on the host computer. Once the connection is authorized, the broker selects an available server to relay all communications including mouse and keyboard actions as well as any data transfers. All data is encrypted end to end using 256-bit Advanced Encryption Standard (AES).
Due to the multiple data centers worldwide – GoToMyPC provides a reliable system that is available all the time. The host computer screen is only transmitted when a change is detected, thus ensuring high performance, and reducing unnecessary data transfers. Data is compressed to provide a better user experience with minimal lag. GoToMyPC also lets you wake up or start-up a remote host over LAN – which is very useful to allow unsupervised remote access.
---
Interface Comparison
Both LogMeIn and GoToMyPC have a very user-friendly interface. You'll feel as though you're sitting in front of the host machine. With a good resolution the remote desktop image is crisp and clear. The mobile apps also provide a good user experience.
---
Operating Systems
GoToMyPC and LogMeIn both support all standard Desktop and mobile operating systems. Another way to compare the LogMeIn and SplashTop is by the number of operating systems that can be accessed remotely with the tool.
---
Pros and Cons
The pros and cons of GoToMyPC and LogMeIn are outlined in the following tables. We think this will help you compare their features with RDP and GoToMyPC and make the correct purchasing decision.
GoToMyPC
| | |
| --- | --- |
| | |
| Easy installation and ease of use | Even with three different price plans, it is an expensive solution. |
| Simple drag and drop file transfer | Some performance inconsistencies on MacOS |
| Multi operating system support including availability for Kindle | Some lag experienced when working with large files |
| | Users have reported difficulty when trying to cancel subscriptions |
| Phone technical support available 24/7 | |
| Available as a mobile app for extra flexibility | |
| | |
| Security features include 256-bit AES encryption, multi factor authentication, host access codes and dual passwords. | |
---
LogMeIn
| | |
| --- | --- |
| | |
| | Expensive with no free option available |
| | Screen resolution and connections on Mac are glitchy |
| Transfer files using drag and drop | File transfer interface is not user friendly |
| Share screens with multi monitor support | Only annual billing option available |
| Supports Windows, Mac, Android and iOS | |
| State of the art endpoint security with dual passwords, 256-bit AES encryption and end-to-end authentication. | |
| 1TB file storage included | |
| Online and phone support available 24/7 | |
| LogMeIn Antivirus included | |
| LastPass Premium included | |
---
Price
As with many remote assistance tools, various pricing options are available with these solutions. You can easily compare the price of these tools with the cost of alternative solutions like LogMeIn or Bomgar.
LogMeIn has Individual, Power User and Small Business price plans. The Individual plan allows access for only up to two computers but you can have unlimited users. The 1TB storage and LogMeIn Antivirus is included in all price plans. The number of licences for LastPass Premium across the packages are one, three and 5 respectively. LogMeIn is billed annually.
GoToMyPC plans are Personal, Pro and Corporate. With the Personal plan, you are limited to one user but all the minimum required features are included. The Pro license allows for between 2 – 50 users. Additional features include central billing for users, the ability to monitor usage and to administer accounts and users, as well as remote deployment. The corporate bundle includes many other additional features with no upper limit of users. One useful feature not included in any of the other packages is the ability to wake the remote computer or to reboot it within an active session.
| | | |
| --- | --- | --- |
| | | |
| | | |
| | | |
| | | $30/month billed annually |
| | | $70/month billed annually |
| | | $129/month billed annually |
---
Conclusion
For simple file sharing options, it's not necessary to use remote desktop software like LogMeIn or GoToMyPC. With the added features these software solutions provide, it would simply be overkill. However, to allow online collaboration whether it be with presentations or online meetings, and for remote technical support – both LogMeIn and GoToMyPC are up to the task.
LogMeIn is more suitable should you require to provide remote IT services. Users and hosts can access data securely without requiring additional installations and it's not necessary to configure firewalls for remote access.
On the other hand GoToMyPC requires the installation of a server on the host machine. It is more suited towards other industries that require additional reporting and administration tools. It also maintains data integrity by ensuring sensitive information is not shared publicly or stored in the cloud.