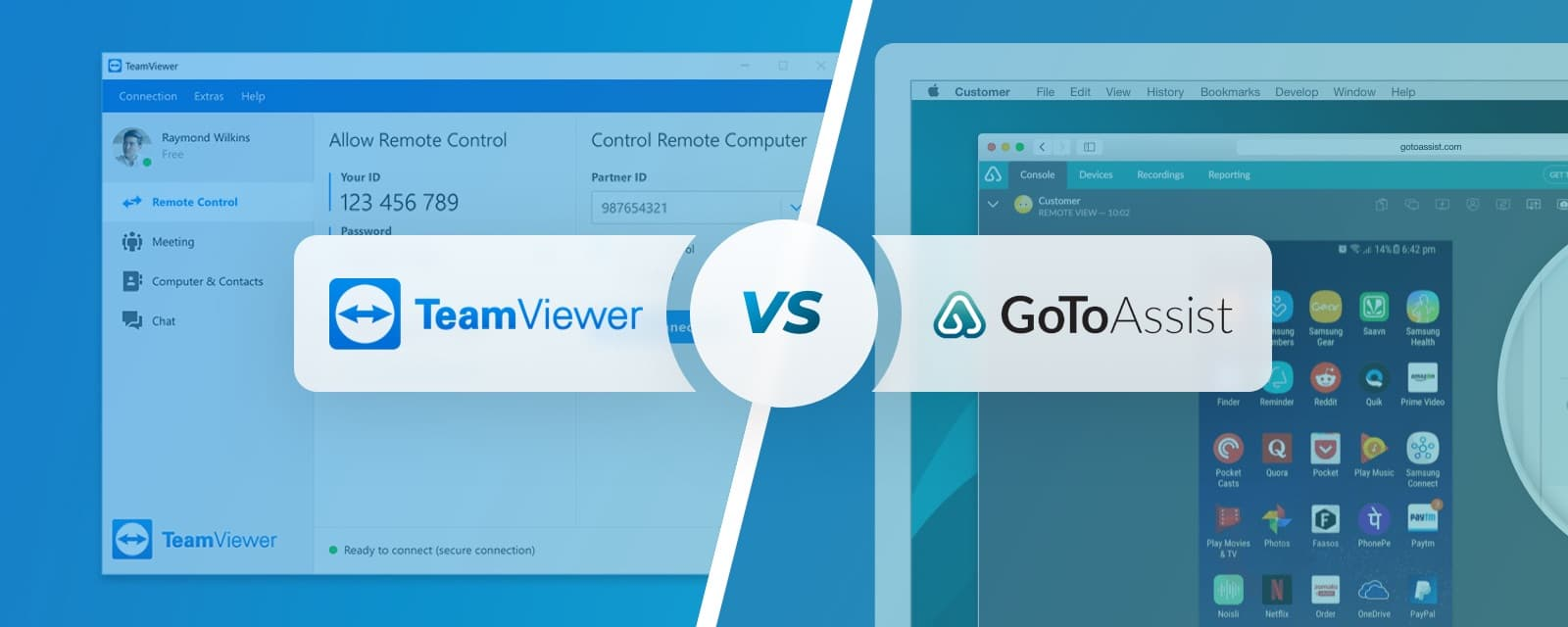 GoToAssist Vs TeamViewer: A Remote Desktop Software Comparison
This article is here to help make choosing between TeamViewer and AeroAdmin easier. Below we compare and highlight the unique features and flaws in both of these software tools, giving the user the information they need to make the choice that's best for them. We discuss their commonalities, and identify key differences between GoToAssist and TeamViewer, ensuring that readers can make their selection with confidence.
---
Overview
GoToAssist

GoToAssist is a cloud-based remote desktop solution that was developed specifically to help IT and customer support teams.
With GoToAssist, users can send connection codes to team members or customers in need of assistance. These codes are entered via a website or link to initiate the remote desktop support session.
By running installers on remote devices, GoToAssist enables full access to unmanned devices and servers. Additionally, it's beloved for its screen sharing and mouse/keyboard control capabilities, allowing for more efficient customer service and troubleshooting.
GoToAssist can create a session via desktop application or internet browser and is used almost exclusively by Windows operators (most GoToAssist features work on Mac, as well.) Thanks to the app, RA also lets users connect via iOS and Android devices.
TeamViewer

While an excellent software for IT departments, enterprise, and corporate-level organizations, TeamViewer provides a feature-packed free (non-commercial use only) version, too.
Supporting an array of operating systems and device types, TeamViewer is rich with features, offering some of the best security measures on the market.
TeamViewer users enjoy:
• Full-time access to remote servers and computers ;
• Easy management over multiple systems simultaneously ;
• Easy file sharing;
• Online meeting tools for up to 25 guests;
• VPN alternative.
Features
GoToAssist
GoToAssist allows IT and tech support teams to exceed their goals for efficiency and productivity. While tech support was once solely done over audio communication, GoToAssist enables support professionals to access customer machines and control the computer themselves.
Eliminating client and tech frustration, and greatly expediting fixes and customer satisfaction.
Moreover, if an issue arises that stretches beyond the current specialization of a support professional, they can invite additional specialists to assist or forward the issue to another technician entirely, without customers needing to wait in additional queue times, or call back.
GoToAssist also allows a single technician to help up to 8 individual customers at the same time. Conveniently, these features are available on mobile devices, ensuring efficiency is always within arm's reach.
TeamViewer
TeamViewer, even at its most fundamental level, provides some of the most high-quality screen sharing and remote access tools on the market- but it's so much more than that.
TeamViewer offers an array of features that enhance productivity and efficiency for remote-oriented organizations. It's a reliable cross-platform software, allowing Windows users to access iOS or Mac OS devices, vice versa, and everything in between.
And just like GoToAssist, TeamViewer also allows multiple users to join the same session simultaneously, expediting problem-solving and customer satisfaction.
TeamViewer also provides user-friendly file-sharing capabilities. All users need to do is connect via "File Transfer" and follow the prompts!
Combining these features with TeamViewer's range of IoT and network compatibility, users experience flexible and simplified management over devices sharing the network.
---
Interface Comparison
We put GoToAssist and TeamViewer to a series of tests, and after a thorough examination, both options passed with flying colors. Both tools provide powerful remote server and mobile device connectivity, and offer exceptionally smooth image scaling (images being accessed remotely.)
---
Operating System
You can use both of these tools with all popular operating systems. Bomgar and TeamViewer support a wide variety of platforms for establishing remote access.
GoToAssist and TeamViewer support all major operating systems, allowing for flexibility and efficiency for many support teams.
---
Pros And Cons
See below for an outline of GoToAssist and TeamViewer's advantages and disadvantages. Use the info shared in this article to draw comparisons with competitors like GoToMyPC and LogMeIn.
TeamViewer
| | |
| --- | --- |
| | |
| Free version (non-commercial-use only) | Can't view more than one remote system at a time |
| Simple and easy interface | Additional costs for mobile access |
| | |
| Windows, Mac, Linux, Chrome OS, Android, iOS and Blackberry OS support | |
| Features work on both Windows and Mac OS | |
| Powerful security measures (256-bit AES encryption and two-factor authentication) | |
GoToAssist
---
Pricing
GoToAssist and TeamViewer offer a variety of pricing options to accommodate many user needs, making it easy to compare their value against competitor costs (like Microsoft RDP and GoToMyPC).
GoToAssist
Option 1: $69/per month, per 1 technician.
Option 2: $345/per month, per 5 technicians.
Option 3: $690/per month, per 10 technicians.
Note: Mobile accessibility costs an additional $20/per month.
Pricing scales based on the number of technicians, and while GoToAssist does not have a free version, it offers a free 30-day trial.
TeamViewer
TeamViewer Single-User Plan: $50.90/per month, per 1 user.
TeamViewer 20-User Plan: $102.90/per month, per 20 users.
TeamViewer 200-User Plan: $206.90/per month, per 200 users.
These reasonable prices combined with TeamViewer's frequent deals and discounts make it a fantastic value for what the software provides.
Regardless of whether a team works completely onsite or is spread out internationally, modernity in white-collar business demands reliable remote access options. Implementing these tools can improve efficiency, collaboration, and the long-term health of an organization, as well.
| | | |
| --- | --- | --- |
| | | |
| | Yes (Non-commercial Use Only) | |
| | | |
| | | |
| | | |
| | | |
---
Conclusion
Due to its scalable feature suite (including multi-session support), GoToAssist is preferred over TeamViewer by growing businesses.
Conveniently, GoToAssist also offers support for:
• Content sharing;
• Slack integration;
• Chat functionality.
All of which empowers organizations with the workflow and collaborative tools they need to maintain efficiency, productivity, and offer top-quality customer support.
TeamViewer is definitely a fantastic software, having already established itself among the remote access software pantheon. It's reliable, powerful, and beloved by many.
But GoToAssist's easy-to-use features (like session-transferring, and live-recording of support sessions), have turned it into a very popular option among IT and support-oriented organizations.