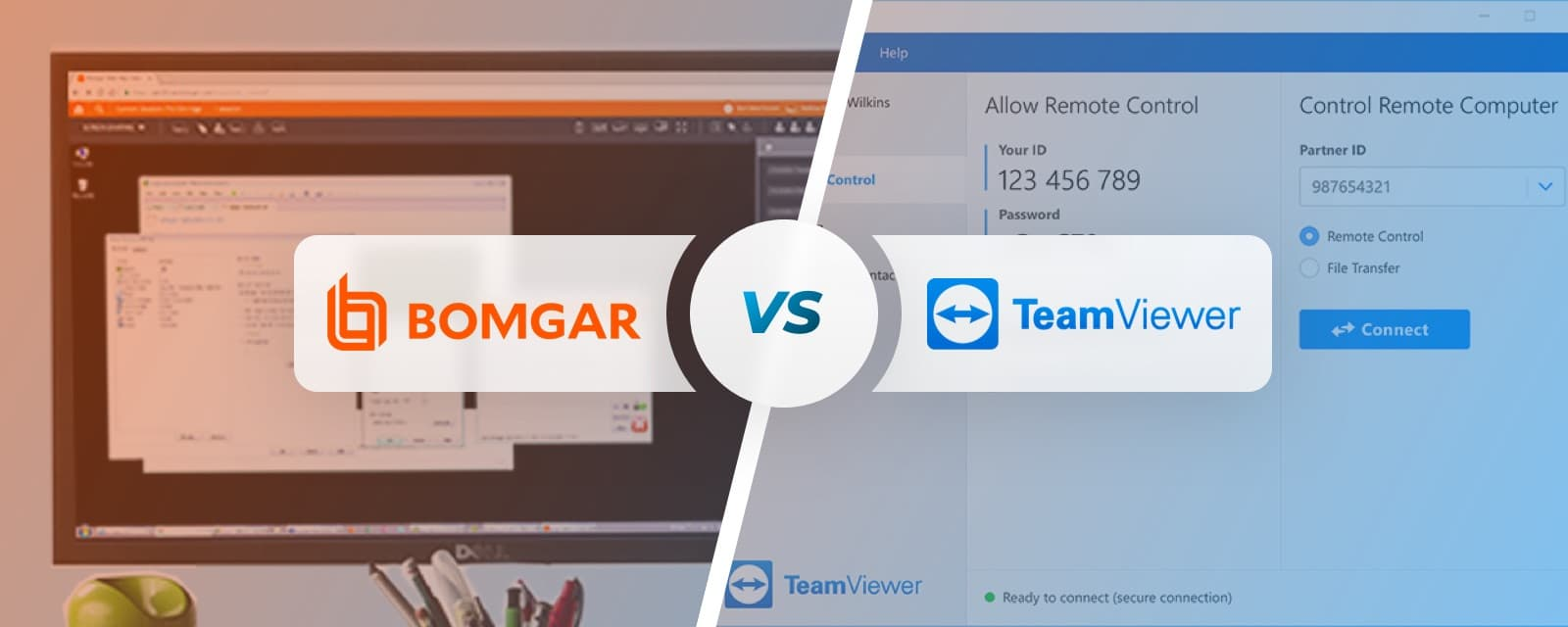 Bomgar vs TeamViewer
In this unprecedented time of remote team management, remote support software has become an indispensable resource for businesses requiring secure remote management- or those providing customer and tech support. With that in mind, Bomgar and TeamViewer (two powerful remote desktop tools), provide easy troubleshooting options that make up for digital defects and frustrations.
While both software options simplify most IT tasks through easy access and control over remote devices, readers should also recognize Bomgar and TeamViewers' variety of features that make them beneficial in other scenarios, as well.
---
Overview
Bomgar Remote Support

Bomgar offers one of the most comprehensive feature catalogs in its category. Additionally, it provides remote desktop support that functions exceptionally well on mobile devices and traditional desktop computers.
BeyondTrust Remote Support (previously Bomgar Remote Support) allows users to view and control their desktops, laptops, mobile devices- and even POS systems.
Bomgar's file transfer feature enables users to transmit valuable files from a computer to client, or from a remote system to a device. Copying and transferring any file-type (including mp3s, images, etc) is an easy and almost instantaneous process. Bomgar also offers remote file printing capabilities.
TeamViewer

TeamViewer is a top pick for IT departments, enterprise-level, and corporate users. Conveniently, it also provides a free version that's packed with features- but it's only permitted for non-commercial use. Boasting some of the strongest security protocols on the market, TeamViewer supports numerous operating systems, devices, and platforms.
Users have 24/7 control over remote computers and servers simultaneously, quick and easy file sharing, online-meeting options for up to 25 participants, and can use it as a VPN alternative.
Feature
Bomgar
Bomgar (AKA BeyondTrust Remote Support) lets users have full access/control of a remote desktop, allowing for quick and effective troubleshooting without needing a tech physically on site.
Check out more awesome features below:
• Remotely manipulate a distant desktop as if the user was operating the machine in person;
• Access remote computers even if users aren't present (additionally helpful if a particular user isn't technologically savvy);
• Access remote cameras on iOS and Android devices, enabling additional support opportunities (like if a tech is assisting with WiFi issues and needs to see the physical router);
• Can use an iOS or Android's auto-focus, zoom, and flashlight features;
• Annotation options that let tech's assist customers in solving issues themselves;
• Can draw on the screen or scribble notes using the remote camera;
• Chat and voice communication options that make it easy to assist custome.
TeamViewer
TeamViewer (at its most basic level) provides screen-sharing tools, and access to remote computers- but it also offers a plethora of powerful features, which are listed below.
• Stream-lined cross-platform compatibility that allows users to access their iOS/Android device using a Windows or Mac OS (or vice versa) ;
• Allows more than one user (like remote support professionals) to enter the same remote session, equalling faster and more effective problem resolution;
• Transfer files with TeamViewer's easy Graphical User Interface (just connect via "File Transfer" setting and following the prompts to get started) ;
• Enjoy improved connectivity and simple device management thanks to TeamViewer's extensive compatibility with numerous IoT and network devices.
| Features | TeamViewer | Bomgar |
| --- | --- | --- |
| File Transfer | | |
| Session Recording | | |
| Audio Support | | |
| Session Transfer | | |
| Remote Printing | | |
| USB Sharing | | |
| Real-Time Chat Functions | | |
| Mobile Accessibility | | |
Operating System
You can use both of these tools with all popular operating systems. TeamViewer and LogMeIn support a wide variety of platforms for establishing remote access.
| Operating System | TeamViewer | Bomgar |
| --- | --- | --- |
| Windows | | |
| Mac | | |
| Android | | |
| Linux | | |
| iOS & iPadOS | | |
| Raspberry Pi | | |
| Chrome OS | | |
Pros And Cons
We provide the following tables with the advantages and disadvantages of TeamViewer and Bomgar. You can compare them with what TeamViewer and VNC provide to make the best choice for your situation.
TeamViewer:
Pros
Free version available (non-commercial use only)
Simple and user-friendly interface
Fast connection speed
Windows, Mac, Linux, Chrome OS, Android, iOS, and Blackberry OS support
All features are compatible with Windows and Mac OS
Strong security with 256-bit AES encryption, and two-factor authentication
Cons
Can't view more than one remote system at a time
Additional costs for mobile access
Bomgar:
Pros
Smart card authentication and screen sharing are restricted to specific apps
Excellent security measures
Embeddable chat and support functions
A large selection of tools
Can transfer access from one user to another
Cons
Not available in all regions
Remote access is limited by groups- not individual users
No control over screen size
Multi-monitor display not supported
Pricing
Both TeamViewer and Bomgar offer numerous pricing options, and with the information gained about these tools, users can now compare pricing policy with alternative apps like Bomgar and LogMeIn.
Regardless of whether a company coexists within one location, or is spread all over the world, most modern office work relies on computers- and the IT team that's responsible for maintaining systems and solving issues.
Thus, remote access software can greatly enhance productivity (i.e. revenue generation opportunities) for most businesses.
TeamViewer Pricing Plans
• The lowest-tier

Single-user plan

cost $50.90/per month ($610.80/per year) ;
• Increasing to $102.90/per month for up to 20 users ;
• Or $206.90/per month for up to 200 users.
An excellent value for one of the high-rated remote tools on the market- not to mention, TeamViewer frequently offers discounts and deals throughout the year.
Bomgar Pricing Plans
Bomgar customers must make a one-time purchase of a Bomgar(BeyondTrust) physical appliance- then offers support and upgrades at the cost of annual maintenance fees. This, in the long-run, terminates monthly SAAS (Software as a Service) fees, equally lower costs for ownership.
This also circumvents SaaS-related deployments issues- being that its setup as a dedicated cloud-hosted appliance (within a secure Bomgar data center.)
Annual cloud services cost $2097/per concurrent license.
| Pricing Options | TeamViewer | Bomgar |
| --- | --- | --- |
| Free Version | Yes | No |
| Free Trial | No | Yes |
| Business License | $50.90 | Consult Vendor Rep |
| Premium License | $102.90 | Consult Vendor Rep |
| Corporate License | $206.90 | Consult Vendor Rep |
---
Conclusion
TeamViewer is known for many great features, but one of its most beloved is being easy to use. Additionally, TeamViewer provides a free version for non-commercial use, which is a great option for freelancers.
Alternatively, Bomgar offers an impressive list of features that integrates with a plethora of management tools like Salesforce, HP, Hornbill, and more.
Before selecting a remote software solution, review the needs of your team (and your organization as a whole) to ensure that the software you choose provides all of the features that will add efficiency to your specific company.
Both TeamViewer and Bomgar (BeyondTrust Remote Support) are excellent choices, offering a range of flexible options that greatly enhance productivity, communication, and workflow.