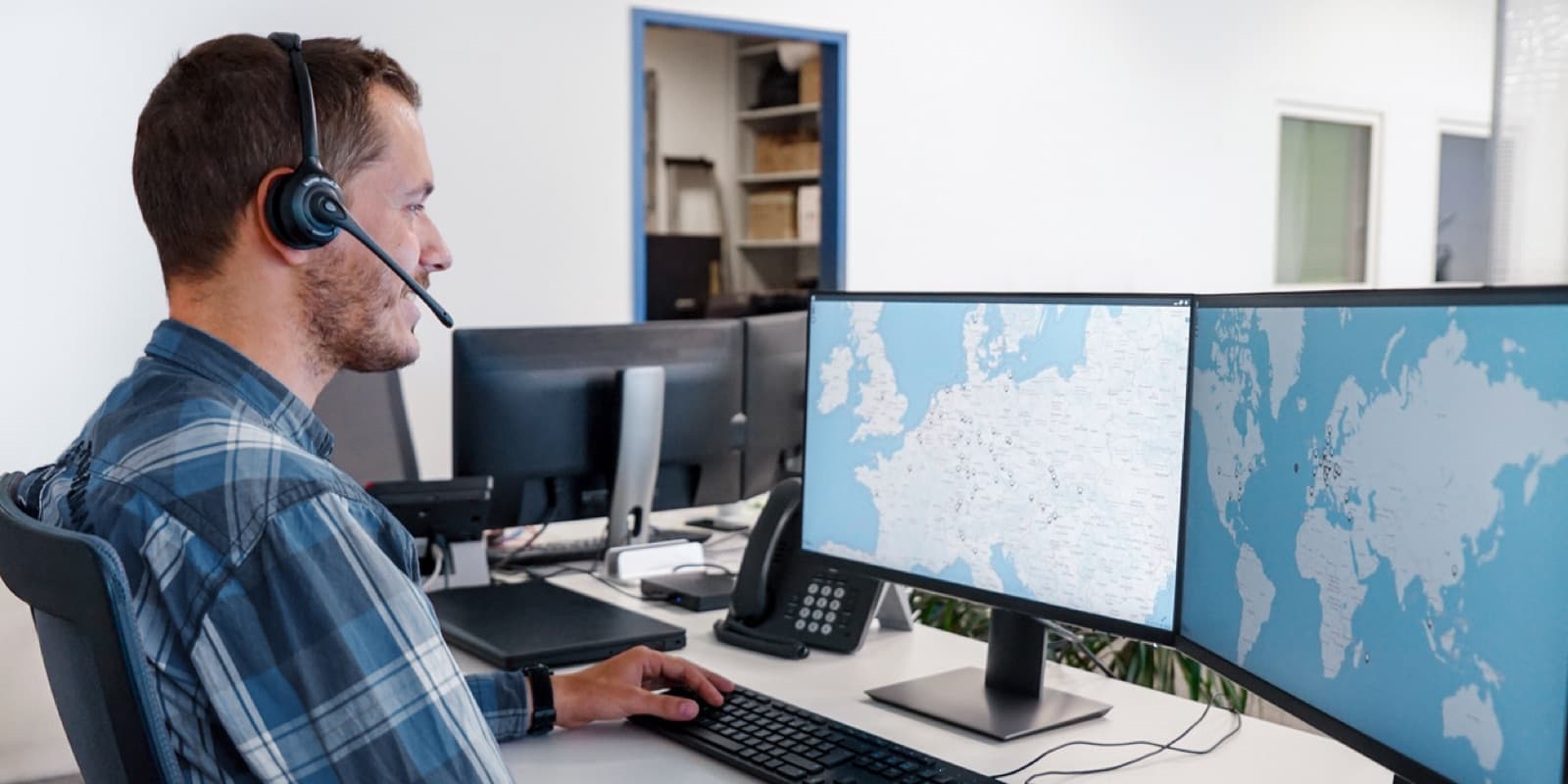 15 Best Remote Support Tools in 2023
Talking of IT remote support software, we usually mean a software-based access tool that lets tech pros connect devices remotely over the Internet or any other network and fulfill all sorts of service and maintenance operations in compliance with any corporate safety standards.
Сhoosing the right remote assistance tools for said service is extremely important.
We've tested every popular remote computer support software on the market, both free and paid, and compiled a list of the most promising ones.

• TeamViewer QuickSupport
• Zoho Assist
• Rescue by LogMeIn
• Remote Support by BeyondTrust
• GoToAssist
• Dameware Remote Everywhere
• ConnectWise Control
• Splashtop SOS
• Parallels Access
• RealVNC Connect
• AnyDesk
• TeamViewer
• Aeroadmin
• Chrome Remote Desktop
• DWService
10 paid remote support software for small business and enterprises
Keep on reading to learn about Top-10 remote troubleshooting software. Find out all there is to know about the key features, pros, and cons and choose the most appropriate remote desktop software for your needs.
1. TeamViewer QuickSupport
Best for: small and big businesses looking for collaborative tools, integrations and multiple devices support.
Supported OS: Windows, macOS, iOS, Linux, Android, Chrome OS.
💸 Price: from $50.90/mo per technician.
☝ Top features: drag-and-drop file transfer, conference calls, video sharing, VPN, multi-user support, trusted device list, proxy support, SOS Button.
TeamViewer is a combined software tool for remote access and online meetings with a free version for personal use and paid versions for businesses of any scale. All the TeamViewer versions have their basic toolset, but all those much-wanted advanced features (i.a. mass deployment, device access log, and multi-connect) are available on high-tier paid versions only.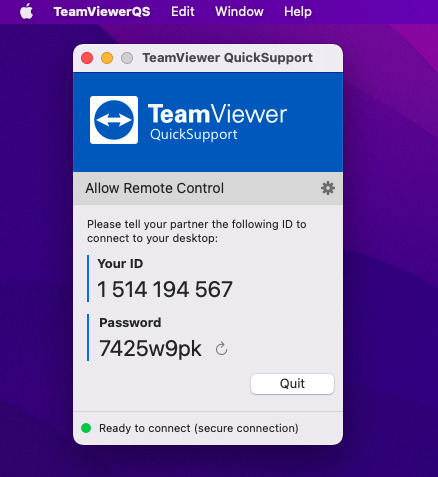 ---
2. Zoho Assist
Best for: small and medium-sized businesses looking for inexpensive all-in-one remote access software. Supported OS: Windows, macOS, Linux, Android, iOS.
💸 Price: from USD $59/mo192.00 per technician annually. Free plan is available.
☝ Top features: remote printing, unattended access, video chat, session recording, inactive session timeout, wake-on-network, Customer Widget.
Zoho Assist is a popular cloud-based feature-rich customer support and remote access tool with a wide variety of plans. Allows to carry on an on-demand remote support session with no software client installation with the option to have a live video chat between the tech specialist and the end-user. Plus, Zoho Assist has robust transferred file protection thanks to the SSL 256-bit AES encryption algorithm and a whole array of advanced tools and features.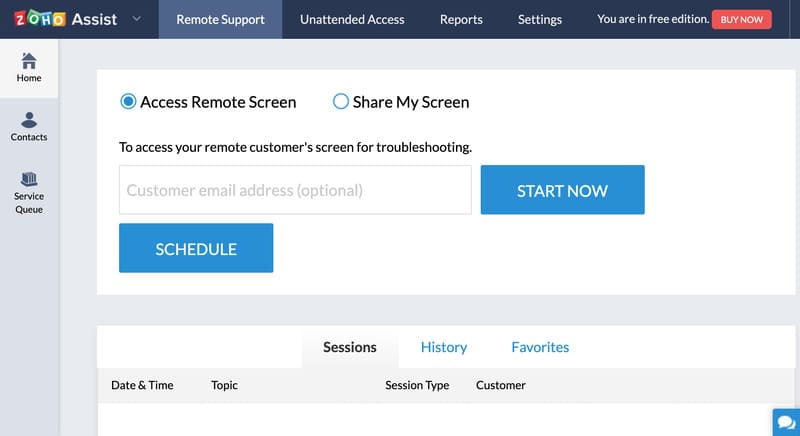 ---
3. Rescue by LogMeIn
Best for: large businesses and enterprises.
Supported OS: Windows,macOS, iOS, Android.
💸 Price: from $108/mo.
☝ Top features: drag-and-drop file transfer, emergency reboot, device autodetection, video support.
LogMeIn is cloud-based remote support software that helps organizations of any scale provide technical support to their customers. With its help, a tech professional can handle up to 10 remote sessions in parallel and easily switch between them, while having processes like updating, installation, or check-up running in the background. There is a special pro plan for small business that access up to 50 computers and includes 25 Premium licenses.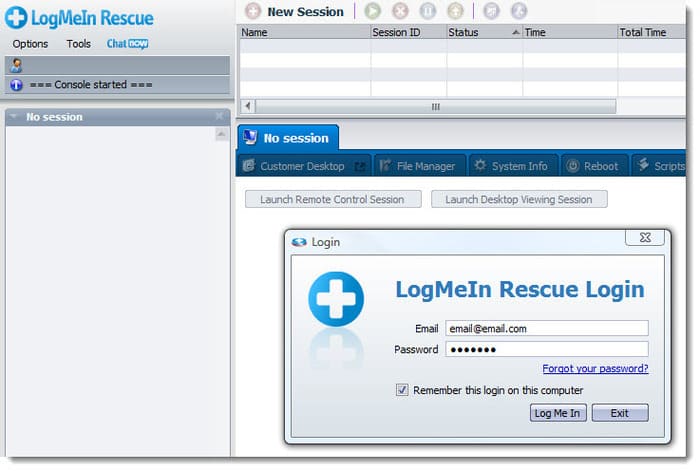 ---
4. Remote Support by BeyondTrust
Best for: big enterprises looking for CRM options.
Supported OS: Windows,macOS, Linux, iOS, Android, Chrome OS, Virtual Desktop.
💸 Price: from $2097.00 per technician annually.
☝ Top features: session launch from a ticket, mobile device camera sharing, chat transcript, wake-on-network, session logs.
The Remote Support tool that is easily integrable with many CRM solutions and has three options for connecting a user's device: the thick client, the web-based interface, or the mobile app. In addition to its many features, can be easily integrated with a wide variety of ITSM, CRM, and SEIM third-party tools, supports many scripts, and will allow you to use mass installer packages. On top of that, you can set access permissions for each individual user.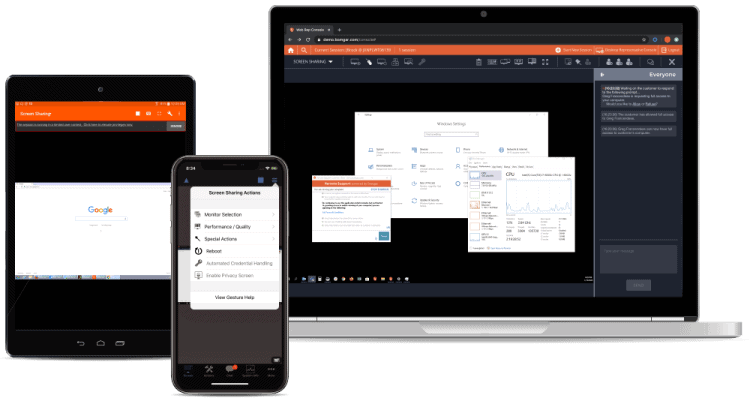 ---
5. GoToAssist
Best for: small or medium-scale in-house helpdesk service teams looking for no-download remote assistance.
Supported OS: Windows, macOS, Browser version.
💸 Price: from $660.00 per technician annually.
☝ Top features: unattended access, session transfer, data archivation, multi-monitor navigation, easy access to customer's system information.
GoToAssist is an easy-to-use remote assistance tool with the essential toolset. Instantly provides technicians with the fullest info on the user's device, including hardware configuration data. The biggest downside of this app is the lack of support for any mobile devices in the basic configuration. You'll need to purchase an add-on to make your GoToAssist mobile-friendly.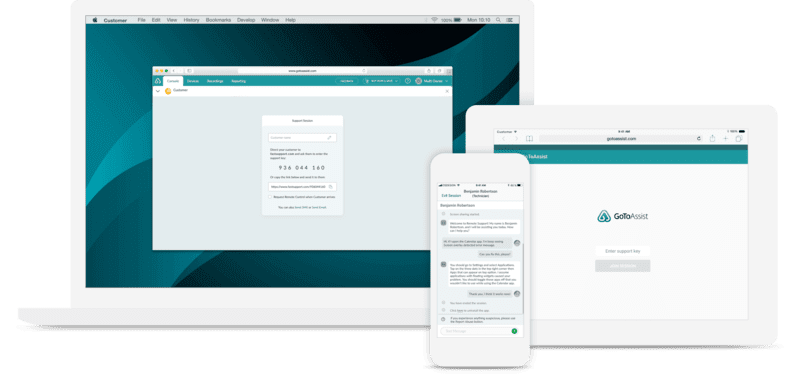 ---
6. Dameware Remote Everywhere
Best for: enterprise-scale tech support teams looking for an affordable and easy-to-use remote desktop software.
Supported OS: Windows, macOS, Linux, iOS, Android.
💸 Price: from $383.00 per technician annually.
☝ Top features: remote system reboot, process termination, event log management, active directory (AD) domain monitoring, smart card authentication.
Remote Everywhere is a fast and secure cloud-based remote support solution features multi-factor authentication (i.a. The smart card authentication option), multiple language interface, alert system, and even can host your conference calls. Unlike some other apps, it provides you a full-featured uncut version for a free 2-week trial.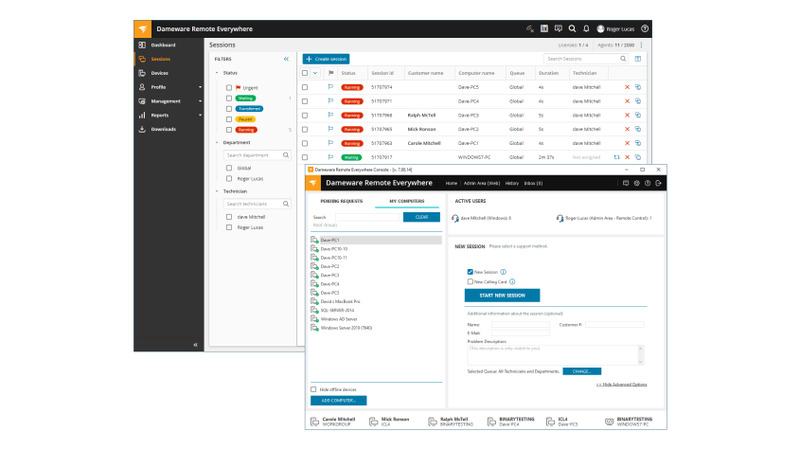 ---
7. ConnectWise Control
Best for: for small businesses that need advanced security and VoIP connectivity.
Supported OS: Windows, macOS, Linux, Android, iOS.
💸 Price: from $27/mo.
☝ Top features: team collaboration, remote meetings, PowerShell commands support, automated responses, app sharing, ConnectWise self-service portal, shared toolbox.
ConnectWise Control is a secure self-hosted remote access tool for both attended and unattended support that allows techs to collaborate with team members and communicate with the clients. Has subscription plans for individual technicians (most basic toolset), helpdesk teams, and the most advanced one is for Managed Service Providers and allows browser-enabled live stream sessions between the tech and the customer. Plus, they offer a GUI customization option, custom-tailored feature set, and white labeling.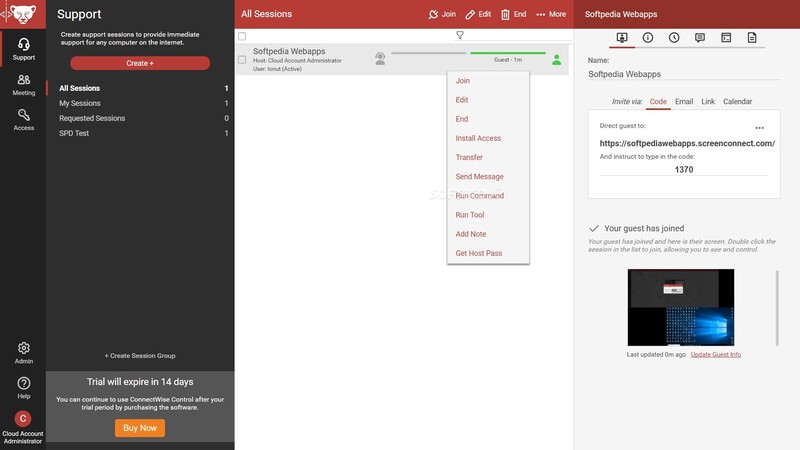 ---
8. Splashtop SOS
Best for: small businesses searching for an affordable solution with basic functionality.
Supported OS: Windows, Mac, iOS, Android.
💸 Price: $17/mo.
☝ Top features: Drag-and-Drop file transfer, remote reboot, PSA ticketing, desktop sharing, unattended access to iOs and Android devices.
Splashtop SOS is an on-demand remote assistance tool for IT teams and helpdesks that provide attended and unattended support services. Even the most budget-friendly Splashtop package will provide you with handy file transfer, live text chat, and secure remote control for Apple products and mobile devices running Android 8 or later, i.a. the vast majority of the Google Pixel, LG, OnePlus, HTC, Lenovo, Huawei, OPPO, Sony, and ZTE device models.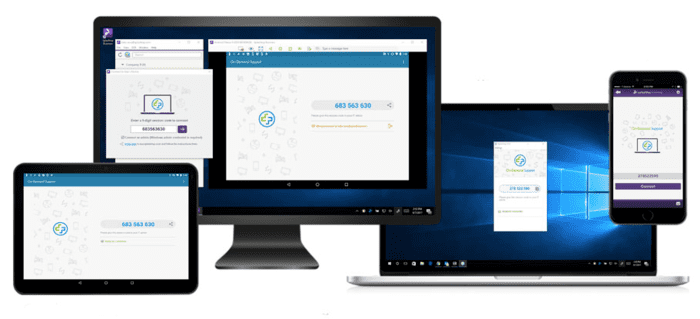 ---
9. Parallels Access
Best for: remote desktop access from a mobile device.
Supported OS: Windows, macOS, iOS, Android.
💸 Price: $19.99/mo.
☝ Top features: file manager, file preview, wake-on-LAN, multiple monitors support, cloud storage.
Parallels Access is a mobile-centered remote support tool intended mainly to provide technicians access to a computer from a mobile device. Allows you to navigate desktop applications with the same well-accustomed taps and gestures you're using on mobile apps. On top of that, it guarantees your mobile gadget easy and convenient access to the files and folders stored in the cloud and remote machine with Parallels Access Universal File Manager. For extra convenience, you can even add a shortcut for a desktop app to your home screen.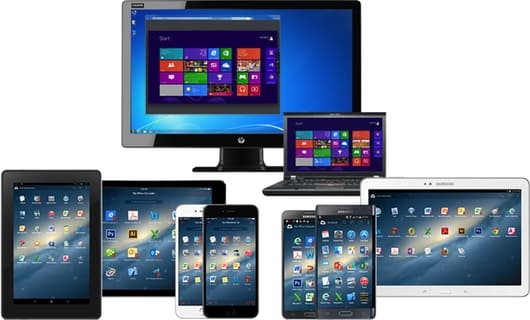 ---
10. RealVNC Connect
Best for: robust safety that protects remote desktop sessions.
Supported OS: Windows, Mac, Linux, Raspberry Pi, Android and iOS.
💸 Price: from USD $2.79/mo.
☝ Top features: file transfer, centralized management dashboard, screen sharing, live chat, easy access to user's software.
RealVNC Connect is a client-server-type software solution that powers remote access for a wide range of purposes from tech assistance to teleworking. Has a subscription plan option tied to a specific device that has no limit for the number of employees using said device to establish remote connections. Works with all popular operating systems, including Ubuntu and Raspberry Pi, and allows cross-platform connectivity. All your connections will be secured with 256-bit AES end-to-end encryption.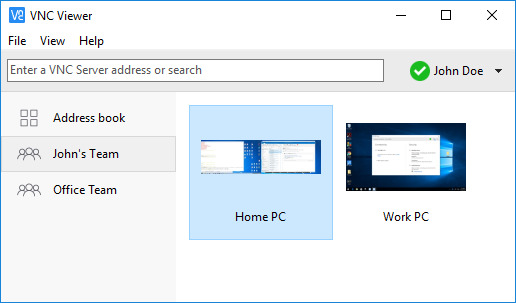 The best of free remote access software solutions for personal use
To get the complete picture of all the remote access solutions today's market has to offer, we've received all of them: desktop, web-based, paid, and open-source ones. Here is the list of the most interesting tools that either are freeware or have a free version.
1. AnyDesk
Supported OS: Windows, Windows Server, macOS, Linux, Raspberry PI, FreeBSD, Android, iOS, Chrome OS.
☝ Top features: file sharing, remote access/control, access permissions, team collaboration, file transfer.
AnyDesk is a popular closed source remote support app with a free version for personal use that is limited to one connected device at a time but still has all the basic functionality. The free version has very limited functionality, but you still can use it to provide remote tech support to your friends and family members. The fine transfer and screen sharing features are still there for you, plus all your traffic will be protected from unauthorized access with the advanced 256-bit AES encryption algorithm.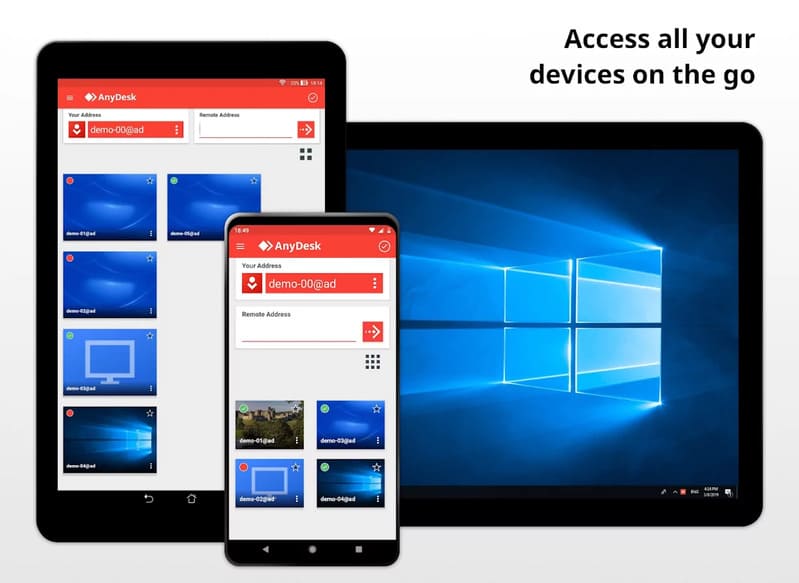 ---
2. TeamViewer
Supported OS: Windows, macOS, iOS, Linux, Android, Chrome OS.
☝ Top features: wake-on-LAN, remote printing, iOS screen sharing, unattended access.
A free version of a well-known TeamViewer software tool you can use to help a friend or to access your own device over a distance. For commercial use, you'll have to buy a license. Besides, they didn't include any advanced features to a free version and even limited the basic ones. For instance, you can't transfer big files or work through a Proxy and will be required to install the same version of TeamViewer on both sides of your remote connection, or else it won't work at all.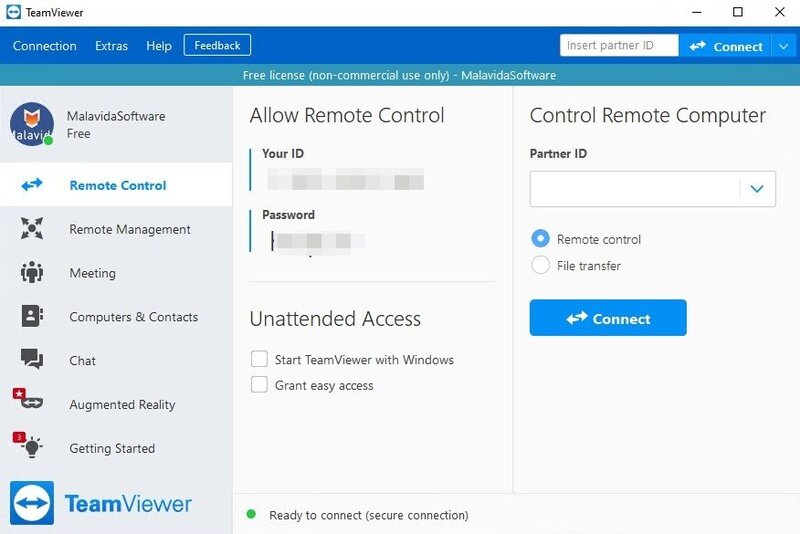 ---
3. Aeroadmin
Supported OS: Windows, macOS, Linux.
☝ Top features: clipboard synchronization, safe mode remote reboot, remote Windows auto-lock, Multiple monitors support.
Aeroadmin is among the very few remote support solutions that allow commercial use of their free version. The said free version of this app allows you 17 hours of remote access to 20 endpoint machines per month. It's also lacking some of the functions which the paid versions have. Has interesting ability to detect your network configuration and auto-adjust for the best possible connectivity. On top of that, it supports direct access over IP when there is no Internet connection available.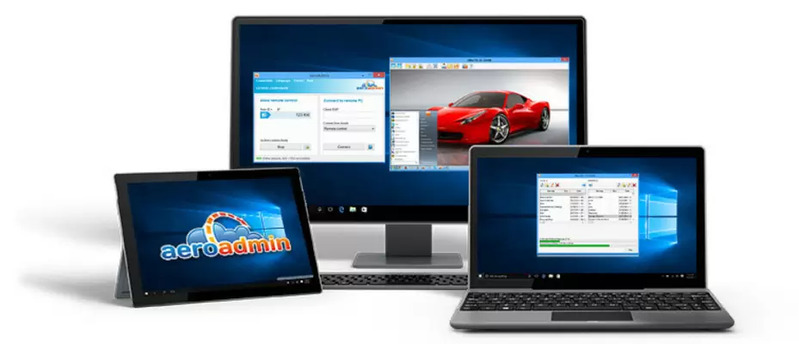 ---
4. Chrome Remote Desktop
Supported OS: Browser version, Android, iOS.
☝ Top features: clipboard syncing, key mapping, scale to fit, shortcut forwarding, unattended access.
Chrome Remote Desktop is a Googe's free-to-use web-based tool for accessing computers over the Internet with the most basic toolset. No commercial use allowed! To use this service, you will need a valid Google account. The main downside is the total lack of the most basic functionality other remote support tools have, i.a. file drag-and-drop, remote reboot, chat, and also it has no multi-monitor or multi-session support. So you can use it to access your PC from a distance or give your friend a piece of advice, but it won't allow you to provide a professional tech support service.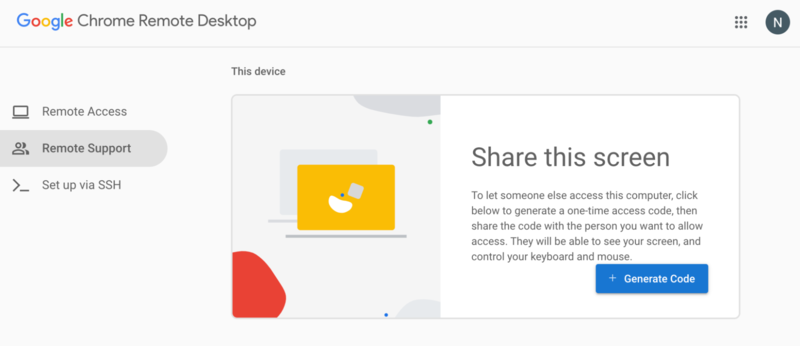 ---
5. DWService
Supported OS: Windows, Mac, Linux, and Raspberry.
☝ Top features: file manager, remote system status monitoring, screen sharing, text editor, log saving.
DWService is an open-source web service that allows remote access to machines on different platforms. To use it, you'll need to download and install an agent app. Has an interesting option to share your screen with other users with or without letting them use their mouse and keyboard to interact with it. Also, it has a built-in tool for direct text file editing without having to download those files on your machine.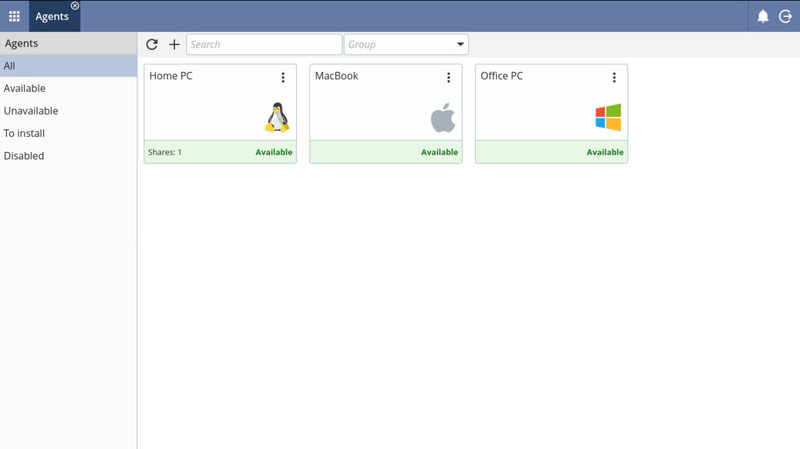 ---
---
Table of comparison
For your convenience, we've analyzed the data we got in the process of reviewing remote support software tools for this article and pulled together this comparison table:
---
Criteria to choose the best remote tech support software
As you can see, the variety of remote assistance software today's market has to offer is overwhelming. So here's a checklist you can use to arrive at a final decision whether or not a particular product or service will be the best for your purposes:
• Usability



A software solution must be easy-to-use not only for your professional tech team but also for any end-user who may not be tech-savvy at all. So please make sure that the user-side app (if any) is not fiddly to install, and the interface is clean, simple, and has the most frequently used features in plain sight.



• Security



In today's world, data privacy is a basic necessity. Just setting a password may not be enough, so go for an app with multi-factor authentication with all else being equal. Check what encryption algorithms the app of your choice is using – the more advanced they are, the better, so don't agree on anything less than 2048-bit SSL.



• Compatibility



The world becomes more and more mobile-oriented, so an app with no support for mobile devices is a no-go. Plus, almost every solution states multiplatformity is one of their features when in reality, it can be just two of the most popular OSes. That's why you always need to check the list of the app's supported operating systems.



• Collaboration



The ability to integrate a remote assistance tool into your already-existing software environment is key to maximum efficiency and, thus, productivity. Check if the app of your choice has any options for integration with software tools you're already using daily.



• Customization



Why settle for some mass-market item when you can get a custom-tailored one? Some software solutions offer very affordable customization options, so you can purchase a fine-tuned tool to fit your specific business needs at the same cost as a regular subscription plan.
---
Remote support vs. remote access: what's the difference?
You may be surprised how many people confuse these two concepts. But even though they may sound pretty similar, learning to tell them apart is very important not to end up investing in a software product that won't meet your specific requirements.
What is Remote Access?
Remote access connects to a device over the network to operate, control, update, troubleshoot, etc. A smooth, failure-free remote access in full compliance with safety standards is essential for huge global companies, small business owners, and individual users. Here are two categories of people who benefit from remote access the most:
• IT professionals

(helpdesk techs, MSPs, customer service teams, etc.) use remote access to connect to users' devices and provide necessary operations.

• Anyone

who needs to get a file from a remote machine, use software installed on the office servers, access the office printer, or get assistance from a trained professional over any distance.
To make remote access possible, you'll need a specific-purpose software tool. Keep on reading to find out about the best remote access solutions today's market has to offer.
What is Remote Support?
Remote support provides tech assistance and troubleshooting services via a remote access connection. For instance, a help desk technician can connect to a user's PC, Mac, iPhone, or Android tablet remotely via the Internet to troubleshoot and fix the issue on the spot. That is much more convenient and less time-consuming than getting a non-tech savvy user to explain the problem on the phone and follow step-by-step instructions.
Remote Support proved to be beneficial for
• IT professionals:

provide users with a faster response by eliminating the commute time. Plus, they can remotely monitor users' hardware status and system conditions to tackle potential issues before they become actual problems with no need to visit the user's workplace physically.

• Business owners:

to gradually increase equipment productivity by reducing its downtime, both planned and emergency ones. In some cases, your business can save even more of the budget by giving all the tech health checks, maintenance, and repairs to a trusted outsourced IT team.
The two types of Remote Support Software
Here's a brief description to help you make the right choice:
• Attended remote support tools:

requires end-user to be physically present next to his device at the time of the support session to grant permission for remote connection. These tools work best for IT support teams, outsource helpdesks, etc.

• Unattended remote support solutions:

requires a client-side agent app installed on the end user's device that grants permanent remote access and thus eliminates the need to get the user's permission for each session. This type of tool will only work for in-house helpdesks or MSPs.
If you are still unsure which of the two software types will benefit you the most, please refer to our complete attended vs. unattended remote support guide.
FAQ
No, but many popular remote support software tools (i.a. TeamViewer, LogMeIn, Splashtop, Zoho Assist, ConnectWise, AnyDesk, etc.) have a free version with all the basic capabilities. But please note that, in most cases, those free versions are for non-commercial use only.
Help desk software is used to establish a safe and reliable connection between the technician's workstation and the client's device for providing tech support services remotely over a network or the Internet.
Self-hosted remote service software tools require an in-house remote support team, so if your business doesn't have it and never plans to have it in the future, a web-based solution will be the right choice for you.