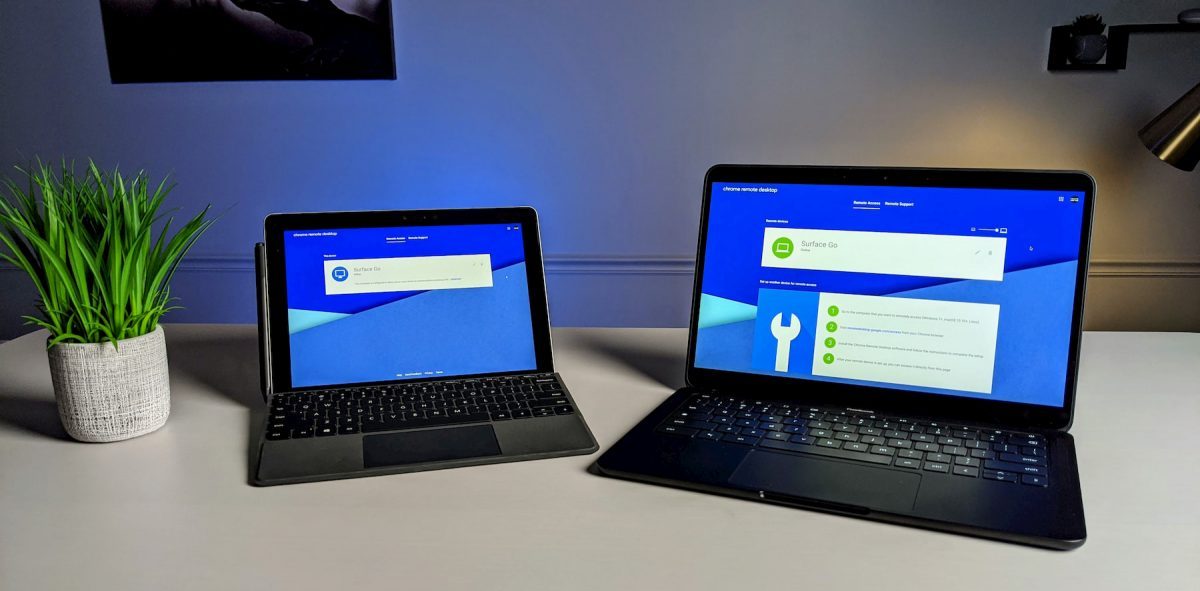 Chrome Remote Desktop Overview
Getting the right tools for your remote job is the key to high efficiency and continual improvement. This article contains all the info you need to access a remote desktop from your Chromebook, laptop, or smartphone using the tool developed by Google: common use-case scenarios, features, performance capabilities, and underlying potential problems.
What is Google Chrome Remote Desktop?
Chrome Remote Desktop is a very popular tool you can use to operate another computer over a distance to run software applications, manage files, change settings, etc. Another popular way of using it is to make your machine available for remote access. Technically speaking, this service either redirects signals from your keyboard and mouse to the remote machine while sending remote monitor data back or vice versa.
Despite popular opinion, Chrome Remote Desktop is not one of the remote access apps similar to AnyDesk or LogMeIn. Though it does have a software part you can install on your servers and an app for your portable devices, at its core, Chrome Remote Desktop is an add-on for Google's signature Chrome browser. This means it won't do any good for you if you don't have said browser installed.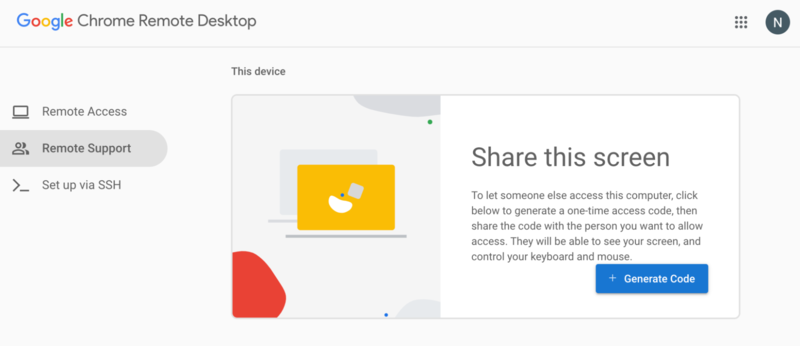 Who can benefit from using the Chrome remote access tool?
For the most part, this service is targeted at those who need a fast and easy way to access one of their desktops from another device. For instance, to use some expensive licensed software installed on your office machine while working from home. Or you may need to get some files from your home PC moved to your cloud-based workplace using your phone. Or you want to launch a heavyweight resource-demanding app on your MacBook Air. Or your favorite aunt needs urgent help to set up a new webcam she got on the Black Friday sale.
So, to sum up, Google remote access service is aimed at individual users, not at businesses of any scale. We're going to dig deeper into all the reasons behind this statement, so please stay with us.
What you can and can't do with Google Chrome Desktop
Once you connect to the remote PC using Chrome Remote Desktop, you can start operating it almost in the same way you would so while sitting in front of that remote machine physically. That includes launching software applications, creating, moving, or deleting files and folders, tweaking settings, and many more. You'll also have a common clipboard so you can easily pass files from your machine to remote one and the other way around.
Using Chrome service, you need to keep in mind that for a successful remote desktop session, the remote device you're going to connect to must be up and running. And, in case you're wondering, the answer to the Can Chrome Remote Desktop wake from sleep? question is no. So make sure you've changed settings to never sleep in the computer power management menu.
Here are some other limitations of Chrome Remote Desktop:
→ Won't work without the Google Chrome web browser.
→ You must have someone on the remote machine to permit the session.
→ Session permission has to be renewed every 30 minutes.
→ No direct access to remote printers and other peripherals.
→ Inexperienced users often find it difficult to use.
→ Linux users need a patch to make ctrl + shift + t work again.
→ No monitor resolution scaling.
→ No smooth transition between monitors (sidebar only).
→ No server mode is available for Raspberry Pi 3.
How to use the Chrome Remote Desktop web app?
The first two essentials for using Chrome Remote Desktop are the Chrome web browser (make sure you have it updated to the latest version) and your Google account. The Chrome Remote Desktop app is only required on the devices you want to make accessible from other machines.
Launch Google Chrome web browser.

Log into your Google account.

Enter https://remotedesktop.google.com/access/ to address bar and press Enter.
Click the blue icon to download the browser extension:

Follow the prompts to set a name for your computer (make it something that will make identifying this particular machine easy, e.g. Mom's Chromebook or Ian's Work MacBook) and create a PIN (6 digits or more) to secure future connections.

iPad and iPhone users will also need to navigate to System Preferences and grant required permissions to Chrome Remote Desktop.
Once you're done with all the steps above, you'll be able to access this machine from remote. To do that, just repeat the first three steps, pick your machine's name from the list and enter the PIN. But if you have more than one google account, you'll have to always check if you're using the same one on the client and server sides.
Important! Only download the Chrome Remote Desktop web app from its official webpage, AppStore, or iTunes.
If you want to know how to use Chrome Remote Desktop on iOS mobile devices with maximum comfort, try switching into a trackpad mode by picking it from the menu in the bottom-right corner of your iPhone or MacBook screen. For Android devices, you can access the menu by swiping from top to bottom of your screen. In said mode, you can "right-click" by tapping one finger, "left-click" by tapping two fingers at the same time, scroll by sliding a finger in whatever direction you need, and zoom by pinching.
The main pros and cons of the Chrome Remote Desktop app
| | |
| --- | --- |
| | |
| | Only has the bare minimum for functions |
| | Dubious safety level and unknown encryption algorithm, if any |
| Works fine for short-term individual use | |
| | Can't be used for commercial-based tech support |
| | Requires competent operator's presence at the remote machine |
| | Can't be used in enterprise environments where Chrome is controlled by group policies |
| | Unhandy for users with several Google accounts |
| | Super unhandy for multi-monitor set-ups |
| | Only streams monitor in original resolution |
A few words to wrap it up
As you can see, the Remote Desktop by Chrome is in no way a full-blown analog of popular remote access tools like TeamViewer, LogMeIn, AnyDesk, or ISL. At best, it's an emergency tool for personal use for scenarios when you have no other remote access tools at hand.