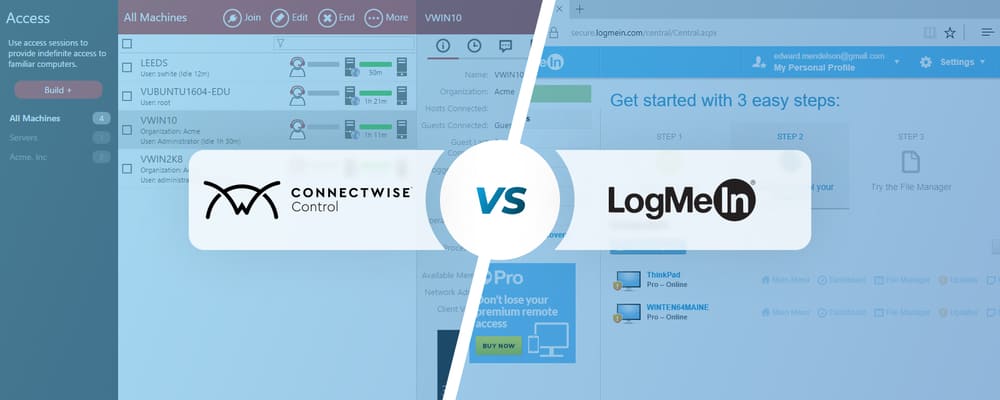 ConnectWise Control vs LogMeIn
It can be difficult to choose the right remote desktop solution from among the many competing products on the market. Most of them offer the basic remote connectivity functionality requireуd by a mobile workforce. The differences can usually be found in additional features offered by the tools. Other differentiating aspects include the security they provide, the number of concurrent users supported, the price, and the type of communication between users the solution supports. Below we'll compare two top-tier remote desktop software: ConnectWise and LogMeIn.
---
Overview

ConnectWise Control is an ITIL compliant remote access solution that can be used by a company in a variety of ways. The tool can be used by mobile workers to access machines in their offices or homes. Technical support teams can employ ConnectWise Control to assist remotely located employees and clients. The tool also serves as a collaborative aid for a distributed workforce with its capability to hold meetings that connect individuals located anywhere with an Internet connection.

LogMeIn (recently rebranded as GoTo) offers basic connectivity to remote computers from mobile devices or desktops. Its licensing model is unique and concentrates on the number of computers that can be controlled through an account instead of the number of users. For example, the Pro version of the tool allows remote access to up to two computers by an unlimited number of users. This solution works well for small businesses with limited computing resources that need to be shared by a large number of remote workers.
Features
Connectwise Control
ConnectWise Control offers two products. ConnectWise Control Access lets an unlimited number of remote users access your computing resources. The tool can be used for basic remote access and simple support tasks like uploading files to multiple machines or pushing software updates to remote users. Centralized tech support teams can perform problem resolution for remote clients.
ConnectWise Control Support builds on the functionality of Access. In addition to all the features provide in Access, a Support license adds live technical support and voice chat capabilities but is more expensive than a basic Access license.
ConnectWise Control Support can be used to host meetings with unlimited attendance. Everyone at the meeting can take screenshots, record videos, and communicate in real-time with the onboard chat feature. The meeting features can facilitate training or provide technical support to a large audience simultaneously.
LogMeIn Pro
LogMeIn Pro allows any number of users to quickly and securely access remote machines from a desktop or mobile device. Drag-and-drop file transfer is available between host and client computers. Files can be sent from a remote host to a local printer for enhanced productivity.
Secure file sharing and storage are facilitated by a terabyte of cloud storage that comes with the Pro plan. Additional features include the ability to stream audio from remote machines to local devices and support for multi-monitor displays. LAN connections can be used to wake up remote computers for unattended support. This remote connectivity solution includes LogMeIn Antivirus powered by BitDefender to safeguard data transmission from cybercriminals.
---
Interface comparison
There are no major differences in the user interfaces provided by ConnectWise Control and LogMeIn. They both offer intuitive platforms that are easy to use and furnish quality image scaling for remote users. Either tool provides the functionality required by a mobile workforce.
---
Operating System
Both ConnectWise Control and LogMeIn support the Windows, macOS, Android, and iOS operating systems. ConnectWise also supports Linux and the Chrome OS.
Compare them with the ConnectWise Control and TeamViewer apps to make the right choice.
---
Pros and Cons
The following lists which present some of the pros and cons of these two solutions may help you decide which one fits your business objectives.
Use this information to cross-compare these two remote access options with competitor tools like ConnectWise Control and Zoho Assist.
Connectwise Control
| | |
| --- | --- |
| | |
| Sound can be captured from a user's remote device to streamline problem resolution. | Not all operating systems and devices support the tool's mobile features. |
| Optional browser-based live streaming support can be established with a user's phone camera. | No free version is available. |
| VoIP audio is available for access and support sessions and can be used in meetings. | Some communication tools are only available in selected subscriptions. |
| A free trial is available. | |
---
LogMeIn Pro
| | |
| --- | --- |
| | |
| 256-bit AES encryption and end-to-end authentication are used to secure communication. | No free version is available. |
| 1TB of free cloud storage is included with subscriptions. | Connections may be randomly dropped. |
| Multi-display support and a whiteboard feature are offered with some packages. | It can be difficult to access a Windows machine from a Mac. |
| LogMeIn Antivirus is included for free. | No monthly billing option is available. |
| Up to five free user licenses for LastPass are included based on the selected package. | |
| Customer support with 24/7 phone and ticket options. | |
| A free trial is available. | |
---
Pricing
Both ConnectWise Control and LogMeIn offer a range of price plans with different features. Armed with the knowledge of these two apps, you can easily compare the pricing policy with the other two remote assistance tools, s.a. Bomgar and LogMeIn.
---
Conclusion
Both LogMeIn and ConnectWise Control provide businesses with the basic functionality required to support a mobile workforce. Prospective customers should take a close look at the additional features such as audio support offered by the products when making their decision. In many cases, features offered in more expensive packages may not be necessary to enable remote employees to access company computing resources.
Both tools bill annually and offer multiple plans that can fit the needs of any business. Companies with limited machines that need to be accessed by mobile workers may benefit from the licensing method used by LogMeIn.