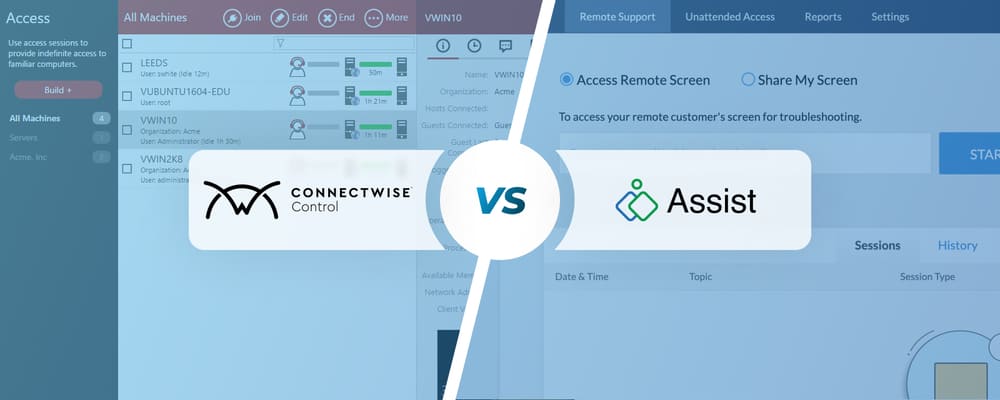 ConnectWise Control Vs Zoho Assist
Remote support software has always been a valuable tool — but in the age of remote work, it's now integral to ensuring a business remains productive, secure, and ahead of the competition.
In the article below, we'll be comparing two powerful and well-renowned remote access software options: ConnectWise Control and Zoho Assist.
We'll discuss their unique features, use cases, and answer some frequently asked questions — that way, readers have the insight they need to decide which tool is right for them.
---
Overview

The remote desktop platform, ConnectWise Control, was developed to support enterprises and IT teams with remote desktop access solutions allowing them to offer effective tech support for their end-users/customers.
While ConnectWise Control can seem expensive in comparison to alternative software, CWC provides a wide range of advanced features that establish it as a cutting-edge remote access system. Later in this review of ConnectWise Control, we'll describe these powerful features in detail, as well as highlight how it holds up to competitors.

Beloved by many for its well-balanced user experience, Zoho Assist is an all-in-one remote software/unattended access tool. Zoho operates with two fundamental functions:
• Remote support
• Unattended access
Both functions require separate billing plans. However, both options also allow users to enjoy the same user-friendly dashboard.
Zoho Assist software provides a variety of features that allow technical support teams to quickly resolve customer issues, as well as manage multiple remote computers.
From transmitting 2GB files to restarting/reconnecting without needing to terminate a session, they make said processes simple and convenient — no matter where the remote machines are in the world. Additionally, Zoho Assist integrates with tons of popular workflow tools and software.
Features
ConnectWise Control
ConnectWise Control provides customers with two options — Access and Support.
The Access product permits an unlimited number of users to remotely connect with your machines. This is ideal for organizations with a large number of work-from-home employees.
Even though it lacks remote tech support features, the Access plan is used for routine tech support tasks involving most (if not all) of your computers. This includes tasks like uploading files to multiple machines simultaneously, as well as software updates.
Allowing technicians to offer remote problem-solving for end-user computers, the Support license also lets users provide all of their services (conducted via an Access license), as well as voice-chat compatible live (remote) tech support.
The Support license costs more than an Access license, and only those with dedicated tech support departments should invest in it.
It's also possible to use ConnectWise Control Support to host remote meetings with an unlimited number of guests. All attendees can record video, capture screenshots, and use voice or chat communication features. This feature is also excellent when integrated with tech support processes, training, or hosting company meetings.
Zoho Assist
Zoho Assist offers many benefits to users such as access controls, ease of use, dual monitor, bidirectional document sharing, and more. Let's understand them in detail.
User Access Control (UAC)
Activities like training and troubleshooting become easier and quicker with Zoho Assist. It doesn't require end users to give away control of their data to third parties while having no idea what happens with it.
Instead of that, TeamViewer offers robust security with User Access Control (UAC) that users can find on their desktop screen. This functionality can easily catch bugs, enabling the users to fix them without any IT skills.
Dual Monitor Support
Zoho Assist offers dual monitor support. It is a useful feature that allows users to easily change controls without waiting for any support technician for accessing the device and perform changes.
In addition, you can use the command – 'Run as Service' to transfer system administration permissions to another party, if required.
Easy to Use
Zoho Assist is an easy-to-use platform, which is a big reason behind its popularity. It won't require you to spend your valuable time on maintenance or installation.
Instead, you can straightforwardly log in to your Zoho Assist account and then request a session. In addition, you don't need a technician to come over and perform the settings for you. You can easily access the tech console anytime to perform desired steps.
Bidirectional File Sharing
One of the best features of Zoho Assist that sets it apart from other remote support providers is its bidirectional file sharing. You will get to use the built-in file transfer functionality without having to send emails and screenshots using a third-party solution.
Moreover, the file transfer process in Zoho Assist is intuitive. This will help you send and receive files simultaneously.
---
Interface Comparison
ConnectWise Control and Zoho Assist offer equally easy and effective user experiences. Thanks to a smooth and intuitive UI, users experience exceptional image scaling, allowing remote workers to easily connect and manage their virtual desktops with the same fluidity as a physically connected peripheral USB device.
---
Operating Systems
Zoho Assist and ConnectWise Control can support numerous popular operating systems. With this insight, we encourage users to draw comparisons with ConnectWise and LogMeIn regarding the available number of OS that can configure remote support access.
---
Pros and Cons
Now we'll discuss the advantages and disadvantages of ConnectWise Control and Zoho Assist. Use this information to cross-compare these two remote access options with competitor tools like ConnectWise and TeamViewer.
Zoho Assist
| | |
| --- | --- |
| | |
| It's simple and easy to toggle between remote support and unattended access from the same user menu; | Standard remote support plans don't offer mobile functionality; |
| The free Zoho Assist plan allows access to five unattended computers; | Customers must download software to access certain remote support features. |
| Larger enterprises can enjoy white-label options. | |
---
ConnectWise Control
| | |
| --- | --- |
| | |
| Provides VoIP audio for meetings and support/access sessions; | Not all communication tools are available for all subscription plans/levels; |
| Offers optional browser-based Livestream support via the end user's phone camera; | Mobile features aren't supported with equal functionality across all devices/OS. |
| Agents can capture sound from the end-user to expedite troubleshooting. | |
---
Price
An excellent quality that both Zoho Assist and ConnectWise Control have is their wide variety of pricing options. With such cost flexibility, as well as the insight into their features and disadvantages, it's helpful to compare this data against remote software like SplashTop and ConnectWise Control.
ConnectWise Control
ConnectWise Control offers a free trial for new users, after which the software is available across three pricing tiers on monthly and annual subscriptions:
• The "One" Plan:

$29/month (billed monthly) or $24/month (billed annually).

• The "Standard" Plan:

$49/month (billed monthly) or $39/month (billed annually).

• The "Premium" Plan:

$59/month (billed monthly) or $49/month (billed annually).
Plans with unattended access agents begin at $38/month (billed monthly), and $30/month (billed annually) per 25 agents.
Zoho Assist
Zoho Assist offers several pricing plans, as well as options for Remote Access or Unattended Access plans.
The Remote Access plan allows users to choose between:
• The "Standard" Plan:

$8/month.

• The "Professional" Plan:

$13/month.

• The "Enterprise" Plan:

$21/month.
The Remote Access plan is limited to a single technician per month, allowing for a maximum of 6 remote sessions when subscribed to the enterprise plan.
Each plan provides its own unique features, so it's recommended to do some research and select the plan that meets your organization's specific needs.
| | | |
| --- | --- | --- |
| | | |
| | | |
| | | |
| | | |
| Multi-User Plan (Standard)? | | |
| | | |
| Tensor Plan (Unattended access agents)? | | |
---
Conclusion
Zoho Assist provides customers with similar remote desktop products to ConnectWise Control. This means that it can come down to the fine details when deciding which software solution is right for you.
Zoho offers almost identical features to ConnectWise Control, but uses a different pricing structure. Zoho's "Professional Unattended Access" product—frequently considered almost equivalent to the ConnectWise "Access" plan—is available for a flat rate of $12. However, it caps at 25 machines.
Alternatively, ConnectWise Control allows for more than 2,500 machines. That's more than a substantial difference, making it clearer as to who CWC's intended users are.
Zoho's remote support and ConnectWise Support products are also very similar. However, Zoho Assist's version is more affordable ( $12/), whereas ConnectWise charges $29/month.
But Zoho Assist's version odes offer fewer features.
While ConnectWise's lowest-tier plan provides remote meetings, Zoho's lowest-paid tier doesn't offer this feature. Zoho Assist also provides a basic free support tier, but it's restricted to a single technician, while also lacking voice chat, file transfer, and screen recording capabilities.
For those requiring specific features such as meetings, or a large number of simultaneous sessions, ConnectWise is the better option. Alternatively, Zoho provides many similar features for less than half the price of ConnectWise Control.