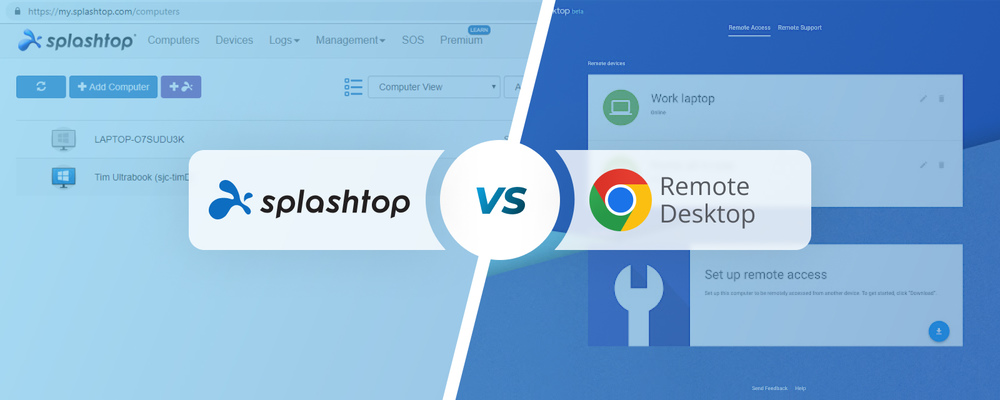 Chrome Remote Desktop vs Splashtop
Remote support software has always been a valuable tool — but in the age of remote work, it's now integral to ensuring a business remains productive, secure, and ahead of the competition.
In the article below, we'll be comparing two powerful and well – renowned remote access software options: Chrome Remote Desktop and SplashTop.
We'll discuss their unique features, use cases, and answer some frequently asked questions — that way, readers have the insight they need to decide which tool is right for them.
---
Overview
We will now provide an in-depth comparison between Chrome Remote Desktop and Splashtop.

The first tool we will investigate is Google's Chrome Remote Desktop. It is a free remote access solution that only requires users to have installed the Chrome web browser. It is a great solution for individuals looking for an inexpensive remote access solution. Due to its limited features, this tool may not be suitable for business users.
If you need remote access to help friends or family members resolve computer issues or you want to connect to your home computer while traveling, Chrome Remote Desktop might be all that you need. It's a cross-platform solution that runs on any device supporting the Chrome browser.
The fact that Chrome Remote Desktop is free lets you try it out without risk to see if it has enough features for your situation. It is one of the best free remote solutions currently available.

Splashtop is a commercial remote access solution designed to be used by individuals, businesses, and the education sector. The tool is sold on an annual subscription basis and has multiple versions available that furnish users with varying feature sets. This remote access solution allows users to connect over the network to virtually any type of device.
The extended functionality of Splashtop makes it a better choice for business users. The company has versions of its remote access tool suitable for large technical support teams that need to access attended and unattended physically distant computers.
---
Features
Chrome Remote Desktop
Chrome Remote Desktop can be complicated to set up compared to other remote access solutions. A Google account is required to use the software. Obtaining a Google account and using Chrome Remote Desktop are both free.
Connectivity is established between two devices that have the Chrome Remote Desktop installed by sharing a PIN generated specifically for a given connection to a remote machine. The PIN needs to be entered each time a user wants to initiate a remote access session. Multiple PINs can be configured for each device for use by several users.
The Chrome web browser forms the foundation of the app and provides HTTPS-only security which includes full AES support. This is essentially the same level of security that keeps your credit card information secure when shopping online.
Chrome Remote Desktop is a user-friendly tool that will be simple to use for anyone familiar with the Chrome web browser. Users can customize key mappings and easily switch between trackpad and keyboard mode during a remote connection. Unfortunately, the tool lacks features such as printing, file sharing, or live chat that would make it more appropriate for business use.
Splashtop
Splashtop provides dedicated remote access solutions that address various use cases such as those of large technical support teams. While the specific feature set varies between different versions of the tool, some features are consistent across them all.
Common features found in all Splashtop versions include its intuitive and user-friendly interface which makes it easy to work with remote computers and devices. Remote machines can be accessed without additional software downloads or installation.
With Splashtop, users can exercise control over multiple remote computers and the data they contain while enjoying features such as file-transferring, real-time chat, and remote printing. The following chart demonstrates the extended functionality of Splashtop when compared to Chrome Remote Desktop.
---
Interface Comparison
Chrome Remote Desktop and Splashtop are both easy-to-work-with tools that supply users with intuitive interfaces. The interfaces provide high-quality image scaling and make it as easy to connect to remote commuters as it is to attach to a peripheral desktop device.
---
Operating Systems
Splashtop and Chrome Remote Desktop both support all major operating systems as seen in the following table. As well, users will find it extremely useful to compare SplashTop and RDP to access their home machines from another location.
---
Pros and Cons
Now let's look at some of the pros and cons of these two remote access solutions. Compare them with the RemotePC and SplashTop apps to make the right choice.
Chrome Remote Desktop
---
SplashTop
| | |
| --- | --- |
| | |
| An intuitive and simple interface; | The tool can be complex to install particularly on systems running macOS; |
| Fast connectivity speeds; | Higher-priced plans are necessary to access advanced features; |
| Multiple affordable pricing plans; | Premium plans are required to obtain priority technical support. |
| Multi-monitor display support in higher-end plans; | |
| Simple drag-and-drop file transfer; | |
| Supports multiple operating systems; | |
| Strong security with TLS and 256-bit AES encryption; | |
| Enhanced security with two-factor authentication and password protocols. | |
---
Price
Chrome Remote Desktop
Chrome Remote Desktop is free and does not offer premium plans. All of the tool's features are free and can be accessed with a Google account and the Chrome browser.
Splashtop
Splashtop has several options designed to fit various usage scenarios.
Splashtop Education- $29.99/per year (per teacher): This version of the tool provides screen-sharing capabilities that address the needs of educators and students.
Splashtop Business Access- $60-$99/per year (per user): A basic business version enables remote access to computers from any network-connected location.
Splashtop SOS- starts at $199/per year (per the technician): This package is designed to be used by licensed members of a remote technical team to offer on-demand support to customers and clients.
Splashtop Remote Support- starts at $299/per year (up to 25 computers): The premium version of Splashtop provides access to a specified number of attended or unattended Mac or Windows machines. An unlimited number of licensed technicians can assess these remote computers.
Free trial: All Splashtop plans come with a 7-day free trial.
---
Conclusion
These two tools offer users an intuitive method of accessing remote computers. Individuals who simply need to look up some information on their home machine or help a friend resolve a usage issue will do fine with the limited features of Chrome Remote Desktop.
Business users or remote technical support teams will often need the features and advanced functionality of Splashtop. The tool's ability to transfer files, chat with colleagues, and record sessions for later review are all important in a business setting. Companies with the need to implement secure remote access should look at what Splashtop can provide.