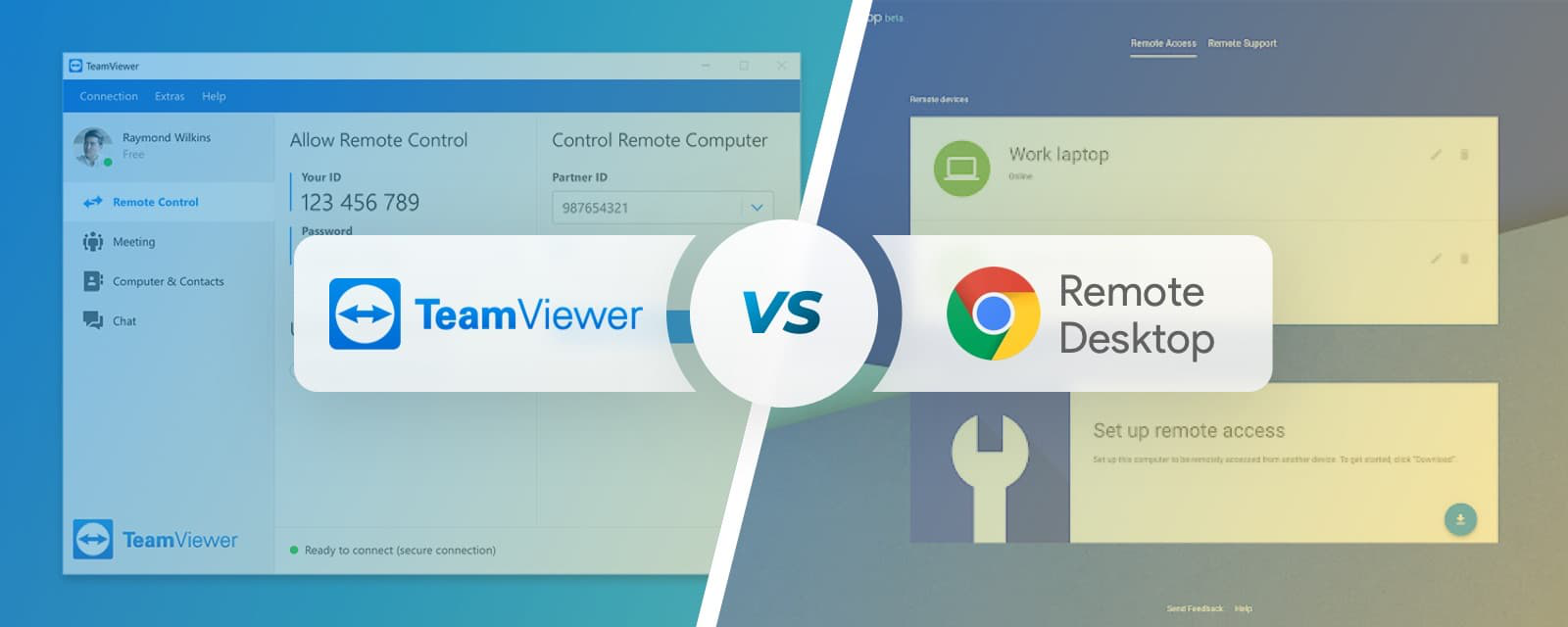 TeamViewer vs Chrome Remote Desktop
Two of the most convenient and reliable remote support solutions are TeamViewer and Chrome Remote Desktop. Why? Because both software options are very easy to set up, and cross-platform compatible. But, in spite of their many similarities, they also have a plethora of differences, as well.
Below we'll compare TeamViewer and Chrome Remote Desktop, providing the detailed information users need to choose which option is right for them.
---
Overview
Chrome Remote Desktop

Chrome Remote Desktop is Google's contribution to the remote desktop software market. A completely free tool, CRD gives users the ability to access remote computers through a Google Chrome browser.
While it's true that Chrome Remote Desktop doesn't host many of the features that competitor software does, its cross-platform compatibility and $0 price tag make it the best free remote desktop access software we've reviewed.
TeamViewer

TeamViewer is a beloved remote desktop tool that supports corporate, enterprise-level, and tech-support-driven organizations. Excitingly, TeamViewer also offers a very powerful free version (for non-commercial use only.)
Packed with features and supporting numerous operating systems, platforms, and devices, TeamViewer boasts some of the strongest security prowess available on the remote access market.
TeamViewer users enjoy:
Full-time remote access to servers and computers
Easy file-sharing
Simultaneous management over multiple systems
Online meetings for up to 25 participants
High-quality VPN alternative
Feature
Chrome Remote Desktop
While free and cross-compatible, Chrome Remote Desktop has a more complex setup process (compared to alternative remote software options.)
First and foremost, a Google account is required.
Secondly, all devices being accessed must have the Chrome app installed, and share a PIN number to permit remote access from another machine.
Since remote access is established via web browser, security is limited to HTTPS-only, including full AES support. These are the same security protocols used to protect credit card information when making purchases online. It is required to enter a PIN number each time users wish to have remote access to a computer.
Please note: more than one PIN number can be configured for each individual device.
Chrome Remote Desktop does not offer chat, printing, or file sharing. However, it's very user-friendly and fluid- letting users effortlessly switch between keyboard and trackpad modes, as well as customized key mapping configuration per device.
TeamViewer
In its most basic form, TeamViewer provides users with screen sharing tools, and remote computer access. But TeamViewer also offers a plethora of additional features, which readers will find outlined below.
TeamViewer provides streamlined cross-platform accessibility, meaning that users can access iOS/Android smartphones using a Windows/MacOS desktop computer (and vice versa.)
TeamViewer also allows more than one user (like a tech support professional) to log into the same remote desktop session- equalling greater efficiency when resolving complex tech problems.
The TeamViewer interface also makes it very easy to transfer files between devices. Using the "File Transfer" setting, simply follow the prompts to establish the connection.
Lastly, TeamViewer supports a variety of IoT and network devices, enabling simplified monitoring and management of all devices on a network.
| Features | TeamViewer | Chrome Remote Desktop |
| --- | --- | --- |
| File Transferring | | |
| Session Recording | | |
| Audio Support | | |
| Session Transferring | | |
| Remote Printing | | |
| USB-Sharing | | |
| Real-Time Chat Options | | |
| Mobile Accessibility | | |
Operating System
You can use both of these tools with all popular operating systems. Chrome Remote Desktop and RDP support a wide variety of platforms for establishing remote access.
| Operating System | TeamViewer | Chrome Remote Desktop |
| --- | --- | --- |
| Windows | | |
| MacOS | | |
| Android | | |
| Linux | | |
| iOS & iPadOS | | |
| Chrome OS | | |
Pros And Cons
We provide the following tables with the advantages and disadvantages of TeamViewer and Chrome Remote Desktop. You can compare them with what LogMeIn and TeamViewer provide to make the best choice for your situation.
TeamViewer:
Pros
Free version available (non-commercial-use only)
Simple and user-friendly GUI
Fast connection speed
OS Support for: Windows, Mac, Linux, Chrome OS, Android, iOS, and Blackberry OS
All features function on Windows and MacOS
Powerful 256-bit AES encryption security and two-factor authentication
Cons
Can't view two remote systems at the same time
Additional cost for mobile access
Chrome Remote Desktop:
Pros
Cross-platform compatible
Is completely FREE (no upgrading necessary)
Cons
Remote printing and file sharing not available
Can only be used with Chrome browsers
A Google account is required to use CRD
Pricing
Both tools offer multiple pricing plans to fit your needs. You can easily compare their value against the cost of competing products like SplashTop and TeamViewer.
Chrome Remote Desktop
Chrome Remote Desktop only provides a single plan option because it's completely free to use any and all Chrome Remote Desktop features.
TeamViewer
TeamViewer offers a free version (for non-commercial use only), but also provides multiple plan options supporting one-man teams up to massive organizations.
The TeamViewer Single-User Plan costs $50.90 per month, and supports up to 3 devices .
The Multi-User Plan is $102.90 per month, and supports up to 50 users licensed to create a single session.
The For Teams Plan is $206.90 per month, and supports up to 200 users, 3 of whom can use the service simultaneously.
The TeamViewer Tensor Plan costs (roughly) $500,000 per year, and was designed for users requiring concurrent remote access for teams of 200 (this plan is ideal for enterprise-level organizations).
| Pricing Options | TeamViewer | Chrome Remote Desktop |
| --- | --- | --- |
| Free Version | Yes | Yes |
| Free Trial | No | It's Always Free |
| Business License | $50.90 | N/A |
| Premium License | $102.90 | N/A |
| Corporate License | $206.90 | N/A |
---
Conclusion
While TeamViewer comes out on top in this review, this result isn't binary. For those who seek to manage personal or family devices, Chrome Remote Desktop is a fantastic tool.
Aside from the lack of remote file transference, CRD offers valuable and necessary tools that get the job done in 9/10 situations.
On the other hand, for those who wish to offer remote support to numerous individuals with differing OS, TeamViewer has the features, tools, and flexibility a larger organization needs.