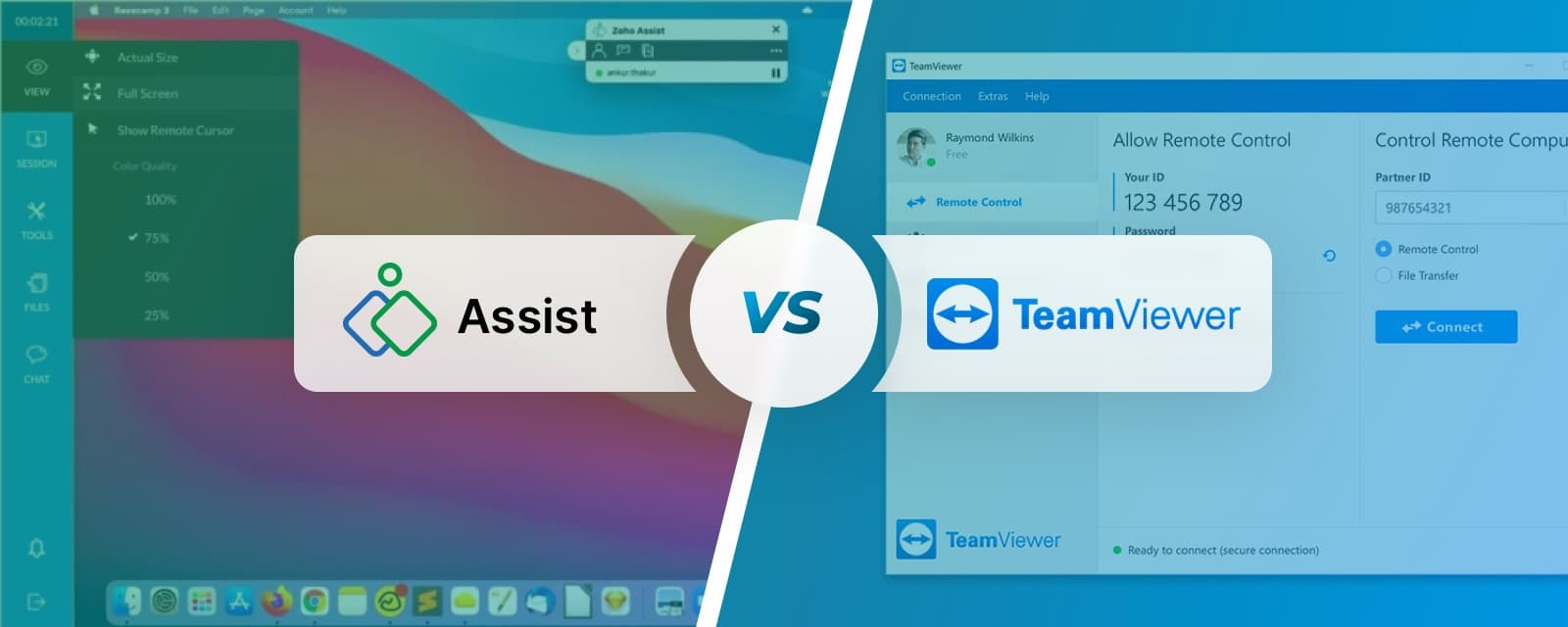 Zoho Assist vs TeamViewer
Remote access software is an essential solution for individuals or organizations who need to manage and access remotely located computers. Many remote access tools are on the market with different features that appeal to various audiences. This article looks at the differences between Zoho Assist and TeamViewer to help you select the right one for your situation.
---
Overview

Zoho cloud software company has Zoho Assist as part of its suite of products. Zoho Assist allows for easy on-demand remote support for companies to service their customers easily and cost effectively. Zoho Assist is cloud based so requires no installation and it includes a 14-day free trial. Thereafter, there is a number of pricing options available to suit your business requirements.

TeamViewer is a complete remote desktop solution giving full remote access to any computer where TeamViewer is installed. Follow the guide on how to install TeamViewer correctly. Personal and non-commercial users can download the software for free. For corporate users, a free trial is available to assess the software before making a decision. TeamViewer can be used on all mainstream operating systems including Windows, macOS, Android and iOS.
TeamViewer includes all industry standard security measures to give you peace of mind whether you're using TeamViewer to transfer files, provide remote support, creating a VPN or hosting an online meeting.
Features
Zoho Assist
Zoho Assist includes voice and video chat – allowing you to provide better remote support to your customers. Zoho Assist supports multi screens during a session and session recording is available allowing you to keep a log of all session activities which is integral for training and providing historical client/support communications.
Zoho Assist uses Two Factor Authentication (2FA) such as OTP and SMS. All communications are secure and encrypted using SSL and AES 256-bit encryption. As a cloud based software solution, no downloads are required, and there is no need to maintain upgrades. Zoho Assist is also firewall-friendly and it is easy to configure for work.
TeamViewer
TeamViewer's cross platform support makes it a robust yet flexible solution for your remote desktop needs. You can run TeamViewer on your Android or iOS mobile device, or even run it from a removable USB storage device, which gives you a level of portability other applications do not.
Common uses of TeamViewer include shared presentations or product demonstrations, virtual training and sharing of training material as well as remote support. The end user or machine being accessed remotely does not have to have TeamViewer installed. This is especially useful in a support scenario where an end user might not want to install additional software on their machine.
By simply running the application and providing the other party their ID and password, the support team is able to access the remote computer and immediately investigate and resolve the problem.
---
Interface Comparison
Both Zoho Assist and TeamViewer have an intuitive user interface that is easy to use. Image resolution is not lost when scaling images. Connecting to mobile devices as well as desktop machines is easy.
---
Operating Systems
Both remote assistance accessibility apps support a multitude of operating systems, allowing users to cross-compare Anydesk and Microsoft RDP based on the number of OS with remote support access.
---
Pros and Cons
Below we'll cover the pros and cons of both remote access tools, allowing you the option to cross-compare them against Zoho Assist and Anydesk.
Zoho Assist
---
TeamViewer
| | |
| --- | --- |
| | |
| Free version for personal use available | Pricey compared to other software on the market |
| User friendly user interface | File transfer for larger files can be quite slow |
| | Some glitches reported where users on the free version experienced restrictions. |
| | Phone support is only available Monday to Friday |
---
Price
Because a variety of pricing options are available for both tools, as well as the information provided about these apps, users can effortlessly compare pricing policy with tools like RDP and GoToMyPC.
Zoho Assist has several pricing options and the choice of Remote Access or Unattended Access pricing plans. In the Remote Access plan – you can choose between Standard, Professional or Enterprise – costing $8, $13 and $21 per month respectively. The Remote Access plan is limited to one technician a month, with a maximum of 6 remote sessions on the Enterprise plan. Each plan offers different features so it's best to choose a plan that meets your company's requirements the best.
Team viewer has three licensing options: Single User, Multiuser or for Teams. Prices are quoted per month but billed annually. Costs range from $50.90 to $206.90/month. While TeamViewer might cost quite a bit more than other applications, it does offer one of the best solutions available in the market. TeamViewer often has deals and discounts which can be applied, making the product even more attractive.
A secure and reliable remote access software solution is a requirement for any business that has a worldwide presence with teams and clients situated in different locations.
---
Conclusion
The important factors to consider when weighing up your options for a suitable remote access solution are price and features. Unless you require specific Linux support, all other industry standard desktop and mobile operating systems are supported by the most available remote access software.
To ensure the right software for your needs, consider price and features. Teamviewer is packed with great features, but that comes with a price tag that might be too much for a small company. If you simply want to allow remote access for technical support, Zoho Assist is more than capable.