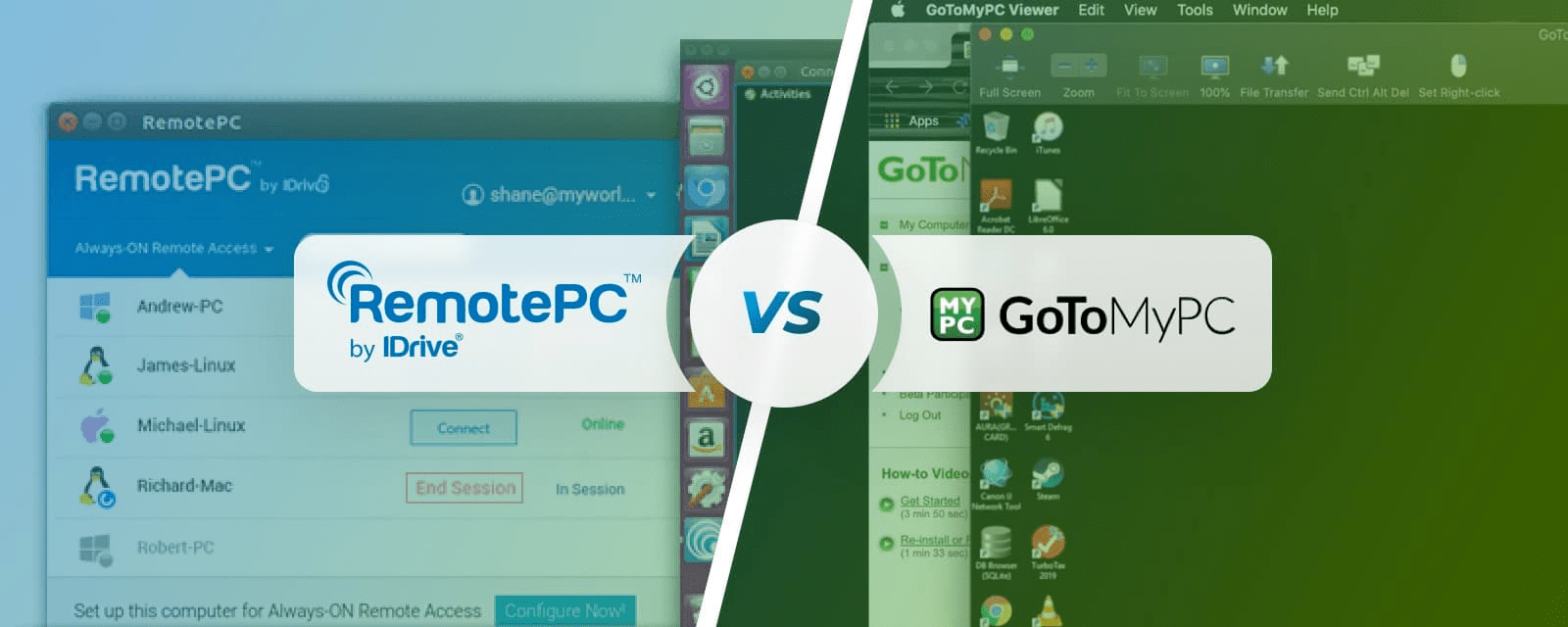 RemotePC vs GoToMyPC
Most businesses in a post-2020 world are heavily dependent on reliable remote desktop software to support their organizations. Remote desktop software and tools allow users to access computers in one location, from anywhere else in the world, making them indispensable.
There are several scenarios where users require remote desktop solutions, such as IT professionals who need access to a dysfunctional computer without having to travel to the location (if traveling to the location is even possible.)
Choosing the right remote desktop tool can be a challenge when the market is saturated with a plethora of great options. Below, we'll compare two specific remote access software solutions: GoToMyPC and RemotePC, discussing their features, capabilities, performance, and pricing.
By the end of this comparison, users should feel more confident when it comes to selecting their remote desktop solution.
---
Overview
RemotePC
Created by IDrive Inc. (a cloud-storage, remote access, and online backup company founded in the 90s), and receiving an A+ from the Better Business Bureau, RemotePC is a remote access tool preferred by many.
Secured with AES-256 encryption, and compatible with Windows, Mac, Linux (and iOS/Android) devices, RemotePC makes remote access simple and convenient. Users have two options for remote sharing: one being the "Always-On Access"(which provides remote access to a computer 24/7), or they can provide one-time access with a sharing key.
RemotePC doesn't even require an installation.
GoToMyPC
GoToMyPC allows users to connect to remote desktops where they can sync/share files using the app's web browser. GoToMyPC requires the installation of a small server on the host computer, which communicates with the centralized GoToMyPC broker (to satisfy user requests when working on remote machines.)
Citrix is the company that developed GoToMyPC (as well as the related LogMeIn application.) While both products share certain similarities, they shouldn't be classified as competitors.
Features
RemotePC
RemotePC provides customers with an array of features that support numerous user needs. Two notable fates are: standard screen-sharing, and remote access. Practically any file can easily be managed and transferred between two devices.
Users can also connect remotely with a mobile tablet to a desktop computer, accessing video files stored on its hard drive.
These features are included with a free RemotePC subscription (but vary pending on the plan user selects.) For example: linking thousands of unique devices, or large-scale connection tools.
GoToMyPC
GoToMyPC is an easy remote access tool that's ideal for business settings, offering a streamlined UI that surpasses TeamViewer, making it easy to access remote computers, transfer files, chat, and send remote connection invitations.
GoToMyPC is easy to install for users of any computing skill level, allowing for straightforward remote connection with specialists for troubleshooting issues. Users can even print files from remote computers to a locally connected printer.
All sessions created with GoToMyPC are protected with powerful encryption tools, ensuring critical data isn't at risk from unauthorized use. GoToMyPC's basic version includes file syncing and transfer capabilities, simplified file accessing, editing, and deletion on remote computers.
GoToMyPC Pro accounts offer central billing features, also simplifying management over user payments. All aforementioned features are included in the Small Business plan (as well as additional options.)
One of which is "Wake on LAN", which enables remote users to turn on a computer, or wake it up from sleep mode at any time.
---
Interface Comparison
Both GoToMyPC and RemotePC provide user-friendly apps that display all necessary functions clearly. Both options also boast equally exceptional image scaling capabilities, offering beautifully crisp and clear visuals.
Furthermore, GoToMyPC and RemotePC make connecting a desktop and mobile device easy and reliable.
---
Operating Systems
GoToMyPC and RemotePC support numerous platforms, allowing users to draw comparisons with AnyDesk and ZohoAssist based on the number of remotely accessible operating systems.
---
Pros and Cons
Review the following for notable GoToMyPC and RemotePC pros and cons. Use this data to compare them with the GoToAssist and TeamViewer apps.
GoToMyPC
| | |
| --- | --- |
| | |
| | |
| File transfers with easy drag-and-drop feature | Certain features don't work properly with Mac systems |
| Windows, Mac, Android, iOS, and Kindle OS support | Reported session lag/freezing while managing large files |
| | Too difficult to cancel a subscription |
| User-friendly mobile apps | Infrequent issues with unreliable connections |
| Full multi-monitor displays | |
| 128-bit encryption, dual passwords, and end-to-end authentication security protocols | |
---
RemotePC
---
Price
GoToMyPC and RemotePC have multiple pricing options to choose from, supporting a wide variety of users and organizations. Both tools offer multiple pricing plans to fit your needs. You can easily compare their value against the cost of competing products like Bomgar or TeamViewer.
Consumer Plan: $29.62/per year- Single-user support with access permission for up to 2 computers
SOHO Plan: $59.62/per year- Single-user support with access permission for up to 10 computers
Team Plan: $224.62/per year- Infinite user support with access permission for up to 50 computers
Enterprise Plan: $449.62/per year- Infinite user support with access permission for up to 100 computers
Note: Team and Enterprise plans offer scaling that accommodate additional computer quantities.
GoToMyPC
GoToMyPC offers 3 pricing plans that cater to specific scenarios.
Personal Plan: $35/per month- per computer
Pro Plan: $66/per month- 2 computers (per month)
Corporate Plan: $140/per month
| | | |
| --- | --- | --- |
| | | |
| | | |
| | | |
| Business-Level License/Plan | | |
| Premium-Level License/Plan | | |
| Corporate-Level License/Plan | | |
---
Conclusion
When selecting the right remote access software, users must (first and foremost) consider the functionality and features. The right tool addresses each user's specific usage scenario, while supporting the procedures and workflows of the organization as a whole.
RemotePC is cost-effective and offers simultaneous remote access to numerous devices. It's a reliable tool that provides
• Exceptional latency
• Seamless remote desktop usability
• Supports video chat
• Offers live 24/7 chat support
Based on everything covered in this GotToMyPC vs RemotePC software comparison, RemotePC is the clear winner. RemotePC comes out on top because not only is it great for businesses of varying sizes, but also supports sole-proprietors and freelancers, too.