Remote Desktop for Windows 10/11 Home Edition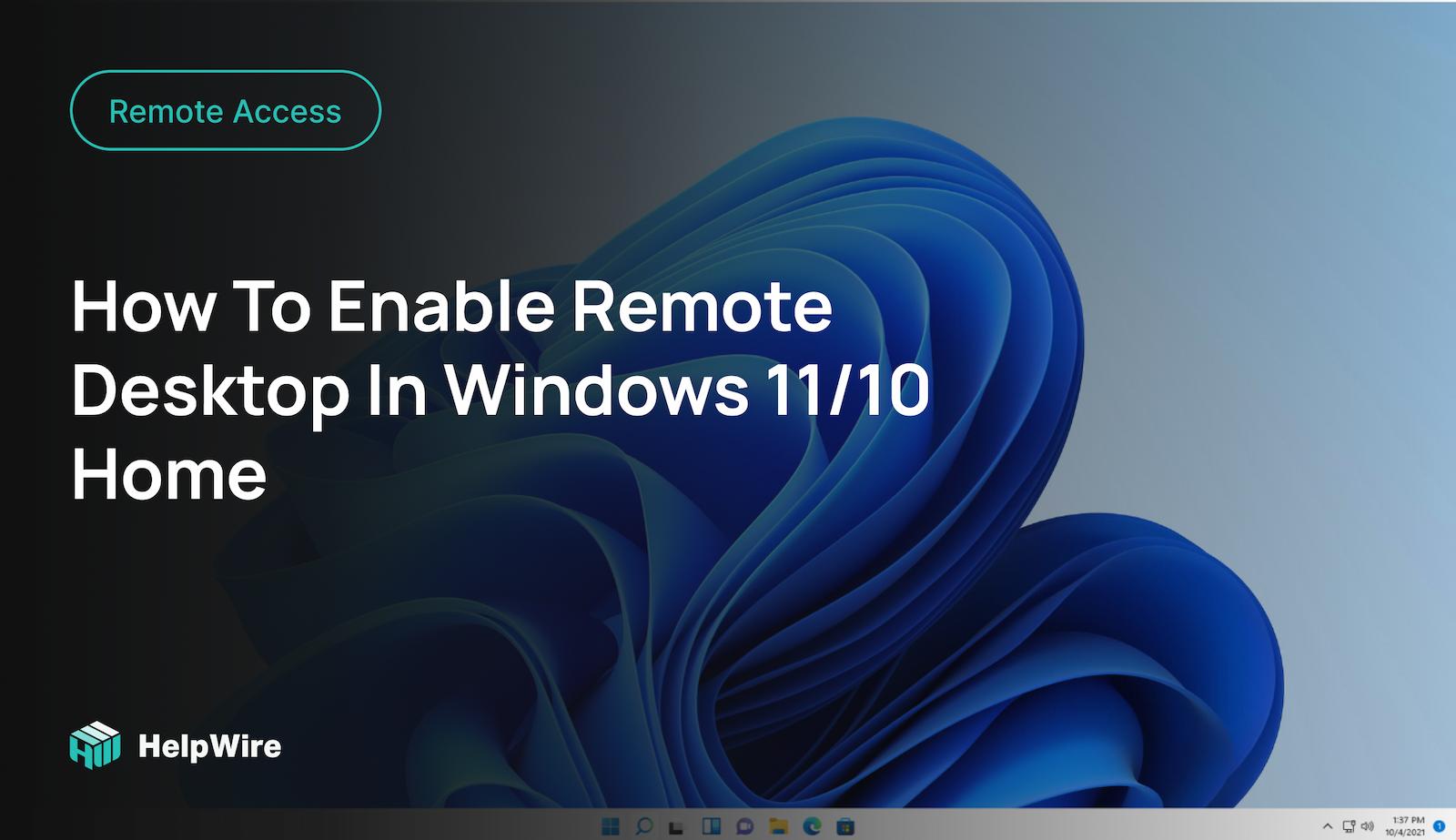 The Remote Desktop Protocol (RDP) in Windows 10 gives users a user-friendly graphical interface to be used when establishing connections to network-attached computers with the Remote Desktop Connection client app. The remote computer to which you connect has to have Remote Desktop Services server software running on it.
After the installation of Windows Remote Desktop Connections software, Windows computers can be connected as long as they are on the same network. There are multiple benefits for organizations that implement Remote Desktop. The capacity to connect to remote PCs helps a system administrator or support team perform their tasks more efficiently.
Gaining access to a file or folder and a remote machine's desktop contributes to the ability of businesses to effectively develop a remote workforce. This has proven to be very important during the COVID-19 pandemic.
NOTE: This article was written to assist users running Windows 10 Home Edition in setting up remote desktop connectivity using an RDP wrapper library. Due to the similarities between Windows 10 and Windows 11, the information provided below will work with either version of the popular operating system.
Limitations of Microsoft Remote Desktop on Windows 10 home
Different editions of the Windows operating system have varying feature sets and properties. An example of an important difference between Windows 10 Professional and Home editions is the Remote Desktop feature.
When using the Home version of the operating system, you cannot use Remote Desktop. This can cause problems for employees attempting to work remotely with machines running Windows 10 Home editions.
We are going to show you a potential workaround for these problems that will enable Remote Desktop in Windows 10 Home edition so you can connect to remote PCs. If you prefer not to use this Remote Desktop Windows 10 Home hack, we also will offer an alternative that you may find useful for establishing remote connections.
The components necessary to allow Remote Desktop in Windows 10 Home edition are included as part of the operating system's installation. Microsoft has disabled the ability to use the services necessary to implement an RDP server in Windows 10 Home.
We have a workaround that will enable Windows 10 Home computers to connect to Windows 10 Professional machines that have enabled Remote Desktop sessions. Use the following instructions to see how to set up access Remote Desktop sessions from Windows 10 Home systems.
How to enable Remote Desktop in Windows 10/11 Home
Download the latest RDP Wrapper library from Github.

Run the installation file to install the RDPwrap dynamic link library (DLL). This software provides the necessary functionality to enable Remote Desktop from a Windows 10 Home system.

Search your computer for Remote Desktop and the results should display the RDP software you need to connect to a remote machine. Start the app to initiate a remote connection.

Enter the name or IP address of the remote computer and the login credentials to satisfy authentication requirements. The target computer to which you want to connect must have Remote Desktop Connections enabled.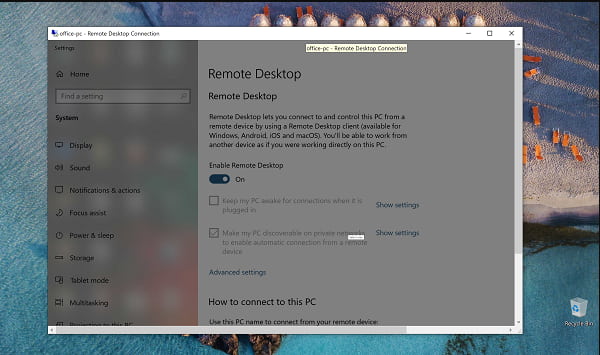 We tested this connectivity method from a laptop running Windows 10 Home version to a desktop with Windows 10 Professional installed. After authentication with the appropriate login credentials, the software established a reliable connection with the desktop computer.
This solution does not change the properties of a Windows 10 Home operating system. After you install the RDPwrap software, Windows 10 will still indicate that you cannot use Remote Desktop from your computer. You can verify this by checking Settings → System → Remote Desktop. Despite this fact, you can establish Remote Desktop Connections using this software workaround.
How the RDP Wrapper Library Works
You may be wondering how this works. The software takes advantage of the fact that Microsoft retained the services required to use Remote Desktop Connections in the Home edition of Windows 10. They made this choice because these services and the functionality they provide are essential for support activities and may be necessary when using third-party software.
The company decided to restrict the use of these services in Windows 10 Home to furnish additional security for home users. When Remote Desktop Connections are enabled, there is always the possibility that the service will be used by unauthorized individuals to compromise a computer system. All it takes are some stolen login credentials to allow hackers entry into your home computer.
So essentially the RDPwrap software subverts Windows 10 Home security to enable Remote Desktop Connections. While this is a less expensive alternative than upgrading from Windows 10 Home to Windows 10 Professional, it does open a potential vulnerability to the operating system. This may not be acceptable for some users and may be impossible to implement in certain work environments that prohibit the installation of this type of software. In these cases, you will need to use alternate methods to replicate the functionality of Windows Remote Desktop Connections.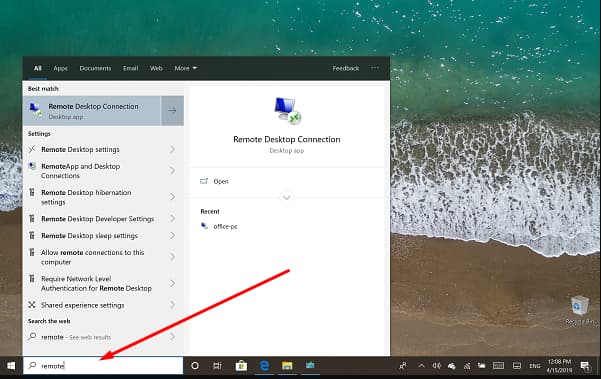 Third-Party Remote Desktop Applications
If you are not comfortable with the workaround described above, there are other third-party solutions on the market that can help you connect to remote, network-attached computers from a Windows 10 Home system. Some offer more features than others and are more appropriate for a specific business or collaborative situation.
Video communication tools
Simple communication and video calling needs can be addressed with products like Zoom, GoToMeeting, Microsoft Teams, or Google Hangouts. These products allow users to collaborate and share the display on their computer's screen but do not enable the same functionality of an RDP connection. The limited functionality of these solutions makes them rather poor alternatives to Remote Desktop Connections when more than interpersonal communication is desired.
Advanced remote desktop software
System administrators and technical staffs cannot perform the software installations and troubleshooting tasks necessary to supply remote support for a distributed computing environment with these limited tools. Fortunately, there are more complete solutions available, such as HelpWire or TeamViewer.
HelpWire is remote access software for Mac or Windows that provides on-demand support for independent professionals and small to medium firms. It allows companies to offer immediate assistance to end clients even without cutting costs or visiting offices.
Contrasting with conventional remote assistance tools that are hard and complicated to use, HelpWire has a simplified and contemporary interface that can be easily navigated.
TeamViewer enables cross-platform remote access that makes it more versatile than Remote Desktop Connections. You can connect to the remote Windows machine you are interested in from a device running iOS, Linux, or macOS operating systems. The application provides strong security and encrypts communication to keep your remote sessions safe. It is a good alternative when you cannot use Remote Desktop Connections.