Google Stadia vs Shadow, David and Goliath of Cloud Gaming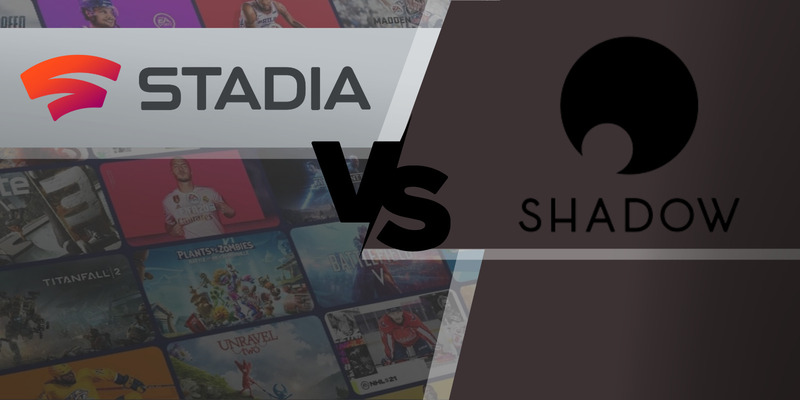 Cloud gaming is a way for a wide audience to enjoy playing video games on their computers, smart TVs, and mobile devices. A cloud gaming platform uses streaming technology to deliver games to a remote PC, tablet, or smartphone. Gamers can use devices they already own to play new titles. There's no need to buy expensive hardware to power their games.
All that's required to play games is a compatible device, a low latency Internet connection, and membership or a subscription to a cloud gaming platform. We're going to look at Google Stadia vs Shadow to help you determine which is best for your gaming needs.
Overview
Shadow and Stadia are two popular methods of enjoying the benefits of cloud gaming. Effective cloud gaming requires a fast and reliable Internet connection. Network latency will cause the game to freeze or disconnect you from the gaming servers. These two products offer very different functionality and one of them might be just what you're looking for in a gaming platform.
Shadow

Shadow offers users a powerful Windows 10 PC that is accessible from any Internet connection. With Shadow, users have access to a high-end PC without buying any expensive hardware. It's an excellent solution for anyone who wants to run Windows-compatible software or uses Windows tools. Large workloads can be run on Shadow PCs, making it a good choice for businesses that need additional Windows computing capacity.
Shadow's gaming platform has been around since 2016. Their goal has been to provide everyone who wants it with access to a powerful cloud-based Windows machine. Their business has grown and they are now a global provider of cloud solutions for personal and business use. The company's servers are located in Europe.
Shadow is also an excellent platform for playing Windows-based games. It solves the problem of gamers frustrated by the unavailability of games they can play natively on their Mac or Linux machines. With Shadow, you just launch an app, log into your remote Windows computer, and play any games you choose. Shadow lets you install any Windows-compatible game on your PC.
Stadia

Google's Stadia is a dedicated cloud-gaming platform that offers users access to an extensive library of titles. The platform adds new games every month and lets users play games for up to 90 minutes for free without a Stadia account. Users can try cloud gaming with no commitment instantly to see if they like the service.
Stadia lets users play games on any computer supporting the latest Chrome browser. You can also play games on a wide range of compatible devices with the Stadia app or on a TV using Chromecast and a Stadia controller. Stadia supports many different gaming controllers including those designed for Xbox and PlayStation.
Stadia does not offer the additional functionality of Shadow. Its focus is on gaming and its wide compatibility with mobile devices makes it an excellent choice for gamers who prefer tablets and smartphones. The company suggests an Internet connection of at least 10Mbps to play games on Stadia. Stadia Pro lets you play at 4K resolution with a 35Mbps connection.
Features
Shadow and Stadia are both suitable platforms for cloud gaming. They have different features that can influence your choice of platform. Here's a look at the main features that each platform offers the cloud gaming community.
Shadow
• Shadow gives users a powerful, cloud-based Windows 10 PC that can be used to play games, perform business activities, or run any Windows-compatible program.
• Shadow offers users a simple and user-friendly app to access their cloud PC from anywhere with their login credentials.
• Data is kept secure in ISO 27001-certified data centers.
• Shadow's cloud PCs are built after customers register with the service using powerful components. The hardware in your machine includes:

◦ Processor – Intel XEON 3.5 GHz or equivalent with 4 cores and 8 threads;
◦ GPU – GeForce GTX 1080 or equivalent;
◦ 12GB of memory;
◦ 256GB of high-performance and secure SSD storage.
Stadia
• Stadia lets users instantly play video games on the devices they already own without worrying about installs, downloads, or updates.
• A free trial of Stadia Pro lets users access the game library and start building a collection for a month. After that, Stadia Pro costs $9.99 per month for unlimited gaming with select titles. You can cancel at any time.
• You can try Stadia with a selection of free games for up to 90 minutes without creating an account. It's a great way to test drive the platform.
• Stadia works on any computer that can run the Chrome browsers, all types of mobile devices, and smart TVs.
• Stadia is compatible with Xbox and PlayStation controllers.
• You can game in 4K resolution with a fast Internet connection.
Operating System
You need a cloud gaming platform to support the devices you want to use when playing. With Shadow, you need to download an app to your gaming device which gives you access to the Shadow Windows PC. A wide variety of operating systems and devices are supported by Shadow.
Stadia also runs on a wide variety of devices and any computer that supports the latest version of the Chrome browser. There is an app for mobile devices and you can use Chromecast to access Stadia through smart TVs.
The following table lists the OS compatibility of Shadow and Stadia.
---
Pros And Cons
Let's take a look at some of the pros and cons of Stadia vs Shadow.
Stadia
| | |
| --- | --- |
| | |
| Free trial membership of Stadia Pro for 30 days; | Limited titles in its game library; |
| Play games for free for up to 90 minutes; | Strictly a gaming platform; |
| Play games in 4K resolution; | Requires the Chrome browser for use on a computer. |
| Access Stadia from virtually any computer or mobile device; | |
| Compatibility with many different gaming controllers. | |
---
Shadow gaming
| | |
| --- | --- |
| | |
| Provides the full functionality of a Windows 10 computer; | There can be a delay between account registration and your machine being built. |
| Enables user to run any Windows-compatible application or game; | Shadow is more expensive than dedicated gaming platforms; |
| Universal connectivity with an Internet connection and compatible device; | The additional functionality may not be needed by many gamers. |
| 4K streaming is available with the Power Upgrade subscription; | |
| The Shadow Drive gives users additional storage capacity. | |
---
Pricing
The costs of these two gaming platforms are substantially different. Shadow costs more, but you get access to the functionality of a complete Windows 10 PC. Some gamers may not need nor want this power and are reluctant to pay for it. Google Stadia is strictly a gaming solution and is less expensive than Shadow. Users must decide if they want to simply play games or take advantage of other Windows applications.
Following are the pricing options for these two platforms.
Google Stadia
• Stadia can be tried for free with any game for a limited time.
• Google Stadia Pro is $9.99 per month and offers a free one-month trial. Stadia Pro lets you play the library of titles for as long as you like. Discounts apply for game purchases for Stadia Pro subscribers.
• Individual game titles can be purchased in the Stadia store with or without an active Stadia Pro subscription.
Shadow
• The base price for a Shadow Windows 10 PC is $29.99 per month.
• The Power Upgrade costs $14.99 per month.
• Shadow Drive costs $8.99 per month for an additional 2TB of storage capacity.
Conclusion
Shadow and Stadia offer two very different models for playing games in the cloud. Both services offer gamers a lot of titles and the ability to play anywhere on a variety of devices. Shadow also provides users with access to a Windows remote desktop from which they can run applications in addition to playing games.
Stadia is a pure gaming platform without any of the additional functionality available with a Shadow subscription. It's also substantially less expensive than Shadow. But if you want to do more with a cloud PC, Shadow is an attractive option.
It's difficult to compare Shadow vs Stadia on criteria such as price alone. Shadow lets you play any game that runs on the Windows OS whereas Stadia only offers a limited catalog of games. You can check out the library of games during Stadia's free trial and see if it suits your tastes. Whichever cloud gaming solution you choose, you will soon be enjoying your games in a whole new way.