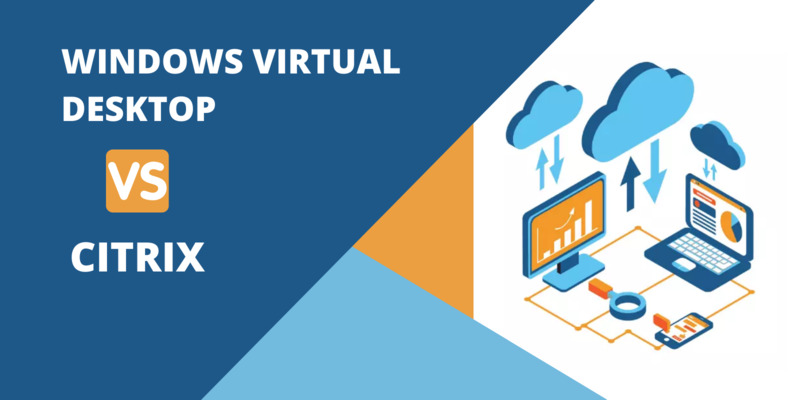 Windows Virtual Desktop vs Citrix: Choose One or Use Both?
Today's businesses are more interested than ever before in providing employees with remote access to enterprise resources. Many companies are allowing workers to use a home office from which they connect to the applications and desktops they need to do their jobs.
Windows Virtual Desktop (WVD) and Citrix are alternative solutions companies can deploy to implement remote user access. While they both offer similar functionality, there are differences between the two solutions. We will look at a variety of factors to see how these two products compare and discuss the benefits that can be obtained by using them in tandem.
What is Windows Virtual Desktop?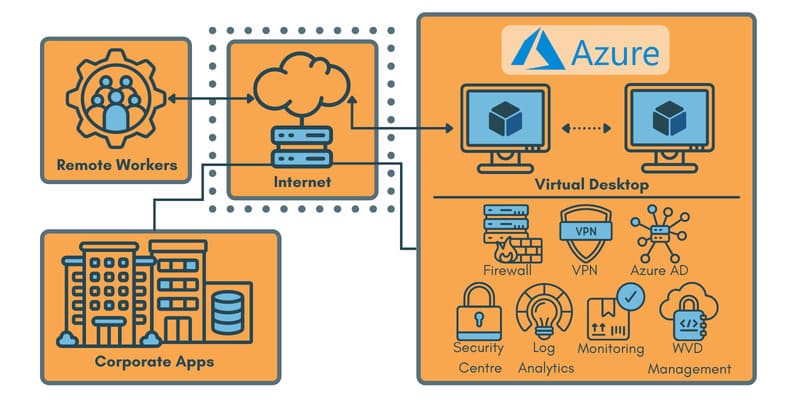 Windows Virtual Desktop is an application virtualization solution built on the foundation of Microsoft's Azure cloud infrastructure. The tool provides organizations with the advanced remote functionality necessary to address business requirements such as:
• Deploying Remote Desktop Services (RDS) and Windows Server desktops to any computer;
• Configuring and implementing a multi-session and scalable Windows 10 environment;
• Obtaining extended security updates for virtualized Windows 7 desktops;
• Optimizing and executing virtualized Microsoft 365 enterprise applications;
• Centralizing the management of Windows 10 and Windows Server apps and desktops.
WVD is tightly bound to Windows applications and requires the use of Microsoft's Azure cloud platform. The tool has recently been rebranded as Azure Virtual Desktop, but we will use WVD throughout this article.
What is Citrix Virtual Apps and Desktops?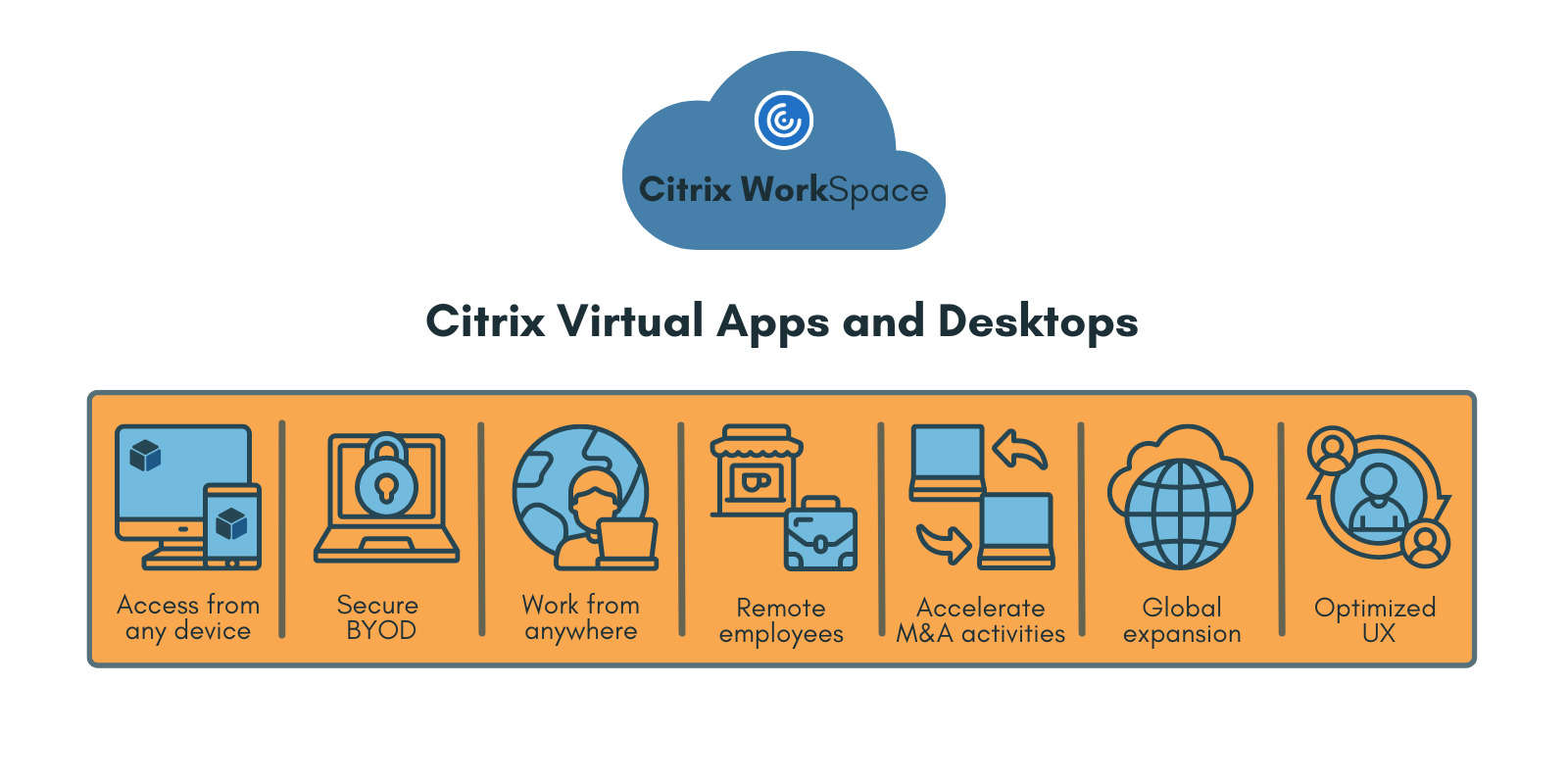 Citrix Virtual Apps and Desktops is a virtualization solution that lets users access desktops from any device. Citrix also gives IT departments visibility into and control over virtual machines and their applications, security posture, and licenses. Uses of Citrix Virtual Apps and Desktops include:
• Enabling system administrators to perform network management activities and control user remote access;
• Running desktops and applications independently of the underlying operating system or device interface;
• Allowing centralized management of multiple virtualized desktop instances.
WVD vs Citrix: a Detailed Comparison
Now we will take a look at some of the specific aspects and features of Microsoft Windows Virtual Desktop vs Citrix to help customers decide which one best suits their business objectives.
System Requirements
Each virtualization solution has system requirements that must be met.
WVD
• WVD must run on Azure using a supported and licensed operating system which includes Windows 10 Enterprise multi-session, Windows 10 Enterprise, or Windows 7 Enterprise.


• An Azure Active Directory needs to be implemented and synchronized with Windows Server Active Directory.


• All Azure VMs for WVDs need to run on supported images using the standard domain-joined or Hybrid AD-joined options.
Citrix
• Citrix is comprised of multiple components which can live on the same or different servers. Running all core components on a single machine requires a minimum of 12 GB of RAM.


• Various Citrix components also need to run on specific operating systems. An example is Citrix Director which is supported on Windows Server 2019 or 2016.


• Additional software requirements for Citrix include the installation of Microsoft .NET Framework 4.8 (or higher), Microsoft Management Console 3.0, and Windows PowerShell 3.0 or higher.
Cost of Azure Windows Virtual Desktop vs Citrix
Citrix is usually a more expensive option for remote access than WVD.
Windows Virtual Desktop was designed to provide a low-cost method of implementing a virtual desktop infrastructure (VDI). In Microsoft and Azure-centric organizations, WVDs offer a more cost-efficient solution for supplying remote access services.
The initial price per user for Citrix Virtual Apps and Desktops is minimal but these costs are offset by the hardware infrastructure and licenses that are required to implement a viable Citrix environment.
Image management
Citrix provides native image management features that make it easy to perform activities like provisioning users with cloned virtual machines. WVD does not offer quality native image management, though it can be attained using other Azure features like Azure Image Builder. The integration of image management options into the base Citrix offering gives it a decided advantage over WVD in this area.
Accessibility for Small to Medium Businesses
WVD is easier to use, implement, and manage than a Citrix solution. The advanced features present in Citrix come at a price that includes high implementation and maintenance costs. A WVD environment can be set up in less time without a high level of technical support. Small businesses looking for a fast and cost-efficient method of providing remote access will usually be better served with a WVD solution.
Administration Experience
In a WVD environment, administrative tasks are performed in the cloud with no need to physically connect to a server or directly to a client machine. A comprehensive web interface enables admins to manage profiles, apps, desktops, and security from a centralized platform. Citrix does not provide the same type of streamlined experience for administrators, though it can be attained by combining Citrix and WVD.
Citrix vs WVD Security
Citrix and WVD both offer secure methods of providing remote user access.
WVD security is built on the security of the Azure cloud infrastructure. It includes features like a virtualization control panel as well as security for the physical hosts, network, and data center. Customers share security responsibilities such as protecting user devices and implementing reliable access management tools.
Citrix provides security features that include multi-factor authentication, smart care integration, and ICA proxy. Citrix is compliant with the Federal Information Processing Standards (FIPS) and Microsoft Credential Guard. Analytics help to identify malicious attempts to access a remote desktop or application and a Secure Browser feature controls access to designated SaaS applications.
User Desktop Experience
Different desktop experiences are provided to WVD and Citrix users.
WVD presents a standard Windows 10 desktop in a client workspace. This makes it very easy to use for anyone familiar with Windows 10 and can be a major consideration when choosing between Citrix and a VDI based on Windows Virtual Desktops.
Citrix users are given access to a Windows Server on their chosen device. There are substantial differences between Windows 10 and Windows Server which can make it difficult for users to maintain a high level of productivity.
Table of comparison
This table offers a quick comparison between Citrix managed desktop vs Windows Virtual Desktop.
| | | |
| --- | --- | --- |
| | Citrix Virtual Apps and Desktop | |
| | A combined 12 GB Ram is required for all Citrix components. | Must run on Azure with associated Azure components. |
| | Windows Server 2019 or 2016 | Windows 10 Enterprise multi-session, Windows 10 Enterprise, or Windows 7 Enterprise |
| | Extensive cross-platform capabilities | Simple but limited options |
| | Fully scalable with no limits | No limits within the confines of Azure |
| | Streamlined native image management | No native image management |
| Small business accessibility | Difficult to implement and expensive to maintain | Easy to implement and inexpensive to maintain |
| Administration experience | More labor-intensive administration | Streamlined, cloud-based administration |
| | | Shared security modeled on Azure security |
| | | |
| | Centralized delivery of enterprise applications | Limited to Windows applications |
| | More expensive when all costs are considered | A more economical path to remote access |
Combining WVD with Citrix
Organizations can enjoy multiple advantages by implementing a combination of WVD and Citrix. Small businesses and those just starting might get along with just WVD, but larger companies can extend WVD with Citrix to provide more flexibility and security while optimizing costs.
Following are some of the benefits of combining these two remote access and virtualization solutions.
• The inclusion of Optimization packs provide enhanced audio and video capabilities to Microsoft Teams and Skype for Business.
• A hybrid cloud model enables RDSH workloads to be run on multiple cloud and on-premises infrastructures.
• The Citrix HDX is an improved remote connectivity protocol that can be used instead of RDP.
• Citrix Analytics performs security and performance analysis to help identify and address issues.
• Multi-factor authentication integrations with third-party MFA providers are available.
• Session recording can record screen activities on any type of connection.
• Enhanced App Protection from Citrix bolsters security for virtual desktops and apps when using public networks.
• App layering can be used to separate applications from the operating system to reduce management time for Windows images.
Conclusion
The choice between a Microsoft WVD VDI and Citrix may ultimately rest on the remote access and virtualization needs of a prospective customer. Companies looking for a quick and easy remote access solution will be attracted to WVD. Citrix is more appropriate for larger organizations with more extensive and diverse remote access requirements. Companies should also look at the benefits of combing these two products to create a customized remote access infrastructure that meets their needs and helps drive their business.