The popularity of an email communication form has led to a proliferation of email ticketing software solutions. We are going to look at 15 of the best email ticketing systems to help you decide which one best addresses the needs of your business.
What is an Email Ticketing System?
Email ticket systems are software solutions designed to facilitate the handling of customer service support requests. The systems process email queries and convert them into actionable help desk tickets. Using a template of predefined fields, an email ticket is generated and routed to the appropriate personnel based on the information it contains. The email help desk software collects and organizes the tickets in a centralized location so they can be easily managed and tracked.
Statistics from 2021 indicate that email is a popular channel for contacting customer service. In the U.S., 15% of respondents consider email their preferred method of communicating with a help desk. Companies need to implement an email ticketing system to handle these queries and provide robust customer support.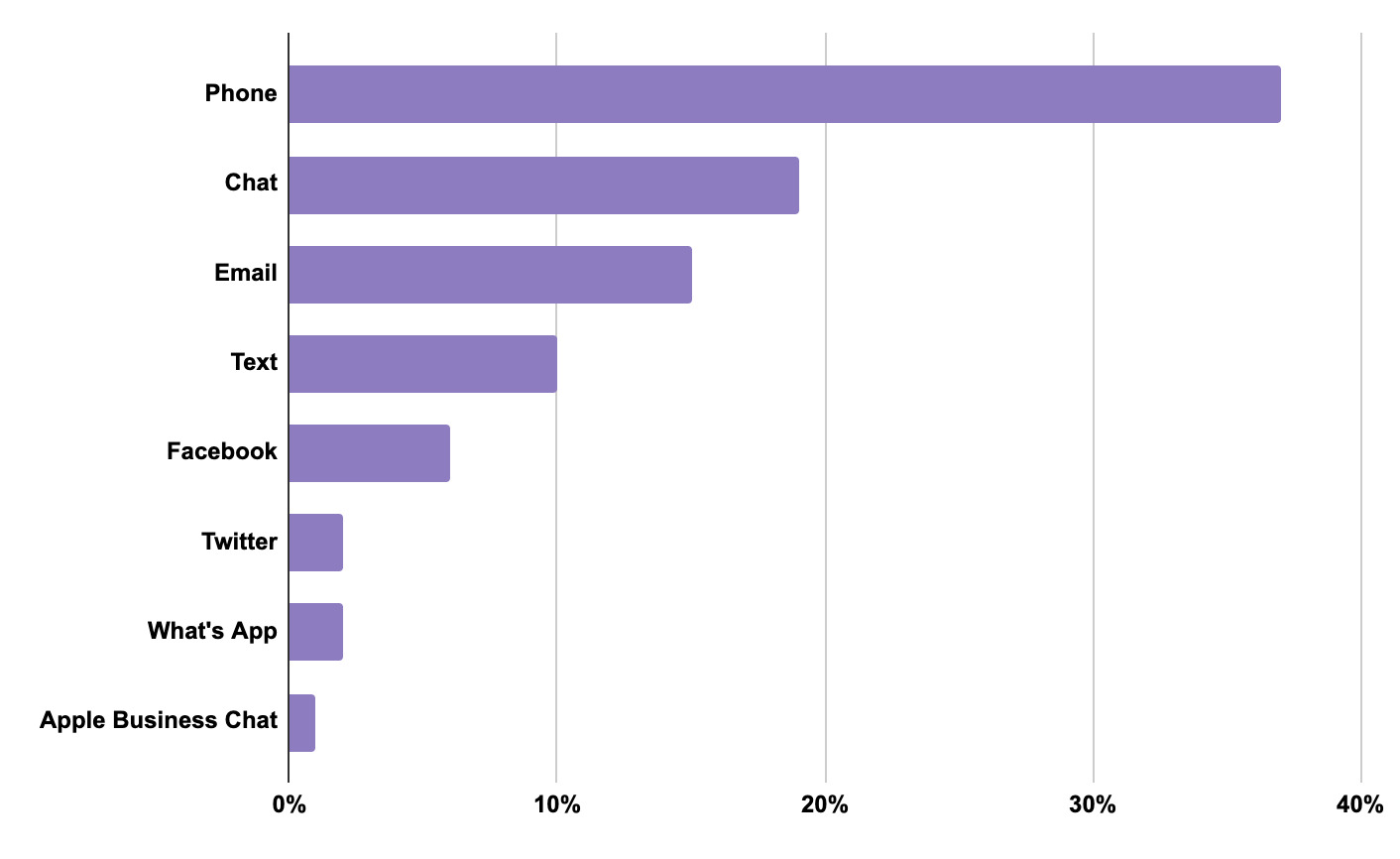 The 15 Best Support Ticket Systems
Now that we have seen what features go into a customer support email system, let's take a look at some of the best support ticket systems on the market.
1. Zendesk
Best usage scenario: Large organizations who want a consolidated CRM solution.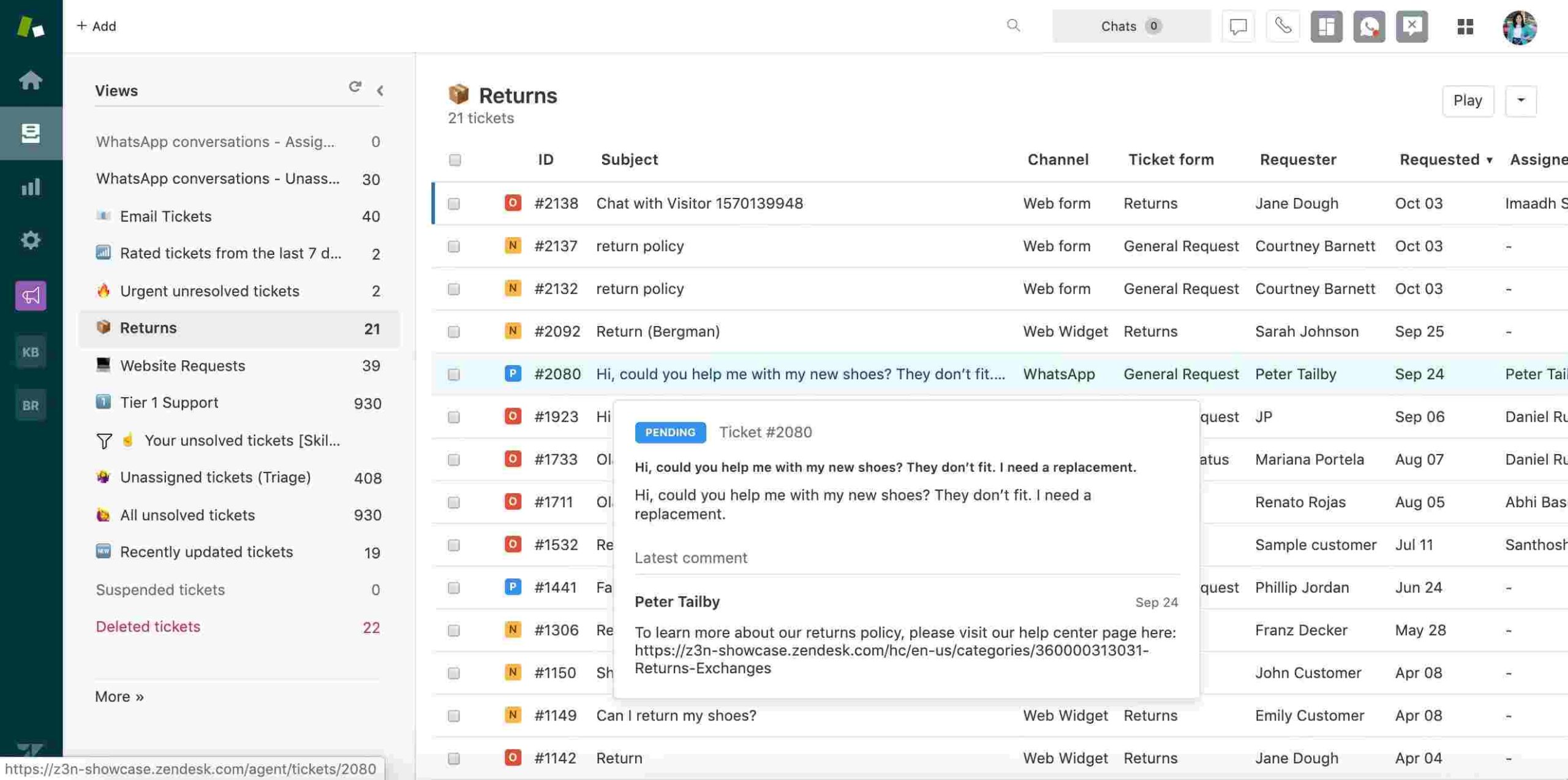 Zendesk is a popular and advanced help desk solution that includes the capability to process email tickets. It offers organizations a comprehensive tool for managing help desk support and enhancing the customer experience. The tool is highly customizable and offers pre-built integrations that allow agents to deliver more personalized support.
Top features:
✦ AI-powered bots for fast responses to customer requests
✦ Supports multiple communication channels
✦ Enables the creation of self-service help centers
✦ Provides a unified agent workspace
✦ Scales easily as an organization grows
✦ Advanced analytics and reporting
---
Pricing: Foundational support begins at $19. Other monthly plans offered are Suite Team $49, Suite Growth $79, and Suite Professional $99. All prices are per agent/month. Free trial: 14 days.
2. Zoho Desk
Best usage scenario: Startups and small businesses.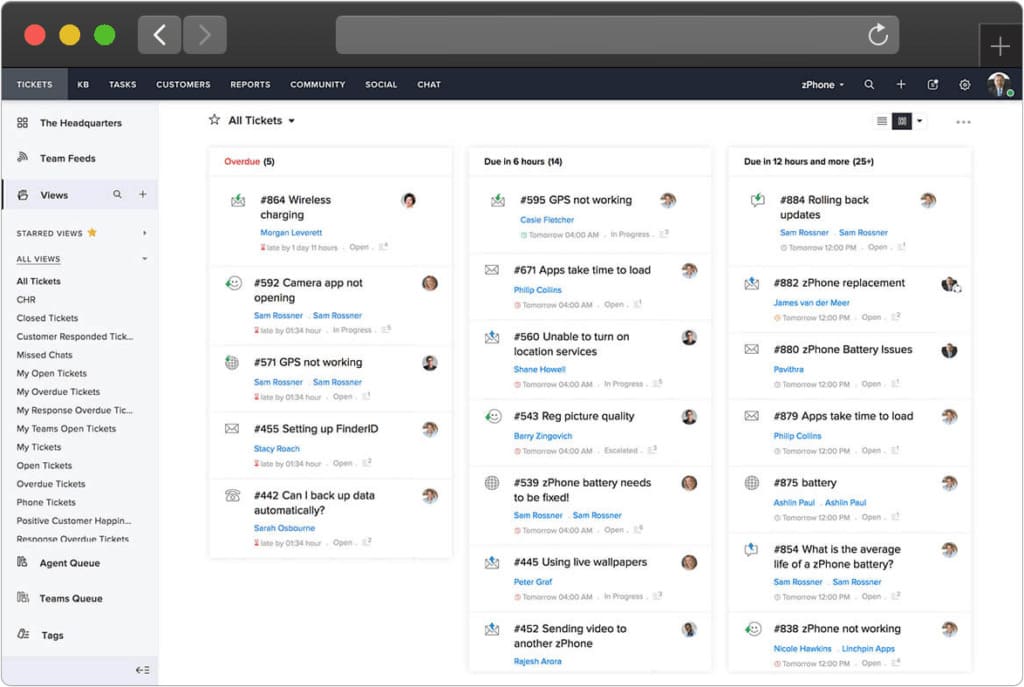 Zoho Desk offers customers an omnichannel ticketing system that efficiently processes email queries and requests. It provides a context-aware help desk that can handle customer communication from email, phone, social media, and other channels. Self-support capacities let companies offer 24-hour support without a global customer service team.
Top features:
✦ A mobile app that provides agents with remote connectivity
✦ Workflow automation
✦ Customer branding and customization options
✦ AI-powered analytics and ticket handling assistance
✦ Extensive self-support features
---
Pricing: Standard $14, Professional $23, Enterprise $40 per agent/month. Free trial: 15 days.
3. Hiver
Best usage scenario: Organizations that exclusively use Gmail.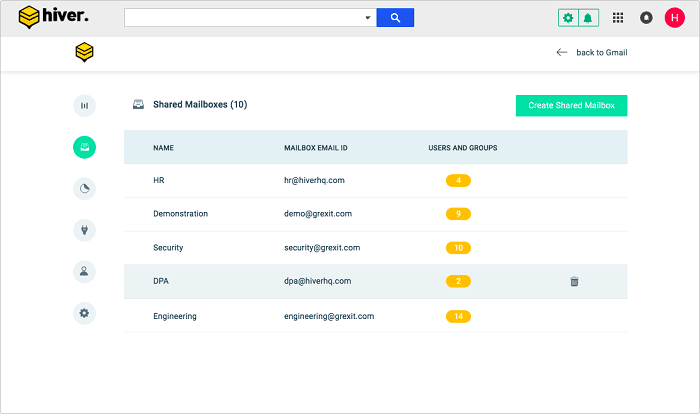 Hiver is an email ticketing system designed specifically to work with Google's Gmail. It's an easy-to-use solution that uses the familiar Gmail interface to minimize the learning curve. The tool turns emails into actionable tasks and distributes them to your customer service team. A live chat option enables faster problem resolution and more personalized interaction.
Top features:
✦ Uses Gmail interface for simplicity
✦ Shared inbox management
✦ Collision alert to streamline agent support
✦ One-click view of workload distribution
✦ Automates repetitive workflows
✦ Provides analytics for insight into customer service metrics
---
Pricing: Lite $15, Pro $39, Elite $59 per user/month. Free trial: 7 days.
4. FreshDesk
Best usage scenario: Small to mid-sized businesses.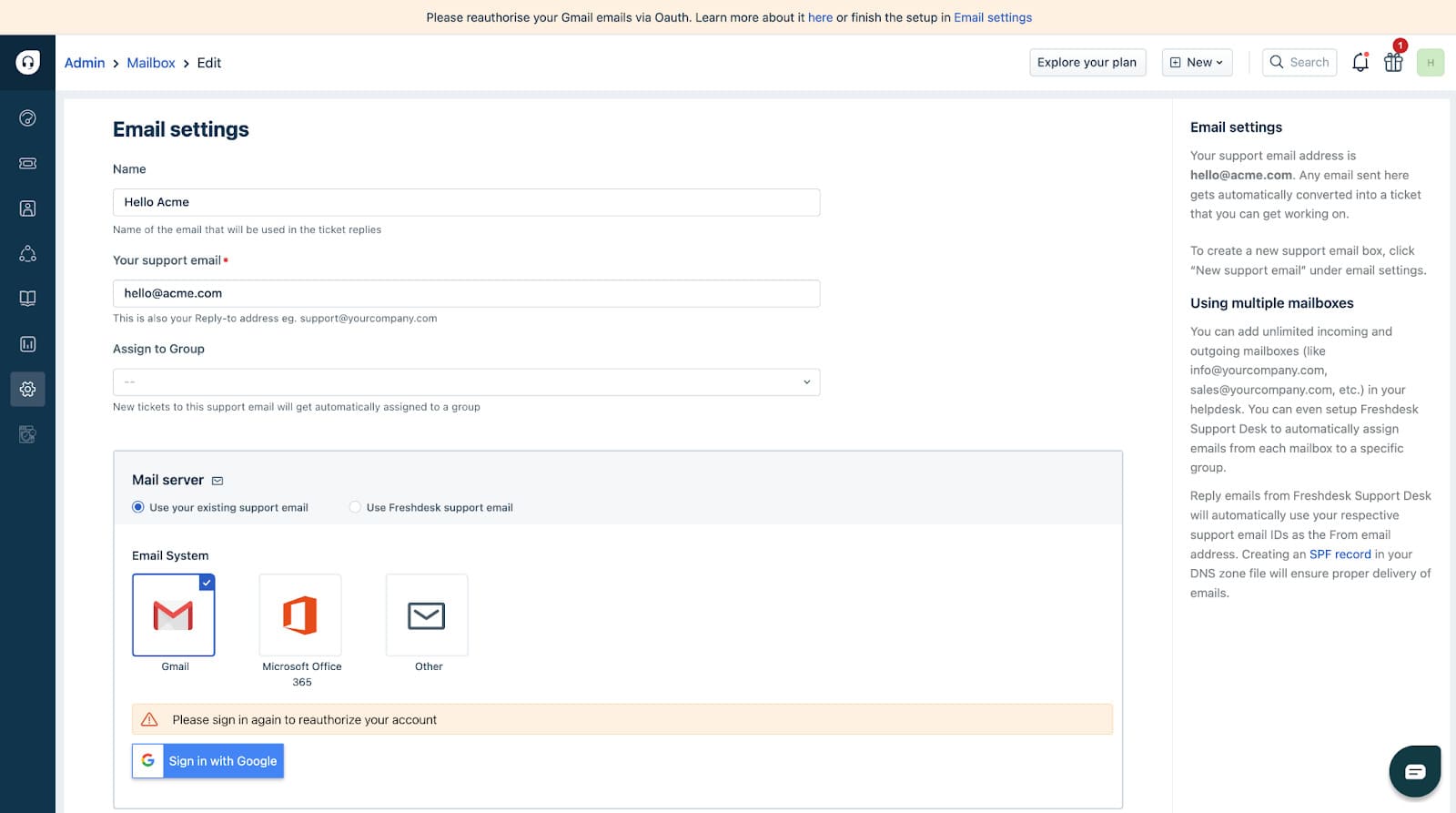 FreshDesk is multi-channel help desk software that offers email ticketing, self-service support options, and informative reporting capabilities. Agents can work from a universal inbox. Teams can manage customer conversations, analyze service trends, and review customer feedback from within the tool. Ticket ownership can be shared among multiple agents for enhanced customer support.
Top features:
✦ Companies can deploy additional AI-powered bots
✦ Powerful routing engines to assign tickets
✦ 360-degree customer view for enhanced issue resolution
✦ Supports the creation of self-service portals
✦ Easily manage SLAs and communicate with field agents
---
Pricing: Growth $15, Pro $49, Enterprise $79 per user/month. Free trial for 21 days.
5. HappyFox
Best usage scenario: Medium and enterprise clients in need of email ticketing.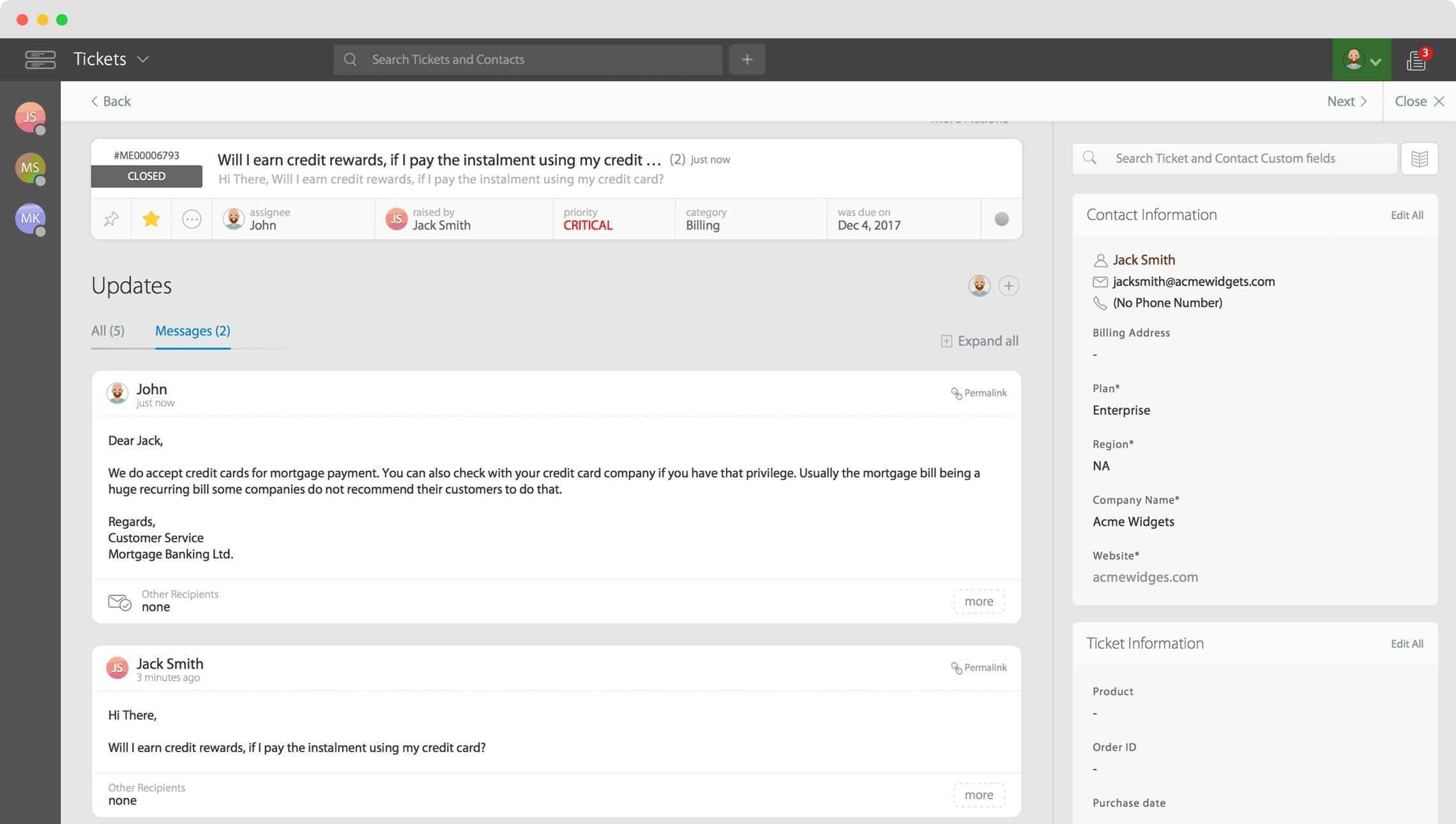 HappyFox is an email ticketing system with all the basic features teams need to streamline customer service delivery. It's a multichannel solution that consolidates all customer queries with unified ticketing. The tool lets teams gain control over workflows, ensures no requests are missed, and improves problem resolution time to produce a better customer experience.
Top features:
✦ Workflow automation
✦ Perform analytics on customer service data
✦ Supports self-service knowledge bases
✦ Chatbot support to provide fast responses
✦ Extensive customization and personalization functionality
---
Pricing: Mighty $39, Fantastic $59, Enterprise $79, Enterprise Plus $99 per agent/month.
6. HelpScout
Best usage scenario: Large and small teams looking for email ticketing support.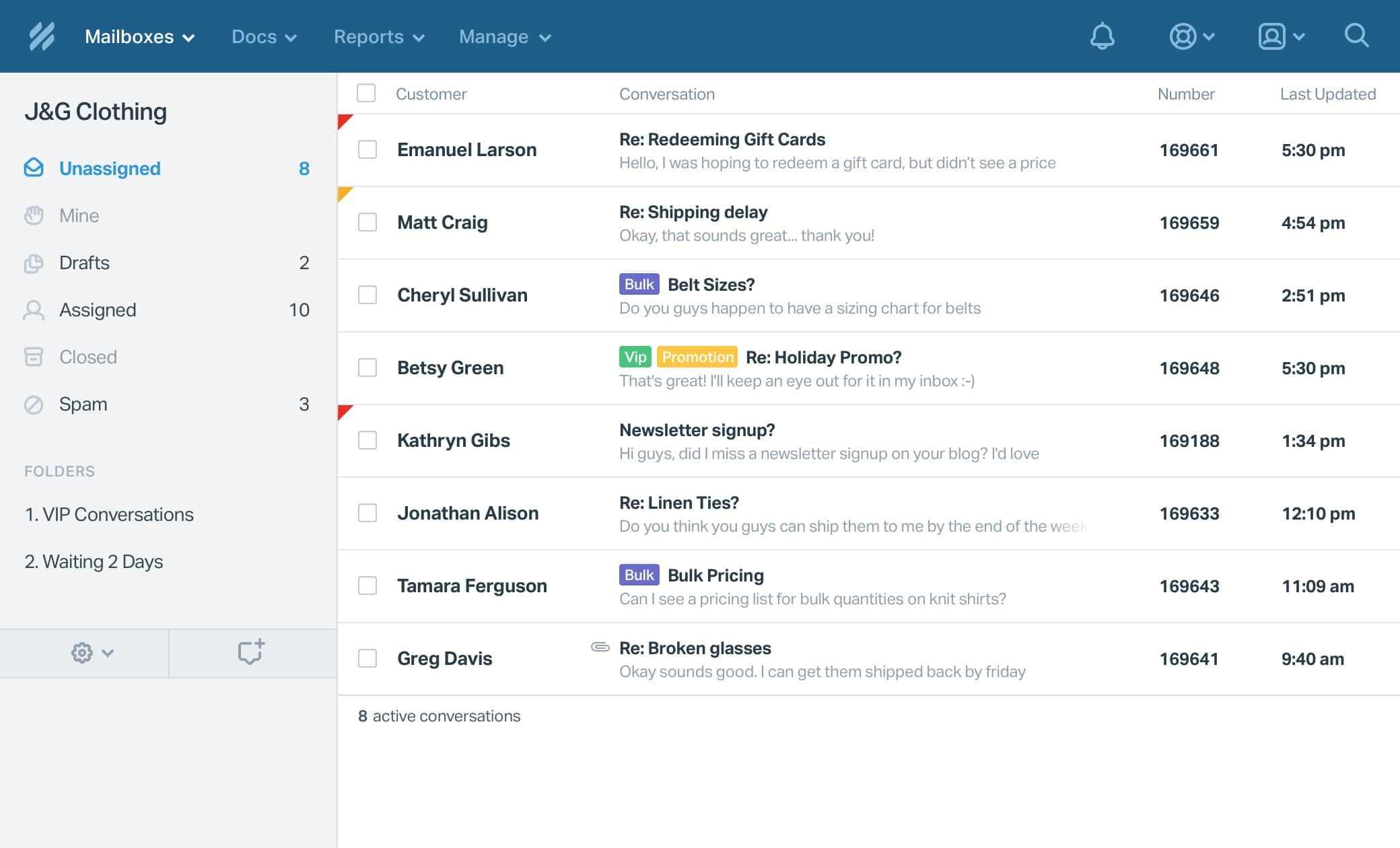 HelpScout is a simple and easy to implement email ticketing system that delivers many additional features to facilitate providing stellar customer support. APIs enable integration with existing workflows to improve productivity throughout the organization. The tool scales nicely to address any number of customers and is great for eliminating duplication of effort by the support team.
Top features:
✦ Built-in knowledge base
✦ Support for iOS and Android mobile devices
✦ Rule-based workflow automation
✦ Live chat feature for personalized customer interaction
✦ A shared inbox for improved team productivity
---
Pricing: Standard $20, Plus $40, Pro $65 per agent/month, free 15-day trial.
7. SysAid
Best usage scenario: Good ticketing management system for IT departments.
SysAid is an email ticket solution designed for use by IT teams. Its additional functionality includes IT asset management and the ability to automate password resets. Reports are available through a unified dashboard so team progress can be tracked to facilitate better business decisions. The tool enables the creation of internal and external knowledge bases for self-service support.
Top features:
✦ End-users can reset domain passwords without engaging an agent
✦ Chat icons can be embedded in a website or support portal
✦ Ticket history enables more personalized customer support
✦ Rule-based automation of ticket routing and workflows
---
Pricing: No pricing details are available without contacting the company and supplying a business email address.
8. HelpCrunch
Best usage scenario: Teams requiring a multi-channel email ticketing system.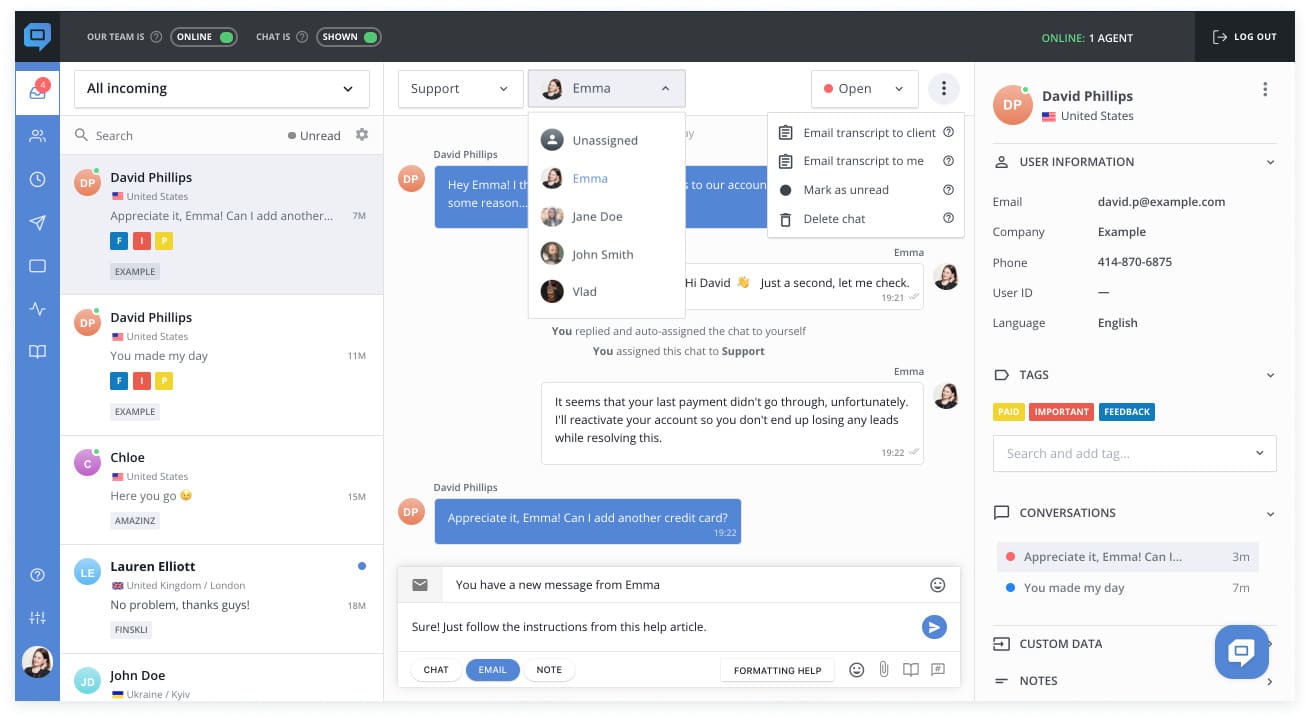 HelpCrunch offers users a multi-channel email ticketing solution that's designed to streamline and improve an organization's customer service delivery. The tool lets agents work with up to five customers simultaneously to speed up resolution time. Analytics and reporting functionality enable the team to analyze each agent's performance and identify areas for improvement.
Top features:
✦ Multi-channel support
✦ Agents can attach internal notes to tickets
✦ Shared inbox
✦ Agents can reply to customers using the same channel
✦ Send automatic email follow-up messages to customers
✦ Live reports and analytics
---
Pricing: Basic $12, Pro $20 per agent month. Contact the developer for enterprise pricing.
9. JitBit
Best usage scenario: Companies that primarily receive email customer queries.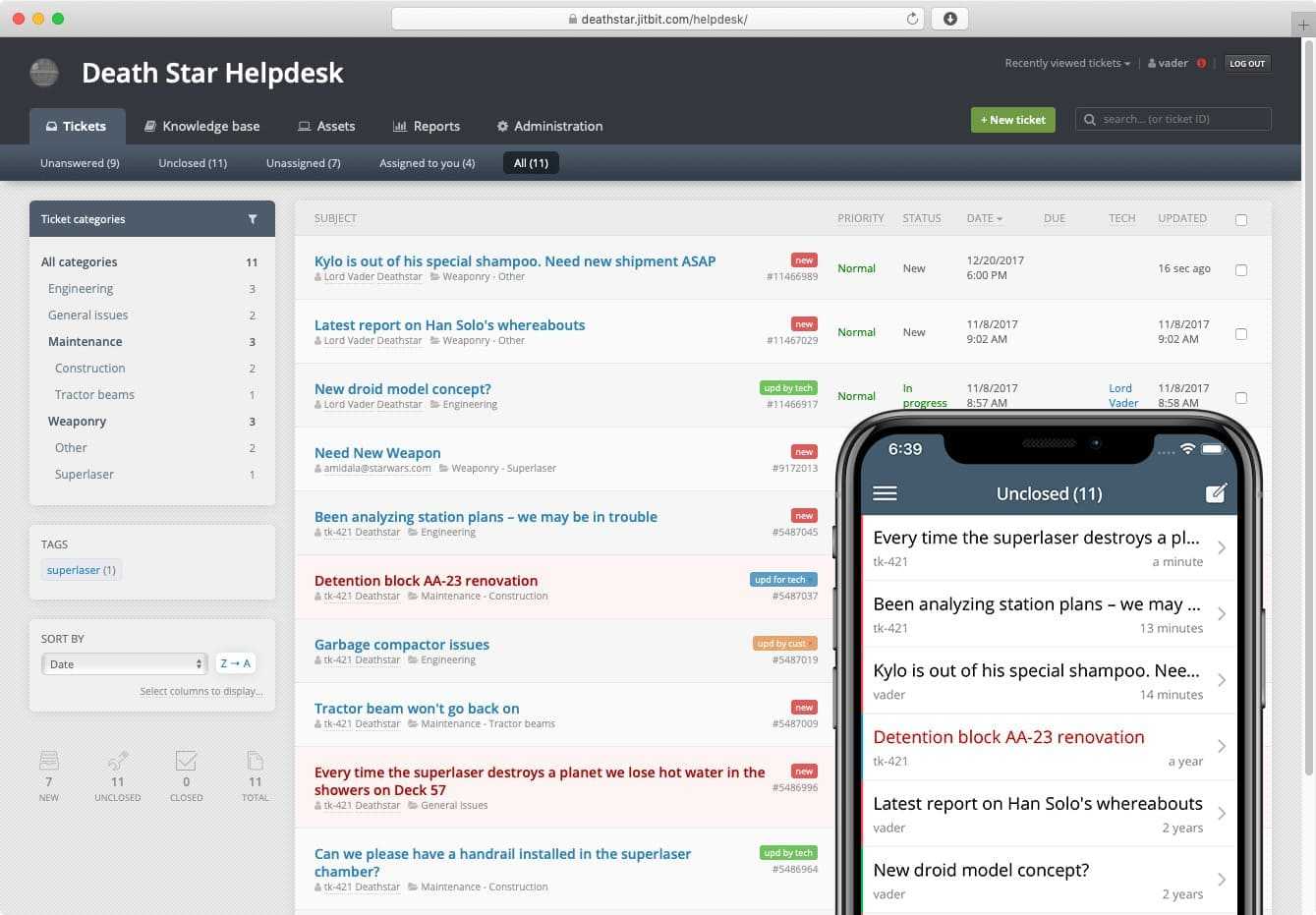 JitBit is an email ticketing system that is available as an SaaS cloud-hosted service or a downloadable application. The tool is focused on email ticketing and offers extensive features to help increase help desk productivity and improve customer satisfaction. The cloud service can be set up quickly to give your help desk the additional support they need.
Top features:
✦ Mobile apps are available so agents can monitor activity remotely
✦ Knowledge base and canned responses for self-service
✦ Workflow automation of repetitive tasks
✦ Provides a forum for customer ideas and comments
---
Pricing: Pricing ranges from $29 to $249 per month for the SaaS solution and $1699 to $4999 for the downloadable application. Free trial for 21 days.
10. Intercom
Best usage scenario: Teams managing tickets generated from social media.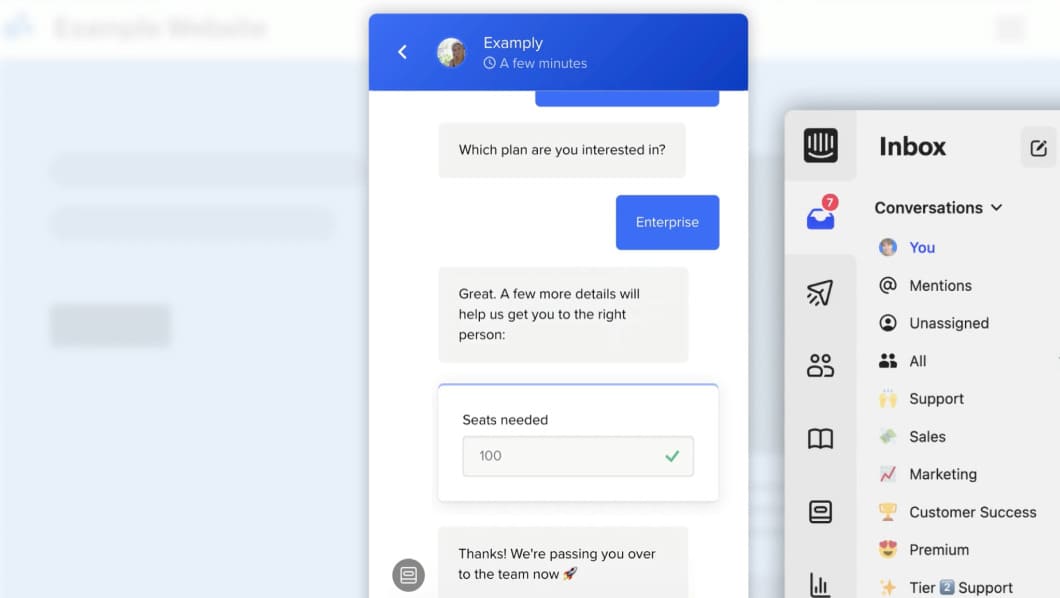 Intercom is a help desk ticketing tool that promotes the establishment of direct channels of engagement with customers. The tool supports organizing and managing email and social media customer communication. Separate inboxes can be created for different departments if desired. Intercom offers additional functionality such as the ability to perform targeted email marketing.
Top features:
✦ Integration with over 250 applications including WhatsApp
✦ Supports the creation of guided tours of your product
✦ Reporting dashboards to gain insight into customer service
✦ Customizable surveys can be offered to collect customer feedback
---
Pricing: Pricing starts at $74 for small businesses. Additional pricing details must be obtained through contact with the company. Free trial for 21 days.
11. SpiceWorks
Best usage scenario: Companies looking for a free and functional email ticketing system.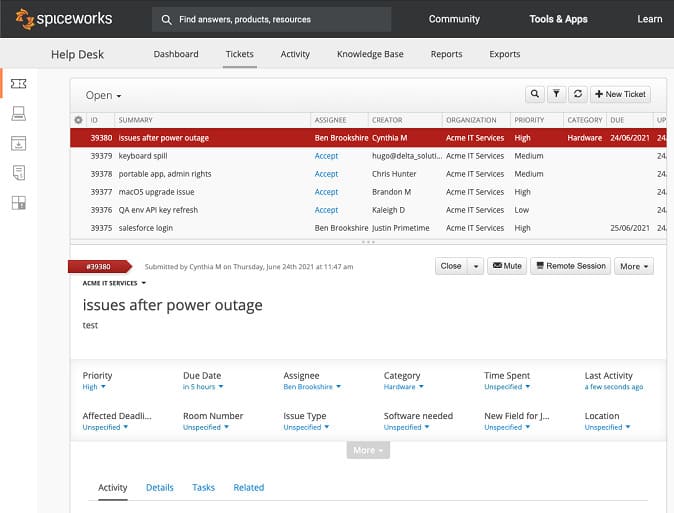 SpiceWorks is a free email ticketing solution that provides a wide range of features for help desk teams. The product is designed for use by IT departments so they can easily track technical issues and maintain high levels of customer satisfaction.
Top features:
✦ SpiceWorks Help Desk mobile app for remote agents
✦ Remote support sessions can be initiated from a help desk ticket
✦ Customizable fields for improved ticket organization
✦ Supports the creation of self-service portals
✦ Rule-based automated ticket assignment
---
Pricing: SpiceWorks is a free solution.
12. LiveAgent
Best usage scenario: Email management and team collaboration.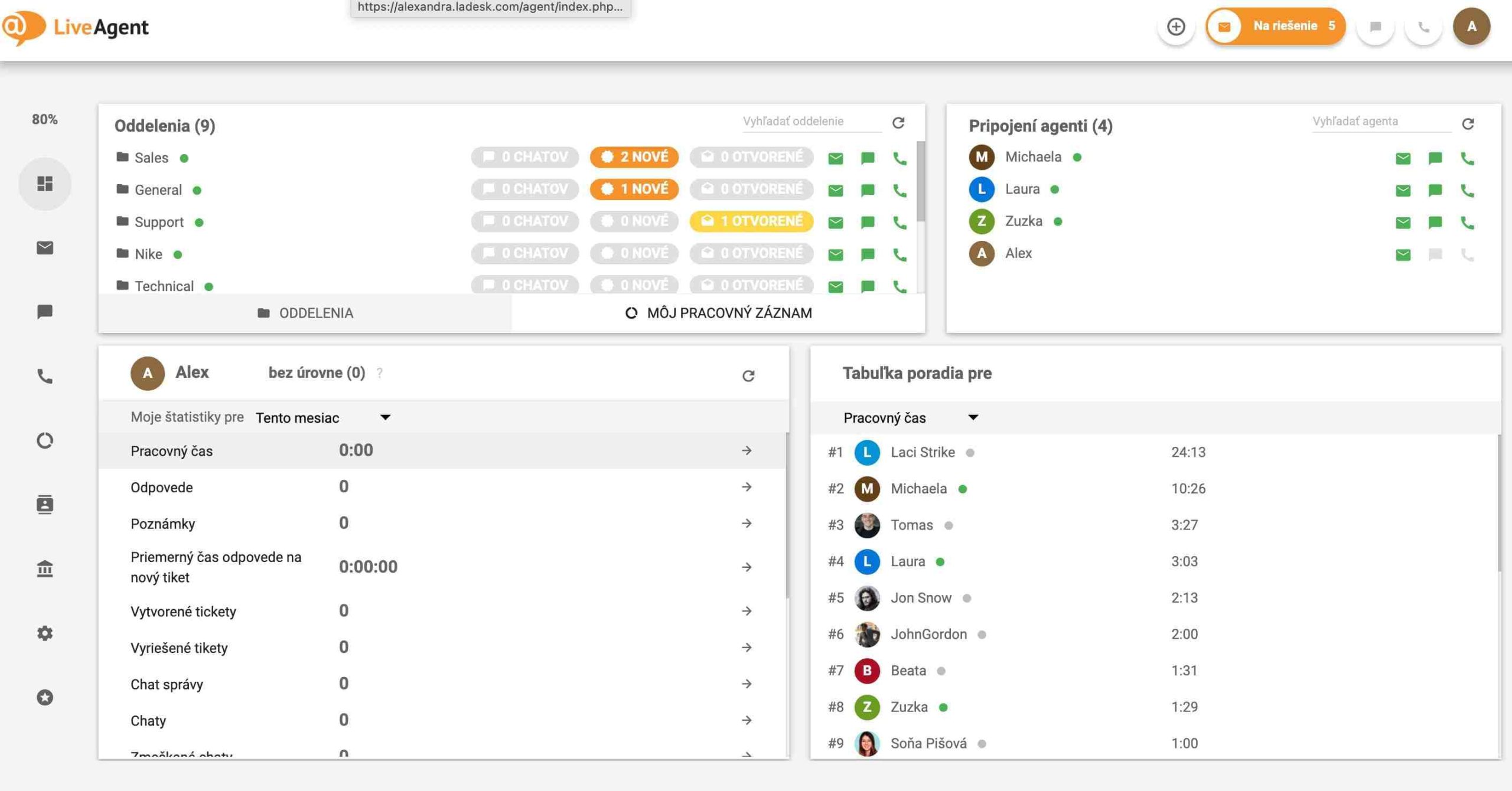 LiveAgent converts all incoming communication into a categorized ticket to streamline customer support. It's an omnichannel solution supporting voice, email, chat, and social media. Chat functionality allows agents to interface with customers for faster problem resolution. Teams can create self-help portals to address common issues to provide an enhanced customer experience and free agents for other tasks.
Top features:
✦ Notes can be included on tickets for internal communication
✦ Automatic spam filtering
✦ Rule-based workflow automation
✦ Universal inbox
✦ Omnichannel support
✦ Knowledge base support
---
Pricing: Ticket $15, Ticket+Chat $29, All-inclusive $49 per agent/month. Free 14-day trial.
13. HubSpot Service Hub
Best usage scenario: Teams providing marketing support services.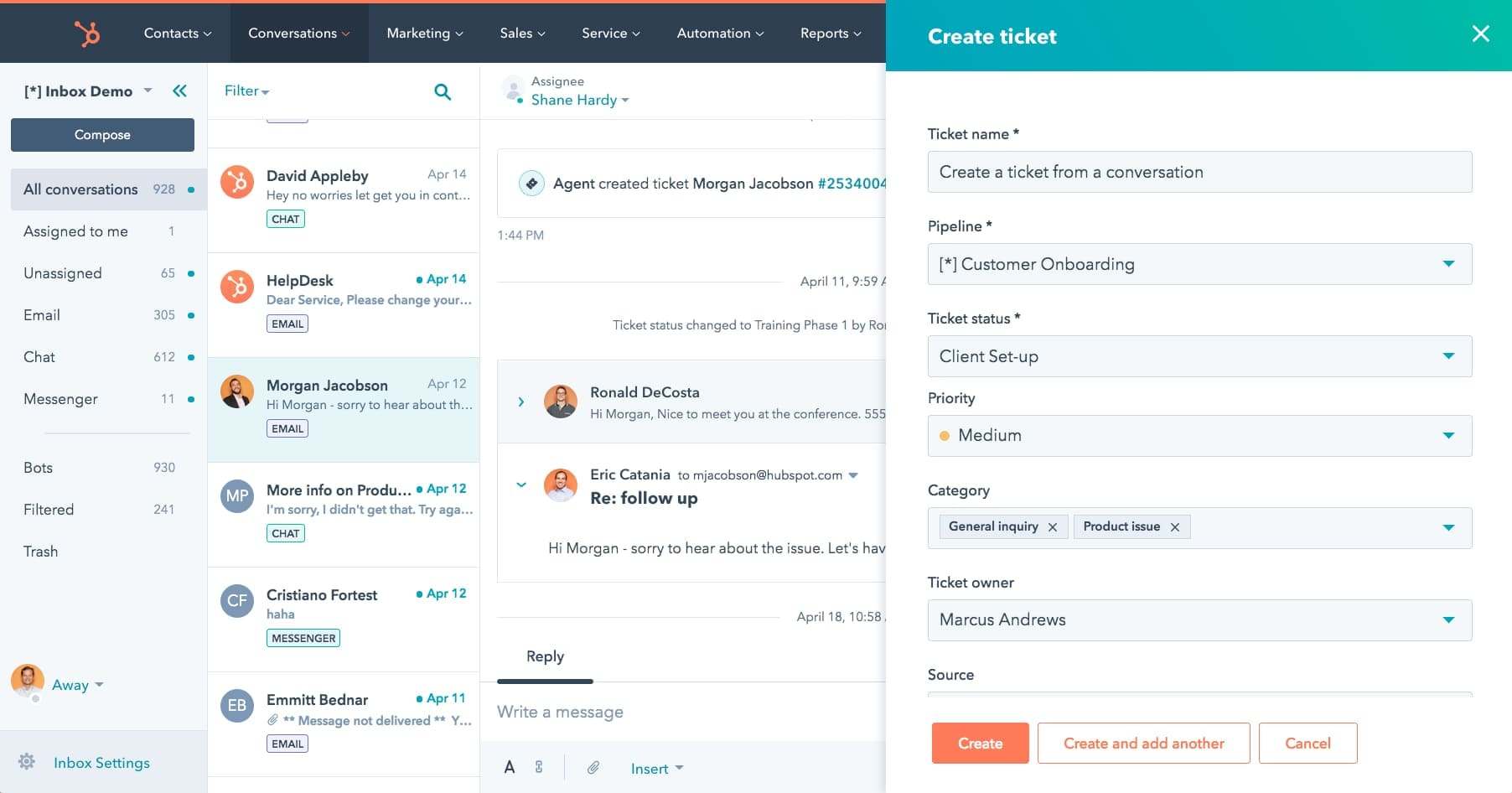 HubSpot is a powerful and easy-to-use CRM solution designed to enable support teams to create engaging customer experiences. Agents can create personalized workflows to streamline support and are alerted when status changes occur. Automated ticket routing keeps the appropriate eyes on issues and makes sure they are successfully resolved.
Top features:
✦ Supports omnichannel messaging
✦ Create knowledge bases for self-service support
✦ The customer portal enables users to track issue progress
✦ Live chat for immediate responses to customer queries
---
Pricing: The Starter plan is $45 for 1,000 marketing contacts. Professional starts at $800 for 2,000 marketing contacts and Enterprise starts at $3,600 for 10,000 marketing contacts. All prices are from monthly billing. Free trial: 14 days.
14. ProProfs Help Desk
Best usage scenario: Companies looking for an affordable help desk solution.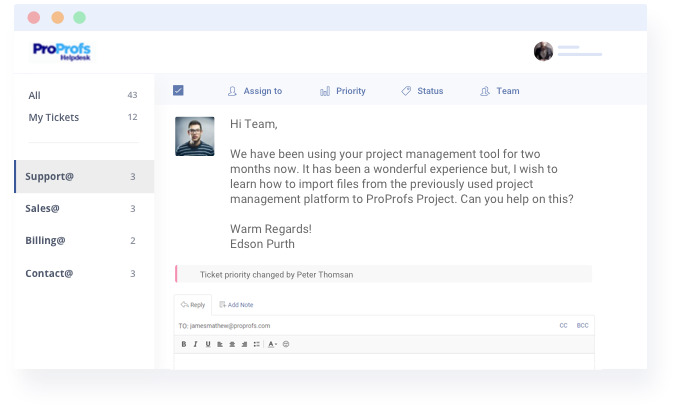 ProProfs offers customers a simple email ticketing system that helps in providing an excellent customer experience. Collaborative features like internal chat and comments aid help desk team productivity. Customizable knowledge bases reduce ticket volume and enable agents to concentrate on complex issues.
Top features:
✦ User-friendly interface similar to Gmail
✦ Collision detection prevents work duplication
✦ Agent roles and permissions streamline workflows
---
Pricing: Essential $10, Premium $15 per agent/month. Enterprise custom pricing is available. 15-day fully-functional trial period.
15. SolarWinds Service Desk
Best usage scenario: Managing enterprise service levels.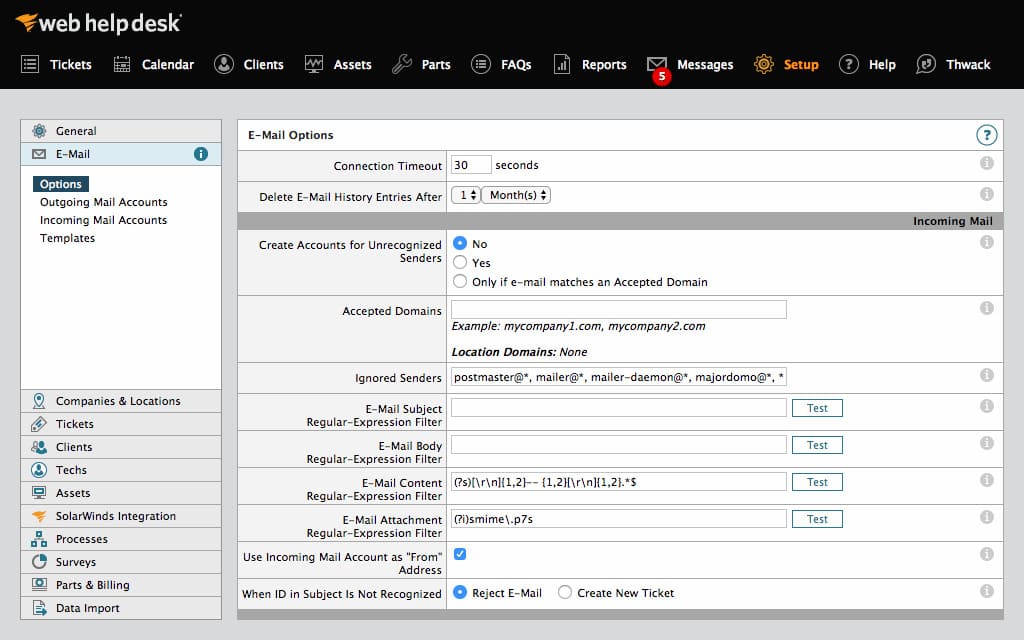 SolarWinds Service Desk centralizes user requests from multiple channels including emails, phone calls, and self-service portals. A customizable dashboard highlights the most important information so issues can be addressed by the team. Agents can easily track the progress of tickets against SLAs to maintain high levels of customer satisfaction.
Top features:
✦ The service portal centralizes user requests
✦ Efficiently manages and prioritizes tickets
✦ Reporting on SLAs and customer satisfaction
✦ Employee service portal for 24/7 support
---
Pricing: Team $19, Business $39, Professional $69, Enterprise $89. 30-day fully-functional free trial.
Comparison Table of the Best Email Ticketing Systems
We provide the following comparison table as a comprehensive way to see how these different email ticketing systems stack up against each other. It will help you determine if a specific tool has the features you need.
Essential Features of an Email Ticketing System
The email ticketing systems provide a range of features and functionality to assist help desk team members to collaborate and promote an enhanced customer experience. The following key features are important components of professional help desk software.
Email ticket conversion
One of the most vital features is the ability to convert emails to tickets that can be distributed to team members. Each email received by the help desk should be processed by the system and converted to a ticket if it meets defined criteria. Tickets are stored in a central location, provided by it ticketing systems, where they are available to all members of the support team.
Intelligent ticket assignment
Tickets should be automatically assigned to the appropriate support team or individual agent. Assignments are determined based on policies defined by the organization. Systems with artificial intelligence (AI) or machine learning (ML) capabilities can perform more targeted ticket assignment.
Routing configurability
Routing and ticket assignment should be customizable and configurable to meet business requirements. Every business has unique needs when it comes to how tickets are routed. An email ticketing system needs to be flexible and allow organizations to configure the tool to address the available hierarchy of support personnel.
Some tickets may be assigned to the next available agent according to the it support tiers while others require the attention of a specific team or individual. Routine requests can generate automated responses to reduce ticket volume and free up agents to handle more complex issues that affect customer satisfaction.
Knowledge base
An important feature of many email ticketing and help desk support tools is the inclusion of a customer-accessible knowledge base. A comprehensive and updated self-service portal gives users a fast way to obtain information and can significantly minimize the number of queries fielded by a company's help desk agents. Additional knowledge bases can be created specifically for employees that could be especially useful for HR help desk software. As new issues are encountered by the support team, information can be added to the knowledge base to keep it up to date.
Real-time reporting
Timely reporting is another essential feature of email ticketing software. Information gathered through reporting regarding performance indicators and metrics can identify issues in the environment that need to be addressed. Analytics based on reporting data can be used to increase customer satisfaction and improve team efficiency and productivity.
Multi-channel support
While the focus of this article is email ticket software, today's customers make use of many other communication channels to contact a help desk. Advanced tools offer multi-channel support that handle customer requests from a variety of sources that includes text messages, social media, live chat, and website apps. Consolidating all requests in a unified tool regardless of the communication channel used improves productivity and the customer experience.
What are the Benefits of Deploying an Email Ticketing System?
Companies that deploy an email ticketing system stand to enjoy multiple benefits. These advantages are the reasons the use of an email support system is recommended for businesses of all sizes.
Increased help desk productivity
The productivity of help desk team members can be greatly improved in multiple ways when working with a versatile email ticketing system including:
• Automating repetitive tasks;
• Streamlining ticket routing for faster resolution;
• Centralizing tickets in a shared inbox or dashboard;
• Tracking tickets throughout their lifecycles.
Improving team collaboration
The centralized nature of helpdesk software promotes collaboration among team members. Individuals with specialized skills can easily be brought in to handle complex issues through the system's shared interface. Teams can exchange tickets to ensure the right person is addressing the query or problem and providing the customer with excellent service.
Building a foundation for customer service
Email help desk software can serve as the foundation for a comprehensive and complete customer service initiative. Starting with email communication, organizations can introduce additional channels of support to broaden their appeal to current and potential customers and remain competitive.
Enhancing the customer experience
Customers expect an exceptional experience when interacting with a company's support team. The benefits of an email ticketing system enable companies to meet and exceed customer expectations with quick and accurate replies to queries and prompt problem resolution. This builds customer loyalty and can attract new business through word of mouth and social media exposure.
What Factors Should be Considered When Selecting Email Ticketing Software
Before making a final selection regarding the right email support system, you should consider the following factors.
Your objective for the ticketing system
It is important to have an objective when deploying any software solution. Your goal will influence the features and functionality that a product must provide to be considered for your organization. Settling on a solution that provides too few or too many features makes it harder to get the maximum value from the tool.
If you simply need email ticketing support, you may be able to get by with a low-priced or free help desk solution. When building a comprehensive support infrastructure, you will want more features, functionality, and the ability to scale the tool as your company grows. Consider taking advantage of a free trial to evaluate several tools before making a final selection.
The cost of deploying the help desk system
Cost can be a determining factor when choosing a software tool. Some tools are higher-priced because they provide advanced features that may not be needed by all organizations. Companies may be able to use a less expensive tool based on what their objectives are for the system.
Many email ticketing systems are priced on a monthly subscription plan based on the number of agents who will use the solution. Different pricing tiers are often available, allowing companies to tailor the features available to their support teams. In some cases, multiple types of subscriptions may be used by an organization to provide varying levels of support within the team.
Consider the time and money spent in integrating the email ticketing system with existing systems. While the integrations may be possible, the expense involved in implementing them needs to be included when calculating the total cost of the tool.
Notable features
In some cases, a particular email ticketing solution may have notable features that appeal to an organization and its customer service support team. It may be that the interface is especially intuitive to use, streamlining the transition to the new tool. A solution may make it easier for your team to automate responses to customer requests for more accurate and timely responses.
While all email ticketing software provides similar basic features, the complete feature set is what differentiates the products. Companies may opt for a tool that provides more detailed reporting features or one that can easily handle multi-channel communication. Choosing notable features is easier when there is a defined goal for the ticketing system.
Compatibility with existing systems and support strategies
When choosing email ticketing software, a company needs to consider how it currently provides custom support and how the new tool fits into existing processes and procedures. The last thing you want to do is disrupt operations and negatively affect customer service while attempting to implement the new solution.
It can be challenging when moving from a system of manually receiving and routing email correspondence to an automated solution. Make sure enough training is provided on the new tool so all agents are comfortable and competent when using the solution. Look for tools that can grow with your business and provide additional functionality if business objectives change.