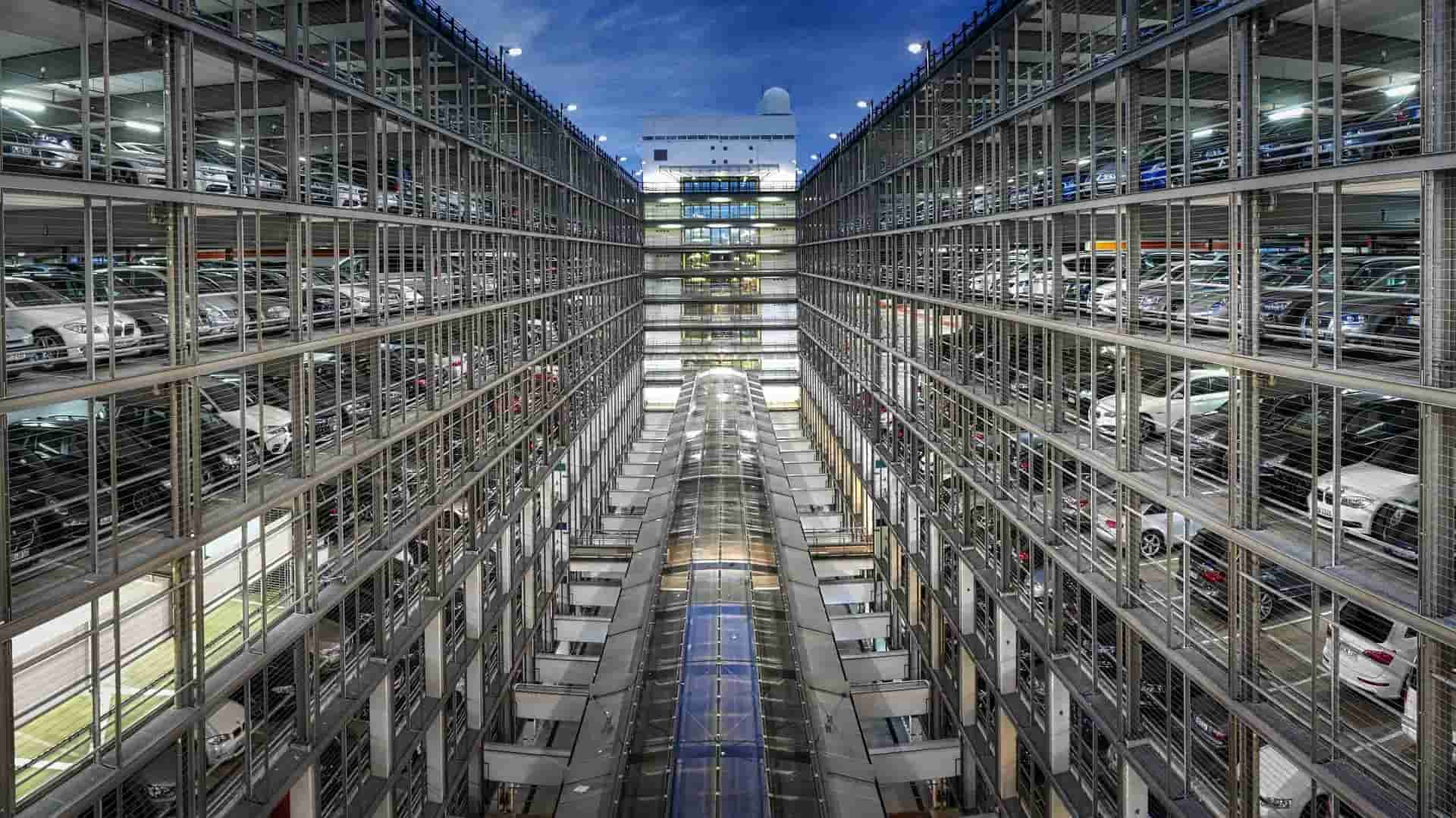 IoT In Automotive Industry: Modern Applications & Use Cases
Internet of Things (IoT) has found its way into a variety of industries, and the automotive sector is one of them.
While IoT in the automobile industry is only in its early stages, it's building strength quickly and consistently thanks to the growing popularity of smart devices. Modern vehicles now can communicate with each other because of internet connectivity, and 70% of all vehicles will be connected to the internet by 2025.
Internet of Things in automotive manufacturing ensures that next-gen vehicles will be packed with innovative features such as phone-activated remote control and onboard customized seat adjustments. The performance of these IoT-powered vehicles is built upon data acquired in real-time.
✦ The economic impact of IoT is estimated to reach up to $740 billion by 2025.
✦ Car manufacturers will sell over 73 million connected car units by 2023.
✦ By the year 2024, the Global Connected Cars market will be valued at $45.3 billion.
What Is IoT For The Automobile Industry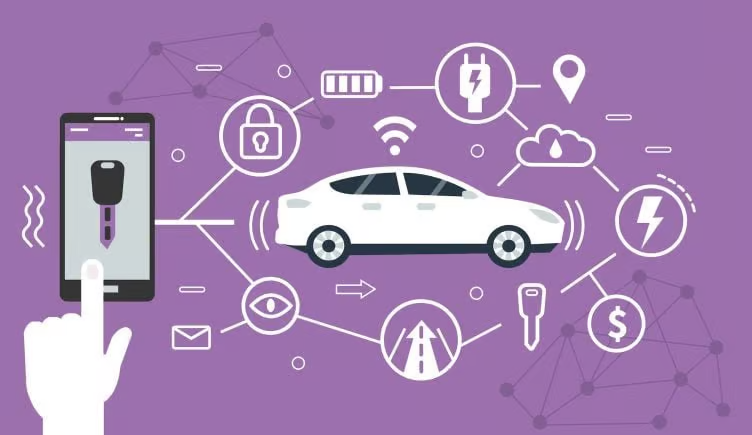 IoT in the automotive industry allows complex devices (such as electronics, sensors, and actuators) to share data, as well as other vehicles with internet connectivity.
The modern-day potential of Wi-Fi, climate control systems, and engine performance metrics has only begun scratching the surface of what IoT solutions can offer vehicles—with innumerable applications to come as tech advances continue.
The Main Role Of IoT In The Automotive Industry
The automotive sector continues to embrace revolutionary tech advancements for managing and using fleets. Integrating IoT-powered smart devices and external sensors blended with edge computing continues to disrupt how the automotive industry has always operated.
Mobile devices powered via cloud computing and AI-based applications ensure users are always connected to their vehicles. People can improve vehicle performance, track their location, reduce downtime with predictive maintenance solutions, and maximize fuel efficiency.
IoT Applications In Automotive
IoT has opened doors to countless opportunities for the automobile industry, having helped improve performance, design, and even lower costs while ensuring the highest quality.
Industry 4.0 has allowed for expanded IoT implementation via blending network technology with artificial intelligence. This also enables vehicles to perform wireless communication amongst themselves.
Some of the possible use cases for IoT in automotive are:
Driver And Fleet Management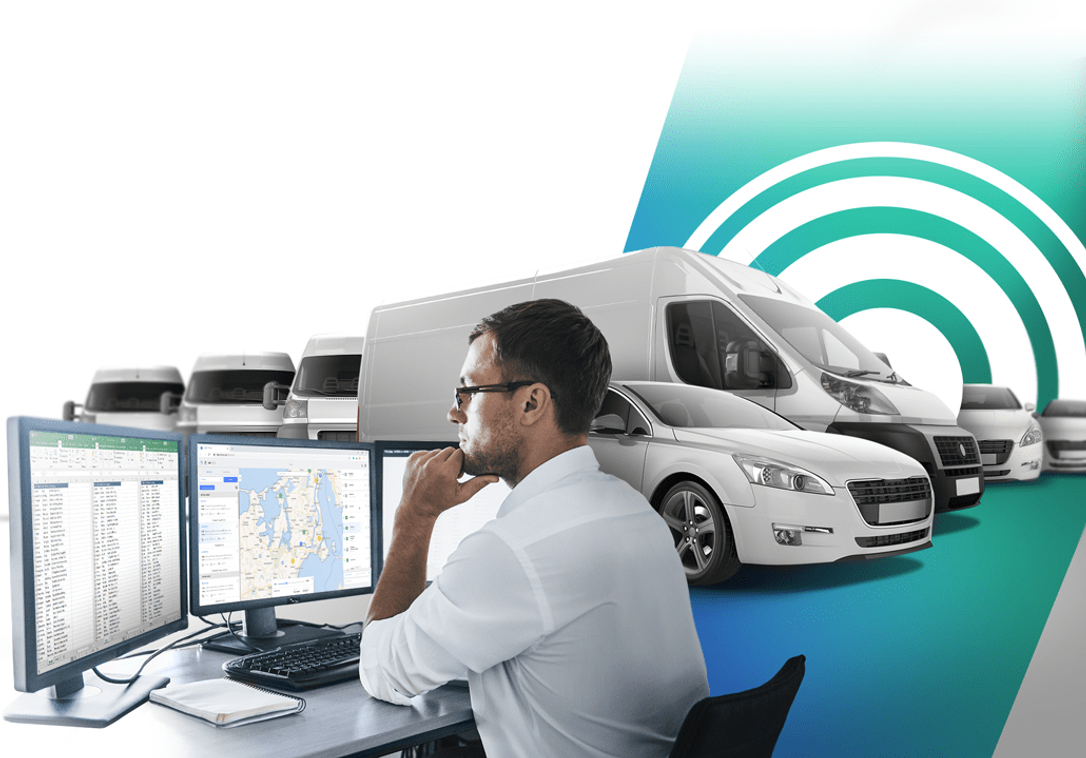 The integration of IoT in the automobile industry delivered massive innovations in fleet management. Trucks are now integrated with location tracking, weight measurement, and many additional sensors.
Sensory data collected from a large fleet of IoT-enabled trucks gets stored in cloud applications. The information then gets processed and visualized through various analytics dashboards. This allows fleet operators to easily analyze this data to monitor and manage a variety of parameters tracked in a fleet.
Network-connected cars
Vehicles that are continuously connected to the internet (as well as other IoT devices inside or around them) are called "connected cars". The most widespread use case of IoT in such a case is tracking a vehicle's location, but there are others as well.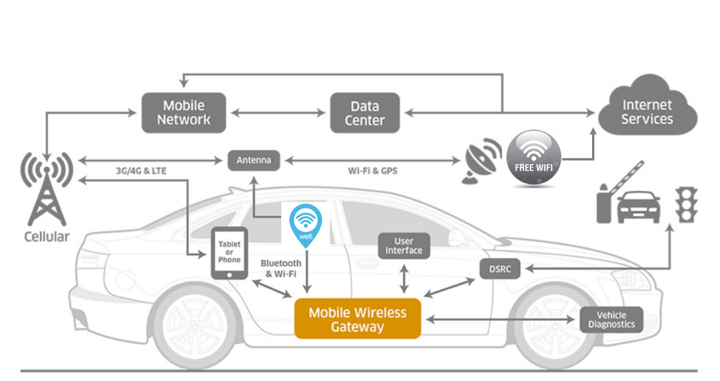 ✦

Cellular vehicle to everything (C-V2X).

Vehicles provide highly accurate and actionable information that helps keep drivers safer on the road and enhances autonomous driving abilities.
✦

Vehicle-to-Vehicle (V2V).

Enabling vehicle owners to share information about their surroundings with other car owners, V2V systems work wirelessly and depend on Dedicated Short Range Communications (DSRC) frequencies. This mesh network transforms each car into a node by capturing signals from vehicles close by, syncing data effortlessly.
✦

Vehicle-to-Infrastructure (V2I).

Taking place over Intelligent Transportation Systems (ITS), V2I enables the bidirectional wireless exchange of data between a vehicle and sensors installed on the road infrastructure (such as traffic lights, cameras, road signs, streetlights, lane markers, parking meters, etc.). The transmitted data can then help ensure drivers maintain speed limits to avoid accidents or alter travel routes depending on changes in weather conditions.
✦

Vehicle-to-Pedestrians (V2P).

V2P systems detect pedestrian movements and could potentially lead to better awareness regarding the presence of people, bicycles, wheelchairs, and strollers on the sidewalk.
✦

Vehicle-to-Networks (V2N).

V2N systems utilize DSRC standards to interface with other vehicles and the road infrastructure transforming vehicles into "devices. Thanks to this level of connectivity, DSRC can assist in accessing information via mobile networks, 5G, and LTE infrastructure
Automotive maintenance system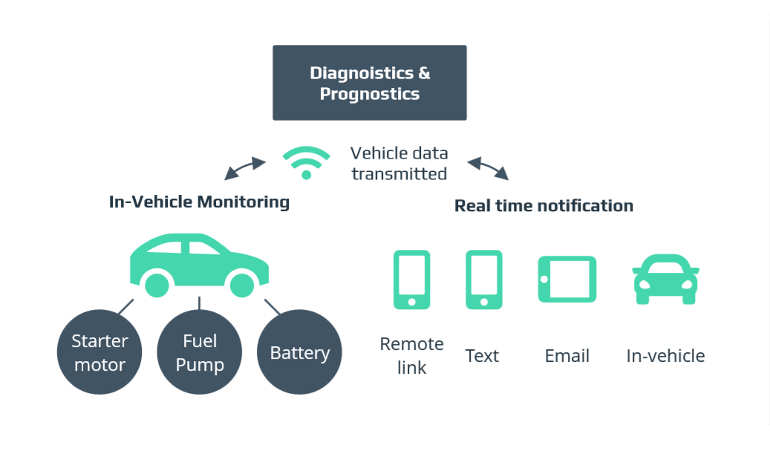 IoT automotive maintenance systems assist fleet managers in preventing sudden breakdowns of their vehicles. They send alerts to drivers regarding impending maintenance, and potential malfunctions ahead of time.
Automotive maintenance can help mitigate and avoid expensive repairs and accidents while traveling. Predictive maintenance makes sure users can assess their vehicle's performance beforehand, and lower downtime. IoT automobile diagnostics systems offer fleet owners precise data and assist in adhering to delivery timelines.
IoT-enabled autonomous vehicles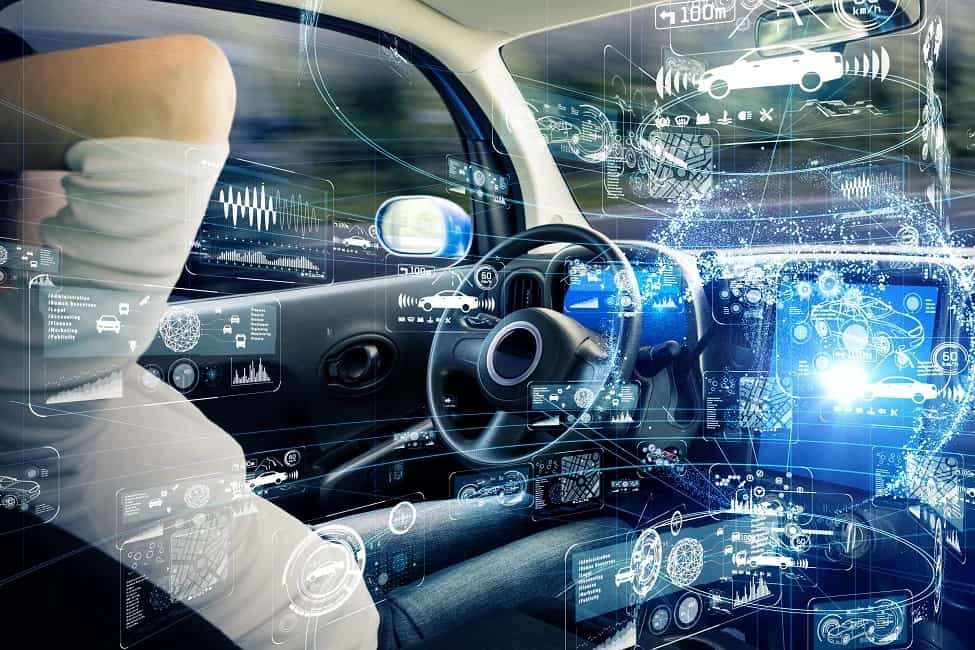 Self-driving (autonomous) vehicles are expected to be the future of automobiles. While still in development, IoT-infused, semi-autonomous vehicle implementation has already been executed. Such automobiles help make decisions while partially taking control of vehicle operations.
Drivers receive support from this in-vehicle infotainment system while executing numerous activities like lane changing and parking. The speed of commercial-use autonomous automobile development begins to accelerate as technology innovates how users commute. This advancement also has potentially exciting environmental benefits, as well
In-vehicle infotainment and telematics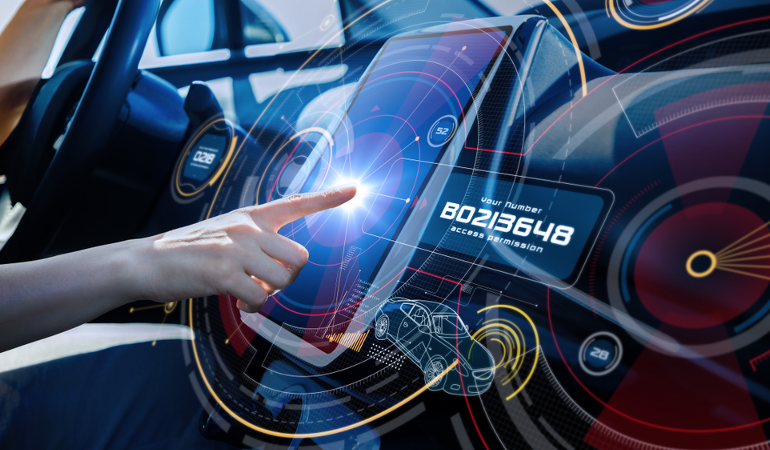 Thanks to in-vehicle Wi-Fi capabilities, IoT and telematics continually innovate the automotive sector. Telemetry describes data transmission from a computer/device for remote monitoring and control, while IoT devices function via source data and electric power using sensors.
The 4G LTE connection lets vehicles utilize these technological advancements to use functions like calling authorities during an accident, video streaming, and even sending notifications to the vehicle operator if their car is stolen.
Driver behavioral management
These IoT solutions monitor real-time driving behavior via IoT-enabled sensors, gathering data that can then be used to recognize and prevent accidents. This tech is already being used by fleets to monitor and maintain safety.
With over 90% of auto accidents caused because of human error, it's critical to focus on driver behavior that can be dangerous. This prioritization can then mitigate accidents and repair expenses.
Vehicle operator behavioral solutions rely on internet-connected devices that record speedometer readings, accelerator movements, and much more. They track unsafe driving behaviors like sudden braking and rapid acceleration.
Driving patterns are examined over time to offer drivers training or warning whenever necessary. Managers also receive notifications regarding unsafe behavioral obstacles like driver fatigue.
Real-life examples of IoT in automotive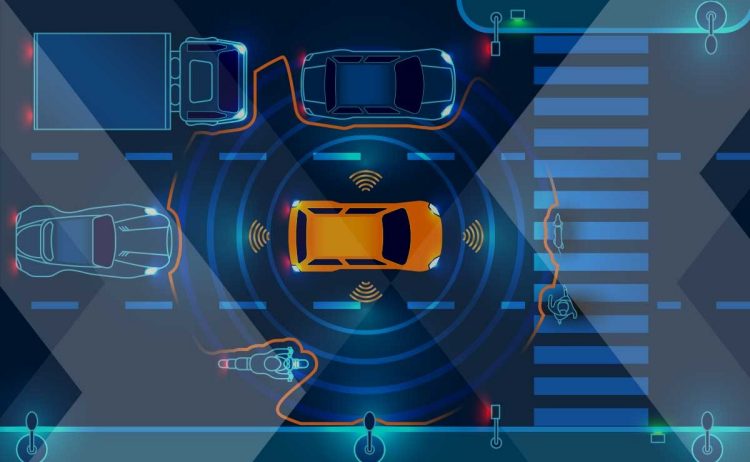 The automotive industry appears to be fueling IoT innovation in other areas—but why? The reality is, auto sales are worth billions every year, and based on insight from Gartner:
"The enterprise and automotive IoT platform market will represent an $11.3 billion opportunity in 2025."
Now it's time to review the examples of features manufacturers developed for the automotive industry based on IoT.
1. Advanced Driver Assistance Systems (ADAS)
Most auto manufacturers use ADAS technology for accident prevention protocols like blind-spot monitoring, collision avoidance, lane departure warnings, and park assistance.
Synchronizing these system operations (or sensor fusions) helps create the opportunity for fully autonomous (self-driving) vehicles that monitor their surrounding environments and alert drivers about possible road hazards—as well as take evasive action to prevent collisions independently of the driver.
2. Object Recognition
Hamamatsu collaborates with vehicle manufacturers to integrate sensor technology, imaging, radar, and LiDAR (light detection and ranging) into advanced automobiles to assist in differentiating and recognizing objects ahead under high-speed conditions.
Distance-gauging technology lets the system rapidly build a 3D map up to a distance of roughly 100 meters—as well as develop high angular resolution imagery up to a quarter mile ahead of the vehicle.
3. Real-Time Line Visibility
Maker of braking systems and components for a variety of vehicles (cars, motorbikes, industrial vehicles, and machinery), Brembo works with PTC to add IoT into its products and processes.
The intention is to increase visibility into line operations, speed troubleshooting abilities, and establish uniform consistency in operations. Brembo links legacy equipment and programmable logic controllers (PLCs) to modern systems via Kepware IoT technology. This integrates diverse sources of information, offering real-time insight.
4. Quality Control
Intel assists Audi in automating and improving quality-control protocols inside its factories. By developing a data-driven platform, Audi helps mitigate human error, creating their vehicles with precision and accuracy.
One example is Audi's Neckarsulm factory in Germany, where 2,500 autonomous robots work on the production line. 900 of them hold welding guns to perform spot welds. Audi builds up to roughly 1,000 automobiles every day in Neckarsulm, and each vehicle has 5,000 welds—equalling more than 5 million welds per day.
Along with Audi, Intel develops algorithms that analyze data taken from the welding-gun controllers. Intel's data scientists create models based on current curves and electric voltage during welding. The system notifies technicians whenever it spots a flawed weld or a possible alteration in the configuration that may mitigate or eliminate the errors.
5. Metal Inspection
BMW implements a high volume of IoT and AI. They use an AI application in their metal pressing plant where car body components are created from boards. There, the BMW Group and Robotron Datenbank-Software (specialists in IoT and industrial computer vision) designed a solution that erases possible deviations.
What Is The Future Of the IoT-enhanced automotive industry?
IoT continues to uncover ever-increasing value for all parties involved in the automobile industry. As it continues to evolve, IoT for automotive seems to be heading toward a huge shift. Via the implementation of new technology like ML and AI in IoT-powered networks, auto manufacturers can create improved vehicle connectivity solutions.
One trend inspiring change is over-the-air software updates, and such solutions are capable of data analytics for preventive maintenance.
Along with these innovations, V2X connectivity will have the potential to let vehicles operate themselves. These connected cars can communicate via the deployment of vehicular electronics, cloud fleet connectivity, and embedded systems.
Frequently Asked Questions