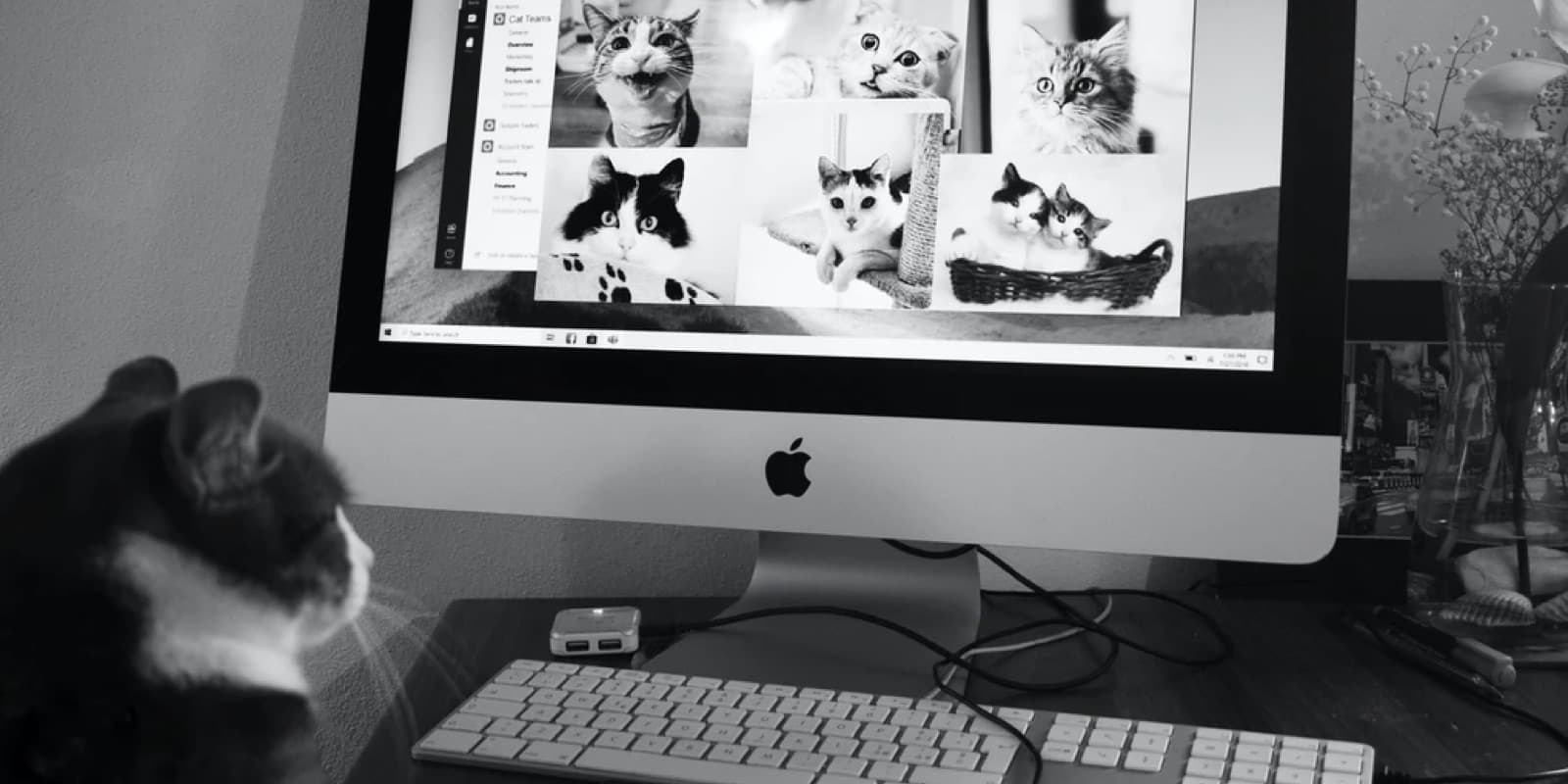 Windows Remote Desktop Connection: How to Use It Safely and Efficiently
Hello and welcome, my fellow tele-toilers and anyone just scrolling by!
In today's HelpWire blog we will focus on the free Windows utility app for remote desktop connections.
Find out what 'mstsc' stands for, and why it's good to remember this letter combination. Plus, you'll get some useful tips to help you make all your RDC sessions as safe as possible for both the servers and the client machines. And how to fix the most common issues occurring when you try to connect remote desktops using the standard Windows tool.
Ready? Then buckle up and off we go!
What is Remote Desktop Protocol, and why we all are still using it?
Microsoft's signature collaboration technology known as Remote Desktop Protocol is for establishing connections between two PCs over the network using both TCP and UDP channels. Initially, it was a Windows-only thing, but as things stand now, it also has versions for other popular operating systems, not excluding Linux, Android, and iOS.
The two main reasons why it became so extremely popular were how easy it was to use Remote Desktop Connection, and… well, the RDC application included into next to every Windows OS starting from Win XP. I believe, the latter played the key role here. Even nowadays, despite its many flaws (like authentication credentials easily obtainable by whoever wants them due to sub-par securely level, to put it lightly), RDP is a widely-spread technology lots of developers happily embed in their products. And some of those third-party remote connection tools took the shine out of the original Microsoft product for a long time now.
How to set up a remote desktop connection in Windows 10?
We've got another HelpWire blog with very detailed instructions on how to set up Remote Desktop in Windows 10, in which folder can find the mstsc file, and what it's used for. Therefore, I won't get into detail here. Just a few quick tips to ensure everything will work out smoothly.
First off, before you even start an RDP session, make sure that System Settings on both computers that are going to take part in it have this slider in the ON position: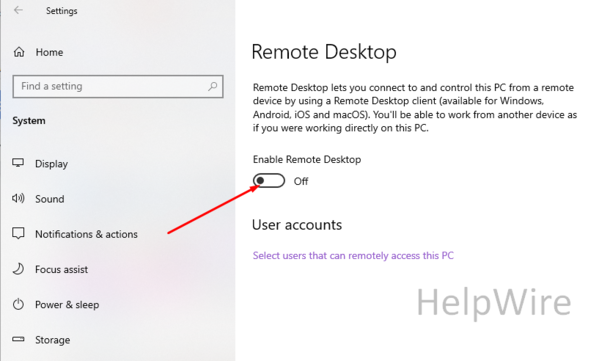 And, for safety sake, keep your VPN up and running all the time during every remote connection session, and don't allow the application to save your authentication credentials on the PCs other users have access to.
How to enable RDP functionality on Windows 11
If you have successfully upgraded to Microsoft's most recent Windows 11 edition, you may be wondering how to enable the remote desktop feature on your new operating system.
Luckily, the latest Windows version retains the best of the RDP functionality you could find in the previous releases of Microsoft.
You can easily enable remote desktop connections on Windows 11 via the built-in Settings, Control Panel, Command Prompt, or PowerShell apps.
Remote Desktop connection nuances between different Windows versions
Sadly, not all OS Windows versions have a standard RDP app. Yes, I'm talking about Home Edition here. But things some so-called experts say about Win 7 not having any remote desktop tools are just not true. If you make a minor change to the remote connection properties, you'll be able to have all Remote Desktop Windows 7 to Windows 10 sessions you need.
Just follow these instructions:
Go to Start → Control Panel → System and Security → System, then to the System window's Remote tab, and choose the Allow connection from computers running any version of Remote Desktop (less secure) option as shown below: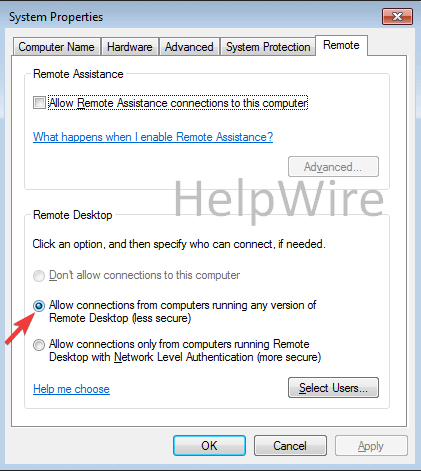 Accessing a machine with two monitors
By default, the multi-monitor feature is not enabled, so it's an excellent idea to reconfigure Remote Desktop for a dual monitor TCP connection on all your servers and desktops. Luckily, it's very easy to do.
Actually, there is not one but two ways to enable multi-monitor connectivity. But whichever one you choose, don't forget to use it on all your machines that have more than one display attached to them.
The first one is all about changing the application's properties. Go to the Display tab of the Options menu and choose 'Use all my monitors for the remote session.'
Alternatively, you can hit Win+R on your keyboard to invoke the command line prompt and launch the Remote Desktop application from there with an added multi-monitor flag, as shown below: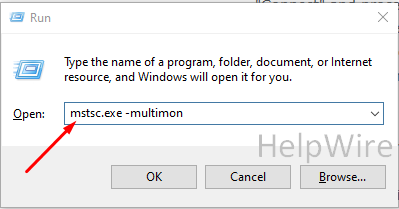 A quick side-note here: the maximum number of monitors supported by the Multi-monitor mode is 16, which is more than enough in most cases. But keep in mind that monitors with a resolution that exceeds 4096 x 2048 are not supported.
Troubleshooting the most common issues with Remote Desktop
There may be over a dozen different reasons why your remote desktop connection is not working if you're using a system app. Some are exclusive for Windows, iOS, or Linux, while others are pretty much common for all operating systems.
Here are the most probable issues you may face while using the Windows Remote Desktop version:
1. Your Firewall is blocking the Remote Desktop application. For a quick fix, go to the Firewall settings (you can find it in the Windows Administrative Tools folder or use the system search box), and add Remote Control the Allowed Apps and Features list by ticking all three checkboxes shown on the pic below: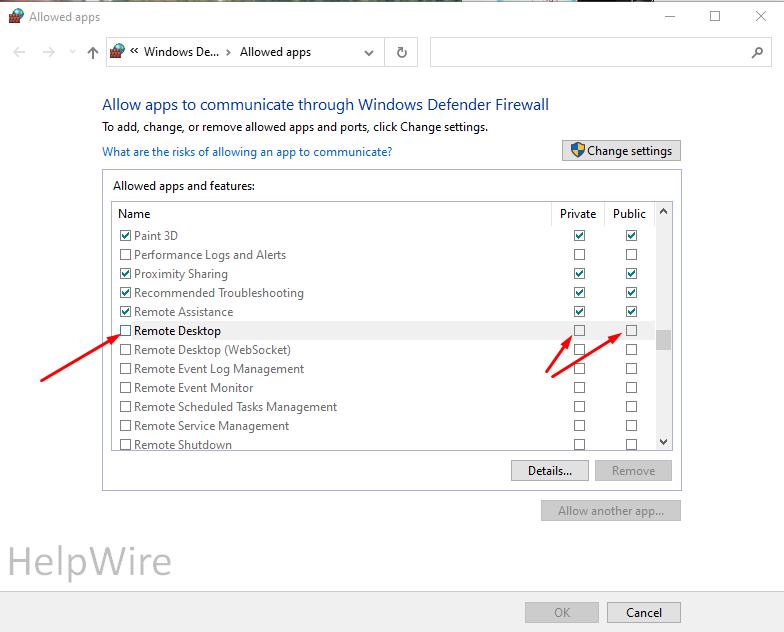 2. Another very common issue is on the lookout for those who ignore regular system updates. It's a sad yet well-known fact that some of those updates do very little good, like the unfamous KB4103721 that massively compromised the performance of computer's RDPs.
Microsoft is always swift to address this type of unfortunate slip, and the subsequent updates tackled the issue right away. So the first thing you need to do if any of the system tools or services isn't working as it should be is to go and check for the recent updates.
In order to do that, navigate to your System's settings from the Start menu (or press Win+i on your keyboard for a shortcut), and click the Updates and Security there. If you don't see the green checkmark and the word saying 'You're up to date,' as shown in the picture below, then you need to click on the 'Check for updates' button: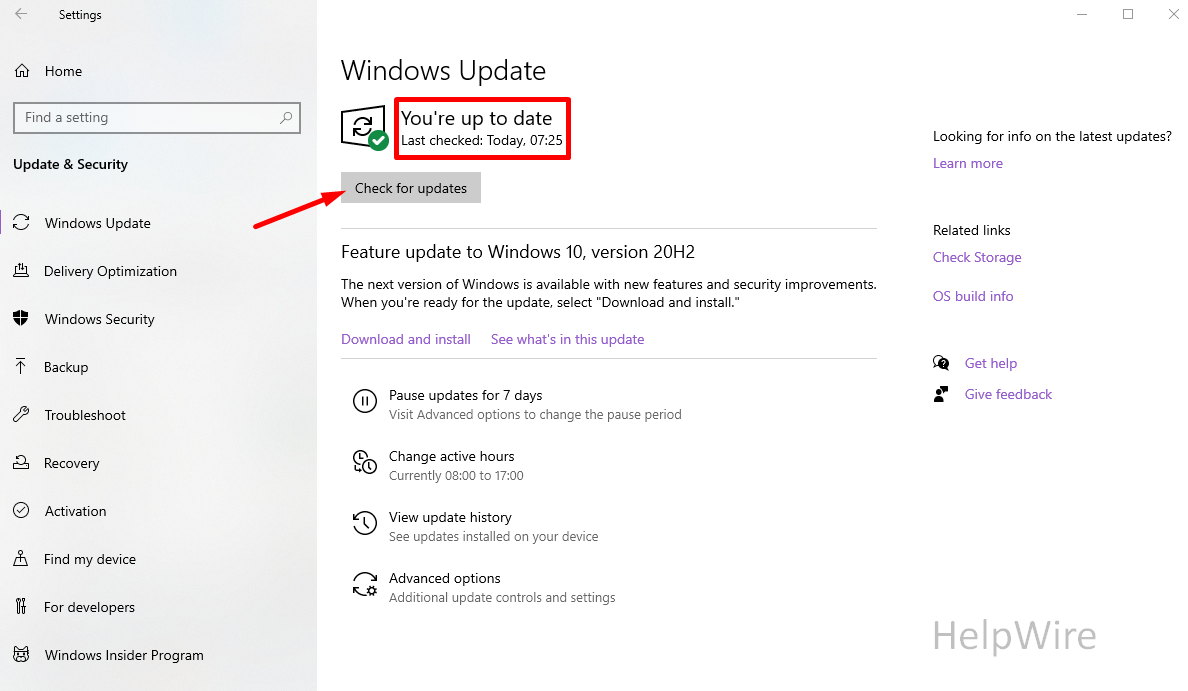 And that'll be all for today. Don't hesitate to click my links to dig a bit deeper, stay safe, always remember that VPN is your best friend, and see ya all in the following blogs.
Transfer files with Windows Remote Desktop Connection
Remote Desktop Connection allows you to remotely view and share your local files and folders using RDP.
To transfer files over RDP, open Remote Desktop Connection. Then, click "Show Options" and go to the "Local Resources" tab to access the sharing settings of the RDP session.
Finally, click "More" at the bottom, under the Local devices and resources section, and check the "Drives" box to share your local files and folders.