How To Allow Remote Desktop On Windows 10/11: Step-by-step guide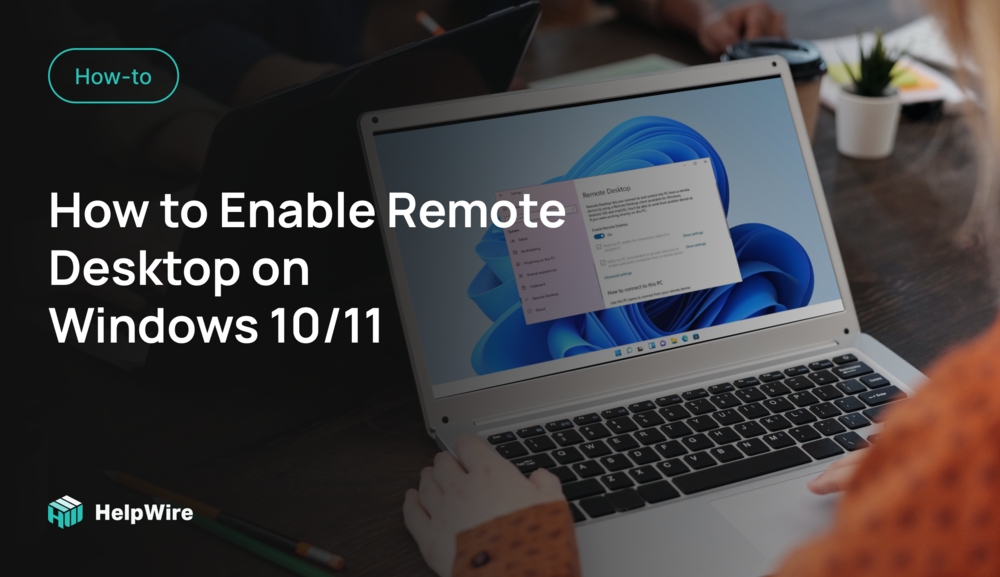 *This article was updated to accommodate a guide for enabling Remote Desktop on Windows 11.
Microsoft Remote Desktop is most frequently used to provide technical support or control a computer remotely. It allows you to get full access to your Windows PC from another Windows, Mac, or Linux computer in order to transfer files, play video games, operate locally-attached peripherals, etc.
But before using Remote Desktop Protocol (RDP) to connect to a remote device, you should enable Remote Desktop first.
In this guide, we'll explain how to allow remote desktop access to your computer using the Settings app in Windows 10/11 or the more traditional Control Panel.
Note: Remote Desktop is not available on Windows 10 and Windows 11 Home edition. Remote Desktop is only available for Pro and Enterprise versions. However, you could still use third-party solutions like Chrome Remote Desktop or Teamviewer to set up Remote Desktop on Windows 10/11 Home.
Enable RDP via System Settings in Windows 11
Let's take a closer look at how to turn on RDP on Windows 11 with the help of the standard Settings app.
Open

Start → Settings

.
In the Settings window, select "

System

". Then scroll down and click "

Remote Desktop

" on the right pane.

Click the toggle switch button to enable the Remote Desktop on your Windows 11 device. Confirm your action in the pop-up window.
Once done, your PC is set up to connect via RDP. To connect to the remote machine, you can use, for example, the new Remote Desktop app or classic Remote Desktop Connection.
Allow RDP connections on Windows 10 using Settings
Using the Settings app, follow the steps below to enable remote access on Windows 10:
Open Settings on a Windows 10 device and select "

System

".

Click "

Remote Desktop

".
Toggle the "

Enable Remote Desktop

" switch to "

On

".
Hit "

Confirm

".
Once you've allowed Remote Desktop on Windows 10, there will be two additionally enabled options:
• Keep my PC awake for connection when it's plugged in.
• Make my PC discoverable on private networks to enable automatic connection from a remote device.
These settings ensure that users always can connect to the remote machine whenever they like.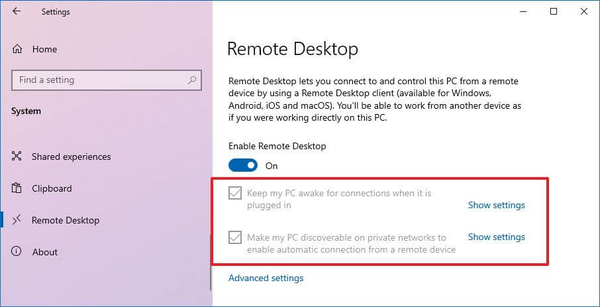 If users go to the "Advanced settings" window, they'll see extra advanced features, like the option to require computers to utilize "Network Level Authentication" when connecting remotely.
This ensures the connections are more secure by restricting access only to those who can authorize the connection with the network before they can access the device.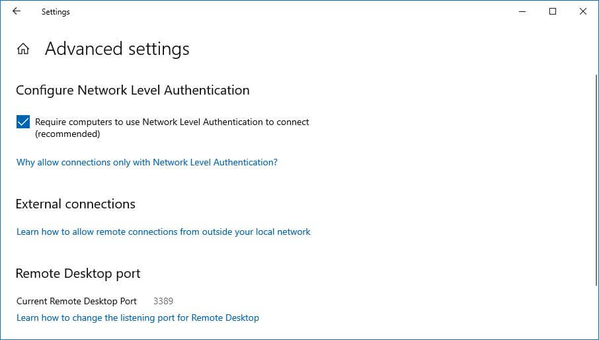 Users will also find the current Remote Desktop port on the "Advanced settings" page. This information is useful if the user ever needs to reconfigure a router to permit remote desktop access from outside of their network.
Note: By default, the port number is set to 3389.
Allow remote connections on Windows 10/11 using the Control Panel
Even though the Settings app is an easy option for enabling remote access, it can also be done using the Control Panel. Below you'll find the instructions on how to enable remote desktop on Windows 10 or 11 via the Control Panel:
Open the

Control Panel

. The most optimal way would be to type in the query in the search box.

Select "

System and Security

".

Under the "

System

" section, click "

Allow remote access

".

The System Properties window will appear. In the Remote tab, check the box "

Allow Remote Assistance connections to this computer

" in the section Remote Assistance. Then, select "

Allow remote connections to this computer

" in the section Remote Desktop.

Hit "

Apply

" and then "

OK

".
That's it! Now, it will be possible to connect to this computer from a remote machine over RDP.
After turning on the remote desktop on Windows 10/11, it's time to connect to the remote computer using the modern Remote Desktop application (recommended) or with the built-in Remote Desktop Connection (RDC) utility that comes with every Windows version.
If you would then need to disable Remote Desktop access to your Windows 10/11 device, then you should not experience any issues since you will need just to reverse the steps from this guide.
Note: Enabling RDP access in Windows 10/11 via the Control Panel, makes the "Network Level Authentication" option switched on by default (however, it is an option that users should keep on regardless).
Enabling RDP access through the Control Panel is available on previous Windows versions which will allow you to create a remote desktop connection from Windows 10 to Windows 7. However, the Settings app is only present in Windows 10 and 11.