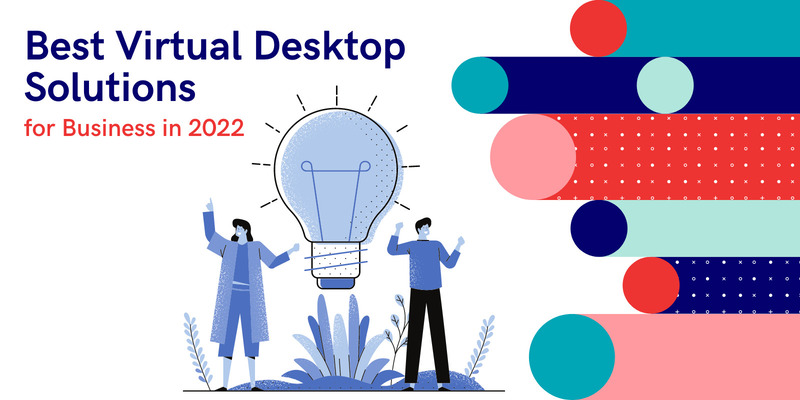 Best Virtual Desktop Software for Business in 2023
This article is aimed to help you choose the best virtual desktop software solution for your specific needs, keeping in mind all important factors, i.a., your business scale, budget capacity, the pluses and minuses of the most popular solutions on the market, and whether or not you have an in-house IT team. Desktop virtualization is the most efficient tool you can use to provide your remote work staff with a secure and convenient way to work from anywhere.
IBM Cloud
Cisco VXI
SolarWinds Virtualization Manager
Parallels Remote Application Server
Citrix DaaS
Amazon WorkSpaces
Microsoft Azure Virtual Desktop
Nutanix XI Frame
V2 Cloud
Shells
Red Hat Virtualization
AWS Free Tier
Microsoft Azure Free
Comparison of the Best Virtual Desktop Infrastructure Software
Here is a quick overview of the best desktop virtualization software. For more information check the detailed review of the mentioned top virtual desktop solutions below.
• Watson-based machine learning for custom AI models

• Turbonomic automation resources

• Cloud networking services

• IBM's Blockchain Platform

• Multiple virtual desktop options

• Boost to the overall performance

from $1,895 per user/year

SolarWinds Virtualization Manager

• All-round virtualization control

• Controlled VM assignment

• Helpful tips for best results

• Cloud, on-premise, and hybrid control

• Full app stack overview

• User-friendly management tools

from $99.99 per year/15 users

• Portable and intuitive app

• Compatible with many cloud-based and virtualization services (Premium Plus and higher only)

• Wide variety of supported devices

from $210.00 per user/device one-time

• Easily scalable solution

Microsoft Azure Virtual Desktop

• Advanced encryption algorithm

• End-to-end traffic encryption

• Two-step identity check

• No server-side installation

from $24 per user per month

• On-board Office 365 +MSt Azure AD

• Automatic backups every day

• Budget-friendly solution

• Wide array of compatible devices

• Easily installed and user-friendly

from $4,95 per VM per month

• Security-Enhanced Linux (SELinux)

• Central Management Dashboard

• Cross-platform migration

free 60-days trial every three months

• Robust and trustful solution

• Round-the-clock tech support

• Data restoration mechanism

• Support for Office 365 and Windows 11
Best Desktop Virtualization Solutions for Large Businesses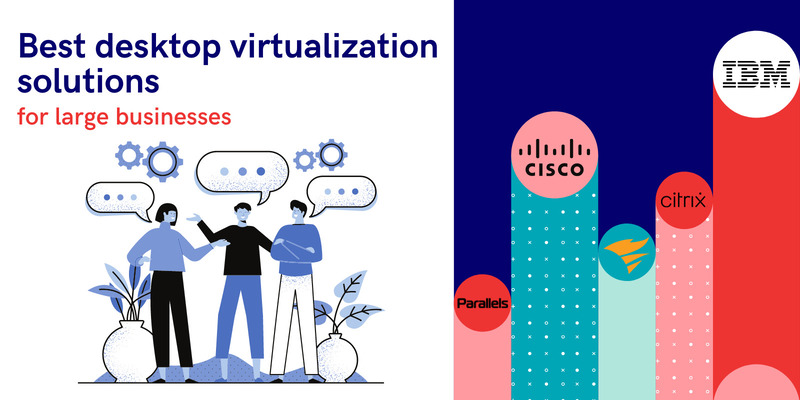 In this list, the main focus is on the on-premise virtual desktop infrastructure solutions. This type of virtual desktop software gives you more control and flexibility compared to hosted VDI services when it comes to the variety of apps and tools your end-users will see on their virtual desktop.
On the other hand, these best virtual desktop software require an in-house professional IT team to carry out various routine tasks, including software updates, data backups, disaster recovery, etc.
---
IBM Cloud
Best for: engineering-, construction-, and design-related businesses.
IBM Cloud is an advanced virtual desktop software that allows secure access to CAD applications and other graphics-intensive software from any Internet-connected device. Plus, thanks to the high-performance NVIDIA GRID GPUs, all the users can fully benefit from high-performance graphics acceleration.
On top of that, IBM Cloud encrypts all its traffic that contains only outgoing HID (human input devices) signals and incoming visual information. All the files are stored in highly-secured data centers. The needed changes are made in real-time, with no need for any copies on the client's device. In this way, the risk of files being stolen or compromised is almost non-existing.
☝ Top features: Watson-based machine learning for custom AI models, Turbonomic automation resources, Kubernetes container registry service, quantum systems access, cloud networking services (Firewall, VPN tunnels, etc.), activity tracking, IBM's Blockchain Platform.
💸 Price: is calculated individually.
---
Cisco VXI
Best for: contact centers, shared workspaces, and telework environments.
Cisco Virtualization Experience Infrastructure is one of the end-to-end virtual desktop software that offer a wide range of fast and flexible tools for secure collaboration. Link the Virtualization Experience Client with the Virtualization Experience Media Engine to get an ultimate platform with all the voice, video, and virtual desktop capabilities needed for the top-notch virtualization experience on any Internet-connected computer.
With the help of the Validated Designs, you can build an infrastructure to perfectly fit your specific business needs. All the services and products offered by Cisco are easily integratable as a part of the Cisco Lifecycle approach that unifies networking and collaboration architectures integrated with the data center, support, additional services, and partner technologies.
☝ Top features: Cisco Jabber™ phone manager, integrated VXME Software Client, Nexus® Switches for machine-level networking, WAAS technologies, IEEE802.1x for port-level authentication, encrypted VPN tunnels, single-point support service.
💸 Price: starts at $ 1,895 per user/year.
---
SolarWinds Virtualization Manager
Best for: information technology and services industry.
SolarWinds Virtualization Manager is one of the most popular application and desktop virtualization solutions for businesses mainly aimed to help companies that rely on vSphere and Hyper-V virtual machines to track down and fix routinely occurring issues. Even more, this app can predict problems that you may face in the future on every specific VM configuration you are using and displays the information on a clear and informative dashboard.
On top of that, with SolarWinds Virtualization Manager, you can schedule automated virtual machine optimization and orphaned file removal to achieve top-notch performance and optimize resource utilization.
☝ Top features: VM sprawl control, active alert system, Enterprise command center, application stack integration, cross-stacking of the data, resource planning, right-sizing, cloud monitoring, PerfStack Dashboard.
💸 Price: starts at $2,995.00 per 8 sockets one time.
---
Parallels Remote Application Server
Best for: Software developers and IT service providers.
Parallels Remote Application Server (RAS) is a multipurpose cloud-ready on-premises virtual desktop software that delivers a complete workstation-like experience on a user's PC, laptop, tablet, or any other electronic device regardless of the operating system it's running.
Parallels RAS is completely compatible with all the popular hypervisors, including Microsoft Hyper-V, VMware ESXi, Citrix XenServer, and Acropolis AHV. And, to top it up, this service has one of the best security levels on the market thanks to a comprehensive set of measures and mechanisms in place, i.a. two-factor authentication, SSL encryption, and precise access policy.
☝ Top features: Parallels Client, app publishing, autoconfiguration, automated image optimization, management portal, Amazon Elastic Load Balancer support, SSL/TLS certificate management, Apple iPad multitasking.
💸 Price: starts at $99.99 per year for 15 users.
---
Citrix DaaS
Best for: design engineering bureaus and project divisions.
Citrix Daas (former Citrix Virtual Apps & Desktops) is best known for delivering a workstation-like experience to portable devices, i.a., tablets and smartphones. In addition to the significant enhancement of your workforce IT agility, this solution allows you to switch between different networks (both internal and external) with zero safety risks and no reduction in productivity.
Thanks to the seamless support for all popular graphics acceleration GPUs, including nVIDIA, Intel, and AMD, Citrix Daas is a decent option for those who rely on high-demand 3-D or 2-D graphic suits in their day-to-day routine. Plus, you can virtualize Cisco Jabber and Avaya One-X for easier collaboration.
☝ Top features: multi-session Windows and Linux desktops, Citrix HDX, StoreFront app store, Turnkey DaaS wizard, power management, autoscale, image builder, ITSM adapter, FSLogix profile access, conditional policy-driven authentication.
💸 Price: starts at $210.00 per user/device one-time.
---
Top-5 of the Best Virtual Desktop Software for a Mid-sized Business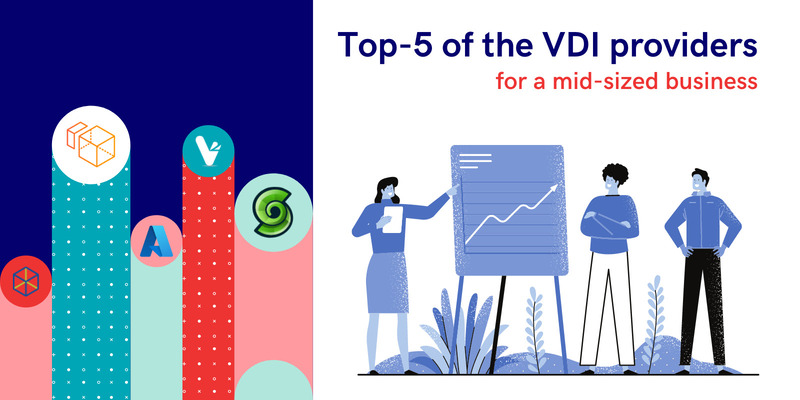 Cloud-based virtual desktop solutions are considered the best option for a medium-sized business mainly due to its cost-effectiveness. Along with your subscription to the hosted virtual desktop, you will get access to other services, i.a., data storage, tech support, disaster recovery, information security, backups, etc.
On the downside, most providers offer standard virtual desktop software to all users, no matter their area of work. So a designer, an HR manager, and a tester will have to work on the very same non-personalized VM randomly assigned to them from a virtual desktop cloud pool.
---
Amazon WorkSpaces
Best for: customer service providers and retail companies.
Amazon WorkSpaces is a fully managed cloud-based virtual desktop software from one of the best-known remote desktop services providers on the market. It can deliver a Windows or Linux VM on any type of computing device, including an iPad, Chromebook, and Amazon Fire tablet. Unlike many other solutions, it has an option for hourly billing, which adds to its budget-friendliness as you pay only for the services you actually use.
Besides that, you can save even more if you already own any software licenses, as AWS has the BYOL policy. And thanks to the use of two-factor identification, traffic encryption, and secure Amazon SDX protocol, AWS is considered one of the most secure cloud servers for virtualization.
☝ Top features: Workplace app manager, Active Directory integration, SDX protocol, free 1-year plan, BYOL, RADIUS integration, PC-over-IP(PCoIP) streaming protocol, Active Directory integration, Amazon WorkDocs storage.
💸 Price: starts at $7.25 per month.
Subscription plans can be changed individually to better fit a specific business scenario. Plus, there is a pay-as-you-go option charged by hour. AWS Free Tier is limited to 40 hours/months for 2 virtual workstations. If you're looking for a free VDI solution, there's also a Free Tier for two workspaces for up to 40 hours per month.
---
Microsoft Azure Virtual Desktop
Best for: service and maintenance companies.
Microsoft Azure Virtual Desktop is a cloud solution that offers access to Windows 7, 10, and 11 VMs with a range of pre-installed apps (i.a., Office 365) to computers and portable electronic devices running all popular platforms. For extra convenience, AVD has HTML5 support, so that you can access a virtual web desktop server from a browser of your choice.
The cost of this service is calculated individually based on the number of apps and services used, uptime hours, platform, region, and an array of other factors. On top of that, AVD allows you to assign multiple users to any of your virtual machines and has a convenient automated user allocation feature to spread the workload evenly across the host pool.
☝ Top features: AES 256-bit encryption, auto-backup, HTML5 support, encrypted backups, user auto-allocation, multi-session, Azure Diagnostics, RDSH, app streaming, Azure Sentinel, built-in firewall, intelligent security.
💸 Price: Varies based on the options you choose. Please use the pricing calculator to estimate.
---
Nutanix XI Frame
Best for: developing companies and startups.
Nutanix XI Frame is marketed as the most straightforward way to get your first full-featured virtual desktop environment up and running for up to 10,000 users within less than an hour. All you need to do is choose the cloud platform and apps you will be using, then integrate your existing storage and add an authentication app.
With this DaaS solution, the virtual web desktops are accessible from any Internet-connected device via an HTML-5 capable browser. This service meets safety requirements and has all cloud-specific certificates, i.a., ISO 27001, 27017, and 27018.
☝ Top features: Launchpad, 3D accelerator, drag-and-drop file sharing, HTML5 support, tech support hotline, IP address whitelisting, 2FA, traffic encryption, FIPS mode, zero-touch maintenance, workload manager, Frame Remoting Protocol.
💸 Price: starts at $24 per user per month (min 5 users). They also offer a pay-as-you-go option for $33 per user per month (min 5 users) and multi-user VMs for $48 per month (min 5 VMs).
---
V2 Cloud
Best for: training and education field.
V2 Cloud is a very simple Desktop as a Service (DaaS) solution with an essential function set. For your money, you will get access to cloud-based Windows workstations with 24/7 professional tech support and admin rights to manage users and install any apps you need. You can assign up to 250 users to each of your virtual desktops.
Despite its simplicity, this solution is totally safe to use to power the BYOD policy in your company. All the data remains on the cloud VM server and leaves no footprint on users' devices. Plus, the V2 cloud is completely compatible with Microsoft Active Directory, allows multi-factor identification via AD Connector, and has multiple data centers around the world.
☝ Top features: Anti-virus, malware protection, drag-and-drop file transfer, multi-monitor support, built-in security, Access Manager, document comparison, Dashboard, network visualization, batch permissions and access, API, data import/export, Raspberry Pi support.
💸 Price: Starts at $35 per month (individuals) and $40 per month (businesses). Plans may be altered to fit your specific needs.
---
Shells
Best for: education and training facilities.
Shells is another one of the beginner-friendly and cheap virtual desktop solutions. It offers quick and easy access to Windows or Linux VMs from any electronic devices, including TVs and gaming consoles, via the new cloud-specific SPICE protocol. All the data from a virtual desktop is stored in the cloud with automatic daily backups.
Shells has four standard plans to choose from and an easy-to-use constructor you can use to create a customized plan to fit your specific business needs. Plus, you'll be able to switch between the plans with just a couple of mouse clicks to get an instant virtual workstation upgrade or save some budget funds.
☝ Top features: end-to-end encryption, multiple firewalls, SPICE protocol, unlimited bandwidth, multi-tasking, automatic updates, system snapshots, dedicated resources and storage.
💸 Price: starts at $4,95 per VM per month.
---
Top Free Virtual Desktop Software for Small Businesses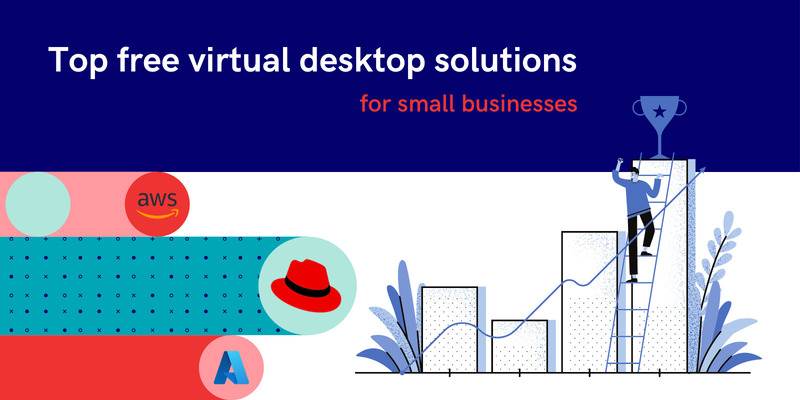 For those who have never used VDI before and are hesitant about whether or not it will benefit the business, there is the best virtual desktop software you can use free of charge for some time or even forever. Needless to say, none of these solutions can be scaled to accommodate a corporate-size business. But they will give you a good picture of the best virtual desktop solutions for small business and how useful it can be.
---
Red Hat Virtualization
Best for: Linux-based software and hardware developers.
Red Hat Virtualization offers an open-source virtual desktop software model for businesses and individuals. Though it's not a free vdi solution solution, they offer multiple two-month trials that, unlike most of the other demo versions you can get, are re-activatable once every 90 days. So, if need be, you can shift between the trials and use this service for free all year round.
This solution is built on Kernel-based VMs, so its operation is extremely fast. It is also considered the safest desktop virtualization solution on the market. The functionality is quite limited, but it can be easily integrated with other Red Hat products, as well as third-party apps.
☝ Top features: Virtualization Manager, Web UI, Red Hat Secure Virtualization (sVirt), Security-Enhanced Linux (SELinux), REST API, Central Management Dashboard, cross-platform migration.
💸 Price: free 60-days trial every three months.
---
AWS Free Tier
Best for: startup owners.
AWS Free Tier is another virtual desktop for small business with a whole array of free services you can get from Amazon WorkSpaces. Some of them will remain free forever, while others are basically 1-year of short-term free demo periods. For instance, you can get a free virtual Linux or Windows machine for 750 hours every month or a virtual private server for three months.
On the downside, most free tiers are for individual use only, so you won't be able to scale this solution. Although, it is possible to make some use of it as a team or a small business if you get everyone to register your AWS account at the same time. Plus, AWS provides additional free 2000 credits for startup owners.
☝ Top features: Workplace app manager, Active Directory integration, SDX protocol, free 1-year plan, BYOL, RADIUS integration, PC-over-IP(PCoIP) streaming protocol, Active Directory integration, Amazon WorkDocs storage.
💸 Price: free for one year.
---
Microsoft Azure Free
Best for: students and private entrepreneurs.
Microsoft Azure Free is one of the best virtual desktop infrastructure software. It's a cloud machine you can use for a year and never pay a single dollar. Once you first register your Azure account, you will have 750 hours of access to a Windows or Linux VM, 250 Gb in Azure SQL database, 10 GB LRS storage, 20,000 transactions in Anomaly detector, 10 web, mobile, or API apps with 1 GB storage, unlimited access to Azure Advisor, and much more.
On top of that, you will get $200 in credits to spend on other Azure services that are not included in the free tier. But make sure to spend those credits within the first 30 days after registration, or they will expire.
☝ Top features: Advisor, Anomaly Detector, App Service, Archive Storage, Azure Active Directory, Cosmos DB, Database for MySQL and PostgreSQL, Azure Kubernetes Service, Azure Lighthouse, SignalR Service, Blob Storage, Event Grid, IoT Hub, Network Watcher.
💸 Price: free for one year.
---
Conclusion
The variety of tools and services for desktop virtualization may be overwhelming. We hope that our list of the best virtual desktop solutions with all the benefits, weaknesses, most interesting features, and pricing options, will help you choose the best option for your business scale and requirements (or individual needs) that will also meet your budget.
---
FAQ:
The main difference between VM vs. VDI is that a virtual machine (VM) is an image of a computer that works like a real one but only exists virtually. While
virtual desktop environment (VDI)
is a technology that allows to isolate parts of a physical server and configure them to work as VMs.
Windows 10 virtual desktops are mostly used to organize running applications based on activity type. For instance, keep work-related software on one desktop while playing games on the other. Also, you can work on several complicated or layout-sensitive projects in parallel by keeping them on different virtual desktops.