VPN Types and Their Features
VPN or Virtual Private Network is a means to secure your data while on the internet. It creates what is known as a tunnel between your device and the internet. This effectively creates a private network where all traffic is encrypted and the identities or IP addresses of the devices are hidden from the prying eyes of the general public. The transmitted data is only decrypted once it reaches the designated VPN server, and only the server's IP is visible or known.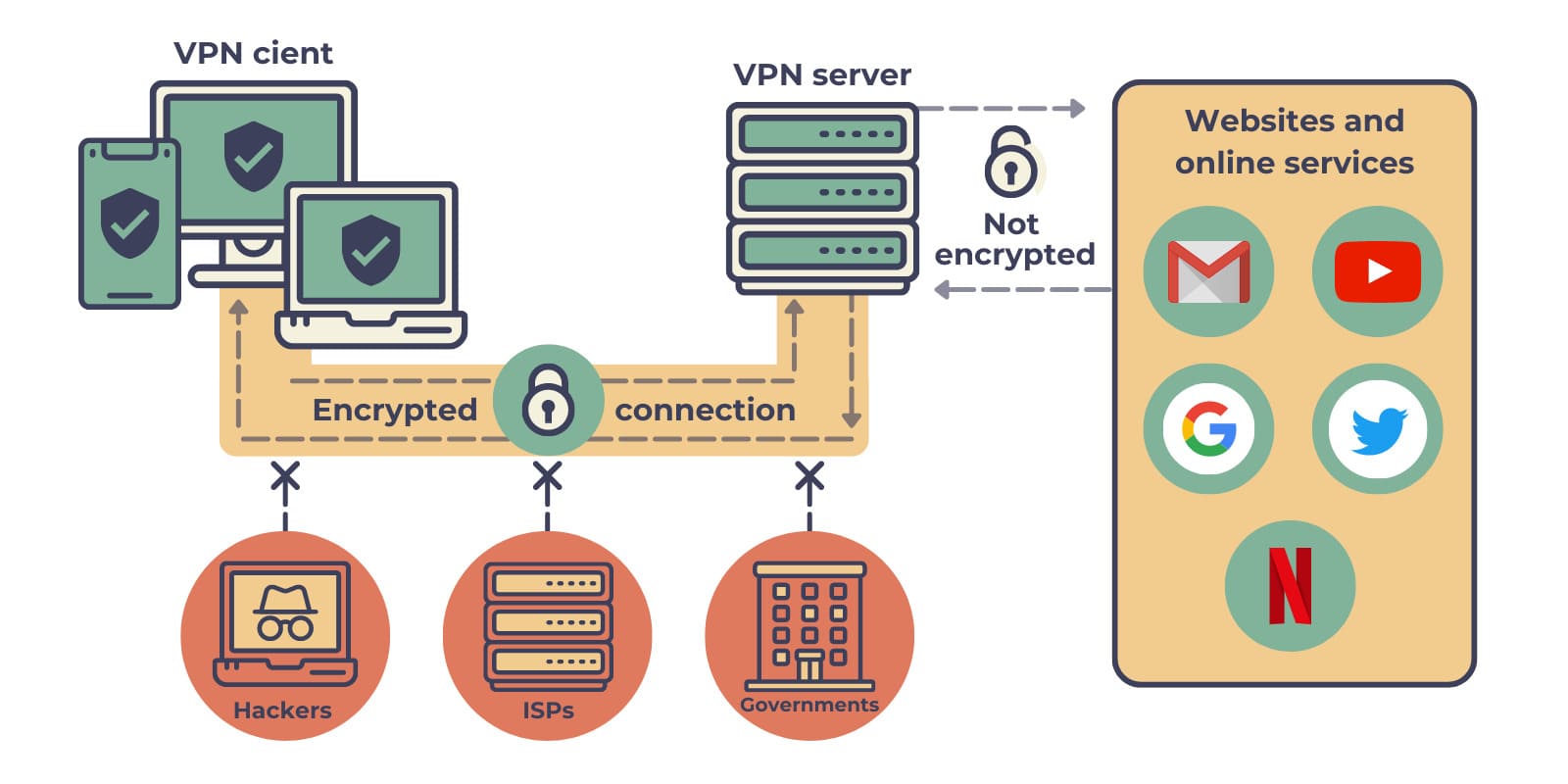 A VPN also allows corporate users to extend their network to remote locations which is especially useful for remote working.
When determining the best VPN to use, be aware that there are four different VPN solutions available, each offering its own unique pros and cons. The specific type of VPN can help you perform tasks like getting around geo-blocking, or allowing access to sensitive data remotely from a work server or computer.
VPN types comparison
VPN software can be grouped into the following four use cases:
• Personal services
• Remote access
• Mobile
• Site-to-site access
Each use case is documented in the table below with a brief description of the type of user it's best suited for, as well as the primary purpose of each VPN software type.
Private users connecting to a private network

Private users connecting to a private network

Allow networks to connect to other networks

Allow users to connect to a network using third-party servers

To connect remotely to a work network or any other network.

Allow for consistent network connection despite an unstable internet connection.

Extend your network by joining multiple networks

Increase your internet security and protect against DDos attacks.

Where the nature of work requires an employee to travel, they can still access the company network from anywhere.

A VPN is especially useful in areas of poor connectivity. This extends the option of working remotely to more of your workforce.

Сompanies that have different branches can keep them all connected using site-to-site VPN.


It also allows authorized third party access to internal databases when required.

Personal VPN is most often used to bypass geographic restrictions. For example, live sports streaming may be restricted to European regions.


VPN will allow you to go around the block if government censorship is implemented.

DMVPN technology; IPsec tunnel; MPLS based L3VPN

Examples of each VPN type available
Keep reading to learn more about VPN Types
A word of caution
While it may be tempting to save some money and use a free VPN, bear in mind the associated risks with this. There have been cases where user's personal data and their internet activity becomes a commodity and it's sold either for marketing purposes or other nefarious activities.
Remote access VPN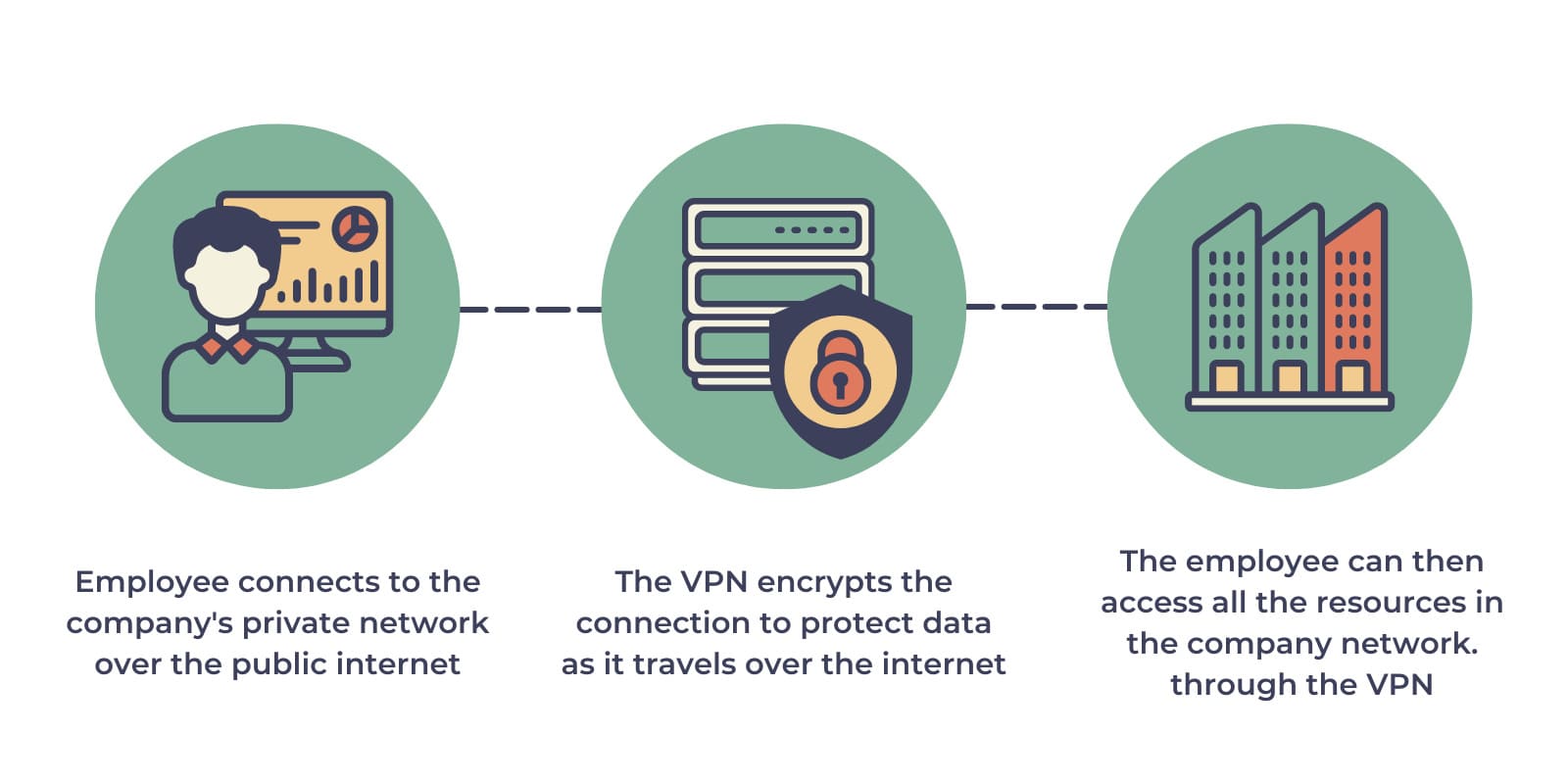 The primary use of a remote VPN is to create a secure connection to a corporate network. In essence, a VPN creates a tunnel which serves as a private connection so that even though you are connecting to a public internet connection, all data transmitted between the authorized remote client and the server is encrypted, thus allowing peace of mind that the company's data is safe from prying eyes.
IPsec and SSL are two of the most common VPN protocols used to set up the encryption.
VPN is however not geared towards the move toward cloud-based services. Traditionally developed for access to data centers for users located in close proximity, but now with the increase in remote working, employees are located further afield and latency becomes a problem as the performance level drops as the physical distance increases between the two points.
Good examples of remote VPN: OpenVPN Access Server; Perimeter 81 Next-Gen Secure VPN Solutions, NordLayer VPN.
Mobile VPN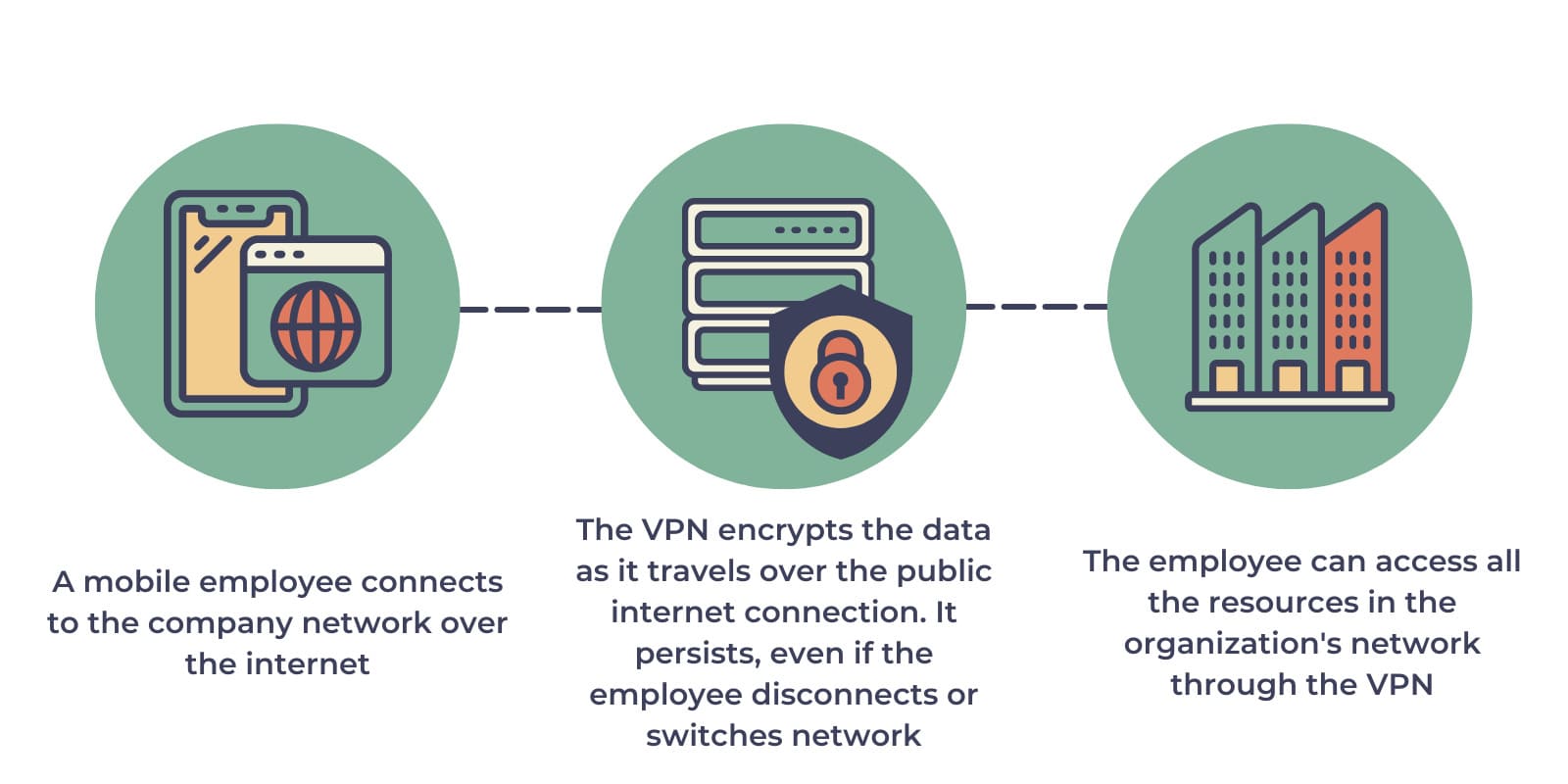 The name Mobile VPN may cause confusion as a VPN can be used on any device including your mobile phone. In this case, it is sometimes incorrectly called a Mobile VPN. The "mobile" part actually refers to the ability to change your connection or if the connection drops, the virtual network connection stays connected.
Imagine a case where an employee is connected remotely via their laptop while off site at a client using mobile data. They then return to their home office where they connect to the Wi-Fi – despite an IP address change, or the interim connection drop, their safe encrypted connection to the office persists.
Good examples of Mobile VPN: WireGuard, Nord VPN; Bittium SafeMove Mobile VPN and Radio IP software.
Site-to-site VPN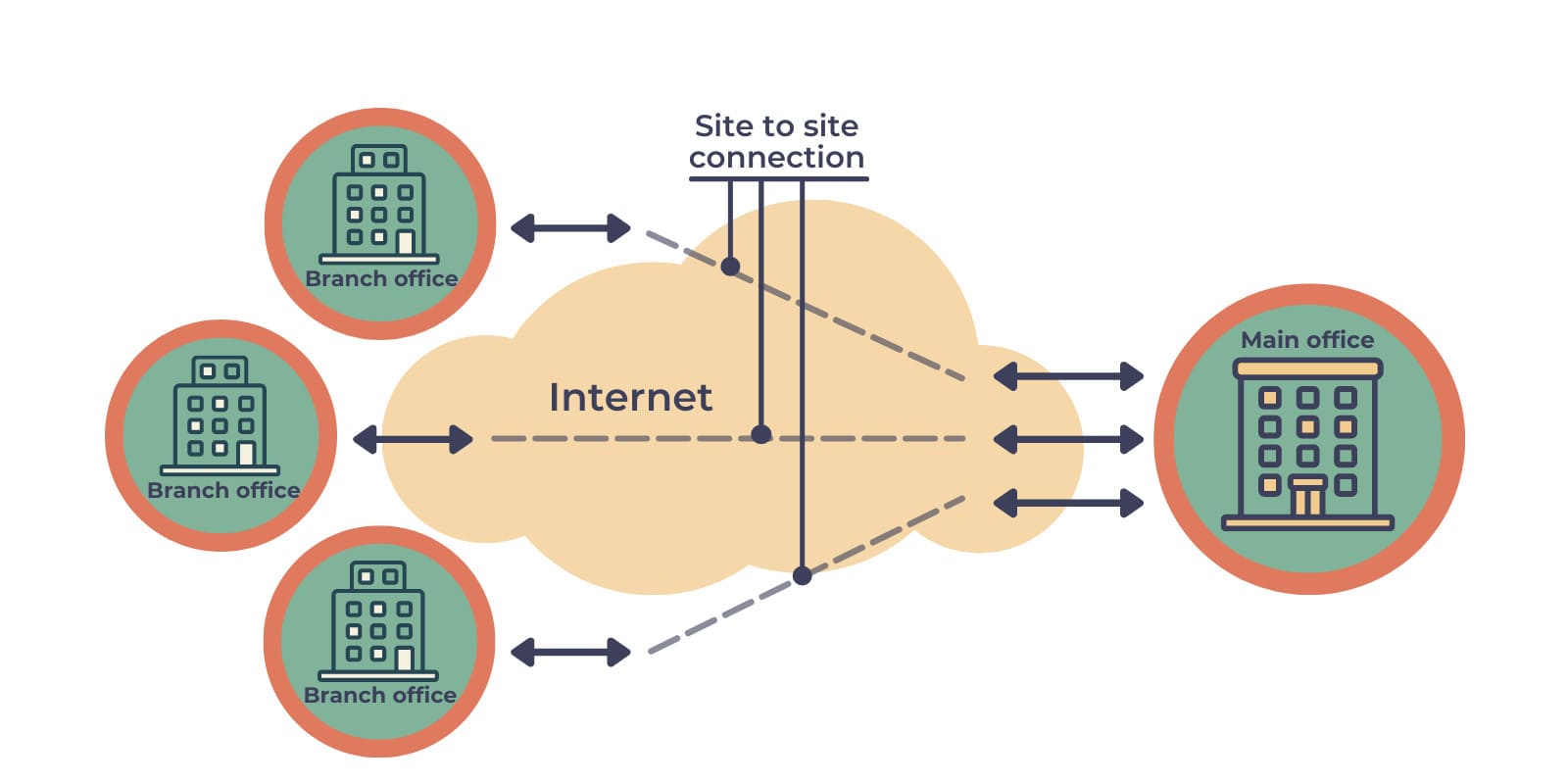 The most common need for a site-to-site VPN is with large corporations with branches spread across multiple locations. A site-to-site VPN will make it possible to connect the different networks together. That is the core difference between a site-to-site VPN and a remote access VPN.
Companies can therefore facilitate the sharing of resources across all the various company networks without relying on a multiprotocol label switching (MPLS) circuit which links routers together across networks.
There are two kinds of site-to-site VPN available:
Intranet-Based VPN: This is the term used to describe a situation where all the networks that are being connected belong to one company. The company can then create a single wide area network (WAN) encompassing all of these internal networks making it possible for the workforce to connect to any network seamlessly.
Extranet Based VPN: This is for connecting to a network belonging to a different company. A use case may be when your staff has a requirement to connect to a supplier directly to have access to real time stock levels.
Connecting multiple networks is a complex operation and it requires the correct hardware as well as knowhow. Some available solutions include Nokia VPRN service (L3VPN) and Cisco's Dynamic MultiPoint VPN (DMVPN).
Personal VPN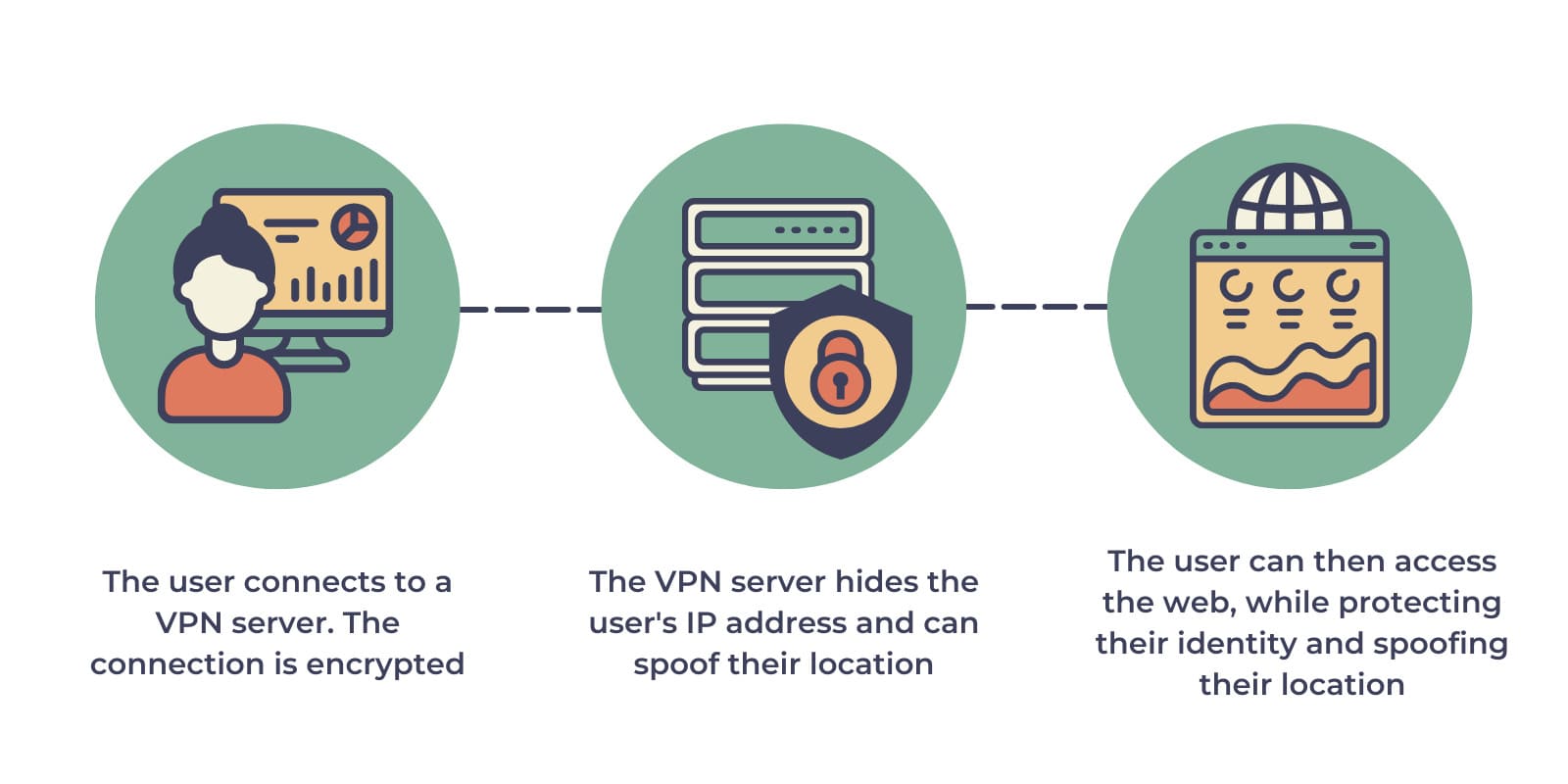 Protecting your personal data while online and accessing geo-restricted content are two of the main reasons why you might want to make use of a personal VPN.
How does a personal VPN benefit you?
• You can access otherwise restricted content as it spoofs your physical location so it appears as if you are connecting from an allowed region.


• Hide the fact that you are streaming games to prevent service providers from throttling your connection.


• Thanks to the anonymity, your online activity can not be monitored.


• If you live in a country the imposes internet restrictions, i.e. China with their "firewall" that monitors and blocks certain internet sites – you can bypass this using a VPN.
Good design of personal VPN: OpenVPN, WireGuard or ExpressVPN's proprietary Lightway protocol. Depending on what purposes you have you might choose more secure OpenVPN or faster ExpressVPN.
Conclusion
All types of VPNs essentially solve the same problems of security, privacy and circumvention of censorship policies, while each type of VPN is best suited for solving its specific tasks. Choosing the right VPN will allow you to get speed and save money if your goal is streaming or get the level of security you need if you use a VPN to access important work files.